Tour Coach
This little-known formula is the secret to Rory McIlroy's signature shot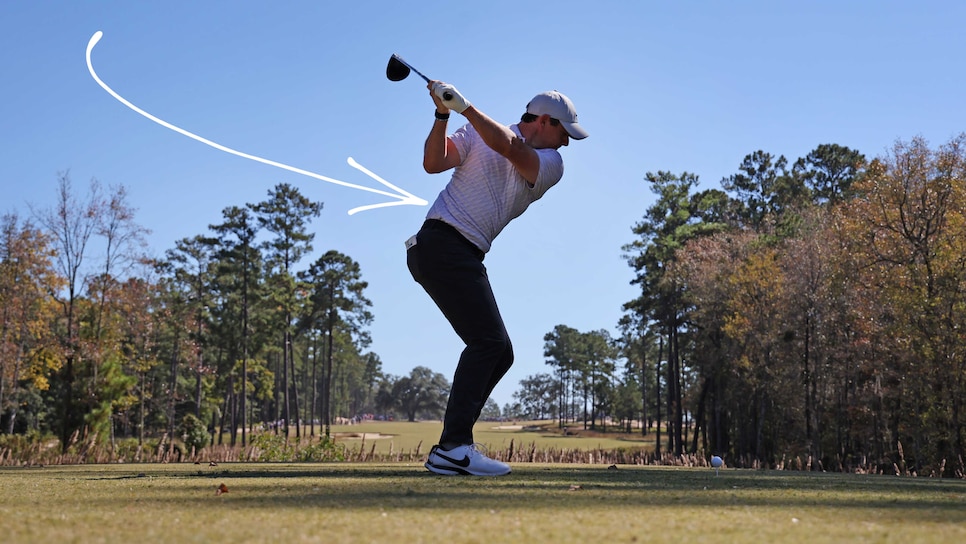 Rory McIlroy has the kind of golf swing the rest of us dream of. It's free-flowing, powerful and powerfully smooth.
It's not just his golf swing's style though, it's the substance it produces: He's statistically the best driver of the ball since peak Tiger Woods, and one of the longest pound-for-pound hitters ever to ascend to the top of professional golf. And now, following his win at the CJ Cup last weekend, Rory returned to the World No. 1 spot in the Official World Golf Ranking.
When a young Rory introduced himself to golf fans, he had mastered the art of slinging high, powerful draws, which was somewhat unusual.
Players who boast as much clubhead and ball speed as Rory (he ranked inside the top 15 on the PGA Tour in both last year) tend towards hitting more of a fade. They have distance to spare, so they're fine trading some of it for more spin—and therefore more control. That Rory had the ability to control a powerful draw made him something of a unicorn.
As he's matured over the years, so has Rory's game. He's become more multi-dimensional, hitting different shots on command. But in many ways it's still his ability to rip high draws that captures the imagination of golf fans.
Smith (who's a great follow on Instagram, by the way) coaches Viktor Hovland, Davis Riley and Aaron Wise, among others, and in the video below uses 3D swing data derived from the Sportsbox app to explain one of the key components that helps McIlroy's swing produce such powerful draws. It's a good swing thought for the rest of us.
Rory's formula: More side bend than rotation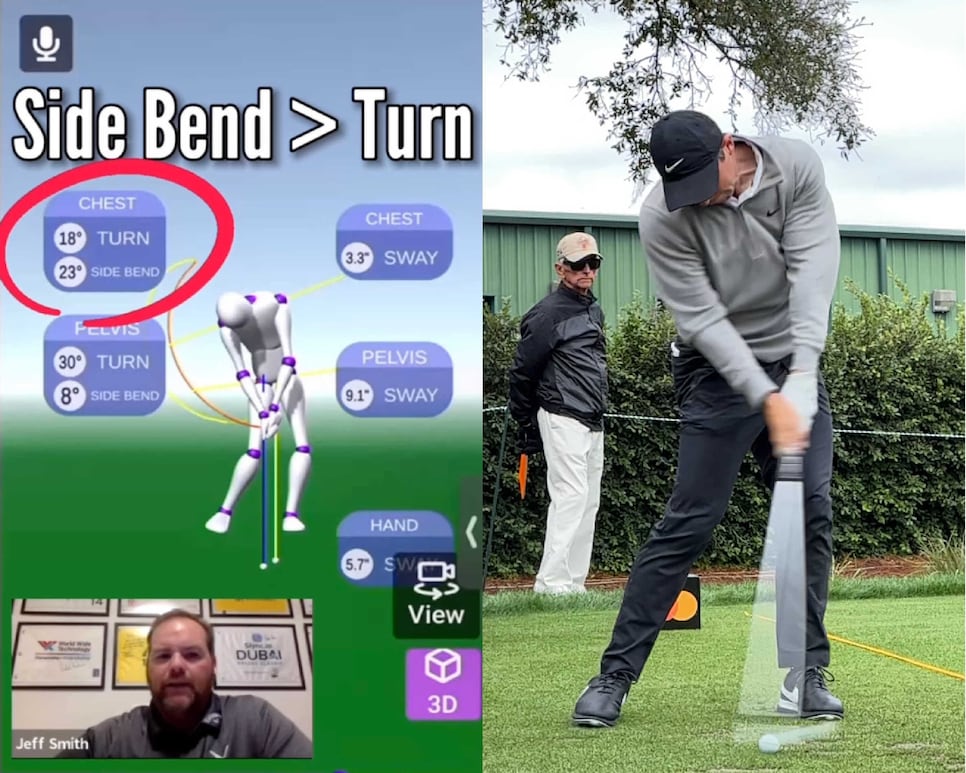 There are lots of different reasons why golfers hit draws, but above you can see Smith highlighting Rory's swing to show one of the key commonalities: That players who hit a draw have their upper body tilted away from the target at impact. Paired with his hips moving towards the target, this creates the key ingredient of right side bend.
"Someone who is hitting a draw, we're almost always going to see greater side bend at impact than rotation."
- Jeff Smith, Golf Digest No. 2 Ranked Teacher in Nevada
Smith explains that this move helps "shallow" Rory's swing, which allows him to swing more from in-to-out.
Slicers often do the opposite, Smith explains. They don't create enough right side bend and rotate their upper body too fast, which sends the club over the top.
It's creating this right side bend that's the key to any golfer who dreams of hitting a draw, Smith says, so get to work!
You can watch the full exchange right here: