DP World Tour Championship
Tyrrell Hatton called his 2022 season 'very, very average.' Here's how that could change this weekend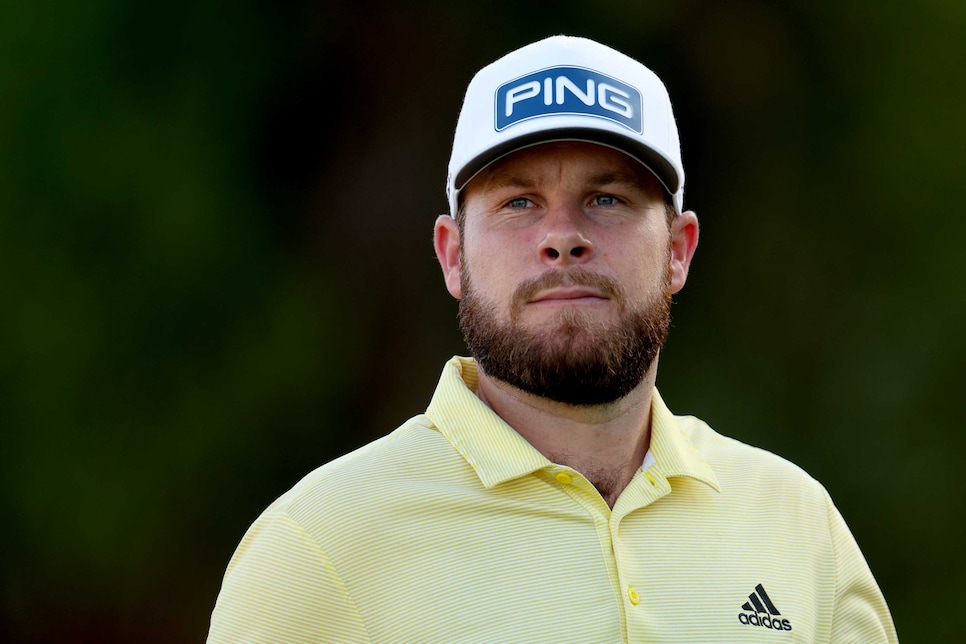 Tyrrell Hatton, looking for his first win since early 2021, shares the halfway lead at the DP World Tour Championship.
Andrew Redington
DUBAI, U.A.E. — At least momentarily adopting what might be termed a normal persona in the wake of a five-under-par 67 that has him tied for the halfway lead in the DP World Tour Championship, Tyrrell Hatton professed himself to be "pretty happy with the score." Such acclaim, however, was in almost complete contrast to the downbeat reception Hatton gave his opening 65 on Thursday. Despite making eight birdies, the notoriously grumpy Englishman was more than a little annoyed with the bogey 6 he carded on the 651-yard par-5 18th.
"My head's a bit fried at the moment," was his response to a questioner asking how he felt about such a splendid start to the DP World Tour's season-ending $10 million event. "My mind is just raging at the last there. But it is what it is. The 18th has never been kind to me in the nine years I have been coming here. And that theme continued today. I wish they had left the tee forward. It's a great hole when the whole field can reach the green in two. But not so much when you guys have to watch us hit really nice lay-ups to 110-yards then have a par-3 completion."
"I would say it has been consistently very, very average," he said. "Steady and unspectacular is a good description of my year. I've been consistently average. Nothing has been disastrous, but nothing has been great. So I haven't had many chances to win. My last win was Abu Dhabi at the start of last year. I once had four wins in 15 months, and winning is hard. So you can't take those periods for granted. I'm a bit sad that I haven't had the chance to win since then. All I can do is keep plugging away and hope for the best.
"So, apart from that good finish at Bay Hill, I think we were leading [the Dubai] Desert Classic on Saturday afternoon [where he would finish T-4]," he continued. "So there were a few good events at the start of the year, I guess. But after Bay Hill, it's been pretty boring. Nothing to get excited about to be honest, although I've made a lot of cuts. I think I've only missed two cuts this year. I won't miss 2022."
Not yet anyway. Despite his propensity for self-flagellation and reluctance to spend much time in the gym—"I can't say I'm in love with the game. This year has been difficult for me in terms of motivation."—Hatton is clearly professional enough to realize the size of the opportunity he has over the next two days. Besides, his time in Dubai hasn't all been a grind. Along with a group of prospective Ryder Cup players, Hatton attended a dinner on Wednesday evening hosted by European captain Luke Donald.
"We sat round a table and had a nice dinner and some nice wine," Hatton said. "It was nice to have everyone together again. It's the first time we've done that since the last Ryder Cup. I'm sure we'll do it again between now and next September. We had a nice evening."
Apart from making strides towards qualifying for Europe for a third time in his career, Hatton also has a bit of extra-motivation in play this week. In the absence of regular caddie, Mick Donaghy, who is nursing an injured knee, Hatton has a close friend, "Hugo," on the bag.
"I know the better I play, the more money I'll be able to give him," he said with a much overdue smile, "which would be nice, especially as my expectations weren't too high coming here after three weeks off. I was trying to stay relaxed having had good results here in the past. Although I'm a little bit upset at the moment, I'm obviously in good position. And winning here would mean ending the year on a high."
And, hopefully, put him in a better frame of mind.