Editors' Choice
*All products featured on Golf Digest are independently selected by our editors. However, when you buy something through our retail links, we may earn an affiliate commission.*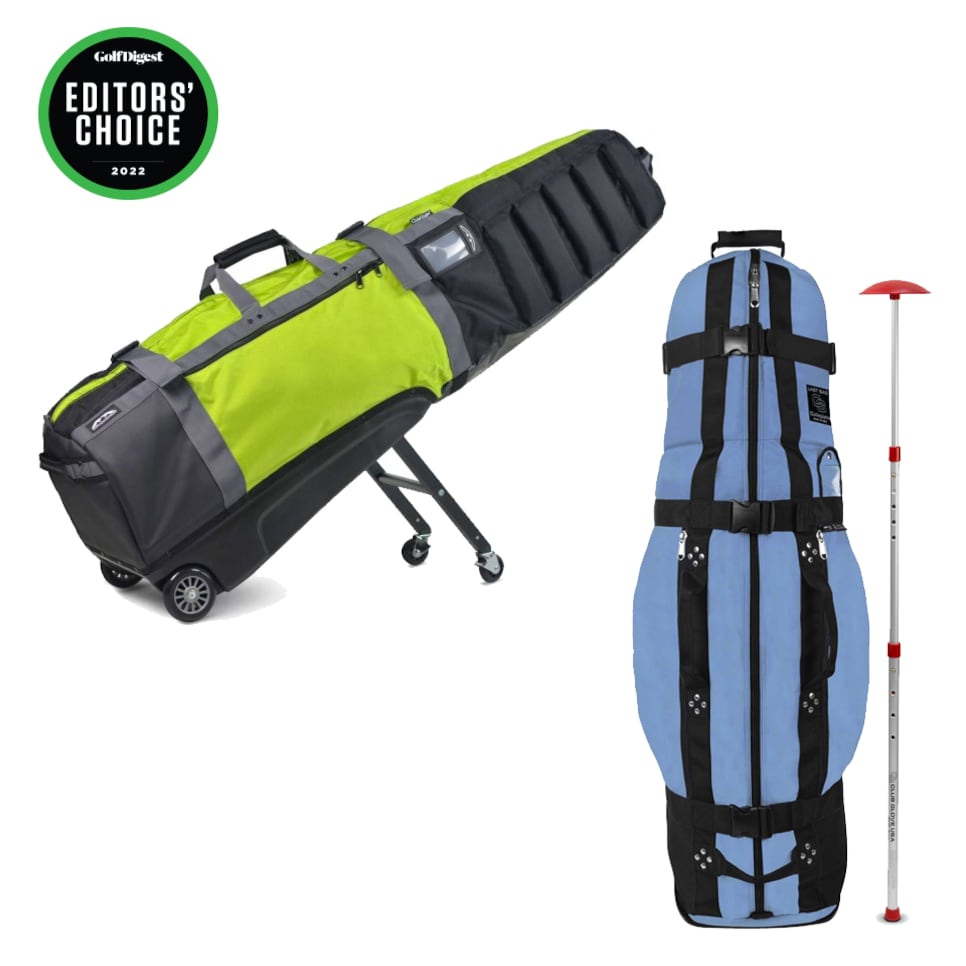 When it comes to finding a travel bag for golf, three boxes must be checked: It has to make traveling easier, it has to protect your clubs to the fullest, and it needs enough space to comfortably store items for your trip. The Sun Mountain Clubglider Meridian and Club Glove Last Bag check all three emphatically.
RELATED: Must-have golf trip and travel essentials, according to Golf Digest Editors

Best Travel Bag: Sun Mountain Clubglider Meridian
There's a reason this is a repeat Editors' Choice winner. For storage there are enough pockets for everything from a pair (or two) of golf shoes, rain gear, a dozen balls and, on the way home, a bag of dirty laundry. At the airport, the pivoting wheels make maneuvering through check-in a breeze. Ditto the retractable stand, another feature that lets you tote the bag around with minimum effort.
An internal strap keeps the golf bag snug and not moving around inside. The ClubGlider also is upgraded with additional protection for your metalwoods' clubheads with a new padded upper section that can fend off the fiercest toss at the airport. After all, getting your bag there is important, but having your clubs be intact when they arrive is vital.
Best Travel Bag System: ClubGlove Last Bag
If you're looking for a simple, compact and durable travel bag, the Club Glove Last Bag Collegiate is a fan favorite for golfers. It's made with a durable nylon that's water-resistant and has a ballistic nylon base reinforcement designed to hold up during even the bumpiest travel conditions. Available in 23 colors, it weighs eight pounds and is collapsible for easy storage when not in use. 
How to find and choose the best Travel Cover
Too many golfers have been there: You hop off the plane, buzzing with excitement to get your buddies golf trip started, only to realize that your driver shaft snapped during transit. It's a painful experience, but one that can be avoided. Investing in a quality travel bag is something a lot of recreational golfers overlook when they're looking for new gear. Depending on how much you travel with your golf clubs, your travel case should be a piece of equipment that you really trust. If you pay attention to detail when purchasing a travel case and buy the highest quality bag in your price range, you'll be saving yourself a lot of time and money in the future. To break down the best tips and advice when deciding what travel bag to invest in, we talked to Seth Enes, the Director of Design at Sun Mountain Sports. As the lead designer on the Sun Mountain ClubGlider Meridian, one of Golf Digest's 2022 Editors' Choice winners, Enes has all the expertise when it comes to travel bag construction and selecting the best one for you.
There are a few things you should consider before buying a travel bag. Most importantly, you'll want to narrow down which price range you fall under, so ask yourself: How much use you'll be getting out of the bag? Do you travel one or twice a year with your clubs? More? Will your travel increase in the coming years? Either way, it's a good idea to purchase the best quality travel bag in your price range. According to Enes, the pricier bags on the market come at a steeper price for a reason: They're designed to last.
"[The] goal is to protect your golf clubs, first and foremost," said Enes. "We design the bags to take a beating. … You don't want to buy a piece of luggage and then have a zipper break or the fabric tear. Trying to design to a price point has never really been something we try to do. We use the best materials on the market to design a great product."
The bottom line is, if you want your travel bag to last more than just a couple of seasons, you should make the investment in a top-of-the-line product. You never know how your clubs will be treated once you check them in at the airport, and it's always better to be safe than sorry. Another basic consideration you should make is how much additional gear you will be traveling with in your golf bag. Depending on whether you'll often be packing dozens of golf balls, multiple pairs of shoes, warm-weather clothing, or other items in your travel bag, you might want to look for an option that has more space. If you're a more minimal packer, you can opt for a more streamlined product. For example, the Club Glove Last Bag, our other 2022 Editors' Choice winner, includes a handy luggage attachment system for those who are packing lightly in their travel bag, but have an additional suitcase to transport.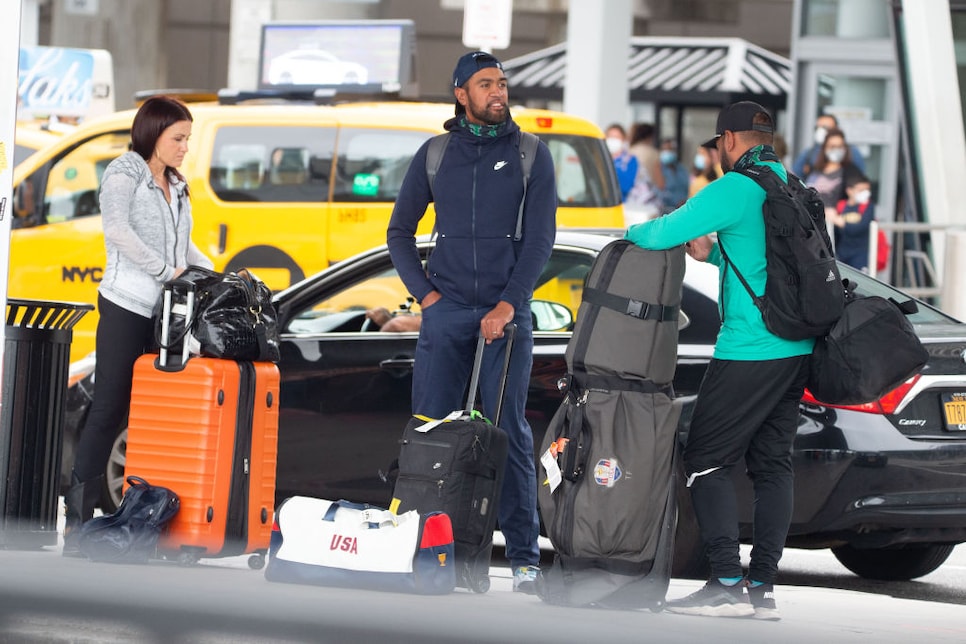 Tony Finau arrives at JFK airport on September 14, 2020 in New York City with his custom Club Glove travel bag.
Adrian Edwards
What to look for in a travel bag?
First and foremost, you should choose a travel bag that fits your clubs, shoes, and intended additional equipment, like balls, clothes and rain gear. But beyond that basic requirement, you should look at the finer details of a travel bag to decide if it's the right one for you.
"Pay attention to the fabric," said Enes. "If it's made out of a cheesy thin material, it's not going to stand up. Look at the details on the bag, the way the stitching works, the materials used, the wheels, the plastics."
By spending a little bit more time looking at the fabrics, stitching, wheels and plastics incorporated into your travel bag, you'll quickly be able to tell a high quality case from one that might break after just a few uses. Avid travelers should be particularly weary of these details, as they'll really make-or-break on how effective the piece of luggage is.
What travel bag features should I prioritize?
When deciding what bag to purchase, you should also consider special features that might be included in the model. One such feature might be a built-in, fold-out leg mechanism found in a more premium bag. The stand can hold up the weight of your golf bag, allowing you to wheel your bag through the airport with minimal effort. If you're traveling several weeks out of the year, getting in and out of rental cars, this feature will be highly useful.
"When you get off a plane and you get your bags off the carousel and most rental car places are off site, dragging around a heavy travel bag is difficult," said Enes. "But with the leg system, it takes all of that pressure off of your shoulders. You can push it like a baby stroller, basically. It moves so smoothly."
Some bags come with pockets and additional organization inside the bag. Others feature pockets on the outside of the case, in case you're planning on packing dirty golf shoes. To pick the right travel bag for you, it's vital to consider all of these details and decide which ones are the most important to your specific needs.
How do I know that I can trust my travel bag?
All travel bags go through an intensive testing process before they hit shelves. From buckle force tests to fabric durability evaluation, every part of the bag is inspected to ensure it will last like it's supposed to and withstand a tough beating in the airport.
"Our quality control department has many different machines," said Enes. "We have a machine that has two arms that pull on a buckle, and you can see how many pounds of force it would take for a buckle to break. We have fabric abrasion machines, with a rotating disk that tracks how many rotations it takes before fraying begins. Or we have a machine that does drop testing, where we see how much weight it takes for plastics to shatter."
Club Glove's bags are similarly tested. The stiff-arm attachment that is included in a Club Glove purchase is subjected to drop-testing. Designers evaluate how protective the accessory really can be when your bag interacts with heavy forces on the road. The Last Bag is also built with a water resistant fabric that is three times stronger and lasts five times longer than typical polysters. It includes 1600d ballistic nylon reinforcement, a material that was created to withstand military-grade wear and tear.
In addition to physical force testing, travel bags are tested in real time by the hundred of tour pros that push the cases to their limits while traveling so frequently. According to Enes, the Sun Mountain ClubGlider is used by 200 professionals around the world. Tour bags are the ultimate test because "they're heavy and they carry everything," said Enes. "Not only are you carrying stuff for the Tour player, but the caddie is putting stuff in there. Whether it's rain suits, umbrellas, you name it, you're basically carrying two people's stuff." At the end of the day, professional golfers just want their travel bags to function like they're supposed to and not break.
How do I store my travel bag once I make my purchase?
The most important thing to remember once you decide which travel bag to purchase is that the case itself is a piece of equipment. If you don't take care of it, it might not maintain its durability, just like any other piece of gear. Enes recommends storing your travel bag indoors and cleaning it before and after use.