Amateurs
Looking for favorites at the 2023 Augusta National Women's Amateur? We've got 12 of them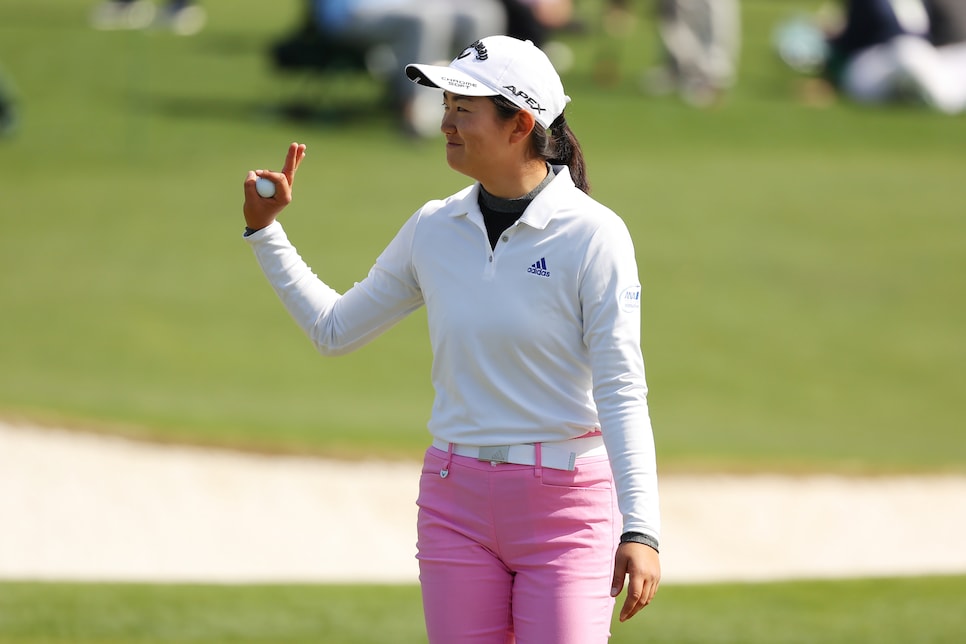 Rose Zhang is trying to win the Augusta National Women's Amateur in her fourth appearance.
Kevin C. Cox
A year ago at this time, the official website for the Augusta National Women's Amateur picked 10 "Players to Watch" for the 2022 championship. The list included most of the top-ranked entrants at the time, including Rose Zhang, Amari Avery and Ingrid Lindblad.
A golfer not included: Anna Davis. It was completely understandable, because, at 16 years old, she was one of the youngest players in the field and making her ANWA debut. There was no reason to favor Davis among a bunch of college stars.
But we know what happened. Davis stunned them all with a final-round three-under-par 69 at Augusta National. It just goes to show that we can identify the favorites all we want for this week's fourth ANWA, but among these talented young players, anybody in the 72-woman field seemingly has a chance to lift the trophy in the 54-hole event that will be contested on Wednesday and Thursday at Champions Retreat, with the final round Saturday at Augusta National.
So, here are 12 players to watch, with no gurantees that any of them will win.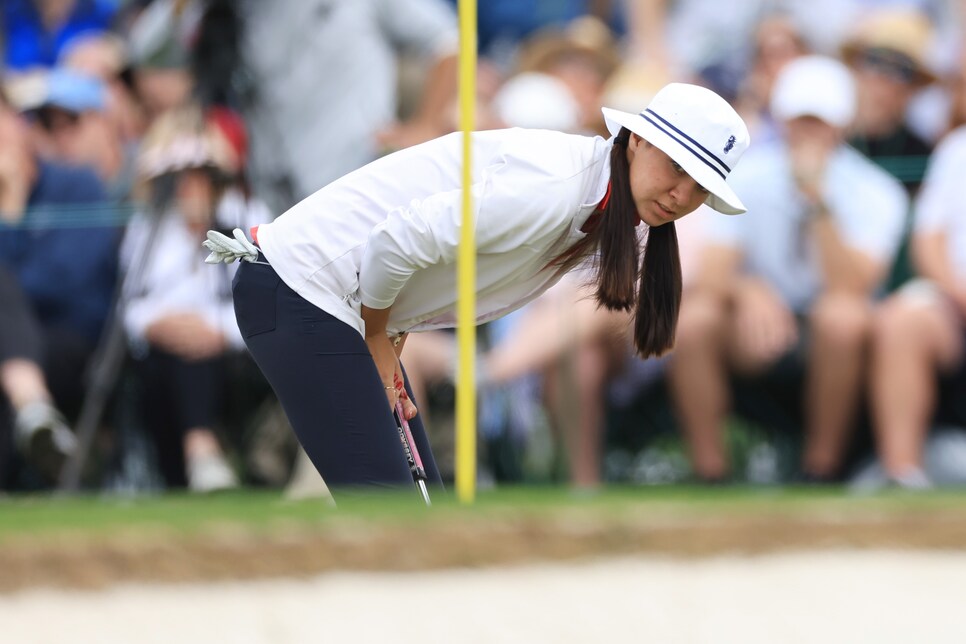 Anna Davis becomes the first ANWA champion to attempt to defend her title in the following year.
David Cannon
The California native was ranked 100th in the World Amateur Golf Ranking when she shot a final-round 69 to be the youngest player so far to win the ANWA. Now sthe 17-year-old is No. 9 in the world, mostly on the strength of competing in seven LPGA events after her victory and making the cut in five of them. Davis has two impressive wins in 2023, at the Junior Orange Bowl International and Junior Invitational at Sage Valley.
In terms of past ANWA results, the 22-year-old Swede who plays at LSU should be the favorite. She tied for third in 2021 and second last year. It's hard to fathom that the current WAGR No. 2 didn't prevail in '22, considering Lindblad made eagles at 8 and 15 and birdies at 3, 7 and 14. But she bogeyed the final hole to lose by one. This, after missing the '21 ANWA playoff by one stroke. The résumé is all there, including being the low amateur at last year's U.S. Women's Open with a T-11.
On paper, the 19-year-old sophomore at Stanford is the clear favorite. She is the hottest player in the college golf, with five victories in her first six starts this season, and Zhang made the cut in three LPGA majors last year. She also just broke Lydia Ko's record for consecutive weeks (131) as the WAGR No. 1. But the ANWA has remained elusive, with Zhang's best finish in three starts being a T-3 in the '21 edition.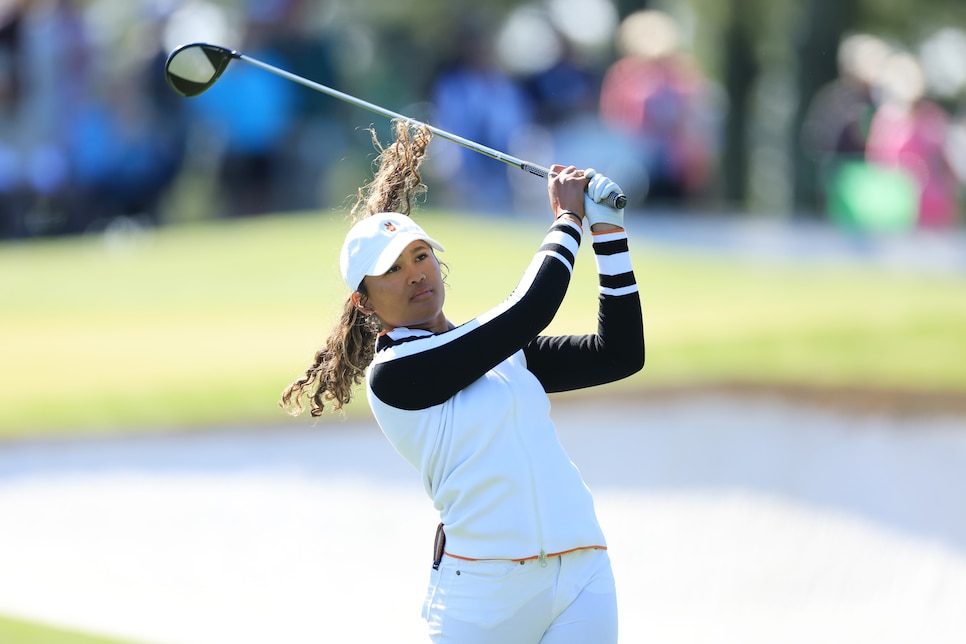 Amari Avery tied for fourth in the ANWA last year.
David Cannon
A 19-year-old sophomore at USC making her third ANWA start, Avery tied for fourth last year with a closing 72. She is also having a strong college season, with six top-15 finishes in her eight starts, including one win and a T-3 in the recent Juli Inkster Meadow Club Collegiate.
The 17-year-old from Tokyo was mostly unknown to the golf world until her dominating victory in the 2022 U.S. Women's Amateur at Chambers Bay, when she crushed Canada's Monet Chun, 11 and 9, in the final. It was the third-largest winning margin in the championship's history, and the event's first victory by a Japanese player in 37 years. Baba won two big amateur titles in Asia last year, and in February she finished T-34 in the Honda LPGA Thailand, in which she was grouped in the final round with major champions Hinako Shibuno and Yuka Saso.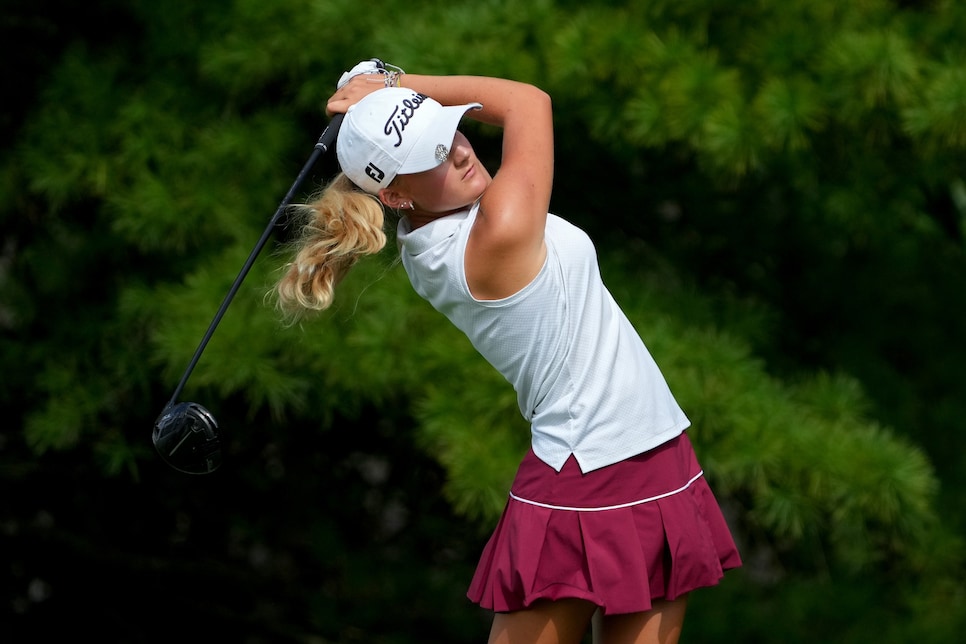 Gianna Clemente, 15, has a chance to become the third straight teenager to win the ANWA.
Dylan Buell
This stage would seem enormous for a 15-year-old, but Clemente has proven to be talented beyond her years after local qualifying for three consecutive LPGA events last year while she was 14. That success came along with a runner-up in the 2022 U.S. Girls' Junior and three wins in WAGR events. Clemente also has some experience at Augusta National, having been a Drive, Chip & Putt National finalist in 2017.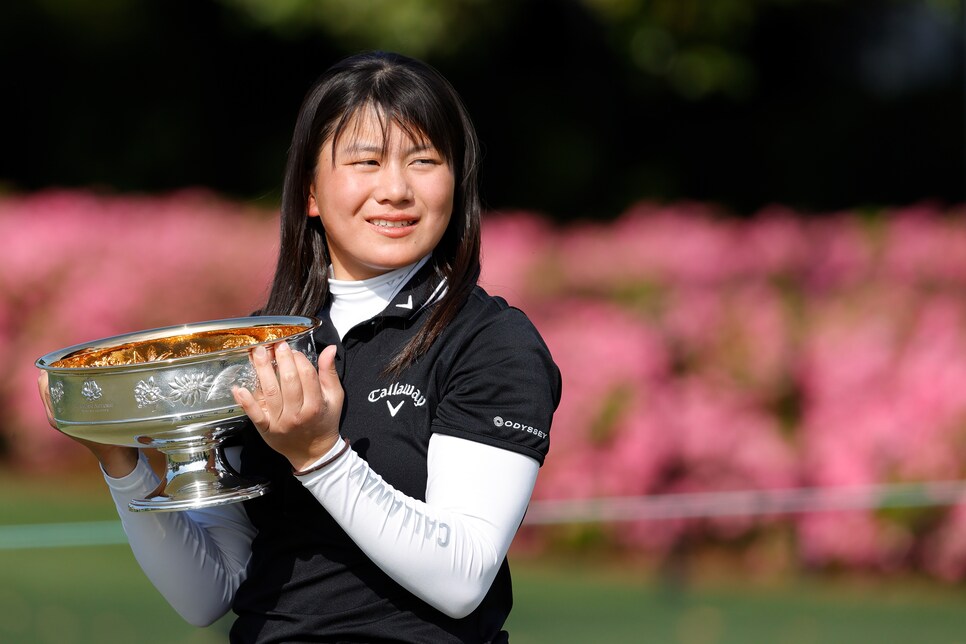 She is the mystery woman of the ANWA. In 2021, the then 17-year-old Japanese golfer was a relative unknown when she shot 72 in the final round and beat Emilia Migliaccio in a playoff. But for reasons that have never been clear, Kajitani didn't return to defend her title in 2022, and she has played so sparingly that her WAGR ranking has dropped from fifth after her ANWA win to 163rd. The last event in which she earned WAGR points was last August's U.S. Women's Amateur at Chambers Bay, where Kajitani reached the match play and lost in the first round.
The 2021 U.S. Women's Amateur champion, who finished T-12 in last year's ANWA, had a busy 2022 summer that included playing on the winning U.S. Curtis Cup team while also making starts in two professional majors, the U.S. Women's Open and Evian Championship. Jensen, 22, has six top-15 finishes in seven starts for Kentucky this season.
A freshman at Stanford, the 19-year-old's most notable time on the national stage came when she was the low amateur at the 2021 U.S. Women's Open at the Olympic Club, tying for 14th after playing in the final threesome on Sunday. She played on last summer's U.S. Curtis Cup team and has four top-10s this season for the Cardinal, including a runner-up in the Carmel Cup in her college debut. A four-time DCP finalist, Ganne missed the cut in her first two ANWA starts.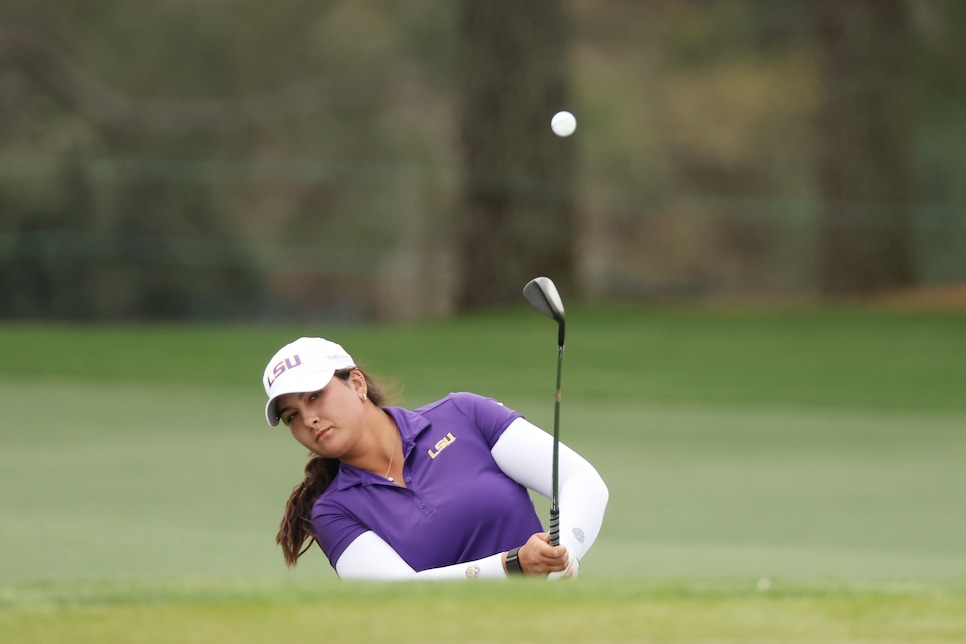 LSIU's Latanna Stone returns to the ANWA after a late collapse last year.
Gregory Shamus
With a birdie on the 16th hole at Augusta National last year, Stone had the clearest path to win the ANWA; she had a two-shot advantage over clubhouse leader Anna Davis with two holes to play. But she double bogeyed the 17th and bogeyed the 18th to tie LSU teammate Ingrid Lindblad for second. Stone, 21, notched her first collegiate win in February.
Considering what Kuehn, 21, did in last year's ANWA final round, the Wake Forest senior is likely to be a title contender if she gets in position after Champions Retreat. Kuehn birdied four of the first seven holes and shot three-under 69 to finish solo seventh. As a possible omen, the WAGR's No. 4 player won the Augusta Invitational earlier this month.
The 23-year-old from North Carolina is an interesting study. After she lost in the '21 ANWA playoff, she seemingly headed off to a career in journalism. But Migliaccio worked for a time, took a year off and returned to Wake Forest for a fifth season after capturing the North & South last summer and playing for the U.S. Curtis Cup team. She is looking for a rebound of sorts in the ANWA after missing the cut last year.