Amateurs
7 starts, four countries, 19 weeks: How Anna Davis parlayed her Augusta win into one incredible summer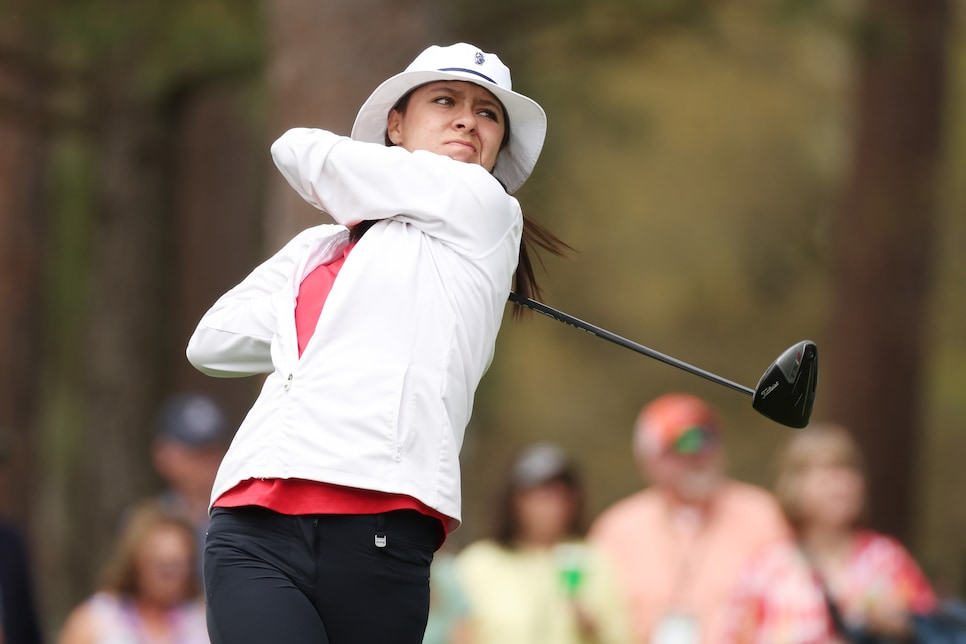 Bill Davis understood he wasn't talking to just any golf parent on that Saturday evening last April in Augusta, Ga. Rick Pano had years of experience navigating the ins and outs of the junior/amateur golf scene, having been in the spotlight since he and his daughter, Alexa, appeared in the 2013 documentary "The Short Game" when she was 7. "A pretty neat guy," Davis says. "All he does is golf."
On this night, however, Davis' daughter was the toast of the room at a party following the end of the Augusta National Women's Amateur. Anna Davis, a 16-year-old high school sophomore from the San Diego suburb of Spring Valley, who was No. 100 in the World Amateur Golf Ranking, pulled off a stunning victory over a field laden with college stars. She celebrated the win that afternoon with Alexa and Megha Ganne, another high-profile peer she was already close to, under the famed oak tree outside Augusta's clubhouse, and the fun spilled into the evening at the Crowne Plaza in North Augusta.
As the girls goofed off elsewhere, the dads had a chance to unwind, and Bill Davis vividly recalls Rick Pano's face when he smiled, shook his head and uttered a prediction—or maybe a warning: "You have no idea how much your life is going to change."
Five months later, Davis was the one with the wry expression, his daughter having just wrapped up a surreal odyssey playing in several of the biggest events in women's golf, amateur or professional. Pano couldn't have been more right.
With an impressive final round of three-under-par 69 at Augusta National Golf Club that gave her a one-shot victory over LSU teammates Ingrid Lindblad and Latanna Stone, Anna Davis' original summer plan of playing in top-level amateur tournaments went up in smoke.
Anna—a left-hander who instantly became known as the "girl with the bucket hat" after wearing a floppy lid during her closing round at Augusta—was stunned to learn in her post-victory press conference that the win earned her a spot the U.S. Women's Open that June at Pine Needles. "That's insane," she said with a grin. She would also get to travel overseas for the first time in her life for two more professional majors, the Amundi Evian Championship in France and the AIG Women's Open, played for the first time ever at famed Muirfield in Scotland.
And the pro exemptions kept coming. In late April, Davis made her first LPGA Tour start just up the freeway from her San Diego-area home, at the Palos Verdes Championship. Two weeks later, she was in New Jersey for the LPGA's Cognizant Founders Cup. After an AJGA team event in Plymouth, Mass., and the trip to Europe, Davis was in Canada for the CP Women's Open in August. That was followed by the Kroger Queen City Championship in Cincinnati.
The final count after the ANWA was seven professional events in four countries over the span of 19 weeks for the girl who is now the sixth-ranked amateur in the world. Serving as both dad and travel agent, Bill claims his head only now has stopped spinning. "If I never have to make a plane reservation or remember my damned password to the American Airlines site, I'll be happy," he says.
If only he knew that was true. The reality is that Bill and his wife Beatriz are likely going to have their hands full for quite some time. In Anna's first foray into the women's professional game, she has shown that the ANWA triumph was no fluke.
In the seven LPGA starts, Davis made the cut in five. The only weekends missed were in the U.S. Women's Open and AIG Women's Open, and she played her first weekend in a major at the Evian, where she shot 69 in the third round and tied for 65th.
In the Founders Cup, Davis bested 70 pros while finishing in a tie for 50th—the top result of her summer tour. At her last stop in Cincinnati, with her twin brother Billy on the bag, she shot her best score with a 66 and eventually placed 68th.
Fairly exhausted and ready to enjoy one of her favorite pastimes—lounging in bed—Davis was happy to be home by mid-September. At the same time, on a recent weekday at her home course of Steele Canyon Golf Club in the rural San Diego suburb of Jamul, she lamented running out of LPGA exemptions for the year.
"All I've ever wanted was to be a tour pro," she said while sipping from a glass of water at a booth in the clubhouse. "I don't think that's changed much. If anything, it made me want to go on tour more, just because I played well in the events. It made me want to get my tour card."
Understand, Davis, who doesn't turn 17 until March, was speaking about it on a day in which she'd taken a driving lesson—not with a club in her hands, but a steering wheel. The summer schedule wrecked her plans for preparing for the driver's test, but she was now bent on finishing the job.
(In a late-breaking update, Davis passed the test. "Finally can tell the press I have my license," she quipped in a text.)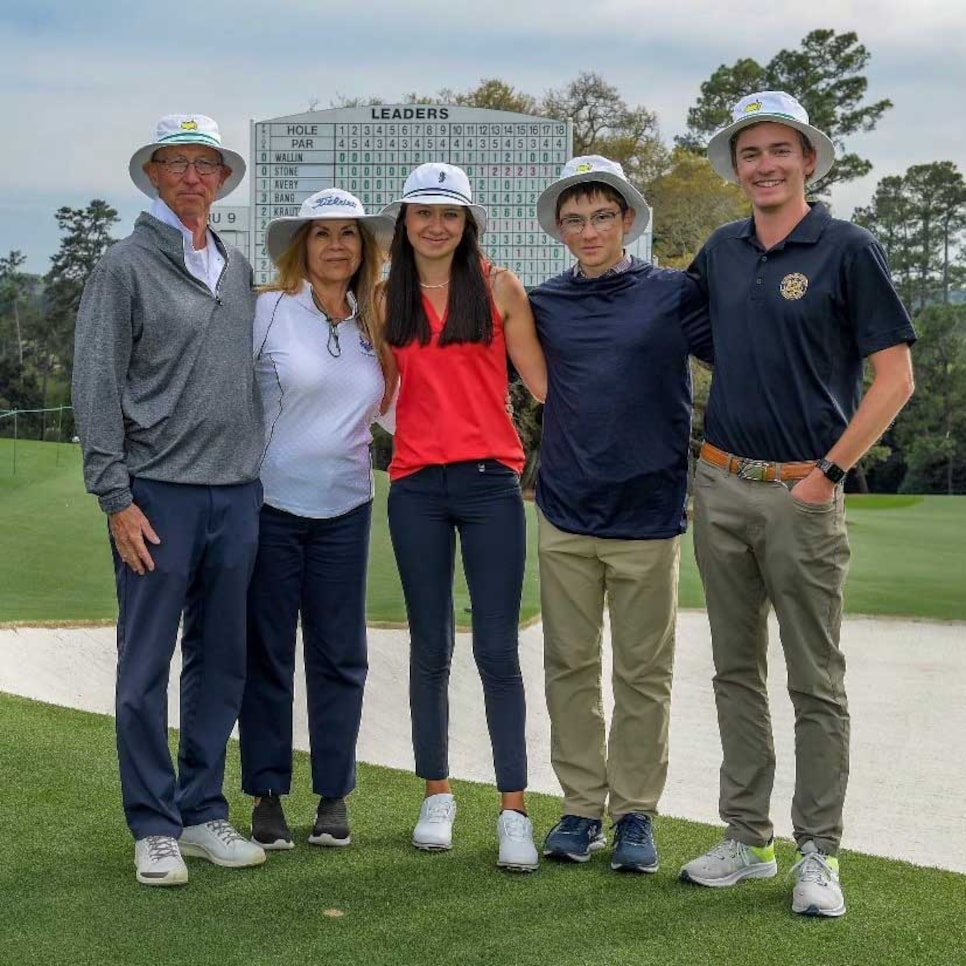 The Davis family celebrating Anna's ANWA win—dad Bill; mom Beatriz; Anna; twin brother Billy; and cousin Lachlan. (Photo courtesy of the Davis Family)
The point being that she is still only a junior in high school (she takes classes online), and because the ANWA win and the pro starts came in such a whirlwind, the Davis family doesn't even know what the immediate golf future holds. They do know that Anna will not be in the LPGA Q-Series in December, and that she has already been on one college recruiting trip, with a few more planned.
But an educated observer might conclude that Anna, who has an NIL deal with Titleist for an undisclosed sum, may have bigger aspirations than spending four years on a campus.
"I'm not really sure," Davis said of when she might turn pro. "I'm keeping my options open. Even before I won Augusta, I always thought of the option of going pro after high school. It's such a hard decision. I have two more years to decide. We'll see how the next few years go."
Those who are close to Davis acknowledge a maturity and independence unlike most teenagers. Her dad, who is a career high school Spanish teacher, recalls having to cajole a young Anna to go to the course with him and Billy, and that she sometimes played as if she didn't care. She'd hit a ball into the trees and seemingly try to hit another trunk on her way out. "Anna, pay attention!" her dad would bark. Only later did she admit doing that on purpose just to make him mad. "You're so dumb," she told them.
Over the summer, Davis traveled alone to Clifton, N.J., for the Founders Cup and ended up playing a round at famed Pine Valley with a high-profile sports agent and former major champion Morgan Pressel. She checked another course off her bucket list with an outing at North Berwick in Scotland, and at the Women's Open she stayed with a host family while her dad roomed elsewhere.
San Diego teaching pro Bill Barrett, who has worked with the Davis kids since they were little, said they both are the hardest working golfers he's coached, and that Anna is an extremely quick study with a keen knowledge of her swing.
"Before the final round at Augusta, we were on the range and she was not hitting it great," Barrett said. "She seldom asks me anything, but she said, 'Does my backswing look too short?' I said, 'No, it's too fast. Smooth out your backswing and let's go have some fun.' She looked at me, slowed her backswing down and didn't say a word."
That day at Augusta, while making birdies at Nos. 2, 9, 12 and 13, and only a bogey at 3, Davis missed just three greens in regulation and produced tremendous up-and-downs on nervy greenside chips at the 14th and 17th to pull out the win after starting the day two shots off the lead.
Davis admitted not being overly nervous at Augusta National, other than on the first tee—"I didn't know there would be that many people!"—because she knew virtually nothing about the history of the Masters or the renowned grounds on which it's played. She laughingly revealed in her winner's press conference—to the utter shock of some veteran reporters—that the only shots she'd ever seen of the Masters were Tiger Woods' final two putts in his 2019 victory.
She wasn't joking. Bill Davis says Anna has had zero interest in watching sports of any kind, including golf. In elementary school, he says, the kids were talking about the big football game coming up. "What's the Super Bowl?" Anna asked.
Anna basically went into the summer's LPGA experience with the same blissful naivete. In a video posted by Titleist in May, she meets Jessica Korda and Danielle Kang on a golf course, and though she is cheerful and respectful, Davis hardly seems awestruck.
Her dad said there was that same vibe during the LPGA events he attended. While they recognized the quality of play, they didn't see Anna's game as being much different or inferior. Barrett, her coach, said, "She believes she can win, and win right now, which is the right attitude."
"Being inexperienced made me feel young out there [on the LPGA]," Anna says, "but I carry myself as if I was a tour pro. And I think I can keep up with them. They were all very welcoming. You just go out on the range … it wasn't much different."
If anything, Anna noted the biggest variance among the pros was with their mental approaches. "It's just so huge," she says. "I play in junior and am events and I'm pretty confident on the golf course. I get out to tour events and it's scary [how assured they are]. I don't usually feel like that. I've never been unsure of what I'm doing, when in reality, I know I can hit that shot. But it's because I've stepped on this big stage."
Anna said her favorite experience of the entire LPGA run was playing a practice round before the U.S. Women's Open with Jessica and Nelly Korda. How'd she get such a prime opportunity?
"I was probably one of the first amateurs to sign up for practice rounds," Davis said, "and when I saw them paired together, I figured I'd sign up with them."
Davis said she found them "super chill and laid back," while being equally poised and professional.
"The way they carry themselves is really impressive," Davis said. "I think I'm pretty similar to them, in the way we carry ourselves on the golf course and the way we play in general."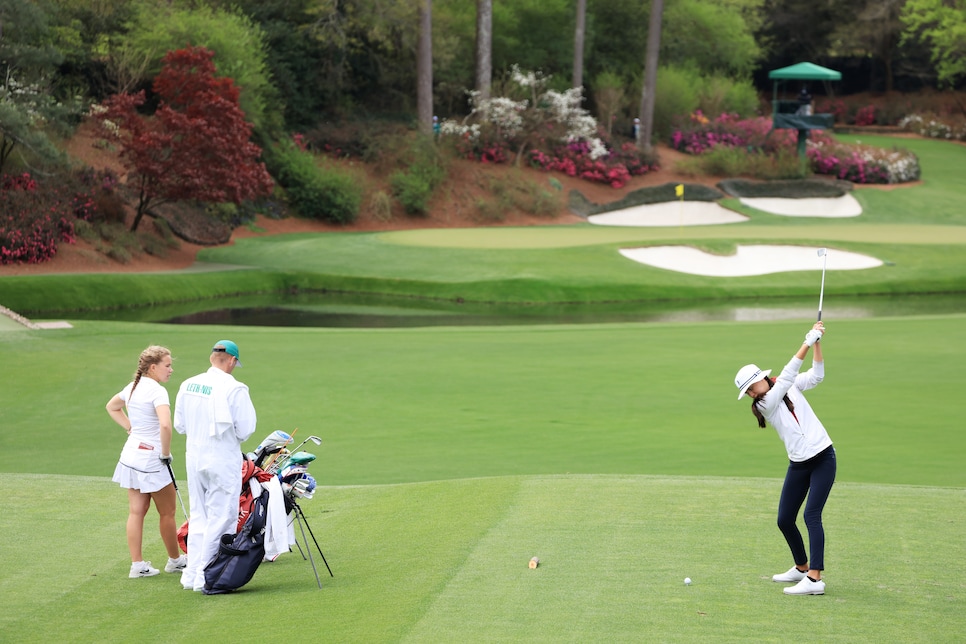 Anna Davis hits her tee shot on the par-3 12th during the final round of the Augusta National Women's Amateur. She birdied the hole en route to shooting 69 to win the tournament.
David Cannon
Any conversation about this fantastical season has to include the bucket hat.
Anna already had taken a liking to bucket hats—once seemingly reserved for old guys trying to stave off skin cancer—when she won the 2021 Girls Junior PGA Championship by seven shots at Valhalla. But, having not worn one in the first two rounds of the ANWA played at Champions Retreat, it was basically on a whim that she picked it out from her collection for a final round that would be televised around the world. The logo was that of seahorse that represents Florida's Ponte Vedra Beach & Club.
Davis never fathomed that by the end of the day it would become her "signature" and invoke spirited debates about the fashion merits of the golf bucket hat. "People recognize me so much quicker when I have it, on," Davis said. "'You're the girl with the bucket hat!' I'm still remembered for that."
On the first tee in Canada, she said someone asked, "Where's the bucket hat?" Anna smiled. "Sorry guys, not today."
Yet, she has never seen the hat as something she wanted connected with or even make money from. She dutifully acquiesced when Titleist and a few LPGA sponsors asked her to don the bucket in rounds—the most memorable being one with a rubber ducky at the Founders Cup to honor the recently passed legend Shirley Spork. But just like her dad suggesting she post more frequently on Instagram when she doesn't care about it, Anna can't be pushed into it. She's not going to do it simply to be popular or please others.
"I sort of played along with it at the beginning of this whole bucket hat thing," Anna says with a shrug. "But I just wear it when I want to."
Next April, Davis is expected to be the first ANWA champion to attempt to defend her title. Jennifer Kupcho turned pro after her victory at the inaugural event in 2019, and the 2021 champion, Tsubasa Kajitani, chose not to return this year.
Davis says she excited about the opportunity, but fans will have to wait to see if the bucket hat returns. It's just as well, because there's far more to the golfer than what she's wearing on her head.