AUGUSTA, Ga. — Augusta National has long been known as a sanctum for fathers and sons. Yet there was 16-year-old Anna Davis on Saturday afternoon, messing with her twin brother and laughing with her girlfriends under the oak that guards the clubhouse, reminding us how obtuse and exclusive our prisms can be. It takes a special person to do special things to shake us from perceptions and long-held beliefs, and Davis is certainly that person after a performance that echoed through the loblolly pines. Even if she's still coming to peace with what she just did.
What she did was this: A relatively unknown high-school sophomore from San Diego took down the game's best collegians to capture the 2022 Augusta National Women's Amateur.
"I'm still a little shocked. I don't think it's processed yet that I've won here, but it's pretty surreal, to be honest," said Davis after shooting a final-round 69 to finish at one under and win by a shot over Latanna Stone (72) and Ingrid Lindblad (68). "I literally—I'm speechless. I can't even fathom what just happened."
Unknown is perhaps a little unkind. Davis earned a spot in this impressive field with a dominant seven-stroke victory at the Girls Junior PGA Championship and was a member of the 2021 U.S. Junior Solheim Cup. Still, she entered the ANWA ranked 100th in the Women's World Amateur Golf Ranking and as one of the field's youngest players.
If you're wondering how this victory came to pass, we could point to a wide, controlled swing that produced straight line after straight line off the tee and off the forever-green fairways. (She's also a lefty, and it's a scientific fact that lefty swings are 18 percent more aesthetically pleasing.) But there aren't too many broken swings in this event and even fewer foul balls. Davis' name ended up the only player under par for the tournament because she rode a current of quiet conviction to a destination only she knew and refused to bow to the pressures inherent to this course. Because while "swagger" is not necessarily synonymous with "16-year-old," goodness, Davis traffics in an insouciance that you can't buy. She made her final-round trek in a white jacket and white bucket hat, an ensemble that if most of us tried to pull off would evoke comparisons to a Del Boca Vista retiree. Or, as one patron put it, "She looks like a mysterious poker player who is about to clean you out."
Perhaps the poker comparison is more apropos, for on Saturday Davis was cool and uncompromising, and whatever mistakes made were cleaned up before anyone could notice.
"Yeah, usually I am [composed]," Davis said. "I try to keep my emotions kind of to myself on the golf course. I don't know. I think showing emotions on the golf course, showing anger, sadness, it kind of makes the other player have an advantage when they see that, so I try to keep it to myself."
She's also not afraid to unleash some friendly fire: When asked if that equilibrium comes from her parents, Davis replied with this dagger. "I don't think either of them, to be honest. They're not very composed people," she explained. "I think just from experience and having to be very independent at an early age. I think that's helped a lot. I think also learning from them and what to do and what not to do sometimes."
Don't worry, mom and dad. She was joking. We think.
Truth be told, few really took notice of Davis for much of the day. She began the final round two back of co-leaders Stone and Beatrice Wallin, and with a birdie at the ninth, Davis turned with a one-under 35. Conversely, it was a congested leader board with more than a dozen players within three shots of the lead.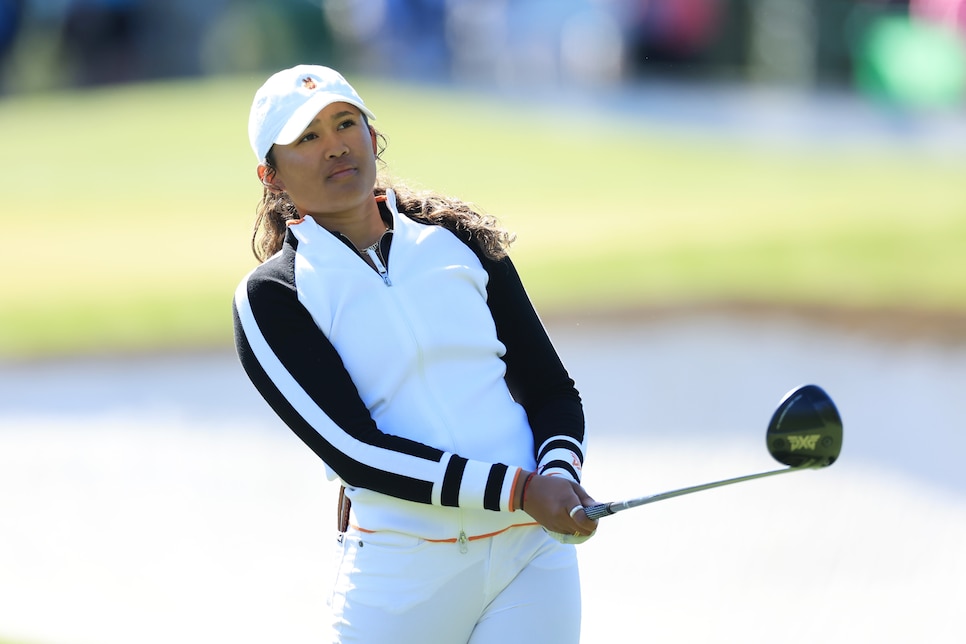 Amari Avery plays her shot from the third tee during the final round of the Augusta National Women's Amateur.
David Cannon
Whatever spotlight wasn't shared was focused on Amari Avery. If that name sounds familiar, it is: At 8, Amari was infamously hailed as "Tigress" by her dad Andre in "The Short Game," a 2013 documentary about junior golfers. Andre's hands-on and, at times, harsh treatment toward her career was seen by some as helicopter parenting at its worst. Avery is now a freshman at the University of Southern California and has played her way out of the enormous shadow cast by both father and film, and boy, does Avery have game. She has an aggressive mindset that pays out more than it doesn't and when it does backfire is bailed out by a deft touch around the green.
She was perhaps the longest player in the field, at times 60, 80 and even 100 yards ahead of partner Emma Spitz off the tee. With all respect to Spitz—who finished runner-up at the NCAA Championship and T-3 at last year's ANWA—the distance disparity was like watching a JV hoops team warm up on one side of the gym: one by one gracefully kissing the ball off the glass in the layup line … only to glance at the other side of the floor and see members of the varsity rocking the rim.
Avery is also of mixed race, her father African American and mother Asian. Despite this week marking the 25th anniversary of Tiger Woods' 1997 breakthrough, the game continues to struggle with diversity and the notion of what was at stake was not lost on Avery Friday evening. "I think I have a glimpse of what it would look like and what the impact would be," Avery said of a potential win. "I think it's a good time for women's golf, especially minorities as well … I've heard it before. I think it's nice. Being a trailblazer is nice to have it going for you."
Avery grabbed a share of the lead with a birdie at the par-5 second and again at the par-4 ninth off one of those approaches that looks good to first-time visitors yet is recognized as great by veteran patrons, using the top tier of the ninth green to funnel her ball toward the hole. However, a thinned second at the 10th led to bogey, and she three-putted the 11th. And while she rallied with back-to-back birds at the 13th and 14th, a 6 at the par-5 15th put an end to any title aspirations. Avery ultimately finished in a tie for fifth, but no matter; this week she put the "Tigress" to rest and reintroduced herself to the sport as "Amari." Remember the name.
"I'm so excited for what's to come and where my game's at," Avery said. "While I won't win, I think I hit a lot of good shots and put myself in contention and that's all I can ask for."
As Avery began going south, Lindblad, a native of Sweden, began to rise. She is an LSU Tiger teammate of Stone's and the World No. 2, and though she began the day at four over, she birdied the seventh and eagled the eighth to move to one over and become a very real threat. She bounced back from a bogey at the 12th and par at the 13th with another birdie-eagle combo, this time at the 14th and 15th, to move to red figures. Unfortunately for Lindblad her tee shot at the 18th found the massive bunker, her second didn't go much farther and she failed to save par to finish at even.
Behind, Davis parred the tough 10th and 11th and posted two straight birdies at the 12th and 13th to move to one under. It appeared Davis was going to go lower, buzzing the tower with a handful of birdie looks coming in. A near-miss at 18 prompted the only moment where Davis broke her stoicism, looking at the ball with righteous indignation that it failed to listen to her commands. Davis finished with five consecutive pars for a one-under 215 total, a number to be darn proud of but one that looked like it wouldn't be enough.
That's because Stone appeared to have the tournament locked up. The 20-year-old toured the front in 35 strokes, erased a bogey at the 11th with birdies at the 12th and 13th, then seemingly put the ANWA on ice with an approach to three feet at the par-3 16th to take a two-shot lead at three under. Even her second shot at the 17th, which was short of the front bunker, raised little doubt.
Yet this is the back nine of Augusta National, where the ridiculous is routine. Usually that is said with positive connotation, although there are plenty of Masters moments where it means the opposite, and that is what it meant for Stone on this day.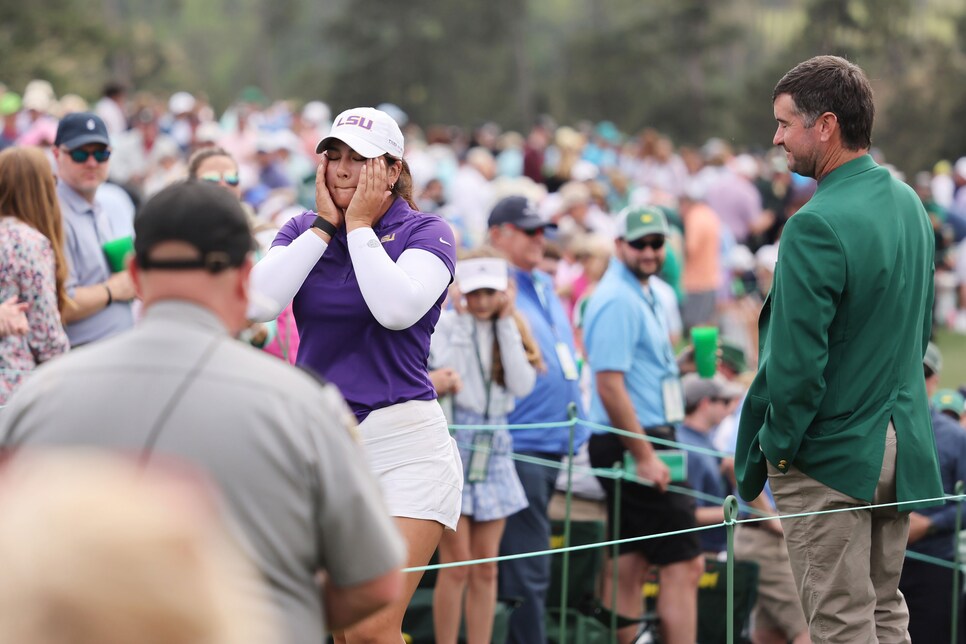 A disappointed Latanna Stone walks off the 18th green after a double bogey-bogey finish cost her the ANWA title as Bubba Watson tries to offer condolences.
Gregory Shamus
Stone's chip shot didn't bite when it needed to at the 17th, leaving a lengthy par save. She failed to convert for 4. The putt for 5 didn't fall either. The final damage was a double-bogey 6, putting Stone in a tie for Davis with one to play.
Following Friday's practice round at Augusta National, most of the competitors spoke of the challenge of fading the 18th tee shot. To Stone's credit, she works her driver from left to right. Unfortunately for Stone, it went a little too right, leaving her in a precarious spot that brought the overhanging pines into play. The pines forced her approach short and her chip for the win rolled 15 feet by—15 feet she needed to force a playoff. Stone believed the putt would turn to the right. It stayed left.
Stone walked off the green, fighting like hell the pangs and solitude that come with watching her world fall apart in the span of 20 minutes and valiantly reminding the crowd that there's always someone on the business end of another's win.
"It's just heartbreaking, you know?" Stone said afterwards. "I knew where I stood on 17, and I was just thinking par out. I was trying to be aggressive and just kind of lost it, but I thought I could get it back on 18, but I had a lot going on in my head with where I was at."
But there is a winner and that is Davis. In a bit of serendipity she noted she shares a birthday with Augusta National founder Bobby Jones, although she did acknowledge she's not much of a Masters zealot—her only vivid memory of the tournament is watching Woods finish out his 2019 victory. In her defense she's only been alive for one of Tiger's five green jacket wins.
As for what's next, the win grants her an invite into this summer's U.S. Women's Open. After that, well … she's 16. Give kids space to be kids, after all. Davis was emphatic, however, that she eventually wants to be seen as the best player in the world. Beating the best amateurs at the world's best course is a decent start. Oh, and about that bucket hat? She began the tradition last summer. "Every golf course I go to I try to collect them," she said.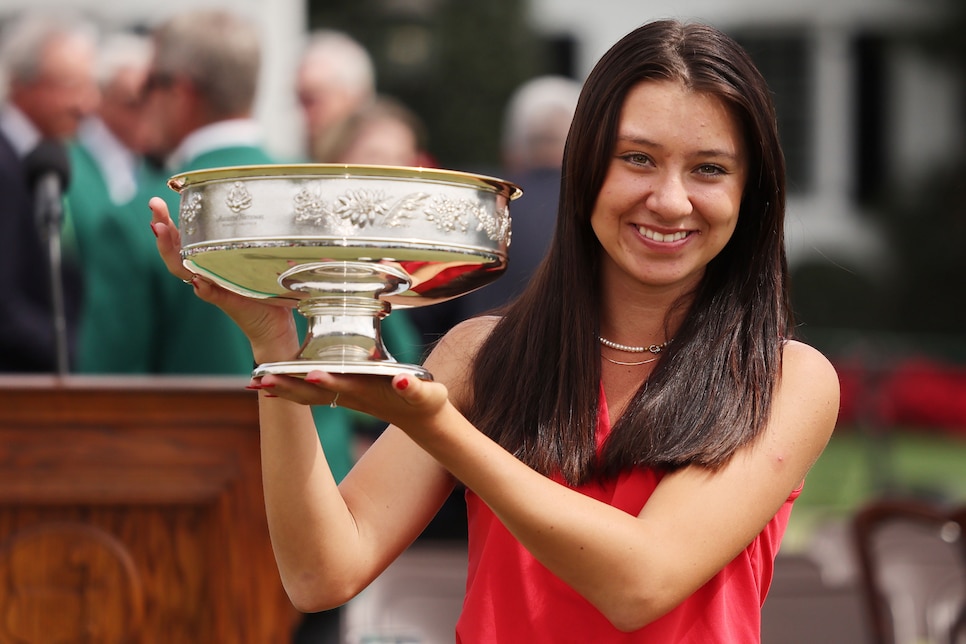 Anna Davis celebrates with the trophy after winning during the final round of the Augusta National Women's Amateur.
Gregory Shamus
If this week was any indication of where Davis is going, she's going to have one heck of a collection.