Voices
Augusta National Women's Amateur is best appreciated in the little moments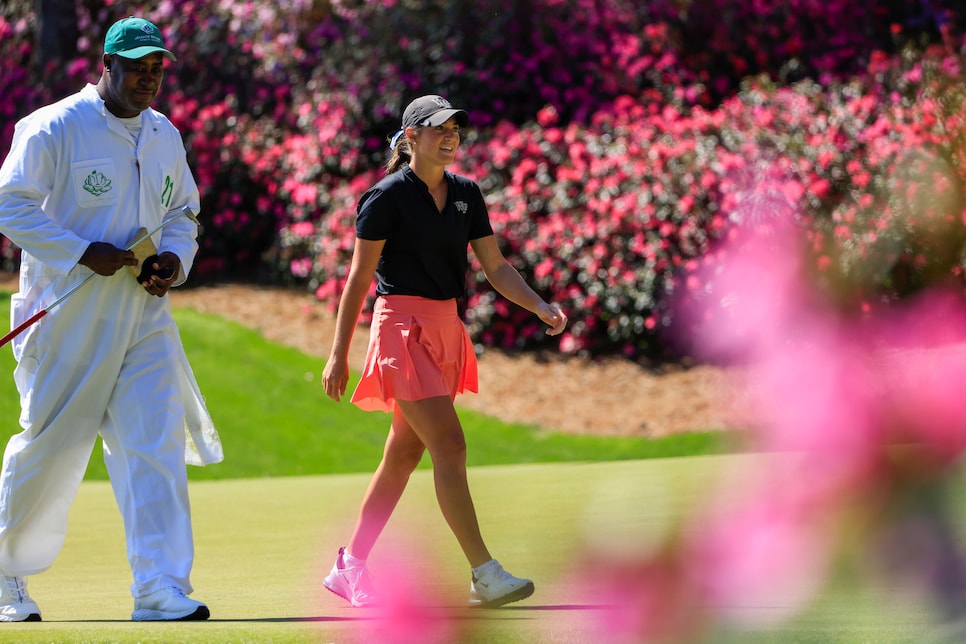 AUGUSTA, Ga. — Rachel Kuehn and Carson Scarboro aren't related but they shared a moment behind the clubhouse at Augusta National Golf Club on Saturday. Kuehn, a 20-year-old Wake Forest undergrad, had just shot a three-under 69 in the final round of the Augusta National Women's Amateur to sneak her way onto the leader board. It came with a bogey on the last hole, a dropped shot that left the woman who had clinched the winning point for the U.S. in last year's Curtis Cup at two-over 218 and too far back to realistically think her score would hold up. But that didn't matter to Scarboro. The 11-year-old from Evans, Ga., had followed Kuehn with her grandmother. After the round, all the young girl wanted was to say hello and see if she could get an autograph, which Kuehn obliged.
And then Kuehn shared a moment with someone she was related to. Brenda Corrie Kuehn was an accomplished amateur in her own right, securing the winning point for the U.S. in the 1998 Curtis Cup. She played in 16 U.S. Women's Amateurs and nine U.S. Women's Opens, including one famously in 2001 while eight months pregnant with Rachel. Brenda didn't want an autograph, she wanted a hug, which Kuehn also obliged.
Three years ago, when officials at Augusta National established the ANWA, it was in hopes that little moments like these would become realities, connections made that would translate into lasting memories. They played out nicely at the inaugural event in 2019, but the aim was interrupted by COVID in 2020, when the event was canceled, and partially again in 2021, when spectators were limited.
The return this year of patrons, however, meant a return to the mission at hand: to shine a light on the women's game by providing opportunities for current players while giving inspiration to others.
"Look at this. I couldn't see my child play today and I was complaining about it, but I shouldn't be complaining about it," said Brenda of the sizable galleries estimated to be as large as 20,000. "I mean, look at these people coming to see amateur women's golfers. Where in the world do you see this? It was great. I was very shocked by the crowds."
So was Rachel. On the first tee, the college All-American from Asheville, N.C., medalist at last year's U.S. Women's Amateur, admitted she hadn't played in an atmosphere like it. "I turned around and Annika Sorenstam sat there, and I thought, 'Oh my gosh. I have to hit the fairway,' " Rachel said. "Didn't hit the fairway, but it was really so cool to see so many people supporting women's golf. It's just incredible. I think it's a testament to what Augusta is doing here."
A year ago, Rachel was in the field but failed to be among the 30 players who made the 36-hole cut and got to play Augusta National in the final round. It looked like that would be her fate this year, too. She needed to rally when she returned to Champions Retreat, host for the first 36 holes, to finish a rain-delayed second round on Friday morning. She made birdies on her last two holes to qualify for the final round, sitting at five over, five shots off the lead.
Rachel made birdies on three of her first four holes at Augusta National Saturday, and then another on the seventh, to suddenly get within one of the lead. "I definitely think I had a little momentum," Rachel said. "It was nice to see a couple go in toward the end of yesterday, and then to see a couple go in early just lets you breathe on the golf course."
Kuehn would settle for a seventh-place finish, three shots back of winner Anna Davis. But she walked away happy with how the day played out.
"It's incredible," Kuehn said. "Obviously, it's one of if not the best amateur events in the world. I would compare it to the U.S. Amateur. It's different because it's not match play, but we get to play two amazing courses, and they invite the top 75 girls in the world. At what other field do you get to play genuinely the best field in the world?"
Asked what it might have been like if this event existed when she was a player, Brenda wasn't sure how to answer, noting she had recently had a similar conversation with some of her contemporaries where they pondered that same question.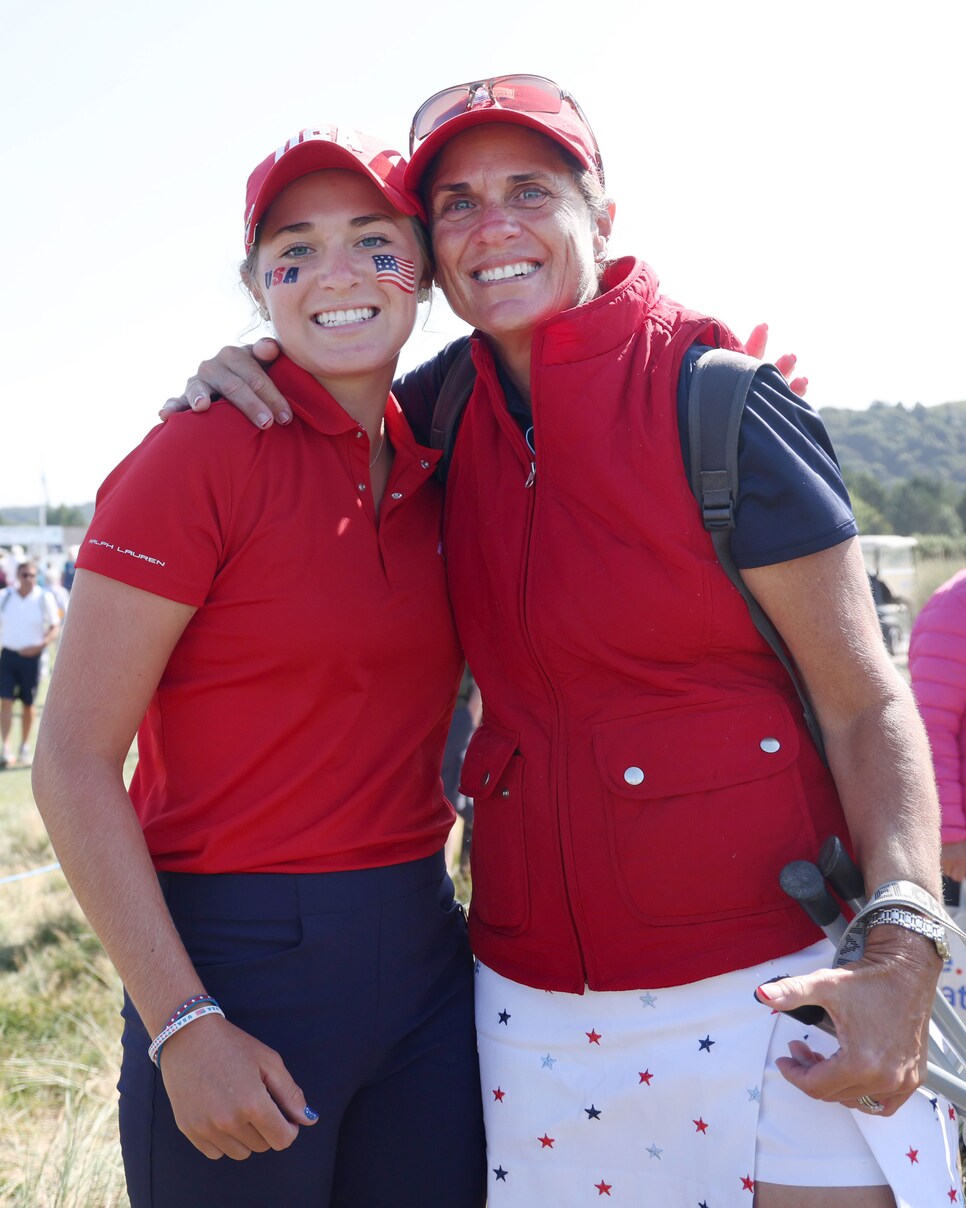 Rachel and Brenda Kuehn share the moment at the 2021 Curtis Cup, when they became just the second daughter-mother combination to have played in the match.
Matthew Lewis/R&A
"We talked about 'imagine if when we were playing if this was here, what it would feel like and what it would be like?' I don't know how much it would have grown [the game] because the game of golf, especially the women's game, has grown tremendously. What I played and what's played now are two different games. It's not just the distance and better shape and they're longer and whatever, it's the shots they hit. How they play the game … the whole thing is different."
In part that's Brenda being modest. No doubt had the tournament existed a generation ago, it would have connected in much the same way that it is today, with players, family and youngsters who have something to aspire to.
"It makes me really excited and happy to get to see them play out here," said Carson Scarboro, staring at the autograph she just received. Carson is just starting to play golf herself. She may one day become an avid golfer, or she might move on to something else. Either way, there's a decent chance she'll remember for a while day she got Rachel Kuehn's autograph. At least judging from the beeming smile on her face.