Amateurs
Rachel Kuehn, U.S. Women's Amateur medalist, made headlines in a USGA event before she was born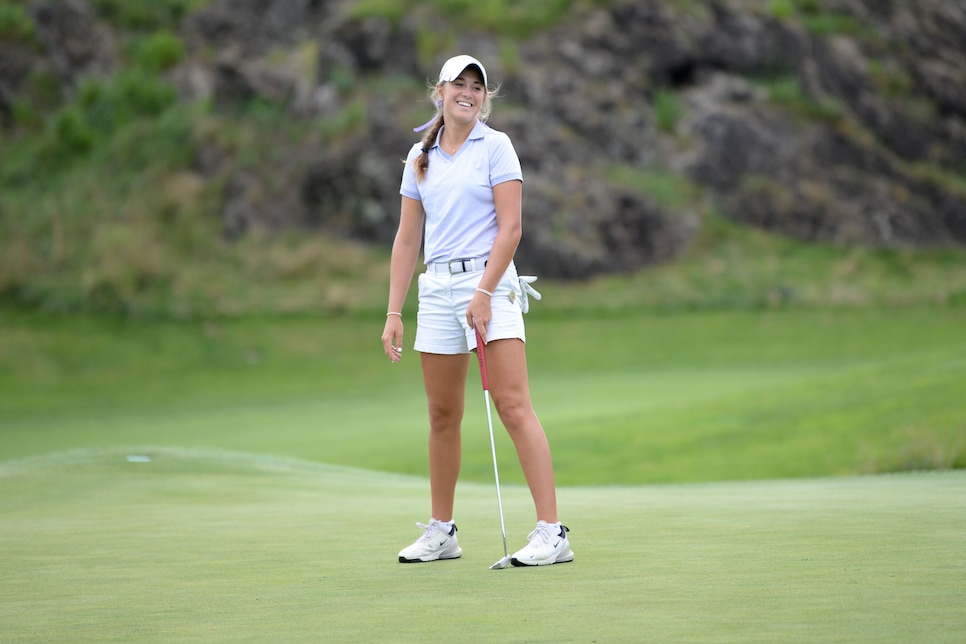 Rachel Kuehn putts on the 16th green at Westchester Country Club during the second round of stroke play at the 2021 U.S. Women's Amateur. Kuehn would earn medalist honors.
Kathryn Riley
The good news: Rachel Kuehn earned medalist honors on Tuesday at the U.S. Women's Amateur, shooting a five-under 67 at Westchester Country Club for a six-under 138 total, two shots better than Kennedy Pedigo.
The bad news: No medalist has gone on to win the U.S. Women's Amateur since Amanda Blumenherst did it in 2008.
Kuehn, a 20-year-old Wake Forest junior from Asheville, N.C., will bask in the accomplishment of the former and looks forward to bucking the later when match play starts on the West Course in Rye, N.Y., Wednesday.
"This course is hard," Kuehn said, 23rd in the most recent World Amateur Golf Ranking. "It's playing pretty long. I think it's important to have some long, straight tee balls on this golf course to get yourself in position, because the greens are so firm that if you're hitting a long iron or hybrid or wood into it, it's really hard."
How hard? Defending champion Rose Zhang finished with matching one-over 73s in her two stroke-play rounds and easily qualified for match play, where she has a 15-1 record in USGA events.
Not so lucky was another pre-tournament favorite, New Jersey high schooler Megha Ganne. The low amateur from the U.S. Women's Open at The Olympic Club in June shot an opening 79 on Monday and when bounced back with an even-par 72 on Tuesday, she missed the playoff for the final spots in match play by a stroke.
En route to medalist honors, Kuehn got a nice break. After bogeying the seventh hole—her only bogey of the day—Kuehn faced a 188-yard approach on the par-4 eighth. Hitting a 5-iron, her ball skipped across the pond fronting the green. She would save par, then birdie the ninth and 10th holes.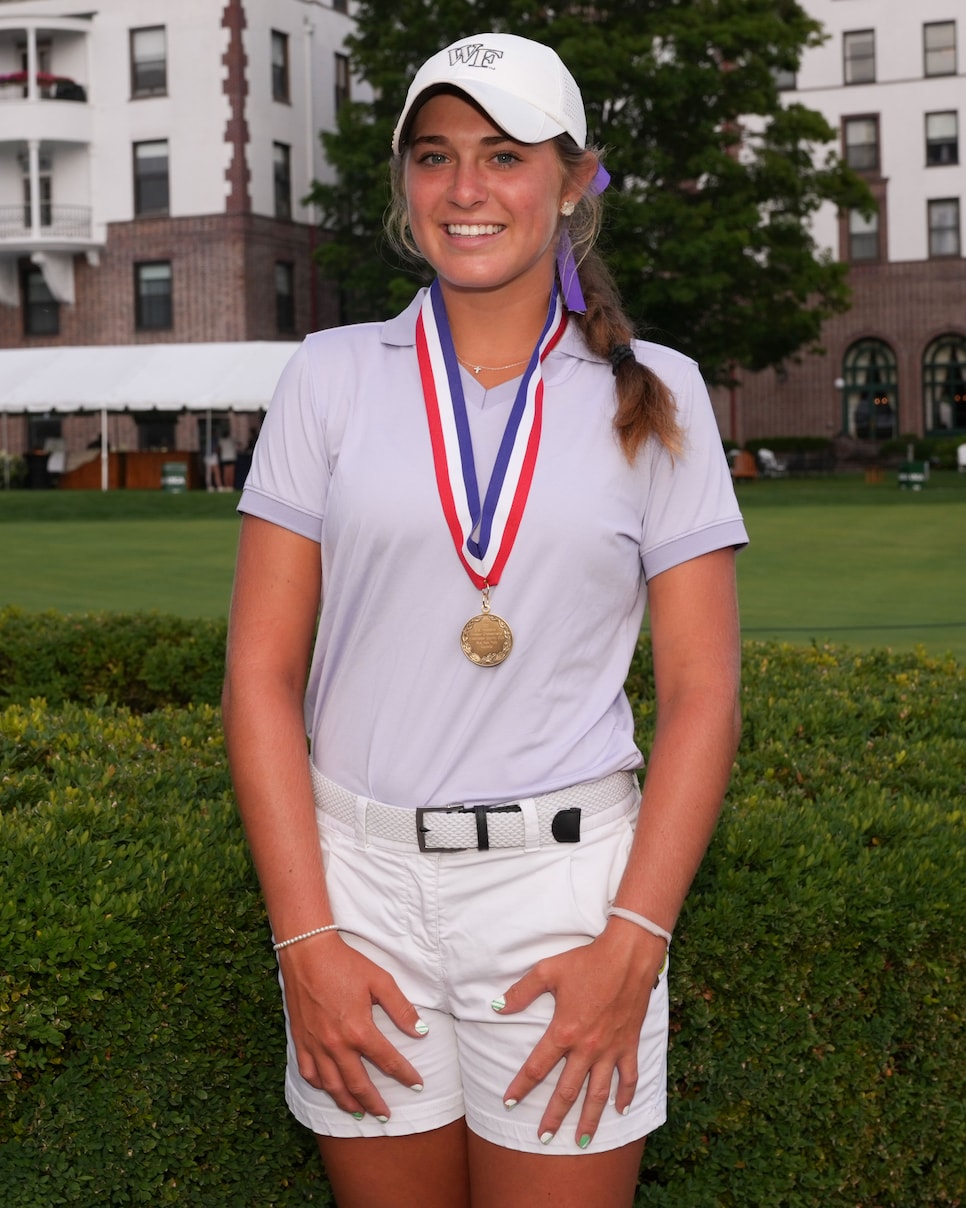 Rachel Kuehn poses with her award for earning medalist honors after shooting a six-under 138 to claim the No. 1 seed at Westchester C.C.
Darren Carroll
Rachel is not the first in her family to be a USGA medalist. Her mother, Brenda Corrie Kuehn, twice claimed the honor in the U.S. Women's Mid-Amateur (1995 and 1996) during an accomplished amateur career that included 16 starts in the Women's Amateur, nine U.S. Women's Open appearances and a runner-up at the Women's Mid-Amateur in 1995.
Suffice it to say, Rachel seemed destined to be a golfer from before birth. Brenda made headlines in the 2001 U.S. Women's Open at Pine Needles by playing while eight months pregnant with Rachel. (Husband/father Eric caddied for the pair that week.) Brenda even felt a contraction while hitting her tee shot on the 11th hole during the opening round. She missed the cut, but eight days later delivered her daughter.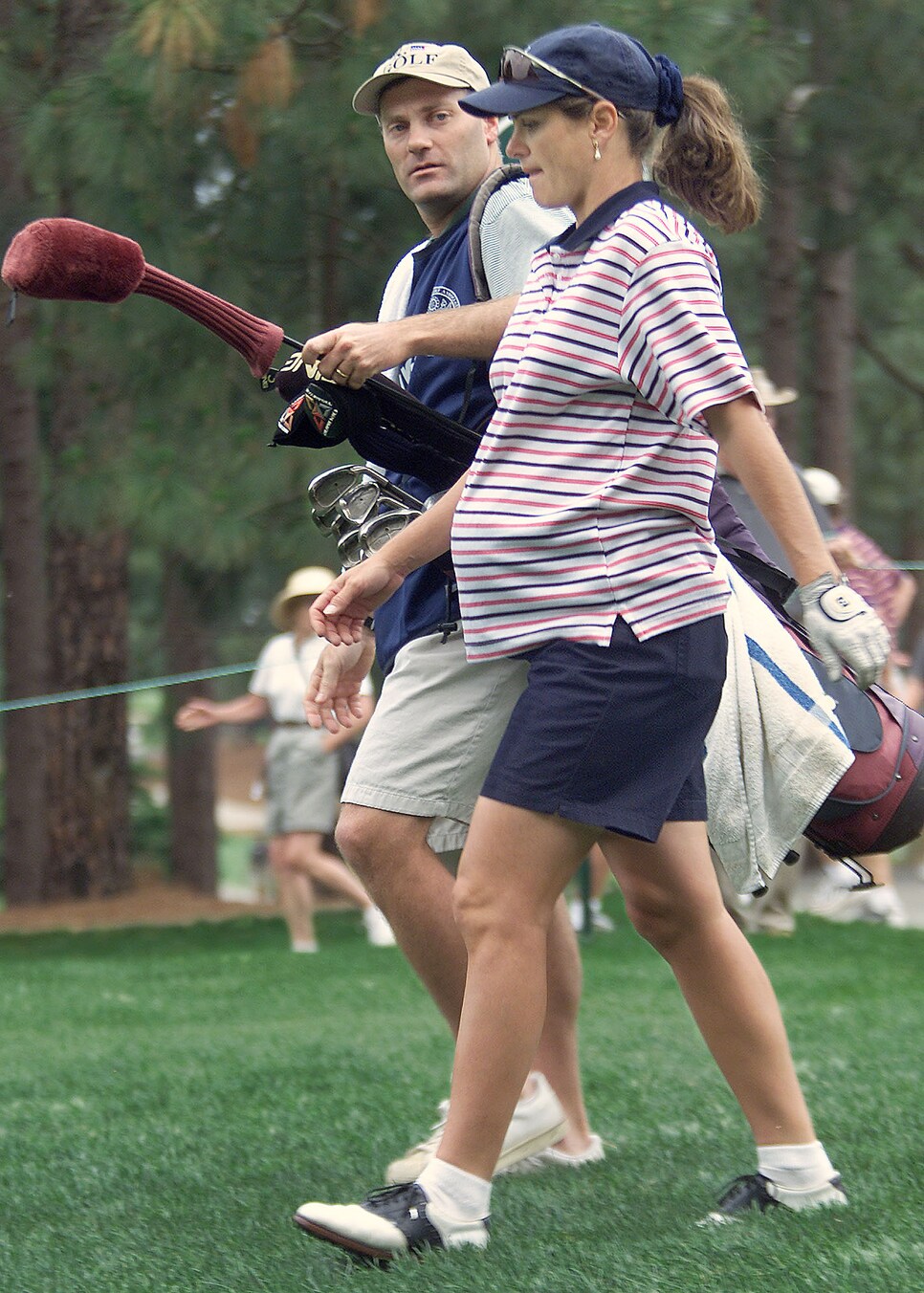 Brenda Corrie Kuehn, pregnant with Rachel, walks with her caddie/husband Eric Kuehn during the first round of the 2001 U.S. Women's Open.
LUKE FRAZZA
Rachel followed in mom's footsteps by attending Wake Forest. She earned second-team All-American honors during her sophomore season that wrapped up in May, posting a team best 72.27 stroke average on the season. Rachel's biggest career amateur title to date came with in the 2020 North & South Women's Amateur at Pinehurst No. 2.
Kuehn will face University of Kentucky junior Marissa Wenzler in the first round on Wednesday. Kuehn promises she won't take her opponent lightly.
"I think you get to this level and everyone can play, so you just got to take one match at a time and not take anything for granted," Kuehn said. "Everyone can go out there and have a good round, and match play is having just a little bit of a better round than your opponent's."