Exactly when Megha Ganne realized things had changed after her breakthrough performance at the U.S. Women's Open in early June isn't altogether clear.
It might have been when strangers kept stopping the 17-year-old high school senior at the San Francisco airport as she returned home, congratulating Ganne on playing her way into Sunday's final threesome at The Olympic Club. Or maybe it was when the same thing happened at the Newark airport after she arrived home back in New Jersey.
Perhaps it was a day or two later, when Ganne had trouble getting through the grocery store without being stopped every other aisle. Or possibly it was when the cashier at the local bagel stop kept giving her a "I can't believe it's you" when she came by.
"I knew it would get attention from golfers," Ganne said of her newfound celebrity, "but I never expected to get attention from someone who never watched the sport before. And that was the most shocking part."
Two months later, seeing Ganne listed as finishing tied for 14th doesn't do her accomplishment justice. She shared the first-round lead with an opening 67 and was two shots back through 36 holes after a Friday 71. A third-round 72 allowed her to join Yuko Saso and Lexi Thompson in the final threesome on Sunday, with a true chance at becoming just the second amateur ever to win the U.S. Women's Open. While her final 18 holes was more of a struggle (she shot a six-over 77), it was still good enough to lock up low-amateur honors and couldn't slow down "Megha-mania" (our words, not hers).
Ganne says she's still getting recognized on a regular basis, enough so where she tweaked her practice schedule to add some extra time to talk to those who come up to her. "It's nothing but supportive."
Any hope, then, of coming into this week's U.S. Women's Amateur—her biggest start since the Women's Open—under the radar … well it's not happening. Ganne is among the pre-tournament favorites, along with defending champion and World No. 1 Rose Zhang, NCAA medalist Rachel Heck (a future Stanford teammate when Ganne starts college in the fall of 2022) and Augusta National Women's Amateur champion Tsubasa Kajitani.
When Ganne competes at Westchester Country Club in Rye, N.Y., there will be fewer people watching her, but more at stake. After her Women's Open showing, expectations have increased on the golfer who has risen to 28th in the latest World Amateur Golf Ranking. This is an event where she reached the semifinals in 2019 but lost in the first round of match play a year ago. A solid week could make her a potential pick for the U.S. Solheim Cup team that competes later in the month in Wales.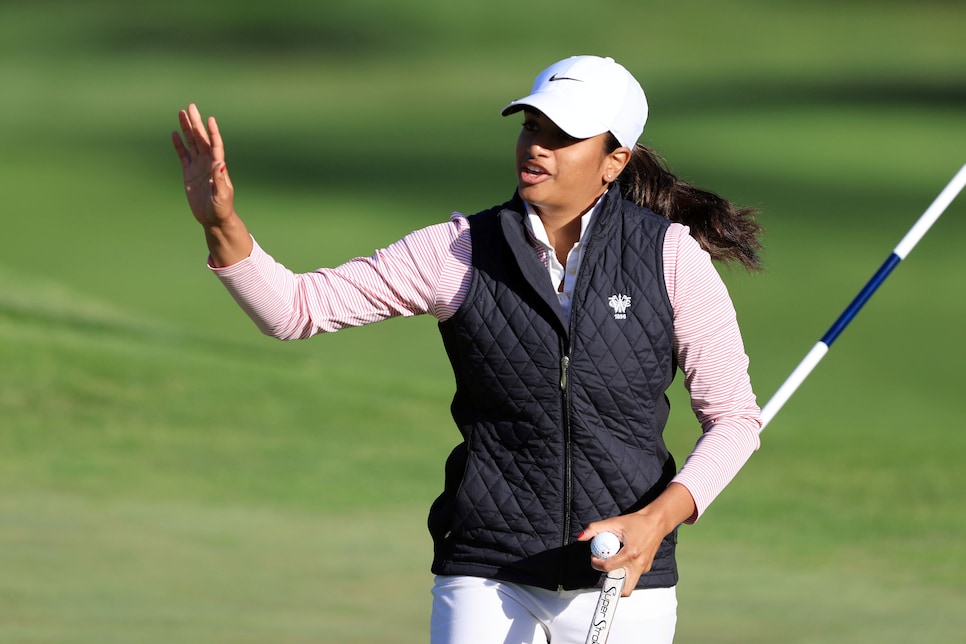 Megha Ganne reacts to the cheering crowd after finishing on the 18th hole during the first round of the 76th U.S. Women's Open at The Olympic Club in June.
Sean M. Haffey
Unlike summer's past, Ganne has kept her competitive schedule quiet, a convenient coincidence after her Women's Open experience.
"I am so relaxed," Ganne said. "And I feel like I'm a lot more recharged for this event than I would have been the last few years. It's exhausting to play two months in a row and then come into this event."
Also in her favor is the fact that the Women's Amateur is a home game of sorts for Ganne. She lives 45 minutes away and has played the course a handful of times. She got her start in the game playing at The First Tee of Metropolitan New York, where COO Katie Rudolph has been talking up Ganne to anyone who'd listen since she was 7 years old.
The biggest lesson Ganne learned at The Olympic Club: She's ready for big moments. It's a product of two U.S. Open starts, an appearance at the Augusta National Women's Amateur and four trips to the Drive, Chip and Putt National Final at Augusta National.
"I feel like I knew that I was capable of having a week like that before going into the week," Ganne said. "I always knew that part of me was in there. It just helped prove that it's come out and I'm ready to do this more often."
That confidence will come in handy, but so will some humility. Match play has its vagaries. All Ganne says she can do is prepare as best she can and hope her talent runs its course.
The good thing: She has memories of Olympic to draw on, knowing that in the moment she can handle just about anything, even when all eyes are on her.