Amateur sensation
The fascinating backstory of the teen who's stealing the show in the U.S. Women's Open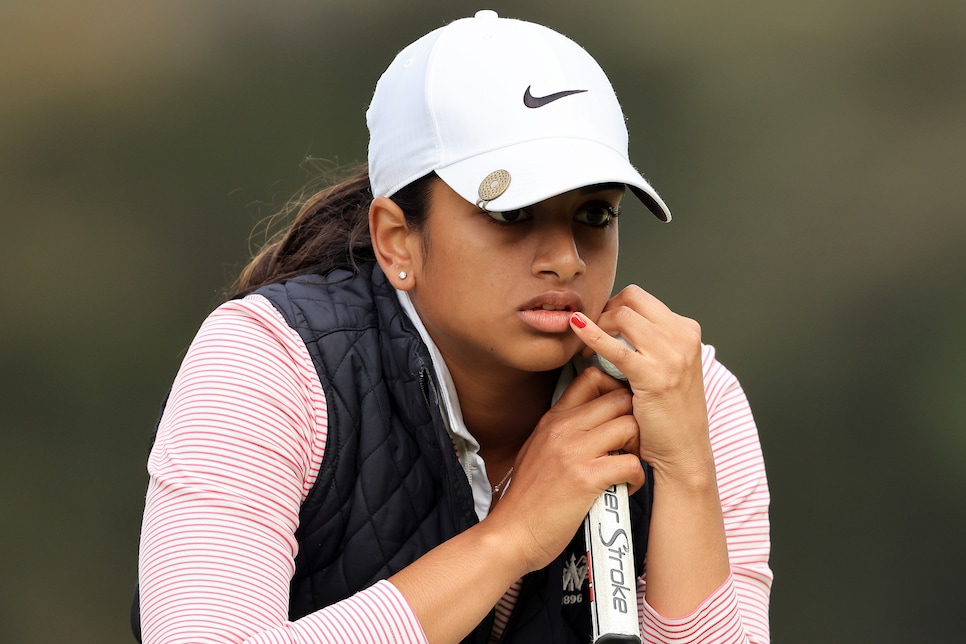 Megha Ganne, 17, is among the leaders heading into the weekend in the U.S. Women's Open.
Sean M. Haffey
SAN FRANCISCO — There were times when Katie Rudolph said it and people must have rolled their eyes or hidden a smirk. As an instructor and COO of The First Tee of Metropolitan New York, she was coaching a young girl, Megha Ganne, whom she believed had all of the tools to be among the finest players in the game. Actually, Rudolph's assertions were far more audacious than that.
"I've been calling her 'the best player in the world' since she was 7," Rudolph says.
A psychological ploy? A self-esteem booster?
"I believed it," Rudolph insists. "I don't think it was psychological, because I think I believed it. People used to laugh at me. I would tell anyone who would listen for the last 10 years—she's going to be the best player in the world. She's had the potential for a long time."
In this moment, as she speaks, Rudolph is standing on the back of the driving range at The Olympic Club. Behind her, Megha Ganne and her parents are doing interviews with reporters. It's early on Friday afternoon on the second day of the U.S. Women's Open, but 17-year-old Megha's work for the day is all but done. In the morning, she faced some early hiccups with three bogeys on her front nine, but rallied to shoot even-par 71 on the difficult Lake Course and, following her stunning 67 on Thursday, is two shots off the lead of Yuka Saso (67) heading into the weekend in the second major she's ever played.
Or, just where Rudolph expected her to be.
"A lot of people are looking at this and going, Wow. We're looking at it and saying, This makes sense," Rudolph said. "We're heading in the right direction."
Ganne is a high school student who is doing calculus homework this week between rounds. She has no plans of turning pro anytime soon and will head to Stanford in the fall of 2022. She's in TikTok videos with her friends performing silly dances, and when she auditioned for the school play and didn't get the lead role in "Alice in Wonderland," she poured her soul into being the Queen of Hearts.
"She lived that role and loved it," says her mother, Sudha.
The lead role had to wait. It has come this week in the most heralded major in women's golf, where Megha Ganne has become the wildly reviewed darling of the show. Beyond her impressive golf, she has charmed with smiling, light-hearted interviews. She good-naturedly shared a story on the range that the golf leader board on Google has been putting the Uruguayan flag next to her name for two years. "You'd think with this happening that they would have changed it by now," she said with a smile. "Much love to Uruguay, but that's not where I'm from."
She hails from Holmdel, N.J., 45 minutes south of New York City. Her parents are originally from India, with her mother a doctor in endocrinology and her father owning an IT business. Mom shuttled Megha between swimming, tennis and golf, until a swim coach delivered an ultimatum, and at 12, she chose golf as her favorite. She'd been playing in junior golf tournaments since early in elementary school.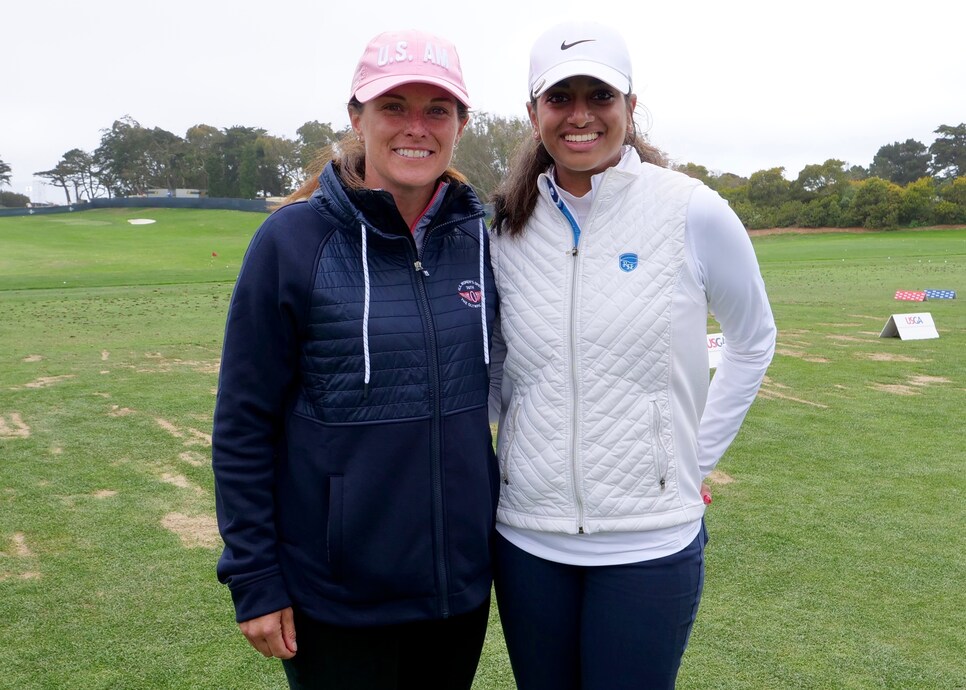 Megha Ganne (right) and her coach Katie Rudolph have been working together since Ganne was 7 years old. (Hally Leadbetter)
"We took her to this little tournament, and she was the only girl and they had tons of prizes," Sudha Ganne recalls. "They gave them all to her. In my mind, that got her hooked."
So many trophies and honors have followed. Megha qualified for four Drive, Chip & Putt national finals at Augusta National, played in the 2019 U.S. Women's Open at the age of 15, reached the semifinals of the U.S. Women's Amateur later that summer, and in April competed in her first Augusta National Women's Amateur. She's the 71st-ranked player in the World Amateur Golf Rankings and came into this week having won for the first time in a while—at the Scott Robertson Memorial in Virginia—just a few notches below battling the best players in the world on one of the hardest golf courses in America.
Though her daughter seems hardly fazed, Sudha says, "I'm a little overwhelmed by all of this. I didn't expect this coming here. She has her own goals, but my goal was for her to make the cut."
Adds her dad, Hari, "We were hoping to be here for the weekend, and it's much better than that."
In the early going, her parents will admit, they possibly focused too much on results, but that all changed when Megha showed a drive that didn't need to be stoked by anybody other than her.
"That's paramount in all of this," Rudolph says. "I talk a lot about 'the ride home'—when a kid rides home in the car with the parents. What does that ride look like? I feel like if parents are listening, they should take a page out of the Gannes' book. A ride home with Megha is nothing but support. It isn't what you did wrong or what you need to do better."
Megha joined the First Tee program in New Jersey, and it was there that she formed a bond with Rudolph, a former Wake Forest golfer who played briefly in the pros before getting into teaching. Rudolph was struck by the natural talent, tenacity and work ethic of a young Megha, who begged to stay at the course long after the other kids had gone home to their Xboxes.
"She was always having fun," Rudolph says. "It wasn't like, 'I have to practice, or I have to putt."
Now, Ganne is Rudolph's only student. The 41-year-old instructor recently took the position of head coach for the women's and men's golf teams at NYU. She is most certainly all in with the girl she believes will be the best in the world.
On the Olympic range, a remarkable weekend ahead of her, Rudolph chuckles. "I hit the Megha-lotto."