News
Californian Rose Zhang wins U.S. Women's Amateur after Gabriela Ruffels' cruel lip-out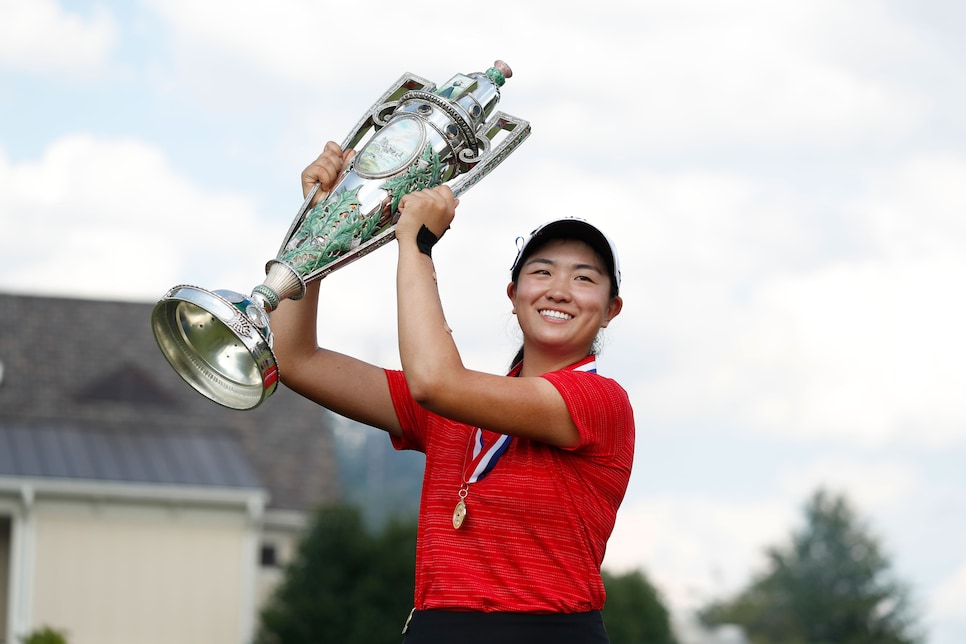 Rose Zhang holds up the trophy up after winning the 2020 U.S. Women's Amateur at Woodmont Country Club in Rockville, Md.
Chris Keane
A long day came down to a long yard, with a piece of history hanging in the balance on Sunday, when Gabriela Ruffels' bid to win a second consecutive U.S. Women's Amateur was foiled by her ball and the hole declining to accommodate her.
On the second extra hole, the 38th of the day at Woodmont Country Club in Rockville, Md., Ruffels' par putt from just over three feet to extend the match caught the right side of the hole, spun around the rim and stayed out, allowing Rose Zhang to claim what often is called the prettiest trophy in golf.
"This is insane," Zhang said. "I really do think that everyone does dream big, but I try not to get ahead of myself. Now that it's in my hands I really can't believe it. It's a dream come true."
It would not do her justice to suggest Zhang, ninth in the World Amateur Golf Ranking, was gifted the victory, however. Zhang demonstrated poise that belied her age, 17, and the fact she still has another year of high school in her hometown of Irvine, Calif.
On the 36th hole, she hooked her drive into thick rough with tree limbs ahead a further hindrance. Using a hybrid, she punched the ball low, avoiding the limbs, but without enough power to extract the ball from the rough.
Ruffels, meanwhile, was on the green in two and reasonably could have been preparing another victory speech, this one on becoming only the 14th player in the long history of the championship to win it in consecutive years.
Instead, Zhang hit a perfect pitch and run, the ball stopping within inches of the hole, earning a thumbs up from Ruffels, who conceded her the par. The match went to extra holes moments later when Ruffels missed her birdie putt and was conceded her par putt.
"Honestly, pulling that drive on 18 definitely wasn't called for," Zhang said. "I just tried to stay patient under those circumstances. I'm proud of myself saving par from such a tough angle and just tried to stay focused. Getting to a playoff was something I feel so accomplished about. The last two holes were definitely a grind. Gabi rarely made mistakes today and I didn't expect anything less from her. Just tried to play my own game and turns out everything went super well."
It was a remarkable run for Ruffels, 20 and a senior-to-be at the University of Southern California. An Australian native, she trailed in all six of her matches and came back to win the first five, extending her winning streak to 11 in U.S. Women's Amateur play.
In this one, she trailed several times throughout the match, and fell one down on the 30th hole, then tied it on the 31st hole with a 10-foot birdie putt. The duo then matched pars on the next five holes in regulation as well as the first extra hole.
The 38th hole made it the second longest final in the championship's history. JoAnne Gunderson defeated Marlene Stewart Streit on the 41st hole in 1966.
On the deciding hole, Ruffels, playing from the rough, hit her second shot through the green and down a hill. She hit a strong pitch and run that left her only a short par putt. Under other circumstances, it might have been conceded, but not with a national championship on the line, as her ball's circular journey around the hole confirmed.