Augusta National Women's Amateur
Japanese teen Tsubasa Kajitani wins Augusta National Women's Amateur in a playoff after a tense final round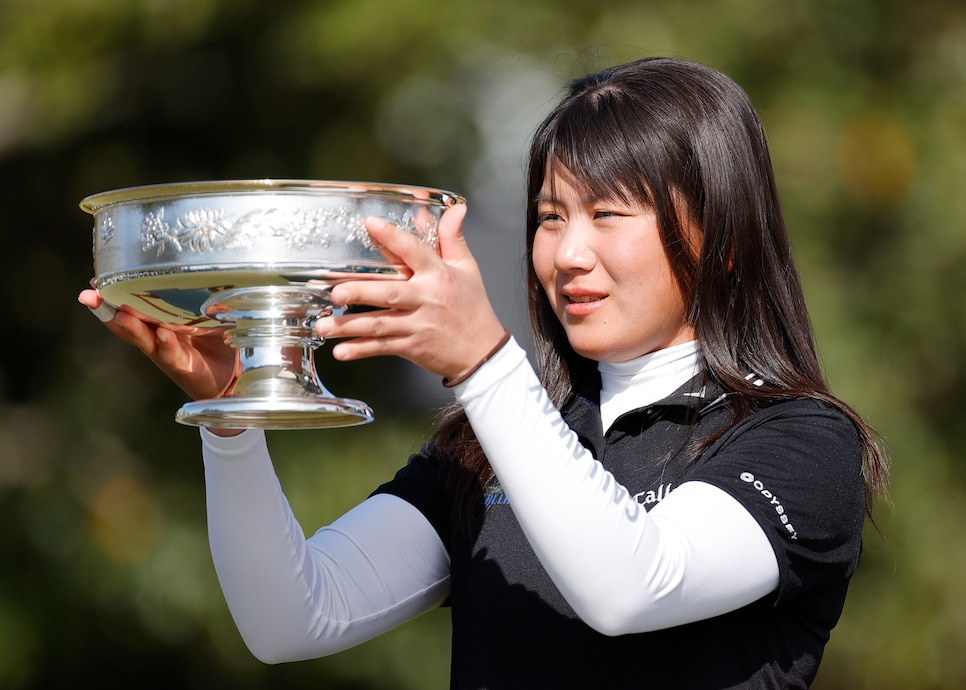 Tsubasa Kajitani celebrates with the winner's cup after the final round of the Augusta National Women's Amateur.
Jared Tilton
AUGUSTA, Ga. — It was going to be difficult to match the drama of the inaugural Augusta National Women's Amateur from 2019. It featured a focused, two-person duel between the players in the final group, ultimately remembered for champion Jennifer Kupcho's back-nine charge.
Remarkably enough, the 2021 edition was arguably a better show, for entirely different reasons.
On Saturday, close to one-third in the field of 30 in the final round seemingly had a chance to win on the back nine, and it turned into a fascinating profile in golf survival. With so many in contention—there was a six-way tie at one point on the back—a playoff seemed like destiny. We got that, with Wake Forest senior Emilia Migliaccio, who shot 71, and Japanese 17-year-old Tsubasa Kajitani (72) tying with one-over 289 totals and returning to the 18th tee to start a sudden-death playoff.
From there it was over in a matter of minutes, with Migliaccio badly missing the green right with her approach, dumping her third shot into a bunker and making a bogey, while Kajitani deftly two-putted from 70 feet for par and the win.
The victory figured to be enthusiastically received in golf-crazy Japan, which had never had a winner, male or female, at the world's most famous golf course.
"Hopefully, everybody is happy," said Kajitani, who seemed diminutive behind the big desk in the Augusta National interview room, where she answered questions through her interpreter in near-whispers.
Every player with a chance to win on Saturday had her own stumbles, and for Kajitani, they came after she birdied the 14th and 15th holes to leapfrog the six players who previously led. But at the 17th, her approach came up far short of the green, she pitched too long and then three-putted for a double-bogey 6 that dropped her back into a tie at the top.
By that time, Magliaccio was already finished and held the clubhouse lead. She made five birdies and three bogeys, including a 6 at the par-5 13th. But she recovered with a birdie at 14 and steadily played the final four holes in par.
"I thought even [par] was going to have a chance for the playoff," Magliaccio said. "I didn't think that one over would. I was pleasantly surprised that I was able to be in contention."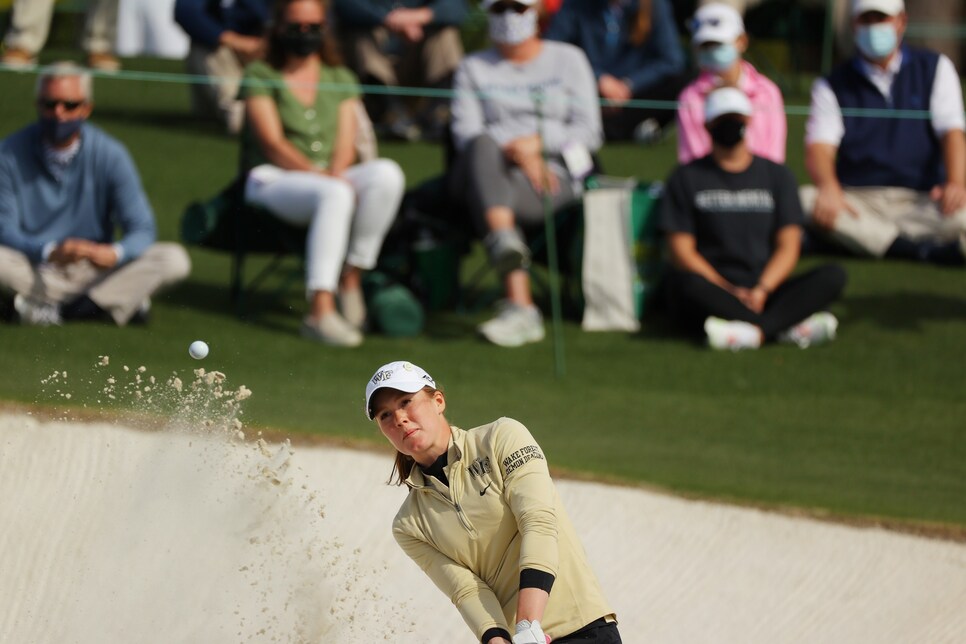 Emilia Migliaccio plays her shot from the greenside bunker on the 18th green during the playoff in the Augusta National Women's Amateur.
Kevin C. Cox
After waiting about an hour and hitting only about 10 drives on the practice range, Magliaccio and her mother, Ulrika, who served as her caddie, returned to the 18th tee, where she met up again with Kajitani. The two didn't know each other before the event, but played the first two rounds together at Champions Retreat, where they tied with 73s in the opening round and the Japanese bested the American by two shots (72-74) in the second.
"She's really good at working the ball with her driver," Magliaccio said. "She can hit a draw or a cut off the tee, so that was good. She kind of just takes a practice swing and then hits it. ...
"She made a lot of really good putts in Champions Retreat. They, like, hit the flagstick and went in. She had a lot of really good bombs. It was fun to watch."
Kajitani was one of the few in the final-round field who doesn't attend college in the U.S. Along with World No. 1 Rose Zhang, they were the youngest players in Saturday's field. Unlike, Zhang, Kajitani hasn't played often in America, sticking mostly to pro and amateur events in Asia, where she tied for ninth in the 2019 Japan Women's Open Championship. She entered the ANWA at No. 26 in the world.
"To be honest, when I came to the States, I didn't expect that that I'm going to win the tournament," Kajitani said. "And then day by day I have been confident, and then I won the tournament, which means my World Ranking is going to be up, and hopefully I can play in another big tournament, as well, which is my dream before I came over here."
Kajitani will have an opportunity to defend her championship next year if she remains an amateur—a different circumstance from two years ago, when Kupcho turned pro soon after the win and reached the LPGA Tour.
Six players ended up tied for third on Saturday, including co-leaders after the second round, Zhang and Sweden's Ingrid Lindblad. Zhang held the lead through the 12th hole, but her hooked drive at the 13th was lost, and she found Rae's Creek in front of the green with her fourth shot, eventually making a triple-bogey 8. Zhang bounced back with a birdie at 14, but a bogey at 17 knocked her out of the playoff. Lindblad damaged her chances wiht a bogey at 14, three-putt for par at 15 and bogey at 16.
Denmark's Karen Fredgaard shot four over in her last five holes, including a double bogey at 15, and misssed the playoff by one. Two others who could have reached extra holes, Rachel Heck and Emma Spitz, each bogeyed the 18th. Pauline Rousssin-Bouchard had the wildest round of the day, making seven birdies to go with five bogeys, and her birdie putt on the 18th hole to make the playoff burned the edge and stayed out.