Augusta National Women's Amateur
ANWA champ Anna Davis talks bucket hat, her college choice and pimento cheese sandwiches (she's not a fan)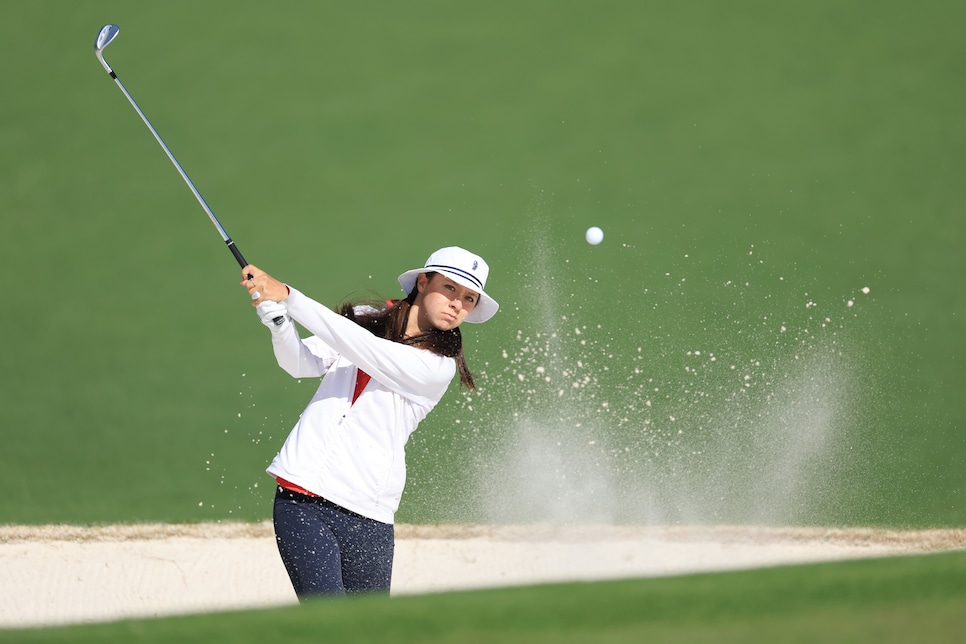 Teenager Anna Davis will be the first Augusta National Women's Amateur champion to attempt to defend her title.
David Cannon
Know this first about teenager Anna Davis when she talks about what seemed like an out-of-nowhere victory in last year's Augusta National Women's Amateur. Before her win, the San Diego native had little knowledge of Masters history or the revered challenges and subtleties of Augusta National Golf Club. Her dad has said her only exposure to the Masters was watching the final hole of Tiger Woods' triumph in 2019.
That naivety probably played a role in the 16-year-old high school sophomore shooting a three-under-par 69 in the final round to beat a field laden with college stars. She was not overtaken with awe making her way through Amen Corner or getting all caught up in memories of the greats chugging their way up the 18th hole.
Funny enough, it seems like Augusta National remains in Davis' mind as simply a very nice place to play golf. Nothing more, nothing less.
On a conference call with reporters on Tuesday to talk about the defense of her ANWA title in the 54-hole tournament that will be played March 29-30 at Champions Retreat and April 1 at ANGC, Davis said she hasn't returned to Augusta National since her winning round a year ago, though she would have certainly had opportunities to do something most golfers would drool over.
"I hadn't really had the time," she said. "It's kind of hard. I do live in California. That's a little difficult to make a trip to Georgia. It didn't fit into the schedule. This is the week I would have gone, and I didn't make time for it."
Don't feel sorry for her. Davis, 17, was speaking on the video call from one of the plush cabins on the grounds at Champions Retreat, where she is practicing at what is arguably the ANWA's more important venue, considering the first two rounds are played there. Those are the perks of being the champion, and she is the first of three ANWA winners to come back to defend.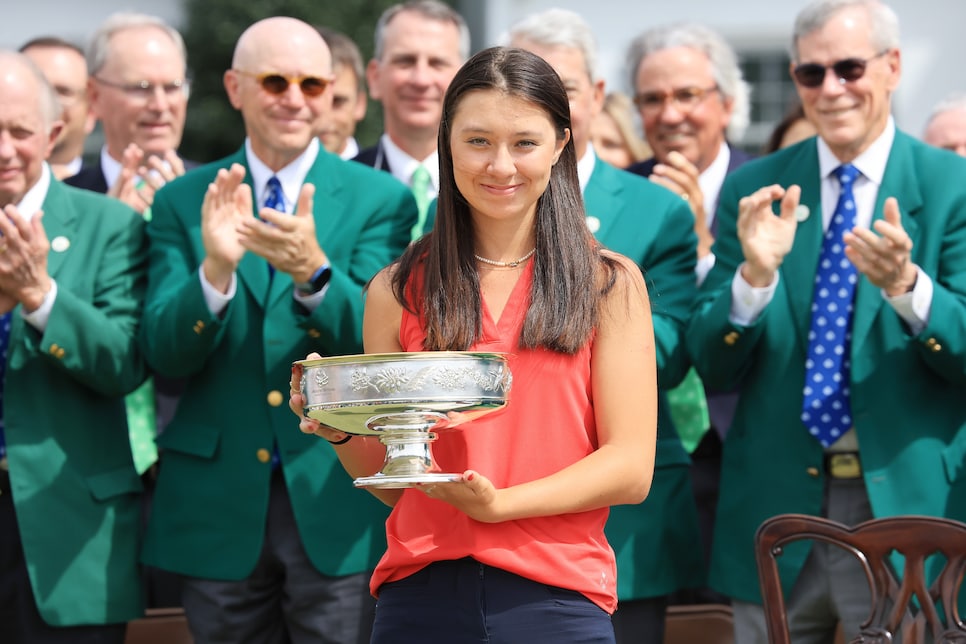 At 16, Anna Davis was the youngest winner of the ANWA in its third year of being played.
David Cannon
Davis is certainly not one to cling to conventions, or even risk ruffling a few feathers of those who wear the green jackets. In the most comical bit of her media chat, she was asked if she had a favorite treat at Augusta, since there are so many to choose from. Davis struggled to come up with an answer and then said, "I know the pimento cheese thing is like a really big thing, but I just can't get over how gross it is."
You can have your trophy taken away for such blasphemy.
On another light subject, there is the bucket hat Davis wore for the final round last year. Her look became something of a sensation, stirring debates about the style's merits while making Davis instantly recognizable during the LPGA events she played last summer. "The fuss over the bucket hat was pretty funny for a little while," Davis said.
Emphasis on little, because she hasn't sought to be known as "the girl in the bucket hat" and doesn't embrace it as her signature. Ask her parents. Davis has an independent streak and said on Tuesday that it will be a game-time decision on going with the bucket during the ANWA.
"It's definitely a possibility," Davis said coyly. "It kind of depends on my mood and also depends on the weather."
More seriously, Davis will go into ANWA coming off a significant wire-to-wire victory in last week's prestigious Junior Invitational at Sage Valley. Currently ranked ninth in the World Amateur Golf Ranking, she also won the Junior Orange Bowl International in January and has two other top-10 finishes since playing last year in seven LPGA events after her ANWA win, and making the cut in four of them.
After getting a taste of the LPGA life, Davis had a decision to make about her future: turn pro or go to college. And she admits that she felt impatient about making the call. Ultimately, she chose school and Auburn, where her twin brother, Billy, a decorated junior golfer in his own right, will also play on scholarship for the men's team.
"At the end of the day I kind of decided I needed more experience in different situations, in different pressure situations," Davis said. "… And to have a life for a few years in college. At the end of the day, that's just kind of my main deciding point."
She raved about her recruiting trip to Auburn, the small-town feel and the coaching staff. "After my visit, I just didn't want to leave," she said with a laugh.
Of course, until then she has another year of high school after this one, and now seemingly more many opportunities to play Augusta National. And even with her quirky nonchalance, she does appreciate the place.
"Obviously, you hear things about Augusta and people say it's perfect in every way," Davis said. "And when I went there, it exceeded every expectation I had. It's beautiful, and there's not a single blade of grass out of place there."