Separate ways
This major champion sees the PGA Tour-LIV Golf dispute differently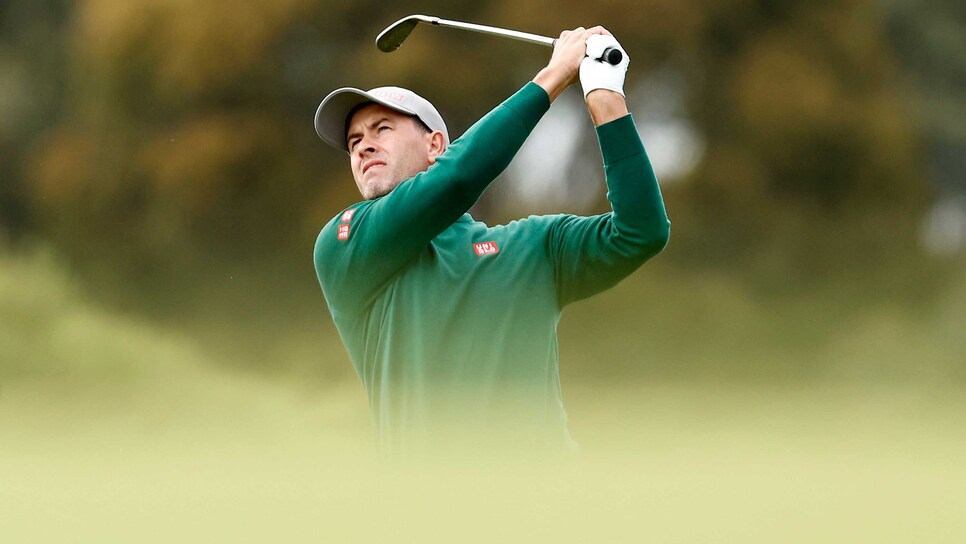 Says Adam Scott: "I genuinely feel like LIV should get on with what they're doing and the PGA Tour should get on with what they're doing and it will all sort out."
Darrian Traynor
MELBOURNE, Australia — Adam Scott and several of his countrymen competing at this week's Australian Open were asked what they made of recent comments from Rory McIlroy and Tiger Woods that LIV Golf's chief executive (and fellow Aussie) Greg Norman "needs to go" before LIV and the PGA Tour can ever come together. But Scott, a former World No. 1, answered the question with one of his own: Why do they need to come together?
McIlroy and Woods have called for Norman to step down, saying the two-time Open champion's disruptive approach won't allow for negotiations between the two organizations. Some see a peace deal between the two tours as necessary for the good of professional golf. Woods and McIlroy believe Norman is waging a "vendetta" fueled by his unsuccessful attempt to start a world tour in the 1990s, which then-PGA Tour commissioner Tim Finchem shut down.
"Greg has to go first of all. If one side has so much animosity, trying to destroy our tour, then how do you work with that?" Woods said on Tuesday during a press conference at ahead of the Hero World Challenge, also noting that LIV would need to drop its antitrust suit against the tour.
The way Scott sees it, however, there is nothing wrong with the PGA Tour and LIV going about their business separately as LIV Golf eyes its second season in 2023.
"I guess they're [Woods and McIlroy] speaking for the PGA Tour somewhat these day it seems," Scott said. "But I don't know what this coming together is. I don't know, is someone making that up? Like, is that a possibility? I don't know. I really am not involved at that level at all, and it seems like all speculation to me.
"I genuinely feel like LIV should get on with what they're doing and the PGA Tour should get on with what they're doing and it will all sort out. Whether that's together or not, I have no clue. But I don't necessarily think that it has to be together or not together for the good of the game. I think the good of the game will prevail, but it's a big shake-up and we're not used to that. And that's where I think it's at at the moment."
Controversially funded by Saudi Arabia's Public Investment Fund, LIV Golf debuted this year with seven $25 million events and a $50 million team finale. In 2023, its schedule will grow to 14 events, one of which will be in Adelaide in April, with a focus on the team franchises. In response to LIV's growing threat, the PGA Tour has created a new series of 13 elevated events where the top 20 stars will be guaranteed starters in the field.
With Norman overseeing the operation, LIV has already poached PGA Tour stars like World No. 3 Cameron Smith, Dustin Johnson, Brooks Koepka and Patrick Reed among others. Norman says he's looking to lure more as to beef up LIV's 12-team rosters, which will grow from 48 to 60 to include a reserve on each team.
Smith and countryman Marc Leishman, who jump from the PGA Tour to LIV in September, backed Norman to stay at the head of the circuit.
"He believes in what he does," Smith told the Sydney Morning Herald. "Maybe sometimes Greg comes off a little bit abrasive, but he's just trying to get a point across. He really does believe in this thing. I've spoken to him a million times the last four or five events. He believes in it, and he thinks it's a good product. They've gone about things a little bit differently as far as golf is concerned, but they believe in the product and that's what you want."
Leishman said Norman had done a "good job" in recruitment during LIV's first season. "He's got the players [signing on]. I think it's something that everyone's got an opinion on and they're certainly entitled to that."
Leishman did say he'd be open to playing 72-hole events if it meant LIV players could earn World Ranking points, something LIV events aren't currently able to offer.
"I think if that's what it took, I think I would be open to it," Leishman said. "But one of the things that we knew when we went over to LIV was that there might not be World Ranking points and that was one of the things I certainly took into account when making a decision. So again, that's out of my control. I'll go about my business and if we get them, which I hope we do, I would love that. I don't know what will happen if not, but I think it should happen."