LIV Golf
What to make of LIV Golf's tumultuous inaugural season—and what can we expect for an encore in Year 2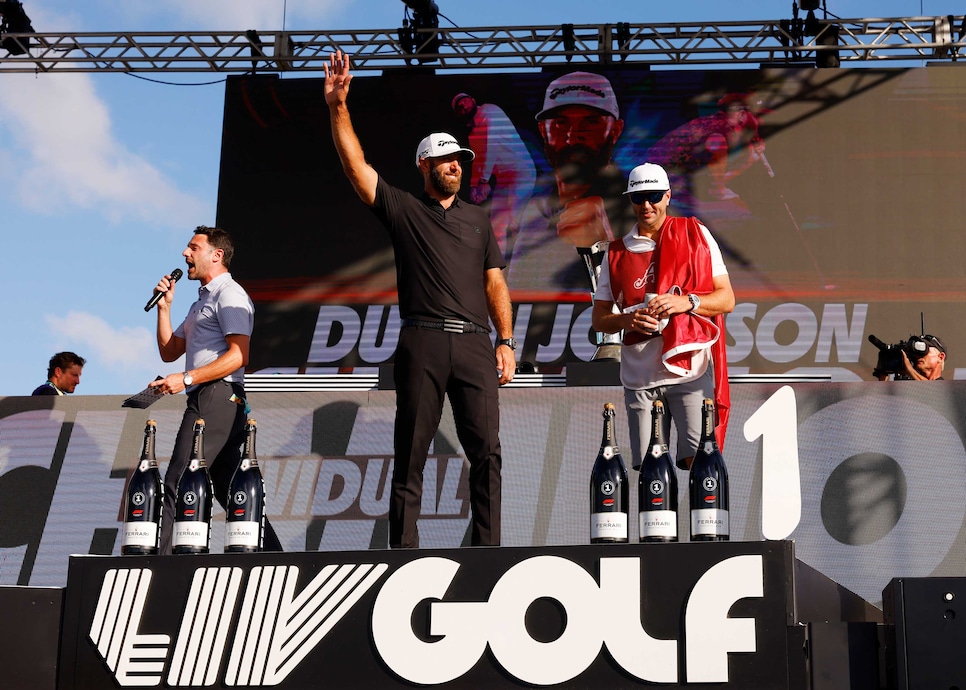 Photo By: Chris Trotman/LIV Golf
DORAL, Fla — LIV Golf's turbulent first season came to an end at its Team Championship on Sunday with a finish—on and off the course—unlike any seen before. First, Dustin Johnson rolled in a short par putt on the 18th hole at Trump National Doral's Blue Monster that secured a win for his 4 Aces squad. Johnson's teammates—Pat Perez, Talor Gooch and Patrick Reed—proceeded to celebrate on the green by spraying bottles of champagne with their captain that appeared to have GoPro cameras attached. The foursome's seven-under-par team score (Johnson, Reed and Perez shooting 70s, Gooch a 71) was enough for a one-shot victory over Cameron Smith's all-Australian Punch GC squad.
As the 4 Aces were escorted into a nearby gym to conduct a winning press conference, The Chainsmokers kicked off a live concert that concluded the $50 million affair outside Miami. "I don't care where we do a press conference; we've done them in some weird spots," Johnson said, prompting laughter.
The two-time major winner had just banked another $4 million, his cut of the 4 Aces' $16 million winning jackpot. Added to the $13.6 million in prize money Johnson had made in the first seven LIV events, and the $18 million for claiming the circuit's season-long points title, DJ's on-course earnings topped $35.6 million.
"Personally, my season, yeah, if you add up the numbers, it was great. I didn't play my best, so it always could be better," Johnson said modestly. For perspective, Tiger Woods' richest year on the PGA Tour was 2007, when he made $10,867,052 in prize money and another $10 million for winning the inaugural FedEx Cup title.
Johnson's teammate Perez, though, was a little more open about the cash. "All the pushback, all the negative comments, everything we've gotten … I really don't care," said the 46-year-old Perez, who made $8.02 million this season. "I'm paid. I don't give a damn."
LIV promised via its marketing slogan that it would deliver "Golf, but Louder" in its inaugural campaign, spending approximately $784 million along the way (and likely to hit the $2 billion total before the end of 2023). And, indeed, the series controversially funded by Saudi Arabia's Public Investment Fund featured golf, and it was certainly louder. On the final day at LIV's team finale, Smith shot the low-round of 65 while playing with Johnson. LIV commentator David Feherty awkwardly said that Smith's 65 was one of the best rounds of the Australian's career, which includes Smith shooting a final-round 64 to win the Open Championship at St. Andrews in July and a final-round 66 to win the Players Championship in March. "It ended up coming down to me and Cam playing the 18th hole to see who wins the team championship," Johnson said. "You couldn't have drawn up [LIV's first season] any better."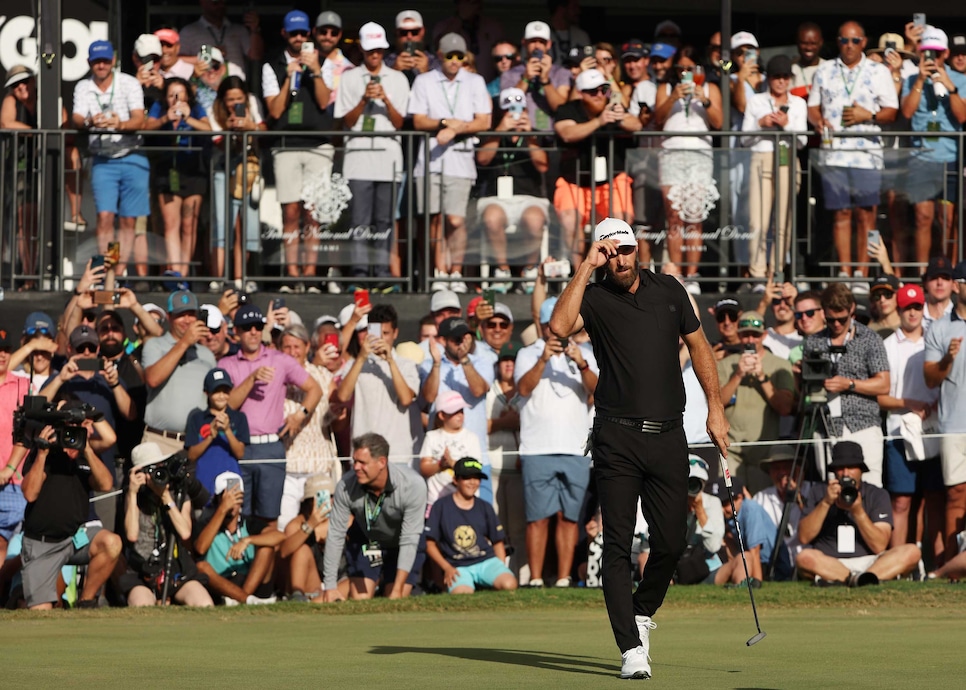 In his eight LIV starts in 2022, Dustin Johnson earned $35.6 million in on-course earnings and bonuses.
Patrick Smith/LIV Golf
The disruption aspect of LIV's debut season couldn't have been drawn up any better, either. LIV Golf's launch, and its subsequent feud with the PGA Tour and DP World Tour, evolved into the biggest story of the year in golf, and in sports as a whole. Rumors abound of top players contemplating leaving the PGA Tour for the riches of LIV and its seven-, eight- and sometimes nine-figure guaranteed contracts. So too did controversial comments made by LIV's chief executive, Greg Norman and its most visible recruit, Phil Mickelson.
Top players did eventually defect from the PGA Tour, and that was the biggest vindication for LIV officials. They lured four former World No. 1s in Johnson, Martin Kaymer, Brooks Koepka and Lee Westwood. Twelve major champions also joined: Mickelson, Johnson, Kaymer, Koepka, Bryson DeChambeau, Sergio Garcia, Graeme McDowell, Louis Oosthuizen, Patrick Reed, Charl Schwartzel, Smith and Henrik Stenson. The biggest blow to the PGA Tour arguably came when it lost Smith in September after the Tour Championship. The 29-year-old had won the tour's flagship event, the Players Championship, before his victory at the 150th Open. He wasn't just a high-profile player but a high-profile player at the peak of his game.
LIV accomplished all this despite Mickelson nearly tanking the entire enterprise before it had a chance to start in February when it was revealed he had called the controversial Saudi regime bankrolling LIV "scary motherf----s" but saw leverage in the form of "a once-in-a-lifetime opportunity to reshape how the PGA Tour operates." Rory McIlroy famously—and now somewhat infamously—said LIV was "dead in the water." But impressively, the circuit regrouped and went on to stage seven $25 million events in four countries (England, U.S., Thailand and Saudi Arabia) before the team finale.
Over the course of the season, LIV also produced some compelling winner's stories. In July, one week after joining LIV and immediately being stripped of his captain's job for the 2023 European Ryder Cup team, Stenson claimed the individual title at Trump National Bedminster. In September, Johnson triumphed in Boston in a thrilling playoff between Anirban Lahiri and Joaquin Niemann, both of whom were making their own LIV debuts. When LIV went to Chicago, Smith rose to victory and said he had proved "to other people that just because I've changed tours doesn't mean I'm a worse player." It was a nod to criticism from Gary Player and Fred Couples about LIV's format of 54 holes and no 36-hole cut.
But after a wild summer, LIV appeared to lose momentum this fall. Events in Bangkok and Jeddah allowed Norman to proclaim LIV a global tour, but the tournaments drew scant attention in the U.S. and U.K. (YouTube viewership decreased exponentially for the final three LIV tournaments compared to the initial tournaments, which weren't all that high compared to PGA Tour ratings standards.) LIV also still isn't giving out Official World Golf Ranking points at its events, despite thinking it had outfoxed the OWGR board when it formed an alliance with the little-known MENA Tour (Middle East, North Africa, and Asia). Moreover, the golf at times was not all that compelling, which may well explain the fact that LIV has still not landed a TV deal in the U.S.
Additionally, LIV Golf's funding continues to be a significant source of controversy as the Saudi regime behind the PIF has been widely criticized for, among other things, human rights abuses, its links to the Sept. 11 attacks in the U.S. and its involvement in the murder of Washington Post journalist Jamal Khashoggi. The Saudi's investment in LIV has been consider by some an attempt at "sportswashing," an exercise that, particularly when used by state-run groups, is considered a form of propaganda to distract the public from its abuses.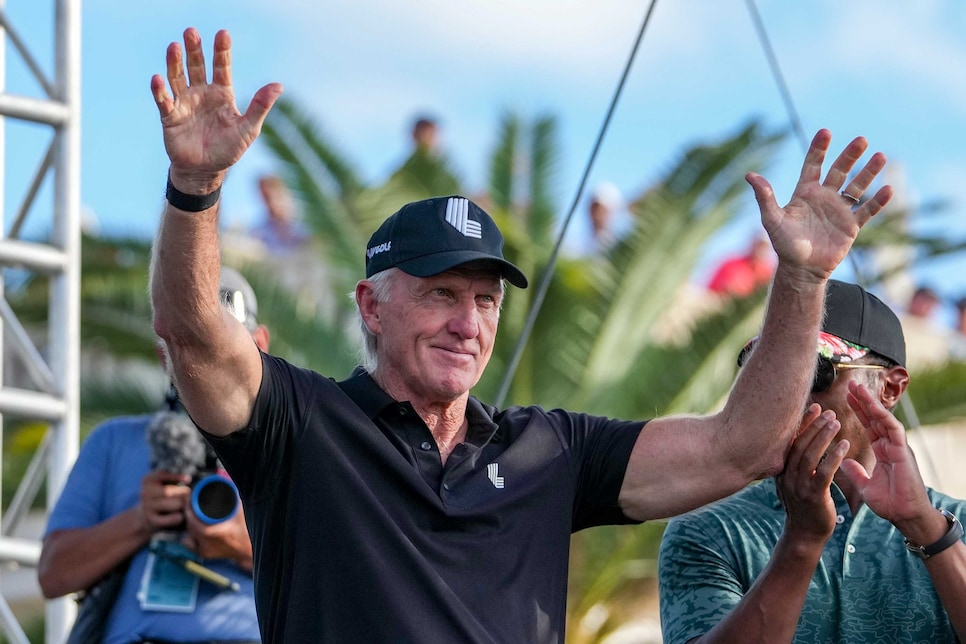 LIV Golf CEO Greg Norman says that the circuit "weathered all the storms" in 2022. "We've got a great crew of people and we've got a great product and we're off and running."
Eric Espada
So what's next for LIV? What does it intend to do to get louder in 2023? Its fledgling franchise concept will be a good start. The circuit will be renamed LIV Golf League and have 12 teams competing in a 14-event schedule including nine stops in the U.S. and five overseas. The franchise component will feature an equity stake for captains, a transfer market for players and teams paying for all their operating costs. So far, the camaraderie among the teams has been palpable; most eat meals, practice and socialize together on the road.
"The team format reminded me when I was a junior golfer playing for Chile," Niemann said. "All of that that we've missed; it's the best and most attractive part of golf." It's also where rivalries can develop, said four-time major winner Koepka: "The teams format … I think it could start something."
New signings also will likely allow LIV to make another splash; the stagnant fields in the final fall events might explain the lack of buzz. Up to seven golfers are believed to be joining before the start of LIV's next season, which is slated for late February. "We are in the middle of the discussions [with players] and we are going to get it done this year" LIV Golf's president and chief operating officer, Atul Khosla, said Saturday at Doral.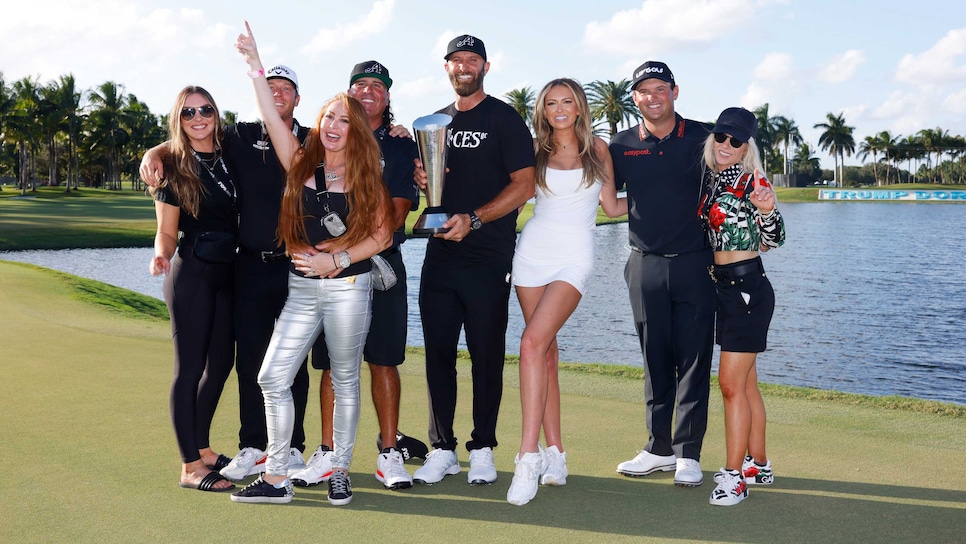 The 4 Aces Golf Club, and their spouses, celebrate the team win on Sunday at Doral.
Chris Trotman/LIV Golf
"We've had a lot of headwinds," said Norman on the streamed broadcast prior to the start of Sunday's final round. "We've weathered all the storms, and we're here. We've got a great crew of people and we've got a great product and we're off and running."
More controversy will no doubt arise as the lawsuit between LIV and the PGA Tour plays out in U.S. District Court and new secrets in the behind-the-scenes battle between the two rivals are revealed. Several DP World Tour players who joined LIV also anxiously await a hearing with Sport Resolutions U.K. in February that is expected to determine whether they can continue to play on European circuit and, subsequently, qualify to compete in next September's Ryder Cup. Currently, Adrian Otaegui, who plays on both the DP World and LIV circuits, is in the top six on Europe's points standings.
It is unclear whether any friction will come from the organizers of golf's four majors. Augusta National has not made any public comment over LIV golfers playing in the Masters, and the USGA has not revealed any changes in its qualifying criteria that might prohibit LIV golfers from playing in the U.S. Open. The PGA of America has hinted that LIV golfers won't be eligible for the Ryder Cup, but nothing has been official said about the PGA Championship. Only the R&A has said they "won't ban anyone," via its chief executive, Martin Slumbers.
Will LIV's second season be as controversial and disruptive? Or will it be more polished and the golf more meaningful? Only time will tell. But the players are enjoying it, especially Johnson.
"I think this season went incredible," DJ said. "And I think next season is going to be even better."