Features
R&A chief says decision on LIV golfers in Open will come early in 2023, challenge awaits to ensure golf doesn't lose values
In a wide-ranging interview with Golf Digest, Martin Slumbers speaks to golf's successes—including this week's Asia-Pacific Amateur—and what lies ahead regarding LIV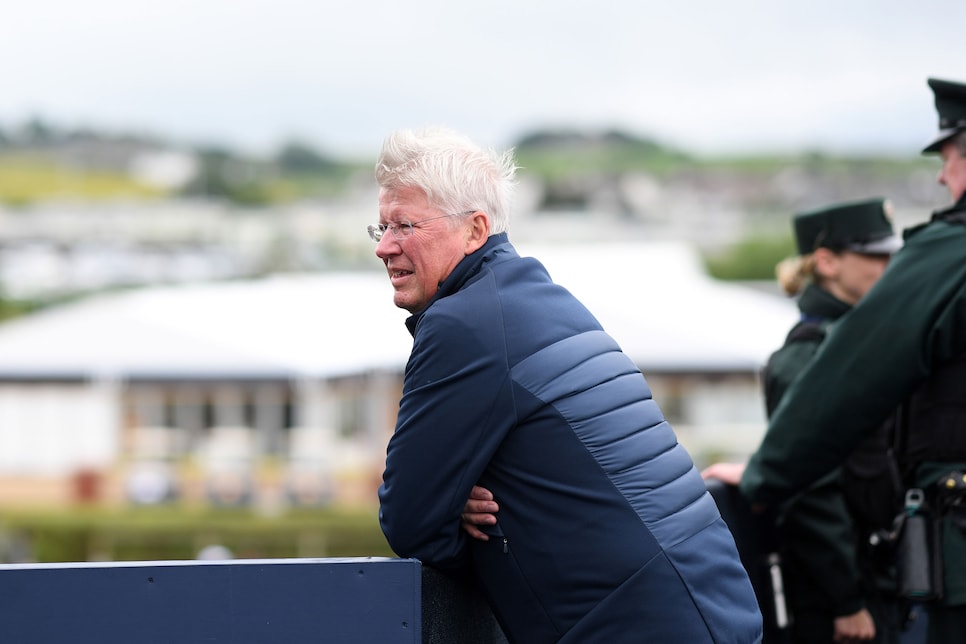 Photo By: Richard Heathcote/R&A
CHONBURI, Thailand — A bit like World No. 11, Viktor Hovland, R&A chief executive Martin Slumbers has the sort of face that, even when he isn't actually smiling, strongly hints that one is about to appear. But this week at the Asia-Pacific Amateur Championship (AAC), the Englishman is looking even happier than normal. This year in its 13th incarnation, the event, run by the R&A, the Asia-Pacific Golf Federation and the Masters Tournament, has further enhanced the game's profile in this vast region. It is, by a distance, the most widely broadcast amateur tournament in the world.
"This event has been a huge success story," says Slumbers, who is attending his eighth AAC. "To have the senior members of the R&A and Augusta National chairman, Fred Ridley, here this week really elevates the event, too. Their presence adds credibility and gravitas.
"I love professional golf at the top end," Slumbers continues. "I admire the skill. But my job is mostly about amateur golf. Why do I love this event? I'm more interested in the bottom half of the field than the top. We know who the good players are, and it will be exciting to see who wins. But the cut was level par, on a tough course playing nearly 7,200 yards. That is pretty good. A few years ago, it probably would have been three or four over."
Indeed, to Slumbers' mind, this event is a mixture of what he calls "aspiring and attainment." This year the former is epitomized by the fact that players from Kyrgyzstan, Iraq and Nepal played all four rounds for the first time. And the latter is in place to allow the elite players to take their final steps in the game before turning professional.
"We really care about the game becoming more popular," Slumbers says. "The perception of the game is really important to me. We need to get away from this view that it is a game for rich white men. That's a bad perception and not where I came from in the game. But to build that pyramid there has to be a pathway for players. Yes, at the top end there is a springboard. But there is another at the bottom, one that creates opportunities. This event does that perfectly."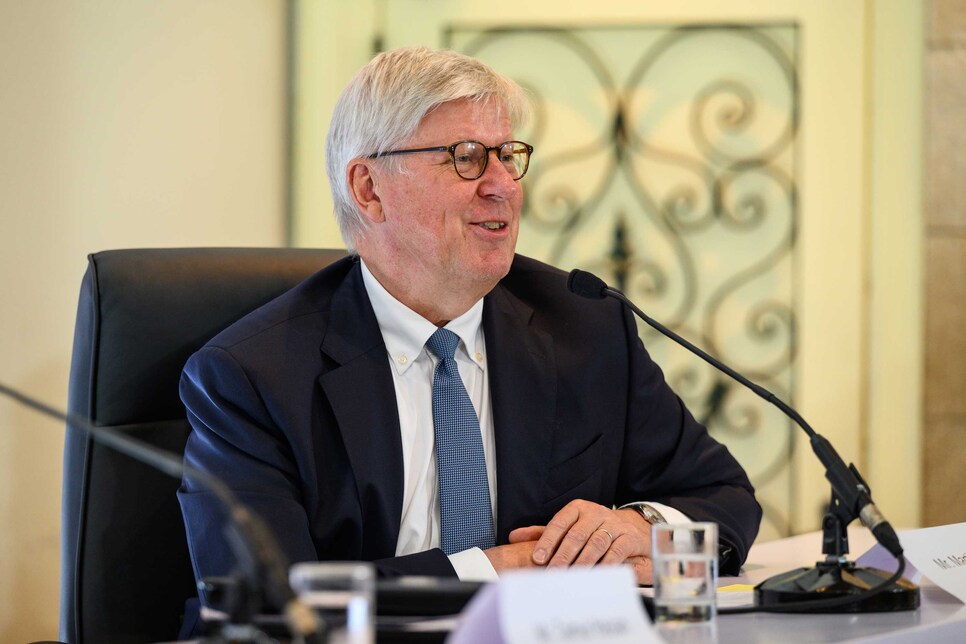 Martin Slumbers speaks to the media ahead of this week's Asia-Pacific Amateur Championship.
David Paul Morris
It was a statement that no doubt produced more than a few sighs within the R&A. Early last year, Slumbers was unequivocal on the subject and nothing has changed since.
"There are no plans to stage any of our championships at Turnberry and will not do so in the foreseeable future," he said then. "We will not return until we are convinced that the focus will be on the championship, the players and the course itself, and we do not believe that is achievable in the current circumstances.''
"It's not irritating," says Slumbers now. "But we have been very clear about our position. What is frustrating is that people keep writing about this when we have been so clear. We set our position in January 2021, and it is unchanged."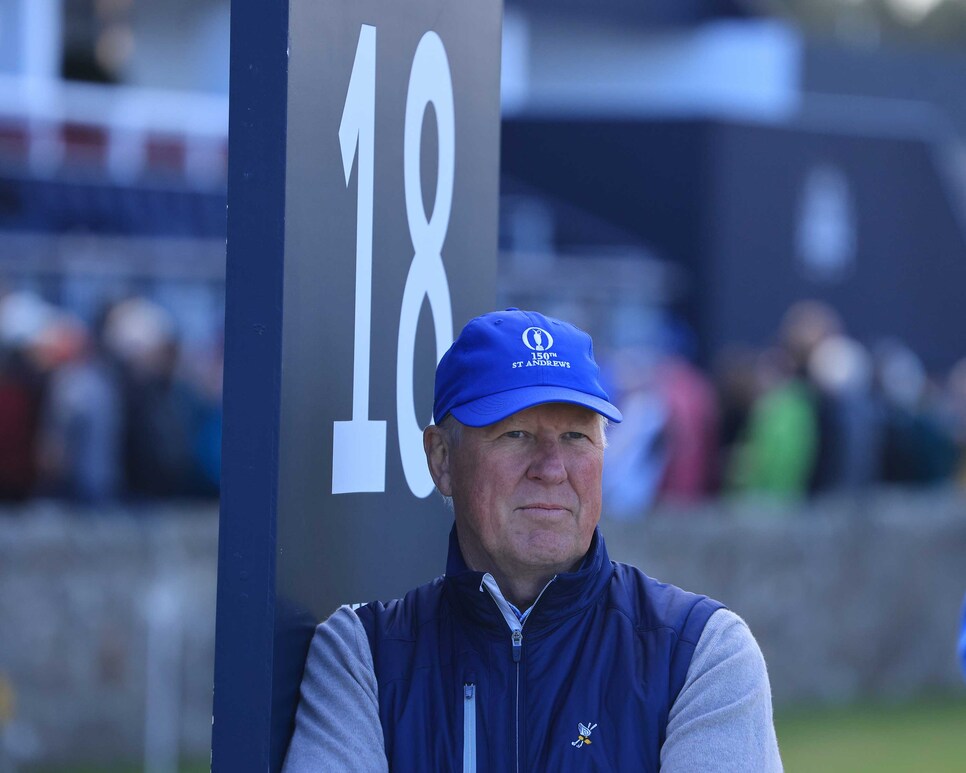 Slumbers on LIV golfers playing in the Open: "The Open needs to set itself aside from what's going in terms of disagreements and make sure we stay true to our principle, which is to have the best players in the world competing."
David Cannon
Perhaps more interesting—and certainly closer to reality—is a bigger Open question: Where does the R&A find the balance between taking the championship to the best courses and maximizing income? The Open is the only thing the R&A does that actually makes money.
"That is the million-dollar question with regard to the Open," says Slumbers. "Yes, Turnberry is a wonderful course. But I come back to what is the R&A's purpose? It is to ensure that the game is thriving 50 years from now, that it is open and accessible. To do that costs money. There are not many organizations or governments who are investing in the game. We feel a bit lonely sometimes. And we only have one source of income. That is one pressure I feel.
"My second point is one we discuss with government regularly," he continues. "I feel a responsibility to make sure the Open is viewed as one of the world's leading sporting events. Not just golf event. Year after year, we promote the U.K. on the global stage. Only a very small number of sporting events do that. We have a worldwide audience of over 100 million. But to put on the really big show we want … and we just did the biggest one ever this year … it takes skill and ability, partnerships, money and infrastructure. In a world that is more and more conscious of the environment, that is crucial."
Moving right along, Trump made his announcement this week after playing in the pro-am prior to the latest LIV Golf event at another of his properties, Doral in Florida. Just what to do with regard to the current conflict in golf is another thing currently occupying Slumbers' mind. Along with the other three majors, he has obvious decisions to make when it comes to exemptions and qualifying criteria for the Open.
"We'll go public in January/February with what we are going to do with regard to LIV golfers," he says. "But if you want a guide, go back to what I said in July. We're not banning anyone. We are not going to betray 150 years of history and have the Open not be open. The name says it all. And that's important. What we will do is ensure that there are appropriate pathways and ways to qualify. I'm looking forward to seeing Cam Smith tee-up around 9:40 a.m. on the first day of the Open next year. The Open needs to set itself aside from what's going in terms of disagreements and make sure we stay true to our principle, which is to have the best players in the world competing."
Like it or not though, the opinion of the R&A chief executive is one that carries weight within the seemingly endless debate and controversy caused by well-financed Saudi Arabia's venture into golf. And yes, Slumbers has a view, one shared by many golfers.
"I worry about some of the discussions going on at the moment," he says. "I'm not going to go into detail though. It's not really my responsibility. But I worry about pathways being eroded. And I worry about the loss of values. Why do 99 percent of people play golf? Because they feel it is good for them. They enjoy being with their friends. They enjoy the integrity golf requires. Not many play because they might win a large check. I certainly don't.
"Golf's values really matter," he continues. "I keep saying that to my colleagues. I think there is a risk that the LIV Golf debate could lose some of those values. And I think some of the pathways could be eroded. Neither would be good for the long-term health of the sport, in my opinion."
Martin Slumbers believes the acrimony in pro golf can have long-term consequences: "If the game is not played with high value and respect, I have no chance to grow the game."
Richard Heathcote/R&A
"Greg has made comments about our decisions, which I've ignored," Slumbers says. "It was clear to me that Greg had not been to a champion's dinner in quite some time. He wasn't there in 2000, 2005, 2010 or 2015. With everything that was going on, it was clear to me that there was a reason why he wanted to be there this year. If he had been there, it would have been about noise. The Open has to be distinct from all that. I didn't want to have noise between two rival tours and two big personalities. It would have overshadowed what was happening that week.
"From my perspective, I had a deep responsibility to our sport," he continues. "I wanted the 150th Open to be special and perfect. I didn't want other issues going on around it, ones that would have undermined it in the eyes of the public. I was very polite and very deferential to Greg. I asked him to understand my perspective. And I did so privately. I did not make it public. I never said anything and never commented on it. That week was supposed to be about the first event in our game's history reaching its 150th playing. On arguably the greatest course in the world. I was never going to lose focus on that."
Still, Slumbers—again like so many—hopes for reconciliation within a professional sport that is currently fractured like never before.
"To me, this is not about 'them and us,'" he says. "I have no issue with the players. People play for a living. I note that Saudi Arabia wants to invest a lot of money in the game I love and care about. That's a good thing. But I want to preserve the pathways and meritocracy on which our game is built. Sport without that isn't sport. So I want to make sure we have the best players competing week in and week out. If the game is not played with high value and respect, I have no chance to grow the game. Maybe the consequence of where we are is that we only get to see all of the very best players together four times a year. So we'll enjoy it four times a year."