Asia-Pacific Amateur
A made cut at the Asia-Pacific Amateur is history made for this Kyrgyzstani golfer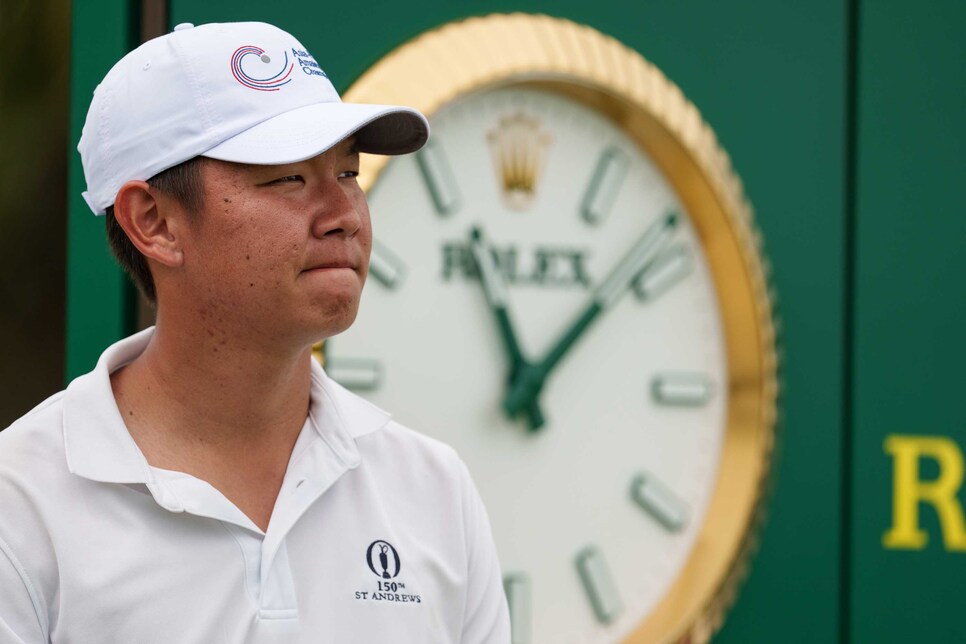 Jantai Malataev of Kyrgyzstan looks on during a practice round ahead of the 2022 Asia-Pacific Amateur Championship.
John Lehmann
CHONBURI, Thailand — In the minds of many, the best thing about the Asia-Pacific Amateur Championship is not the invitation to the Masters or the exemption into the Open that go to the eventual winner. No, what sets this now 13-year-old event apart from just about every other is the range of abilities on display. Players from the likes of Japan, Australia, China and Thailand vying for the lead is hardly a surprise. Rather, at least over the first couple of days, it is the often fascinating tales of the also rans that our eyes are drawn; their stories, both touching and inspirational, abound.
Take Jantai Malataev's golf journey. Although he was born in the Philippine capital of Manilla where his father worked at the time, it starts in earnest at the nine-hole Maple Leaf Golf Course in Bishkek, the capital city of his home nation, Kyrgyzstan. Next stop is the International Junior Golf Academy in Bluffton, S.C., before a final (so far) shift to the Lincoln Memorial University in Harrogate, Tenn.
Before all that, however, some good news. One year on from missing the cut by six shots in his championship debut, the 20-year-old Malataev will play 36 more holes at the Amata Spring Country Club this weekend. With a two-under-par 142 after rounds of 73 and 69, he survived the halfway cut by two shots, becoming (surprise, surprise) the first Kyrgyzstani to do so in this event.
"This is quite something for my country," said Malataev, who trails 36-hole leader Bo Jin by eight shots while sitting in a tie for 33rd. "It makes me happy that I can possibly open up some doors by making the cut here. That's definitely my goal: to be a role model for the younger kids back home. Just to grow the game and show them they can do it, too. And to show the world what Kyrgyzstan is made of. And what kind of people come out of there. My hope is that this will help grow the game there. I'm very proud of myself."
That burst of emotion is well-earned, given where Malataev comes from in a golf sense. Started by Canadian ex-pats in 2002, the nine-hole Maple Leaf G.C. is currently Kyrgyzstan's only course. By its most famous member's estimate, only maybe 100 golfers play there on anything like a regular basis. But his father, Murad, was one.
"He doesn't play much these days, but he can still break 100," says the younger Malataev with a smile.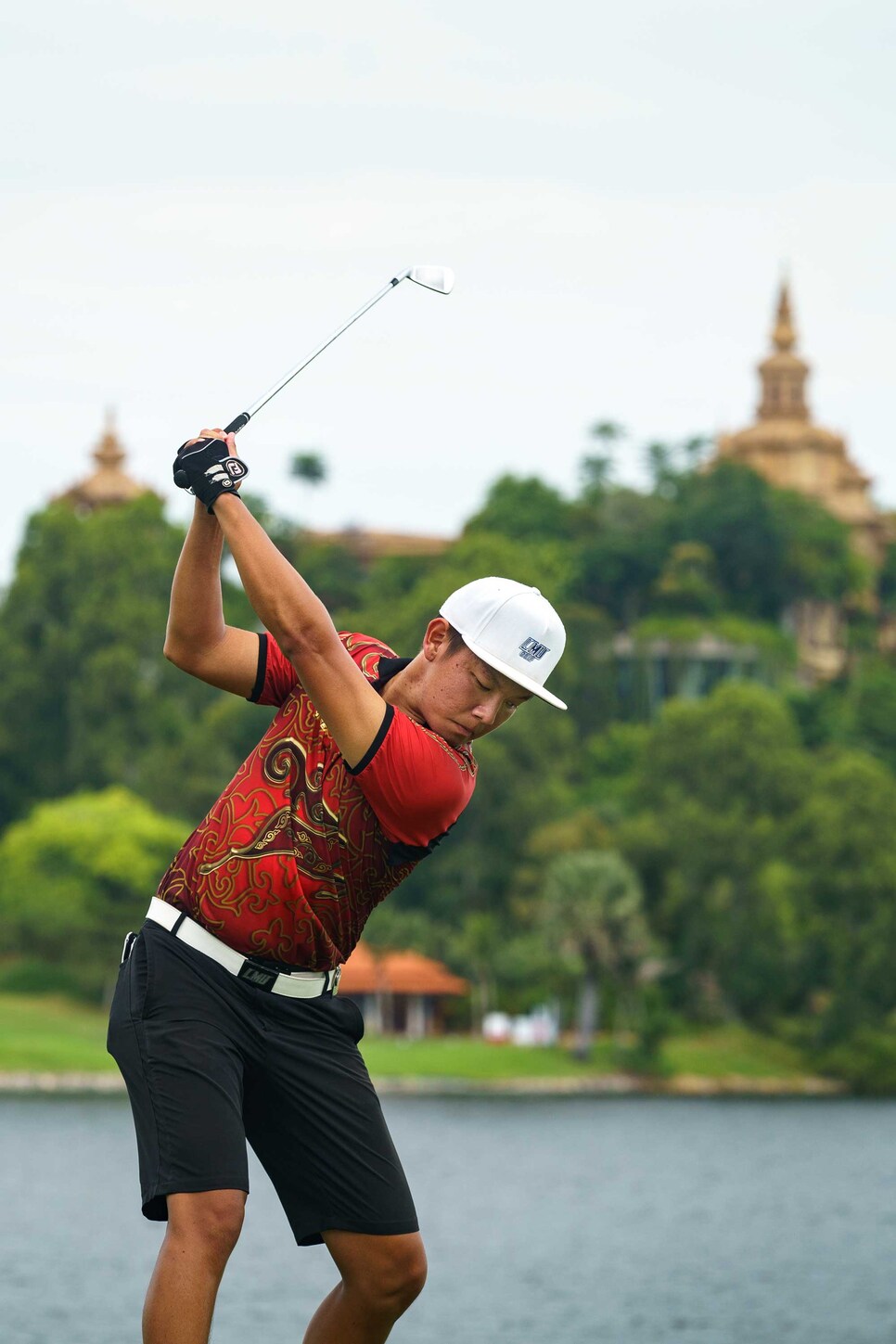 Jantai Malataev hopes his play can inspire others from his home country of Kyrgyzstan.
Jillian Dodderer
Anyway, encouraged by his then 14-year-old son's obvious talent for the game, the elder Malataev found the IJGA. It was there that Jantai flourished on a diet of more regular practice and competition. When the time came, applications to colleges were sent, his eventual destination, Lincoln Memorial, hastened by the presence of a friend on campus.
"My freshman year I started every tournament and was ranked in the top-100 in the country," says Malataev of the Division II program. "I played poorly my sophomore year and was in only one tournament. That's golf. But I took my time and didn't rush. This year I have played well and tied the course record at my home course with a 63."
Now a junior studying business marketing, Malataev has ambitions beyond graduation. Big ambitions that is, especially for a young man who hails from a nation where Greek wrestling is the No. 1 sport.
"I dream of playing in the Masters and wearing a green jacket one day," he says. "I first heard of the Masters through Tiger. I loved watching him when I was a kid. He is amazing. I fell in love with the game when I saw him on TV. He is a great role model. I also want to play in the Open and play professional golf. If my game is good enough, I will go to Q School in America, or maybe Europe. In everything, I want to lead the way for Kyrgyzstan players."
Before all that, of course, there is the little matter of the AAC to occupy his Malataev's mind. It's safe to say he is enjoying himself.
"This is a special event," he says. "It is a great way for me to establish my name in the golf world and maybe get some opportunities going forward. It's a tournament where I can show the world Kyrgyzstan. I wasn't expecting anything when I got here. I had no scores in mind. I'm just trying to have fun. Making the cut is a great bonus."
But hardly a fluke, if Malataev's steady play on Day 2 is anything to go by. Four birdies dotted his scorecard, easily outnumbering a lone dropped shot on the par-4 ninth, statistically the hardest hole on the course.
"I'm a very accurate player," he says. "I'm not long off the tee and play a right-to-left game. I try to avoid misses. But putting is my strength. My practice rounds were very important. I found out where I can miss and where I cannot. It was great preparation. So far, I've not missed in the wrong places too often."
Which is as it should be, given where he is coming from and, perhaps, where he is headed next.