The Prodigy
He's 15, has won on the Asian Tour, competed in a LIV event and wants to play college golf. Meet the favorite at the Asia Pacific Amateur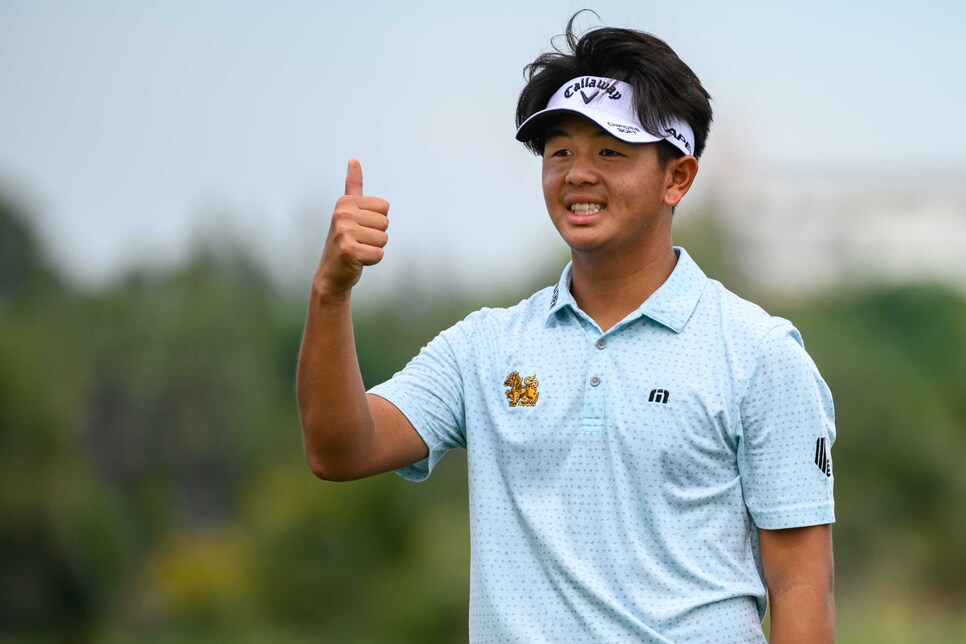 Photo By: David Paul Morris
CHONBURI, Thailand — We're talking prodigy here. At the age of 15, Ratchanon Chantananuwat, or "TK" as he is already well known to the world of golf, is the highest-ranked player (12th) in the 120-golfer field gathered at the Amata Spring Country Club for the 13th playing of the Asia-Pacific Amateur Championship.
Which makes sense. A winner on the Asian Tour in April this year at the Trust Golf Asian Mixed Cup, TK has risen to 12th in the World Amateur standings by beating those who play for money as well as those who play for fun. En route to becoming the youngest player in history to claim victory in an Official World Golf Ranking event, he shot a closing 65 to win by two shots from a guy named Tom Kim. You may have heard of him. He's done rather well for himself since.
Along the way, TK has also played on a variety of professional tours, including, somewhat controversially, the LIV Golf circuit. In the inaugural event of the Saudi-backed league, TK shot 11 over par for the three rounds and finished T-38. In so doing, he beat six players, including former European Ryder Cup player Bernd Weisberger.
All of which only confirmed the enthusiasm that caused LIV Golf CEO Greg Norman to invite TK in the first place. Speaking to the South China Morning Post, the two-time Open champion was almost giddy in his praise.
"This is a kid who knows what he wants in life," Norman told the newspaper. "After our call I said to my team, 'we've gotta lock this kid up, we've got to get him on board because he's 15 now, but can you imagine where he will be in 10 years … Oh my god.' I'm pretty good at spotting talent, and trust me, this kid has got it. If I can give him an opportunity to play golf, I'm going to give it to him."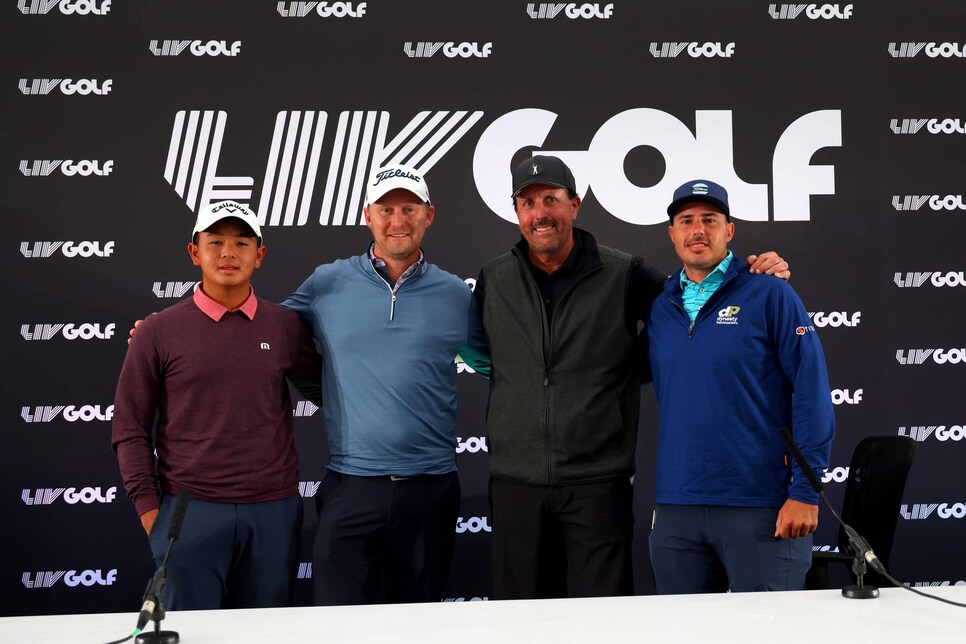 TK Chantananuwat played as an amateur for the HyFlyers along with Justin Harding, Phil Mickelson and Chase Koepka in hte inauguarl LIV Golf Invitational event in London.
Chris Trotman/LIV Golf
That isn't necessarily going to happen though. By playing in that LIV event as an amateur, TK has sensibly not burned any bridges with golf's established and traditional tours.
"That's one reason why I haven't turned pro," he says. "I want to keep my options open. For the past century America has been the center of golf. College is there. And so is the PGA Tour. Again, those are reasons to go to college in the States. Regardless of what happens in the future, the best tour will likely be there.
"World Ranking points are literally the only thing I'm playing for right now. That's the only thing that motivates me other than winning. As an amateur I don't get anything–I don't get money–so the only thing I want is World Ranking points."
At least in the short term then, we can assume that TK will not be committing himself to LIV, where there are currently no World Ranking points on offer. Besides, not surprisingly and despite his clearly prodigious talent, he is far from the finished article as a player, a fact he readily acknowledges.
"This week, I have no idea how I compare with any of these players," he says. "But I know the talent level is very high. As for when I'm up against the best in the world, I'm far behind. I'm getting there, but I have a long way to go. I can shoot low scores like they can. But they are so much more consistent. They don't do the really stupid things. Their games are tighter than mine. I am still capable of hitting a couple of leaks. I played recently with Charl Schwartzel. His ball-flight didn't seem to be affected by anything. It was like the ball was in a vacuum.
"It's an old cliché, but it's true: We are all only as good as our bad shots. That's the perfect way to say it, even if my good shots are just about as good as those of the pros. They can hit good shots. I can hit good shots. But their bad shots are way better than mine."
Sensibly—which again comes as no surprise given this young man's amazing level of maturity—he is aways from turning professional. College in the U.S. is likely to be the next stop in his burgeoning career, academics always a big part of his life. This week he has already sat for exams in physics and economics.
"I love school," TK says. "I really want to go to college, and I don't think that will ever change. In the States that is. I like California. So Stanford would be the dream. But I have to see exactly what grades I get and what options I then have. What will be important wherever I end up is getting the right school/golf balance. I want to be somewhere I will be happy.
"Academics are important to me and my parents," he continues. "They have sent me to one of the top, Division I golf in college. To do that I will have to go to a good school."
Which is not to say some thought has not already been given to what comes after college.
"When I do turn professional, I will try to play on the tour where I have the most opportunities," he says. "LIV Golf were first to approach me. And I really appreciate the opportunities they have given me to compete alongside world-class players. But in the future, I want to be wherever the best players are. I really hope that peace breaks out in the world of golf before I get to that point. I want to play against a full field. So I hope any discrimination between the various tours just goes away."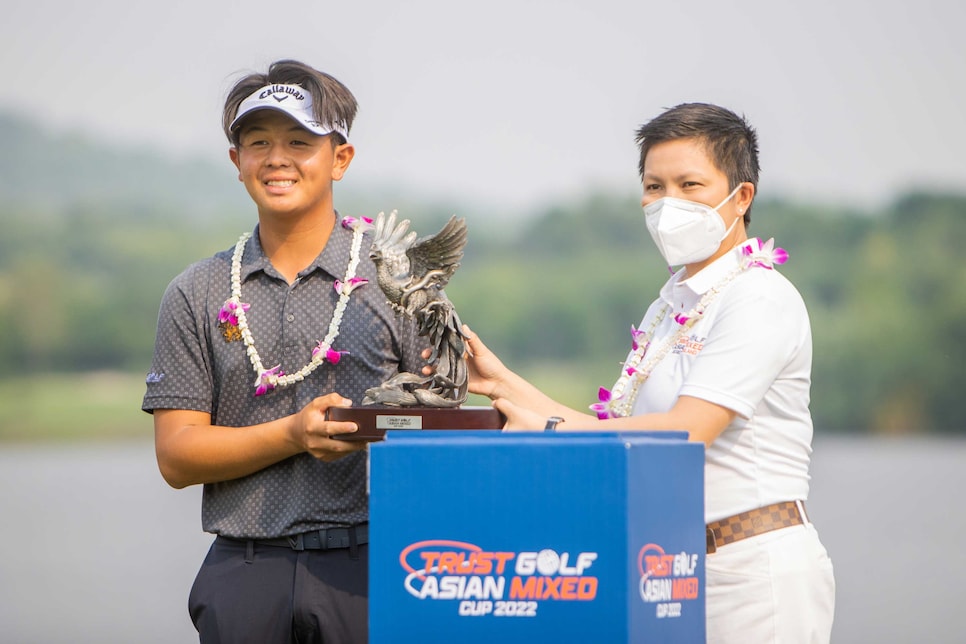 TK Chantananuwat claimed his first pro title in April, winning an Asian Tour event that included future PGA Tour star Tom Kim.
BSR Agency
More immediately, TK has a tournament to think about, one that will bring its on pressures. Already something of a star in his home country, he will make his AAC debut as one of the favorites to claim the Masters invitation and Open Championship exemption that go to the eventual champion. As ever though, TK is playing it cool.
"Playing here this week is not as big an advantage for me as you might think," he says. "People think I've played here hundreds of times. But until three months ago I had played the course once. But in the last two months I've been here maybe five times. So I know it better than I did. I am familiar with this style of golf though. Most Thai courses are similar in that regard. Having said that, Amata is way above average. When you think of golf in Thailand you think of here."
"I've tried to play events with a target score in mind," he says. "And I've played others with nothing in mind. When I've won or at least played well, I've found that I do better when I have the least expectations. So tomorrow I'm not going to set myself a score. Today in practice I had an extraordinarily 'deep' score. So I'm going to have to get that out of my head … some of it anyway. I'm going to keep the good parts, the confidence and the good shots. Anything bad, I'm going to forget."
Which is not something anyone should do whenever Ratchanon Chantananuwat is mentioned. If nothing else, he's going to be a big name in golf.