Asia-Pacific Amateur Championship
Rising star in Asia-Pacific Amateur carries two notable countries in his golf bloodline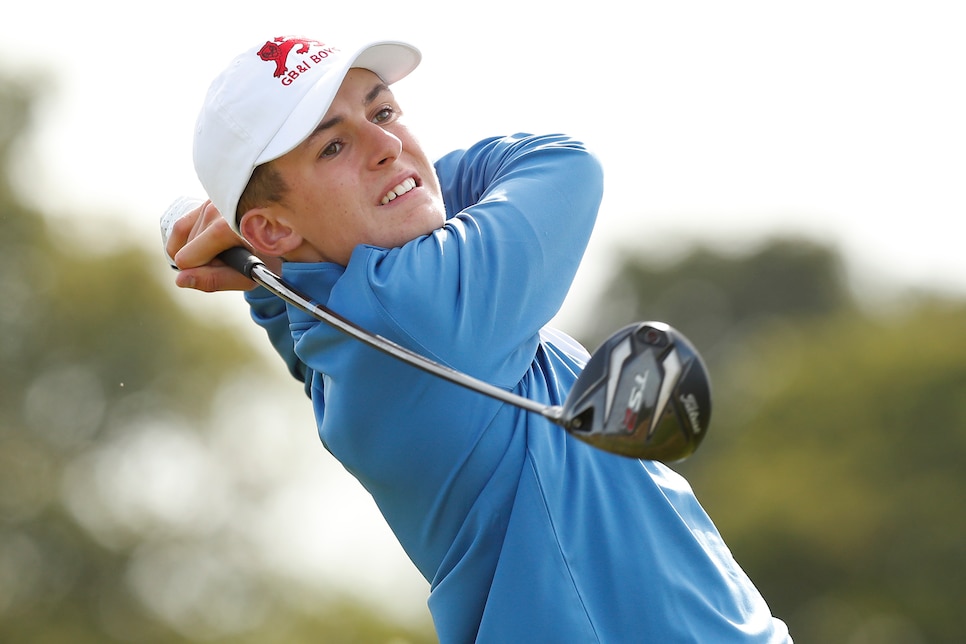 Connor McKinney says his play in last year's Asia-Pacific Amateur gave him the confidence ahead of his other big achievements during the year.
Luke Walker/R&A
CHONBURI, Thailand — In the year that has passed since Connor McKinney made his debut in the Asia-Pacific Amateur Championship, a lot has happened to the 20-year-old Australian (by way of Scotland). Most of it good, if performance on the golf course is the measure. Over the last 12 months, the Perth resident has built a stellar résumé that will inevitably propel him into the professional ranks as one to be watched.
Early in 2022, McKinney won the South Australian Amateur Classic in what turned out to be a warmup for something bigger. In April, holing a 25-foot putt for birdie to win a sudden-death playoff for the title, he became the Australian Amateur champion.
"Just after I won the Am I was thinking back and came to the conclusion it was at the Asia-Pacific last year that everything started to kick off for me," says McKinney, who emigrated with his family from Scotland to Australia at age 13. "I was one shot off the lead after two rounds and really felt like I belonged. I always believed I had it in me to win big events, but until you do it you never quite know for sure. This event last year really propelled me to get to that point."
And he was far from done. Two months after becoming Aussie champ, McKinney returned to the country of his birth and shot a closing 65 over the Old Course to lift the prestigious St. Andrews Links Trophy. It was the highlight of a busy summer, the Aussie/Scot also reaching the round of 16 in the Western Amateur, the second round of the U.S. Amateur, representing his adopted nation in World Amateur Team Championship (where he was T-19 individually) and, just last week, finishing T-14 in the Western Australia PGA Championship.
"Winning at St. Andrews, the home of golf, was amazing," says McKinney, No. 25 in the World Amateur Golf Ranking, the third-highest player competing in this week's AAC. "But don't ask me to choose between the Links Trophy and the Australian Amateur. I just can't."
Well, so he says. But there is definitely a surge of enthusiasm in his voice when looking back on his victory in Scotland. After starting with a smooth 64 on the Jubilee Course, McKinney stalled somewhat over the next two rounds. "I hacked it," he says. "But I came out strong in the final round. The details of the round are not that clear to me though. I was so into it and in my own bubble, I didn't even bother to look at the scores. I was playing so well I knew I was going to be up there somewhere. So I just kept making birdies."
Perhaps even more impressively, McKinney traveled to Portugal in early September to compete in the first stage of the DP World Tour Qualifying School. There, he shot 25 under par for four rounds and won by five shots. The second stage will see him in Spain next month hoping to make it through to the final qualifying school a week later.
Should McKinney win this week over the Amata Spring Country Club course just outside Bangkok, he is going to have a decision to make. The 2022 Asia-Pacific Amateur champion will be invited to play in the Masters next April and, three months after that, will be exempt into the Open Championship at Royal Liverpool. Given those incentives, would going to the second stage of the tour school be worthwhile?
"I've already been thinking about that," says McKinney with a smile. "It has crossed my mind. And I've talked about it with my coach. It's a decision I want to have to make. But for now, all I can really do is go play this tournament. I'll cross any bridges I have to cross once that is done. Whatever happens though, if I did go all the way and get my DP World Tour card, I would have to take it right away. But if I stayed amateur to play in the Masters and the Open I wouldn't have much chance of retaining my card."
Still, all of that is for a future that, while logistically uncertain, looks bright. Especially if the progress he has made in all aspects of the game since October 2021 continues.
"I have been trying to put on weight over the last year or so," he says with a grin. "But it's not easy. I am a bit stronger though, which means I am getting my drives out there a little more. Plus, mentally, I know how to put four rounds together. I like to take things shot-by-shot, round-by-round. Sticking to the process is always my aim, which is sometimes easier said than done. But I have done it well this year.
"In that final round at St. Andrews I never got too caught up in my score," he explains. "It was 'nice shot, now go hit the putt.' Then it was on to the next hole. Not once did I let my emotions get attached to the score. Well, maybe once, but in a good way. I've played five tournament rounds over the Old Course, and every time I've hit the Road Hole green in two. And every time I've made bogey. A fun fact."
No matter. Even if he does have trouble getting down in less than three on one of golf's most elusive putting surfaces, one of his compatriots here this week, Lukas Michel, is in no doubt as to his young friend's potential.
"I played with him before this event last year and thought he was going to be right up there," said the 2019 U.S. Mid-Amateur champion after a practice round in his company. "And he was for two rounds. This year he is much more experienced. He has won big events. He has to be one of the favorites."
Speaking of which. In 2019, the R&A asked McKinney to choose between that often-polarizing staple of the Australian diet, vegemite, and the sometimes-controversial delights of a Scottish haggis. He chose haggis. You can take the boy out of Caledonia, but you can never take Caledonia out of the boy. Gaun yersel, son.