CHONBURI, Thailand — It's a phrase you hear a lot from the self-serving amongst us. We're "growing the game" they say, often enough without scrutiny or justification. Well, this week it's really happening. Through the joint efforts of golf's two most famous clubs—the Royal & Ancient Golf Club of St. Andrews and the Augusta National Golf Club—and the Asia Pacific Golf Federation, the Asia-Pacific Amateur Championship (AAC) has done an impressive job spreading the golfing word throughout this vast region.
In this event, winning is certainly important. The champion after four rounds at the Amata Spring Country Club just outside Bangkok will next year be playing in the Masters, the Open Championship and British Amateur. But just as big a part of the proceedings is the presence of those players from emerging golfing nations and the wide range of ages and abilities on display.
So it is that, alongside eight members of this year's International Junior Presidents Cup team, there is the likes of Yasser Nacoob from Bahrain and Jordan Indra Marcello of Indonesia. At 14, Marcello is the youngest player in the field, 46 years younger than Nacoob. Indeed, the highest-ranked player here, World No. 12 Ratchanon "TK" Chantananuwat of Thailand, is only 15.
Yes, the AAC can boast past winners like former Masters champion Hideki Matsuyama and, last year, the then World No. 1 amateur Keita Nakajima. But the presence of Cambodia's Vanseiha Seng of Cambodia—a man destined never to make a cut—at each of the first 12 APACs gave the event a unique charm.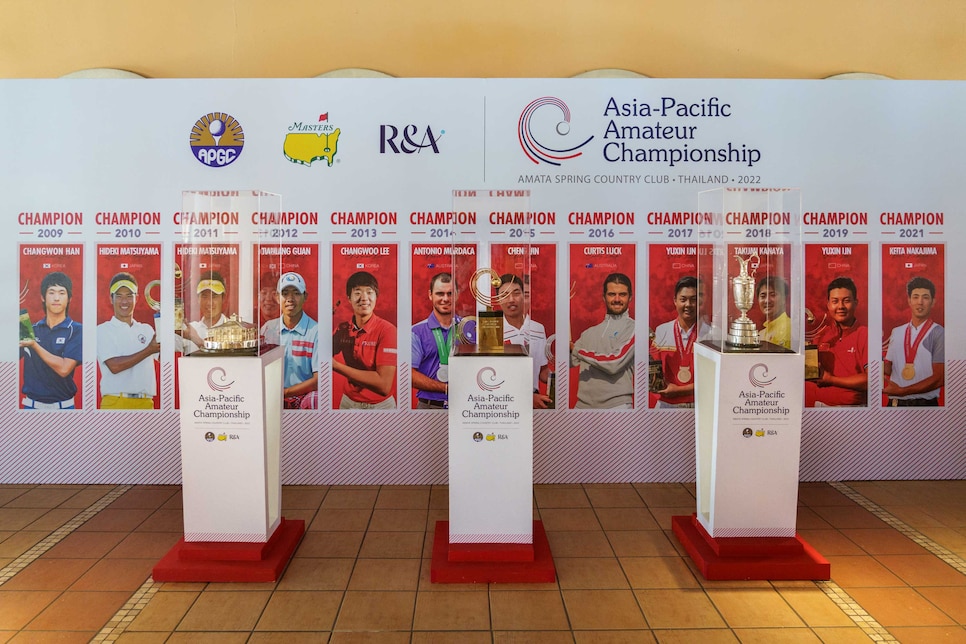 The display at Amata Spring Country Club, site of the 2022 AAC, highlights past winners and the spoils that will go to this week's champion.
John Lehmann
Sadly absent this year, Seng shot his best score of three-over-par 73 at the Sentosa Golf Club in Singapore four years ago. For him and so many others it was all about gaining international experience. Three times Seng made it to China, as well as Singapore (twice), Australia, New Zealand, Thailand, Hong Kong, Japan, Dubai and South Korea.
This time round, the 13th playing of the APAC sees a field of 120 drawn from 38 different countries and territories gathered for a second time in Thailand. Even the distant United States is well "represented." As many as 39 players have gained an education at 28 American colleges.
One of those is Carl Jano Corpus. A T-38 finisher in the APAC debut last year in Dubai, the San Jose State senior is hoping for bigger things this time round. But whatever happens, he is already having a good time.
"Last year was spectacular and an amazing experience," Corpus says. "They take care of us so well. I've played in many great events on the U.S. college circuit, but this one is on a different level. This is 10-out-of-10. I played for the Philippines at the World Amateur Championship in Paris maybe two months ago (where his six-over-par aggregate saw him finish T-85 individually). I have to be honest. Although that event was amazing to be a part of, this week is actually way better for me. And the prizes are pretty good. Win this event and you get to play in the Masters and the Open, which is unreal for anyone here this week."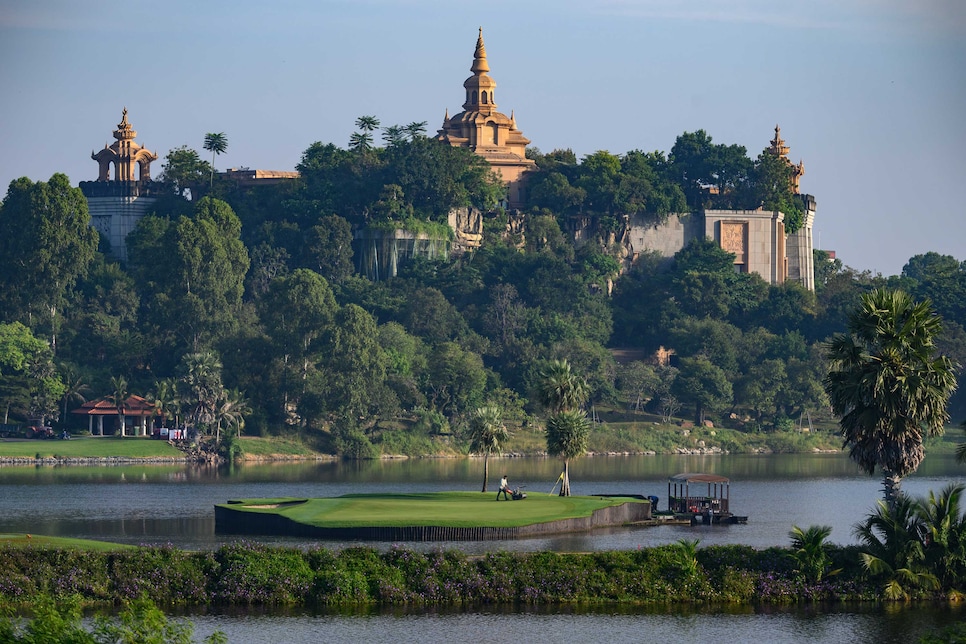 A view of Amata Castle overlooking the 17th hole at Amata Spring Country Club. The course is hosting the AAC for the second time, the other coming in 2012.
Graham Uden
That huge incentive has seen Corpus putting in some hard practice recently. But he is also cognizant of the role this event plays in the development of the game in the part of the world he calls home.
"I have big ambitions this week," he claims. "I always think of winning, but I know there is a big range of players here. Many are here just to compete and enjoy themselves, which is great for the game in the places where many of them come from. In a lot of Southeast Asia countries, including my home, the Philippines, there is a shortage of decent facilities. Being able to be here is one thing. But when we get here, everything is provided for us. The AAC pays for everything, which takes away a lot of the financial burden for many countries. If not for that, they would not be able to compete."
As for the future, Corpus is currently undecided about the path he will take, which makes him what might be called a "tweener" amongst this week's field of potential champions and inevitable also-rans. The temptation to turn professional is strong, but he has possible obligations at home.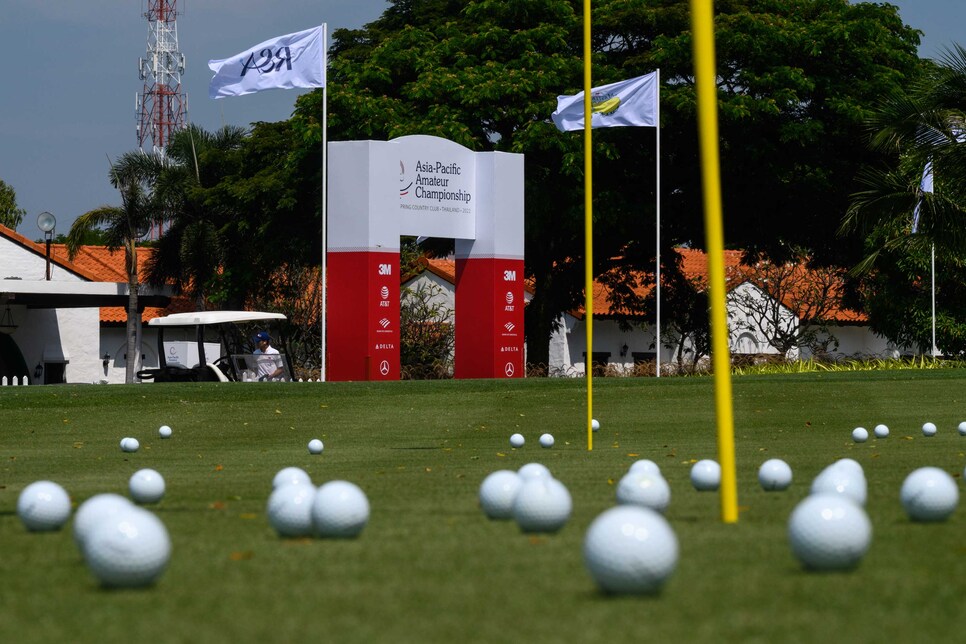 Experiencing a top-level event like the AAC is as valuable an experience for players coming from emerging golf nations as the incentive to qualify for the Masters or Open Championship.
David Paul Morris
"I still have a few months to go before I graduate with a degree in communications," he says. "I really want to turn pro. But my mum is making noises about me coming home to work alongside her in the family real-estate business. She is close to retirement needs and help. If I did turn pro, the Asian Tour represents a huge opportunity for people like me. It is more attractive than it has ever. So I'll be trying to get my card there, as well as on the DP World Tour and Japan."
Still, whatever happens this week and in the future, for players like Corpus the AAC is surely destined to be a never-to-be-forgotten experience.