Asia-Pacific Amateur
How do you really grow the game of golf? Ask the lone players from Bahrain and Iraq competing at the Asia-Pacific Amateur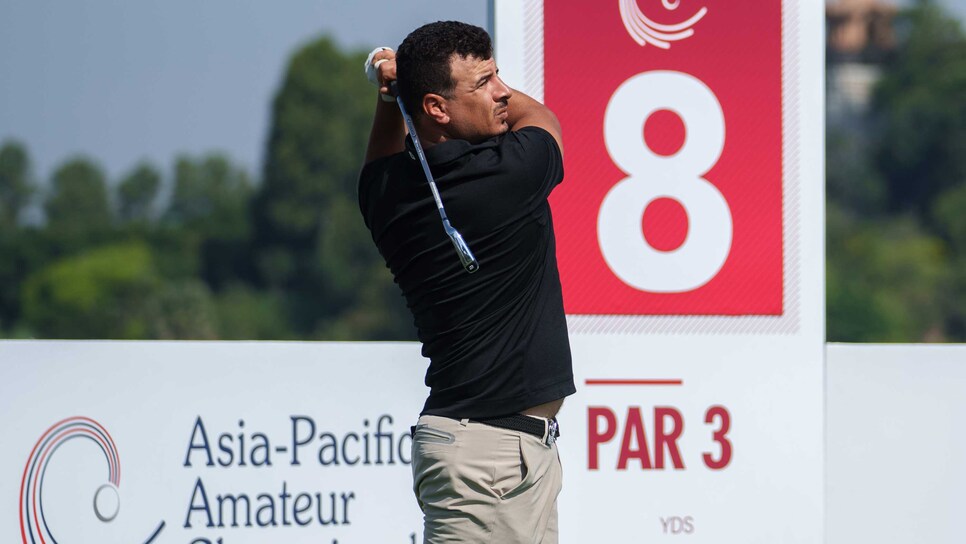 Amer Radee nearly didn't make it to Thailand, receiving his visa only a day before leaving for this week's Asia-Pacific Amateur.
John Lehmann
CHONBURI, Thailand — They're not leading—far from it—and the likelihood is that the second round will be their last in the 13th playing of the Asia-Pacific Amateur Championship. Still, in many ways Nasser Yacoob and Amer Radee are what this event is all about. Never mind that both shot 80, eight-over par, in the opening round over the Amata Spring Country Club just outside Bangkok, the natives of Bahrain and Iraq, respectively, epitomize the often derided but always noble "growing the game" ethos espoused by the tournament organizers.
"It is a great privilege for me to be here representing Iraq," says Radee, who lives in Jordan, where he works for the national federation as a technical manager. "Golf is not a popular sport in Iraq. We used to have two sand courses and a grass course. But they are gone now, because of the war. So golf stopped back in the 1990s. The good news is that we are building a course in Erbil, which is located in the Kurdistan region in the north of the country. So that will hopefully give Iraqis a chance to find the game."
Radee, in fact, is a man on something of a mission. In many ways it isn't easy being an Iraqi in the world he so obviously wants to be a part of. Visas are often difficult to obtain. This week, in fact, the documentation the 37-year-old needed to enter Thailand arrived only one day before he was due to travel.
"It feels very disappointing to me," he says. "The Iraqi delegate who was coming here cancelled his trip because he could not get a visa. So I'm here on my own. This event is so important. It gives me the chance to go home and tell people what is possible in this game. I am trying to encourage people all the time and also trying to show everyone that we Iraqis want to be part of the golf world. When our course is built, we want to invite people to play in tournaments there.
"Golf is a way of building bridges between nations and different religions," he continues. "We need to be part of this world. We cannot have everyone thinking Iraq has only tourism and terrorists. That is wrong. My job is to plan for junior events and tournaments. I am involved in golf every day. My hope for the future is to have more courses and so more golfers in Iraq. We need to make friendships with others. I want to take my experience back to Iraq and build something positive in golf. We want to be part of the wider world, and golf is one way to achieve that. It is a universal language."
'This event is so important. It gives me the chance to go home and tell people what is possible in this game.'
—Amer Radee
That it is. Asked how he had played, Radee sounded just like any other golfer.
"I did not play well today," he shrugged. "I was struggling to put my ball on the fairway. So I did not have my best round. I was hoping for a better score. Maybe tomorrow. I will need a good score to make the cut, maybe under par. My normal strength, my driving, was not there today. It let me down. I always blame my putting but it was very good today. This is a long course when you are in the rough."
In contrast, Yacoob was perfectly content with what he called a "steady" round in which he did not make a double bogey and had two halves of 40. Still, his expectations are understandably lower than Radee's. At 60, the former Bahrain army man—where he worked in the "sports section"—is the oldest player in the field and is making his ninth appearance in the AAC. Only once, in 2016, has he played all four rounds, and even then he finished last of those who made the cut.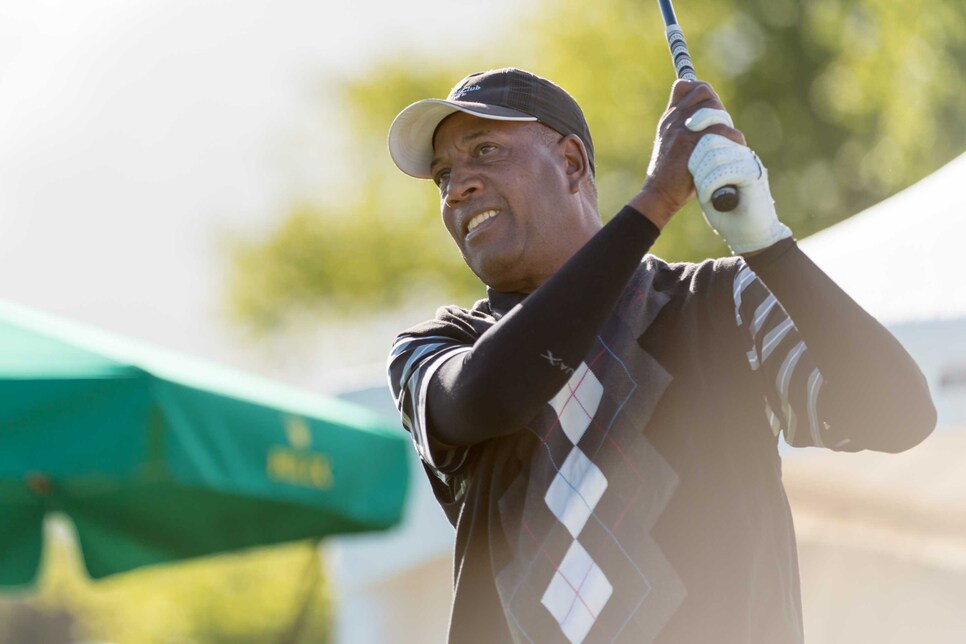 Nasser Yacoob, 60, is playing in the Asia-Pacific Amateur for the ninth time.
Graham Uden
Yacoob got his start in the game because of his home's proximity to a refinery and the subsequent sand course built by British oil workers back in the 1930s. Starting with one club, he has built a game that has brought him notable success in the Middle East region. One highlight was his participation in the 2003 Dubai Desert Classic, where, although he finished propping up the field, he shot respectable rounds of 76 and 78.
"I love this tournament," says Yacoob, who only occasionally gets to play Bahrain's one grass course, the Colin Montgomerie-designed Royal Golf Club. "It has always been great for me to see if I can play with the guys here. And I can, a little bit. But it is even more important to others in Bahrain. We need the youngsters to see this event and aspire to play in it. I want them to follow my path and see what is possible. I want our association to focus on the beginners. I want all of the people to play golf, not just the rich, or the old people like me. This is a game you can play your whole life, until you die."