LIV Golf
Here's what we know—and there are still plenty of questions—about how LIV Golf's team concept will work going forward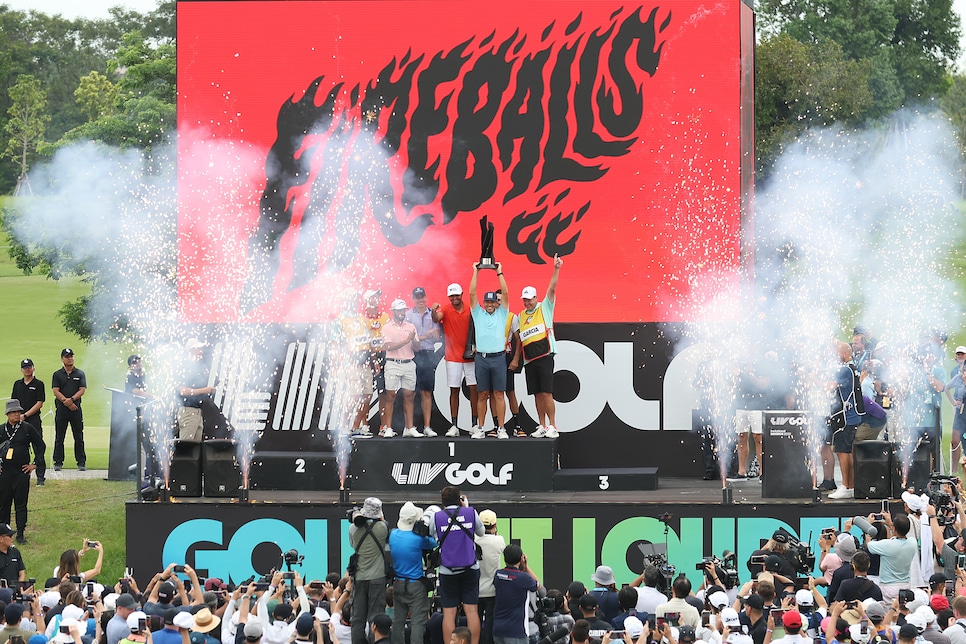 The Fireballs GC team led by Sergio Garcia celebrates its win in the LIV Golf event in Bangkok in early October.
Joe Scarnici/LIV Golf
DORAL, Fla. — An equity stake for captains, a transfer market for players and teams paying for all their operating costs. LIV Golf officials have shared several key components of what the Saudi Arabia-funded league's franchise model will look like for its second season in 2023 and beyond.
LIV Golf's president and chief operating officer, Atul Khosla, sat down with a small group of reporters on Saturday before the semifinals of LIV's $50 million Team Championship at Trump National Doral outside Miami. The Doral event is the finale of LIV's inaugural season after seven $25 million tournaments were staged this year, spearheaded by an individual stroke-play component that also including team competition. But next year, LIV will be renamed the LIV Golf League and will have 12 teams contesting a 14-event global schedule—nine in the U.S. and five overseas. It is set to run from late February to September.
On Saturday, Khosla laid out some components of the team concept for 2023. The 12 captains—who figure to be high-profile players such as Phil Mickelson, Bryson DeChambeau, Dustin Johnson, Sergio Garcia and Cam Smith—will be guaranteed a 25-percent equity stake in their team's franchise while LIV will keep 75 percent. And while LIV has no immediate plans to sell off the franchises next year, teams will aim to use sponsorships, team prize money and merchandise as their main revenue streams.
The model, LIV hopes, will aid the eventual selling of franchises that will aim to recoup the almost $2 billion investment LIV Golf has made into its disruptor league. LIV is financed by the Public Investment Fund, Saudi Arabia's sovereign wealth fund.
"Our goals are to transition to the league, have 12 teams established and get them off the ground, and clearly build on the on-course and fan experience we are seeing and the engagement we are seeing," Khosla said. "We have to start commercializing the product. Get on TV. [We] need to find corporate partners. Those are milestones we need to hit going into next year."
The league will also grow to 60 players, given that each of the 12 teams will add a substitute player who can only be used if one of the teammates becomes injured or can't play in a certain week. Teams will be made up of a "principal" player—the captain—selected by LIV's board, as well as two seeded players determined by the top 24 on the points standings from this inaugural season. The fourth member of the team will be a wildcard chosen by the captain, and the team will be rounded out by the substitute.
LIV also has future plans for a 60-day transfer window similar to that in English soccer. Officials said Saturday that was already happening in an informal manner and that several players would be on new teams before the 2023 season begins in late February.
LIV aims for that transfer market to be in place after next season. In July, LIV announced the bottom four finishers on its points standings in 2023 will be relegated to the Asian Tour's International Series, which LIV co-sanctions. Three spots will then be filled by a qualifying tournament called a "Promotions" event while the fourth will go to the winner of the money list for the International Series.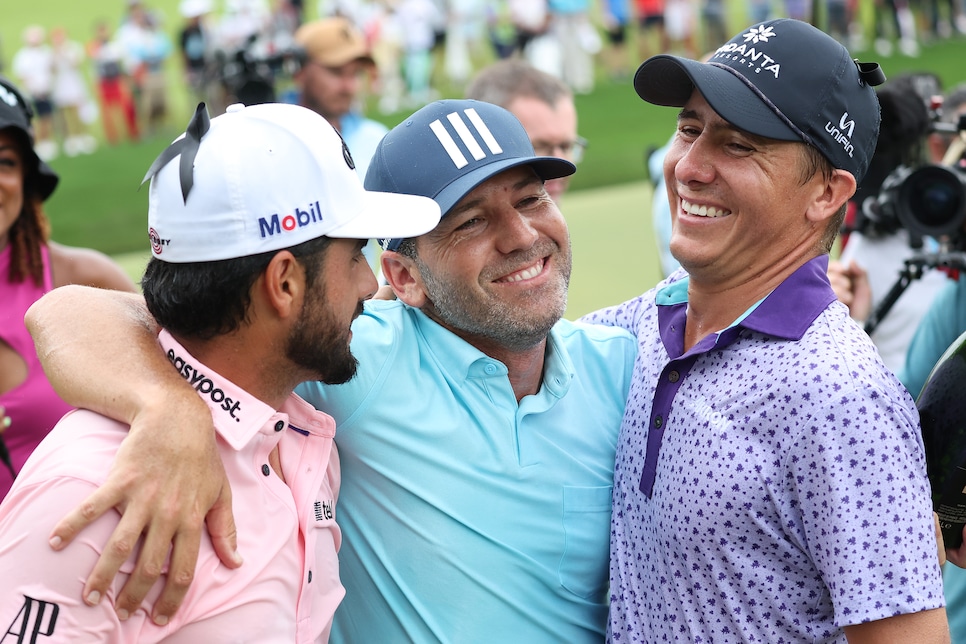 Abraham Ancer, captain Sergio Garcia and Carlos Ortiz of Fireballs GC celebrate their team win in the LIV Golf event in Thailand.
Jonathan Ferrey/LIV Golf
Of further interest is that teams will travel together and take on all the operating costs of their franchise, such as travel, medical (trainers and mental coaches), marketing and any other staff. There are plans for teams to wear the same apparel and potentially forfeit logo sponsors they have in place to be able to wear the team's uniform, although Khosla said that was still fluid.
"I think there'll be a budget to work within, but basically [a captain] will be in charge of what the team is going to wear and having certain sponsors," Smith, captain of the all-Australian Punch GC team, said this week. "It would really be cool to bring that [franchise] element to golf like Formula 1 has."
Chile's Joaquin Niemann, skipper of Torque GC that also includes Scott Vincent, Adrian Otaegui and Jediah Morgan, said he was eager for the franchise model to begin. "It's cool because we can play professional golf and do business outside of it," he said. "That's something really new for me because I'm just 23 years old, but it's a really exciting part for my life to think more about my brand and the team's brand and growing a business."
Niemann said the plan was to eventually have all of his teammates living in Jupiter, Fla., where he is based, practicing out of the same facility and traveling to LIV events together. "I see us getting to a place where Torque has its own facility, like our own practice range," he said.
Khosla also said new LIV recruits, a 2023 tournament schedule and a TV deal would be finalized before the second season kicks off in late February. While Khosla refused to comment on which players they were in discussions with, the league wanted to avoid the speculation that engulfed its inaugural season.
"We are in the middle of the discussions [with players]," Khosla said. "We are going to get it done this year. We want the teams locked in by the new year. It will play itself out over the next couple of months."
LIV is also in desperate need of a TV deal. Despite boasting multiple major championship winners, the only way to currently watch the series is for free on LIV's own website and YouTube channel.
"On the U.S. front, we are back and forth with a few different networks," Khosla said. "We are now at the point where outlets have said time could be cleared."
In September, Golfweek reported that LIV was nearing a deal with Fox Sports 1 and that the league would pay the network for the time slot and production of its tournaments in 2023. LIV responded by calling the report "incomplete and inaccurate." On Saturday, Khosla said, "We're going into it in the rights conversation that we think we are providing an incredible commercial product. We understand that these are not six-month deals and one-year deals. If a TV network is getting behind it, they're going to get behind it for multiple years, and that's what we really want as well, to build a product on air and drive behavior. So we'll work through what the final arrangements are."
Only time will tell if the franchise model will help the PIF break even, or profit, from its investment in LIV that will be almost $2 billion by 2023. But as one official described it, the investors are prepared for the long haul.
"Our investors have a long history,'' said the official. "The outlook is very much long term. We are trying to get our produce up and running. We have not put a line in the sand for any point in time.''