LIV Golf
LIV Golf's 2023 schedule is coming into focus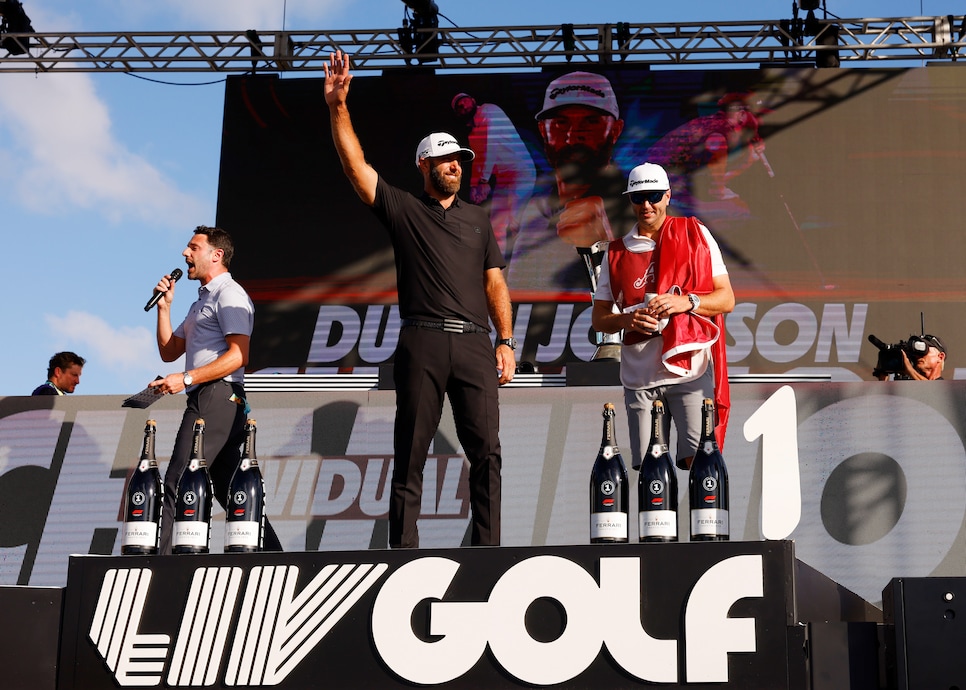 LIV Golf's schedule for 2023 is close to being finalized, sources tell Golf Digest, and it's a schedule that features visits to multiple former PGA Tour venues.
The Saudi-backed circuit announced three tournament sites on Wednesday for its sophomore season. Those stops are El Camaleón Golf Course in Mexico—which had been a tour host since 2007, with the World Wide Technology Championship (formerly the Mayakoba Golf Classic) played there earlier this month—Sentosa Golf Club in Singapore and Real Club Valderrama in Spain. LIV had previously announced that the Grange Golf Club in Australia will be on its calendar beginning next season.
Though those are the only four sites officially confirmed by LIV Golf, Rex Hoggard of the Golf Channel obtained a tentative region schedule for the other 10 sites, which include Arizona, Florida, Oklahoma, Washington D.C., Boston, London, West Virginia, New Jersey, Chicago and Miami.
Sources tell Golf Digest the Greenbrier's Old White course is expected to be the West Virginia site, held in early August. Gov. Jim Justice, owner of the Greenbrier, acknowledged interest in hosting the breakaway circuit to local newspapers earlier this year after LIV Golf CEO Greg Norman and other LIV officials were seen on the Greenbrier grounds in August.
The Greenbrier Classic was a PGA Tour event from 2010 to 2019, with Xander Schauffele and Angel Cabrera among the notables on its winners' roll call. Current LIV Golf member Joaquin Niemann was the event's final winner. In 2020, the Greenbrier and PGA Tour elected to cancel the final seven remaining years of the tournament contract, which was previously planned to run through 2026. Sources told Golf Digest that tournament officials were not happy with the event's move from its July 4 date to the fall. The property also has served as host to the Ryder and Solheim Cups, and the resort was famous for its underground declassified bunker, which was supposed to serve as home to Congress during a nuclear attack.
The Golf Channel reports the Gallery at Dove Mountain outside of Tucson is marked as the Arizona stop. The Gallery was the host to the WGC-Match Play in 2008 and 2009, won by Tiger Woods and LIV member Henrik Stenson. The WGC-Match Play remained in the Dove Mountain community for six more seasons before moving in 2015.
LIV Golf is expected to continue its relationship with former President Donald Trump and his golf properties. Trump Doral will again serve as the site for the Miami location, sources tell Golf Digest, along with Trump Bedminster for the New Jersey site. Trump National in Potomac Falls, Va., is believed to be in the running for D.C. LIV stop; Trump National hosted the 2017 Senior PGA Championship, although the site is perhaps best known for a memorial plaque commemorating a Civil War battle that never happened.
LIV Golf is expected to visit the sites used during its first season in London (Centurion), Chicago (Rich Harvest Farms) and Boston (the International), sources tell Golf Digest. According to multiple reports out of Tulsa, members at Cedar Ridge Country Club in Broken Arrow, OKla., were informed by the club's general manager about discussions with LIV Golf for hosting the Oklahoma event, believed to be in the middle of May. Aside from the season finale at Trump Doral, a second Florida location has not been finalized.

The LIV Golf season will begin Feb. 24 at Mayakoba, with both individual and team competitions similar to the inaugural season returning. LIV Golf remains in a legal battle with the PGA Tour; LIV Golf has accused the tour of anticompetitive behavior, while the tour has countersued, believing the LIV-backed lawsuit is a "cynical effort to avoid competition and to freeride off of the tour's investment in the development of professional golf."