The future of pro golf
This week's Australian Open could change the way people think about holding pro golf tournaments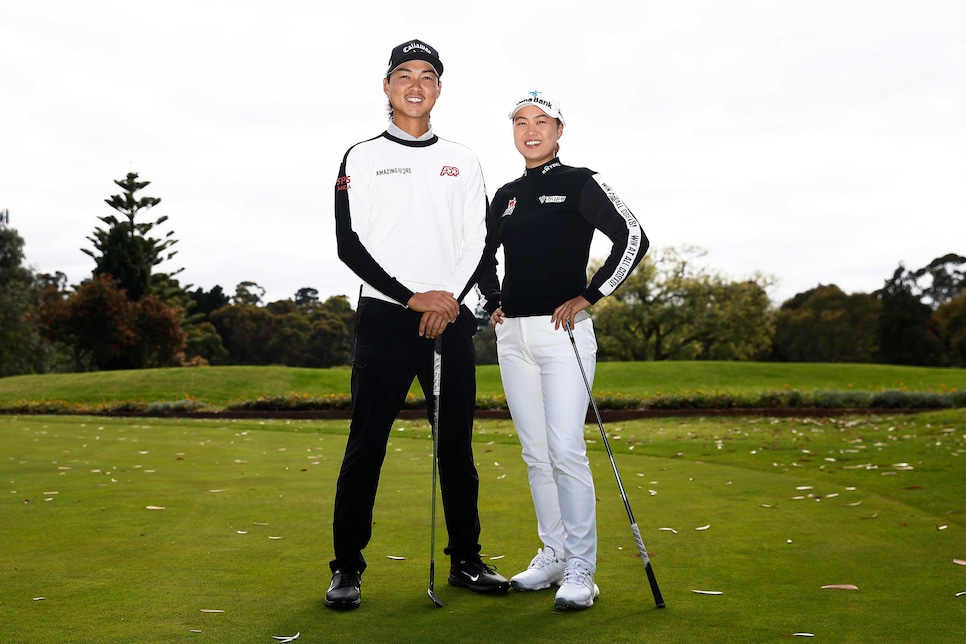 MELBOURNE, Australia — In the first round of the Australian Open on Thursday, Cameron Smith tees off with defending champion and fellow LIV golfer, Matt Jones, as well as DP World Tour ace Adrian Meronk at Victoria G.C. In the next group off the tee, reigning U.S. Women's Open champion Minjee Lee will play alongside fellow major winner Jennifer Kupcho and LPGA Tour player Steph Kyriacou. Within a 45-minute span, Lee's brother Min Woo, in-form Kiwi Ryan Fox and seven-time major winner Karrie Webb will also get their Open campaigns underway.
Suffice it say, history is being made this week on the iconic Melbourne Sandbelt, as the 10th oldest golf tournament in the world will become the first to stage a men's and women's championships simultaneously on the same courses—Kingston Heath also playing host—for the same purse ($1.1 million each).
To accomplish the feat requires figuring out logistics. All rounds will be played in alternating men's and women's groups. Each competitor will play one round at Kingston Heath and Victoria before playing the final two rounds at Victoria. To accommodate the dual fields (156 men/108 women), there will be a 36-hole cut (top 60 pros and ties plus amateurs) and a 54-hole cut (top 30 players and ties, professionals and amateurs included). The 12-player Australian All Abilities Championship will be also played at Victoria G.C. from Friday to Sunday with no cut.
The mixed field presents fascinating potential for the Lee family. LPGA Tour superstar Minjee and DP World Tour winner Min Woo could each be standing on the 18th green on Sunday holding an Australian Open trophy. Minjee is coming off a fantastic season that yielded a second career major with her U.S. Women's Open win at Pine Needles, a runner-up at the KPMG Women's PGA and another LPGA Tour victory. While Min Woo did not enjoy the same success on the Old World circuit, he concluded his year in style: in his last four events, Min Woo finished third, third, T-8 and T-12 at the DP World Tour Championship before a share of fourth at last week's Australian PGA Championship behind winner Smith.
"I'm in hot form, so hopefully I can pip [Minjee] this week," Min Woo joked Wednesday. "It would be really cool for us to both be holding the trophy. I think our mindset going in is just to enjoy and have fun; the Australian crowd hasn't had a tournament here in a while [the Aussie Open was canceled the last two years due to COVID-19], and I think we want to put on a show and let them enjoy it."
Adam Scott, the 42-year-old former Masters champion, has returned to Australia from his various overseas bases to play his home tour almost every year of his professional career. He won the Aussie Open at the Alister MacKenzie-designed New South Wales G.C. in 2009. He said the concept might feel foreign but was excited for it.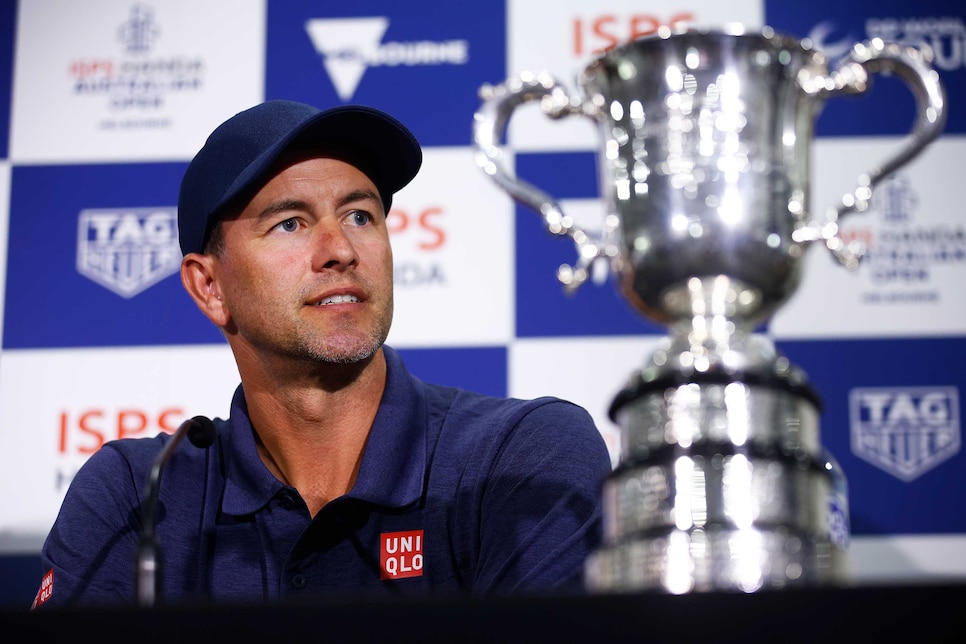 Adam Scott was excited to be part of the new format, where the men's and women's Australian Open titles will be played for simultaneously on the same courses.
Daniel Pockett
"I'm here to embrace it and hopefully it is a win/win [for both genders]," Scott said in a press conference where he sat in alongside legendary Hall of Famer Laura Davies, who won the Women's Australian Open twice in a career highlighted by four majors and 20 LPGA Tour victories.
"It's my first time to play in a mixed field like this," Scott said. "It's something Laura's used to. I remember growing up watching her play a lot down here in Australia, winning events, playing with the guys, and she's championed this kind of thing for a long time. I hope she feels that it's come a long way and Australia is pushing the boundaries of what's possible this week. I hope the rest of the world pays attention. I got to play nine holes [of practice] with Minjee yesterday at Kingston Heath and Min Woo. Fun things like that that aren't normally happening."
The overwhelming majority of pros have embraced the combined Opens. After the men's Open, first held in 1904, was canceled twice and the Women's Australian Open lost its LPGA Tour sanctioning, staging the two together was no doubt a cost-saving measure by organizer Golf Australia.
Some though have had questions about how it would work. The idea of making the 36-hole cut but then also having to get past a 54-hole cut to play on Sunday has been met with some disappointment. But it's a necessity, given at least 120 golfers will be playing Victoria on Saturday. "It's a little different and that's the hardest thing to get your head around, that you could be sitting not that far away and not have a chance to play Sunday," Scott said. "That's a tough one to swallow, but that's the format this week so play good the first three days."
Marc Leishman, a six-time PGA Tour winner and now a LIV golfer, agreed with Scott: "Obviously we would probably prefer it if there wasn't that cut, but also having 120 players on the golf course on Sunday is probably not the greatest thing for the tournament either. Probably 99 percent of the time you are in the top 30 if you're going to win a golf tournament anyway."
Scott Hend, a DP World Tour member who played last week's Australian PGA, was not automatically in the Australian Open field but decided not to seek an invitation or exemption because he disagreed with the mixed format. He faced backlash after posting on Twitter that because of "the history/legacy of the event[s] … men and women deserve their own weeks." World Golf Hall of Famer Webb was diplomatic when asked about Hend's remarks. She pointed to the fact staging the Australian Open men's and women's tennis concurrently in Melbourne each year as proof the concept works. "I saw Scott's comments but when tennis started playing the slams together that lifted both profiles of the game," Webb said.
Smith, seeking to become the first Australian golfer to win the Open Championship and Australian Open in the same year, saw the benefit of both genders playing together. "It will be my first week as a pro playing with the women, so it will be interesting," said the No. 3-ranked men's player in the world. "I think it will be good for the game of golf. I think the crowds will be enormous and I just think it would be a good week."
Minjee Lee knows the mixed events work, having played it on a smaller scale alongside Min Woo at the Victorian Open. "Playing with Min Woo and being able to see him is really special to me," Minjee said. "I think it's going to be a great turnout and I'm looking forward to seeing all the fans come out and maybe a lot of little kids [in the galleries]. It's still my national open. It may not be LPGA [sanctioned] right now but I think it always has a special place in my heart."
Leishman said the Melbourne crowds would embrace the concept given they'd been starved of tournament golf since the 2019 Presidents Cup. Melbourne's COVID-19 lockdowns in both 2020 and 2021 were among the harshest in the world.
"COVID didn't affect us as golfers too much [in the U.S.], but here in Melbourne, they had it a lot worse than I did," he said. "I think the tournament has done what they had to do. I hope it goes really well, because I think it's a great concept. It's great for families, if you've got a boy and girl, they can come out and see both men and women playing. I think that's a good thing for golf."