Australian PGA Championship
Adam Scott is changing up more than his caddie to be ready for the 2023 season
BRISBANE, Australia — Adam Scott knows he will have to make a number of adjustments over the coming days, weeks and months as the Australian gears up for a new-look, condensed PGA Tour schedule in 2023.
This week's Australian PGA Championship, where the former World No. 1 is playing, has already offered plenty of practice in thinking on the fly. A 6 a.m. tee time, the earliest of Scott's career, for Thursday's first round meant scrambling to organize his warm-up around a 3 a.m. alarm. Scott teed off in front of the huge crowds at Royal Queensland who packed in to see Scott play in a marquee group with Open champion Cameron Smith and DP World Tour breakout star Ryan Fox. He showed Smith and Fox up with a five-under 66 to sit one shot behind first round co-leaders, DP World Tour player Min Woo Lee, Jason Scrivener and John Lyras. Smith shot 68 and Fox 72.
Scott was finished by 10:30 a.m. local time and had more than 24 hours before his second round tee time. "I don't know [how to fille the time]; I haven't had a meat pie yet, so I think I'm going to indulge and it probably won't be just one," Scott said about the Australian delicacy.
After the Australian PGA, and next week's Australian Open on the Melbourne Sandbelt, Scott will head to the U.S. in January to begin a revamped PGA Tour calendar starting with the Sentry Tournament of Champions. In order to be eligible for a share in the $100 million Player Impact Program (PIP), elite tour pros like Scott will have to play in up to 20 events in 34 weeks between January and August.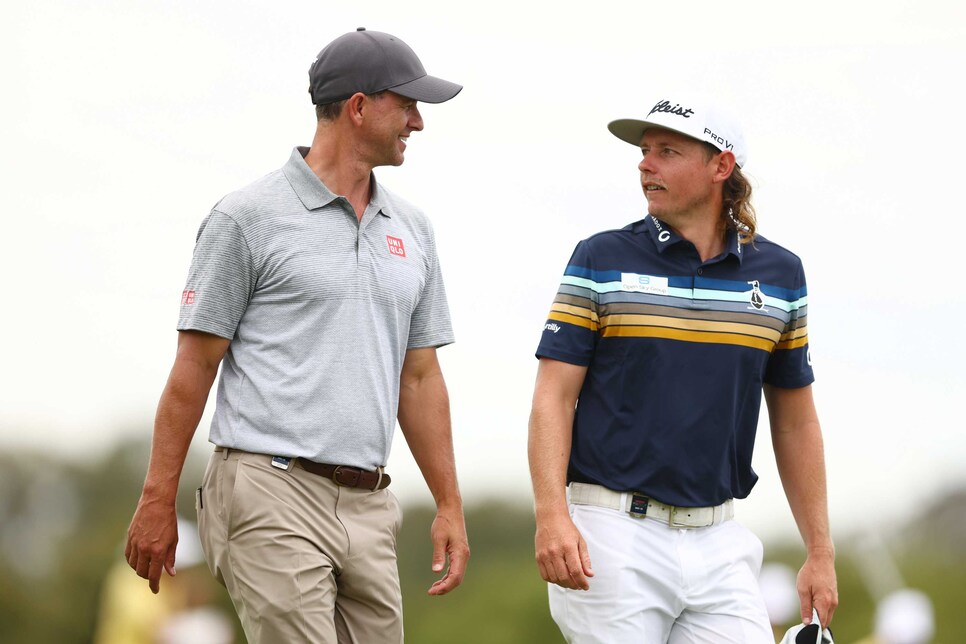 Adam Scott got the better of local favorite Cameron Smith on Day 1 of the Australian PGA Championship, shooting a 66 to Smith's 68.
Chris Hyde
The heavily condensed schedule—and the desire to end a three-year win drought on the PGA Tour stretching back to his 14th tour win at Riviera in 2020—is why 42-year-old will base himself in Florida between the Arnold Palmer Invitational in March and the U.S. Open in June. Scott lives in Switzerland and travels in blocks to the U.S. to compete but feels that is giving up ground to U.S.-based players.
"I don't live in the States, but I'm going to spend way more time in the States next year to compete seriously," Scott said. "I can't be flying all around the world playing against guys who don't."
The PGA Tour getting its biggest stars to commit to play together in many of the same event in 2023—and rewarding them handsomely for doing so—was in response to the growing threat of LIV Golf. The controversial Saudi Arabia-funded league offered $25 million purses for seven of the eight no-cut, 48-player events in its inaugural season.
Next year, 13 PGA Tour events will be designated as "elevated" and will have purses of at least $20 million. Those include: the Sentry TOC, WM Phoenix Open, the Players Championship, WGC-Dell Match Play, the three invitationals (Genesis, Arnold Palmer and Memorial), RBC Heritage, Wells Fargo Championship, Travelers Championship and the three FedEx Cup Playoff events. Along with the four majors and three events of a players' choosing, top players will awfully busy for the first eight months of the year.
"I'm interested to see how [the schedule] will play out, how it'll be received when it's happening, by the players and by television," Scott said. "I don't know that there's ever been a better time to be a member of the PGA Tour because all of a sudden there are these 13 elevated events that are at least double the money we've ever played for."
Scott has also made tweaks to his team in a bid for major championship win No. 2, bringing legendary former caddie Steve Williams back to job share with current caddie Greg Hearmon. Williams caddied for Scott between 2011 and 2017 following a 12-year stint with Tiger Woods. Scott teamed up with Williams to win the 2013 Masters but has been unable to convert a second major from 10 top-10s since. But he's confident some of his best golf is ahead of him.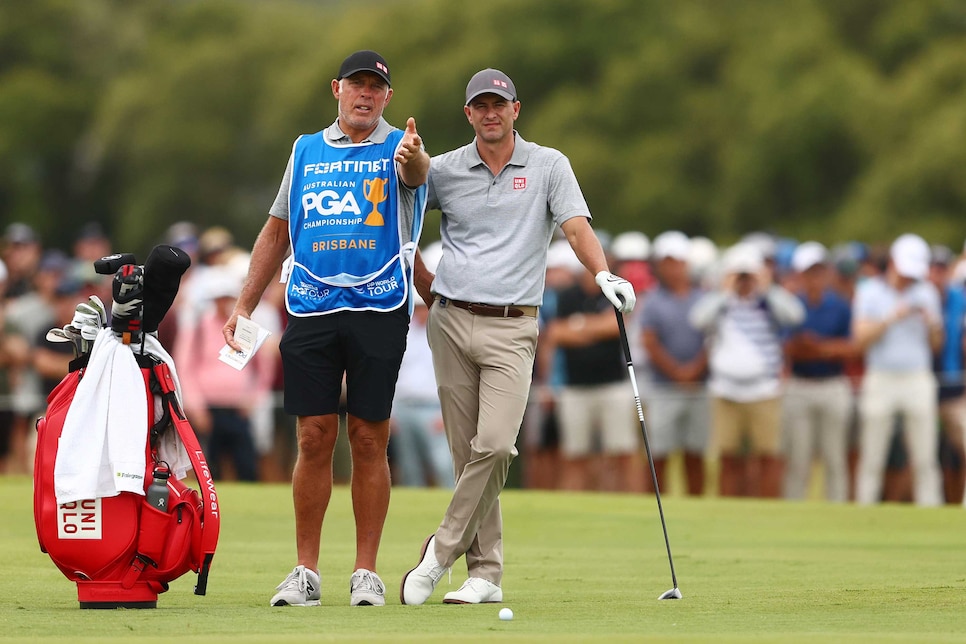 Adam Scott convinced former caddie Steve Williams to come out of retirement to help him in the build up for the 2023 season.
Chris Hyde
"I guess I want to win all the majors, and that sounds like a lot, but really it's three more events," Scott said. "It's just got to be the right week. I have all the tools. I'm still very healthy. I'm still moving the golf ball well and I have a lot of experience, and I'm just trying to put it all together.
"I want to fulfill my dreams and goals as a player and time is less on my side now. I have to do everything I can to make sure I give myself the best chance. I still haven't achieved all the things I want to achieve in my own career."