Major moment
Minjee Lee shoots a record-low score for a record-high payday and a much deserved U.S. Women's Open title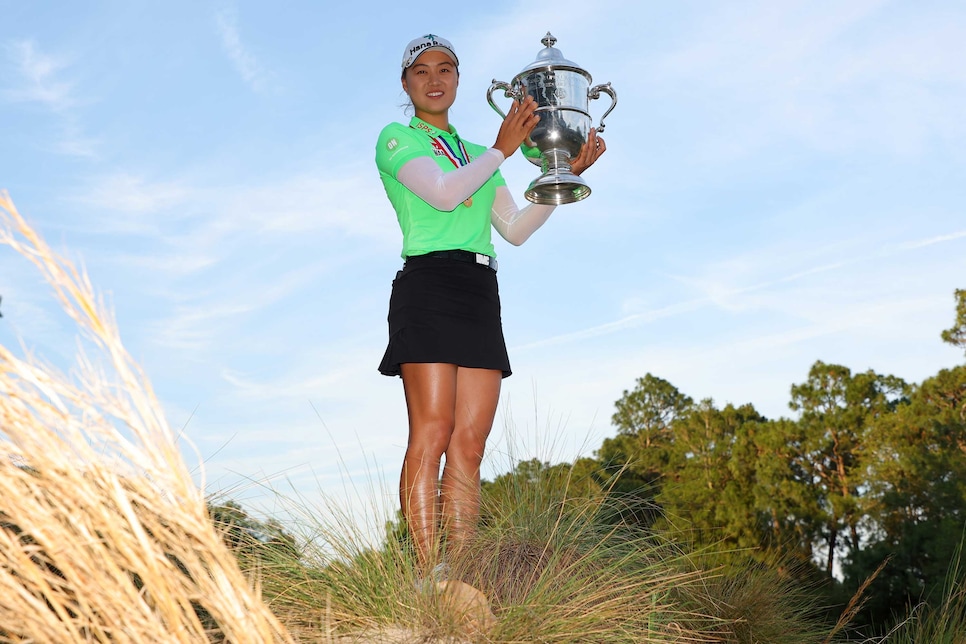 SOUTHERN PINES, N.C. — In every major championship, there is a winning moment, but that doesn't mean there's always a dramatic moment.
For Minjee Lee, who captured her second career major title with relative ease at the U.S. Women's Open on Sunday, that proved to be the case since the 26-year-old Australian's winning moment wound up happening more than 24 hours earlier. Indeed, it came on Saturday afternoon, when a string of four straight birdies on Nos. 9 through 12 at Pine Needles, plus two bogeys from Mina Harigae, turned a tight leaderboard into a potential rout. At that point, Lee was 13 under and held a four-shot lead on Harigae.
As Sunday's final round came to a close, the fourth-ranked player in the world was still at 13 under with a four-shot lead on Harigae. And her 271 total had set the all-time 72-hole scoring record for the longest continuously played championship in women's golf.
Of course, nobody knew at the time that the swing in the middle of the third round would be decisive; there was so much golf left to play, which is why the winning moment is always identified in hindsight. And yet, on a dry, windy Sunday in Southern Pines, the course showed its teeth for the first time, and the field's scoring average was more than two shots higher than it had been a day earlier. That reality more or less eliminated the chance of anyone coming out and catching the now eight-time LPGA champion.
Only Lee herself, wearing a bright green shirt with the letters WAAC emblazoned on the front—"Win At All Costs," both a South Korean clothing company and a fitting mantra—could bring about a close finish, and the only she could do that was by falling into a late spiral akin to events of a year ago when Lexi Thompson blew a five-shot lead with eight holes to play.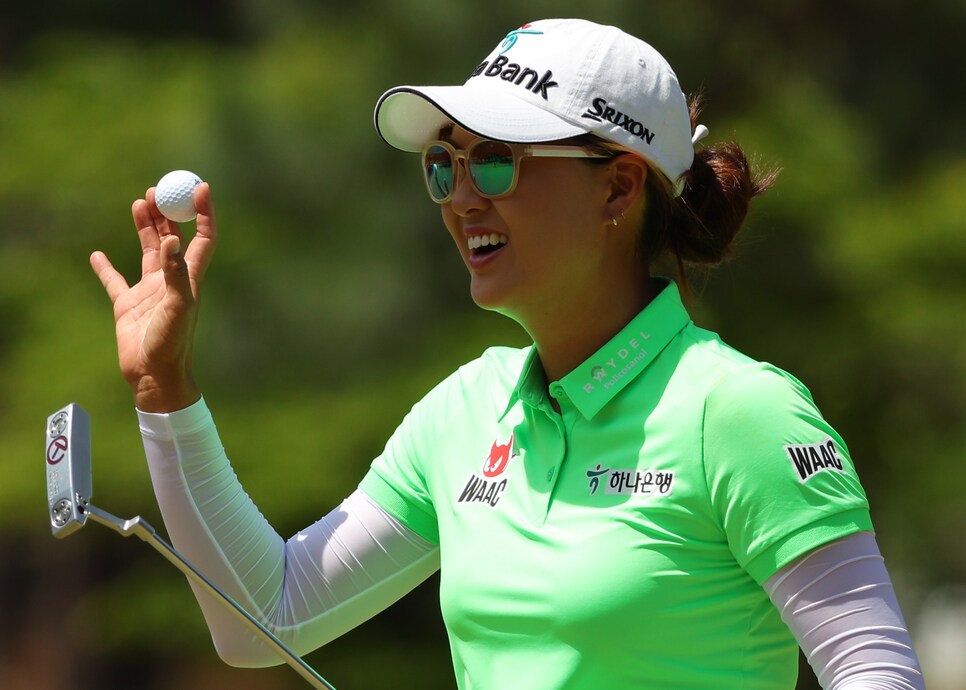 Lee never looked nervous on Sunday, starting the day with a four-shot lead and ending it with the same wide margin.
Kevin C. Cox
That wasn't happening. In fact, the collapse never felt remotely possible. In her Saturday night press conference, there was no talk of caution or prudence. "I'm just going to try and make as many birdies as I can," Lee said, telegraphing an intention to remain aggressive despite the huge lead.
True to her word, she came out at the start of her final round championship-hot with two straight birdies—the first a tap-in after narrowly missing an eagle putt and the second a bomb from almost 40 feet away. That was the official signal to the field; there would be no caution at the top of the leaderboard.
Whether you believe the championship was truly over then, or whether it came as late as the 12th hole, when she made an eight-foot birdie putt to extend her lead to six shots, Lee only looked anything close to nervous on a shot or two on the front nine. And in those few moments, she made sure that bogey was the worst score she could make. Excellent eight-foot par saves at the ninth and 11th holes, followed by a 12-footer for par on 13 and an up-and-down from the sand on 14 only contributed to the sense of inevitability.
The only drama was whether she might tie or break another U.S. Open scoring record of score in relation to par (16 under), and when she hit a massive 3-wood onto the green from 271 yards away on the par-5 15th, it seemed tangible. She made birdie there, but a bogey on 16 and a Scheffler-at-Augusta-National-esque three-putt on the 18th green meant she'd have to "settle" for the reward that received as much attention as any storyline all week: a $1.8 million first-place prize money payout from an eye-popping $10 million purse.
"Even with a three-shot lead I never felt comfortable today," Lee said afterward, having fooled everybody watching all afternoon. "I felt like I still needed to play well. I still needed to hold my ground. That's pretty much what I did. To start aggressively, I think it was the right move, and then after that I had quite a big shot lead, so I was able to just play my game to finish."
For her troubles, Lee earned the largest single-tournament prize in the history of women's golf. (Later this year, the winner of the LPGA's CME Tour Championship will surpass that figure, with a $2 million top prize.)
That massive purse that the USGA handed out this week—after adding a presenting title sponsor in ProMedica in order to nearly double the previous year's $5.5 million pot—also opened up a novel possibility. For the first time in the history of women's golf, the second-place finisher would also make a million dollars … but only if there was a solo second.
Harigae, in the final group with Lee, started the day at 10 under, and dealt with severe nerves on the front nine. Despite the jitters, the 32-year-old journeywoman who had a mere $2,000 in her bank account as recently as the summer of 2020, grinded out par after par, dropping just a single shot by the turn. Another bogey on 11 brought her into a three-way tie for second with Lydia Ko and Hye-jin Choi at eight under, and for a moment it appeared that she'd lose her million-dollar payday. But Ko faded, making bogey on three of her last four holes, while Choi followed a birdie on 16 with a bogey on the last to drop to seven under.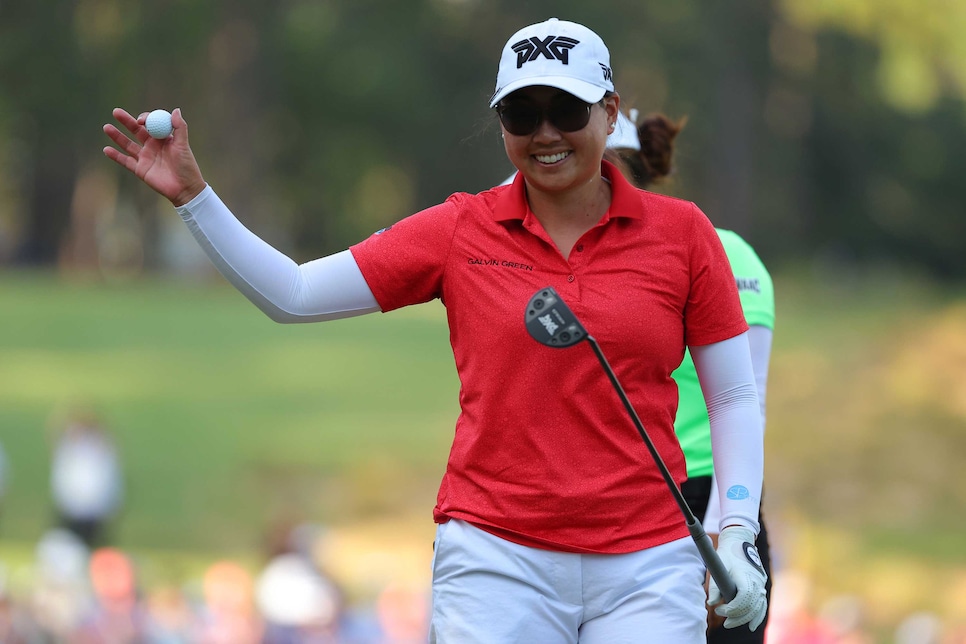 Mina Harigae finished solo second, but became the first woman to finish runner-up in tournament and still cash a $1 million check.
Kevin C. Cox
When Harigae got up-and-down from 100 yards at the par-5 15th for birdie, she only needed to play par golf to secure second place, and that's what she did. "That was probably one of the top rounds where I was really nervous. But I think I handled it pretty well for this situation. I'm proud of myself," she said. "I belong up there."
As far as catching Lee, though, Harigae only had fleeting glimpses. "Kind of pockets here and there," she said. "Obviously she got off to a very hot start. Maybe that bogey on that par-3, maybe it cracked open the door for me a little bit, but she was just super solid out there."
(She and her caddie and fiancé, Travis Keiter, are serious collectors of Jordan sneakers, and Keiter wore red high-top Barcelonas on Sunday. When asked if being Harigae's fiancé meant a higher or lower cut than normal, he said, "I hope it's a higher cut this week.")
Other storylines played out, too, on Sunday. In her first tournament back from a long hiatus after undergoing surgery for blood clots in her arm, Nelly Korda finished in a tie for eighth place at two under.
"The first week back you have rust, right?" she said of her performance. "You don't really expect much from your game. You don't know where your game is at. Knowing that I can play on a really tough golf course at a major and even kind of be in contention is definitely a positive."
Ingrid Lindblad, the LSU All-American by way of Sweden who made waves after a Thursday 65 while partnered with her childhood hero Annika Sorenstam, finished as the low amateur at one under following a tough final-round 76. Her total of 283 was tied for the second-lowest 72-hole score for an amateur in U.S. Women's Open history.
"Everyone is cheering you on," Linblad said, of her favorite experience from the week. "Maybe not if you're related to Minjee Lee who's in the lead, but everyone is cheering for you. And the people out here have been amazing, like they're screaming, 'go Tigers' and 'go Ingrid' and like, 'great job this week' and everything. It's been really fun."
Lee became the third Australian to win the U.S. Women's Open, joining Jan Stephenson and Karrie Webb.
Kevin C. Cox
Lee, who was born in the West Australia city of Perth, is one of just three Australian women to win a major since the turn of the century, along with Hannah Green (2019 KPMG Women's PGA) and one of her childhood heroes, Karrie Webb (an eight-shot winner at Pine Needles in the 2001 U.S. Women's Open as one of seven major titles). She is also the third Aussie to win a U.S. Women's Open, Jan Stephenson being the first back in 1983.
Lee is hopeful that this will spur growth in her home nation. "I think this will be huge for all the little girls and even the boys and the children watching," said Lee, whose brother, Min Woo, is a winner on the DP World Tour. "I know there's been a really big boom in [Western Australia]. The girls have been a lot more interested in playing, so hopefully they watch me on TV and I can be a good role model to them and they'll start getting more involved."
At her post-round press conference, she flashed a bright, engaging smile, but was otherwise as serene as when she held a three-shot lead on Saturday night, and as composed as she looked—but not felt—on the course Sunday. When it comes to competitive role models, Minjee Lee is about as good as it gets in women's golf, and if her brilliance under pressure is any indication, there will be plenty more winning moments to come.