Payday at Pine Needles
U.S. Women's Open 2022: Here's the record prize money payouts for each golfer at Pine Needles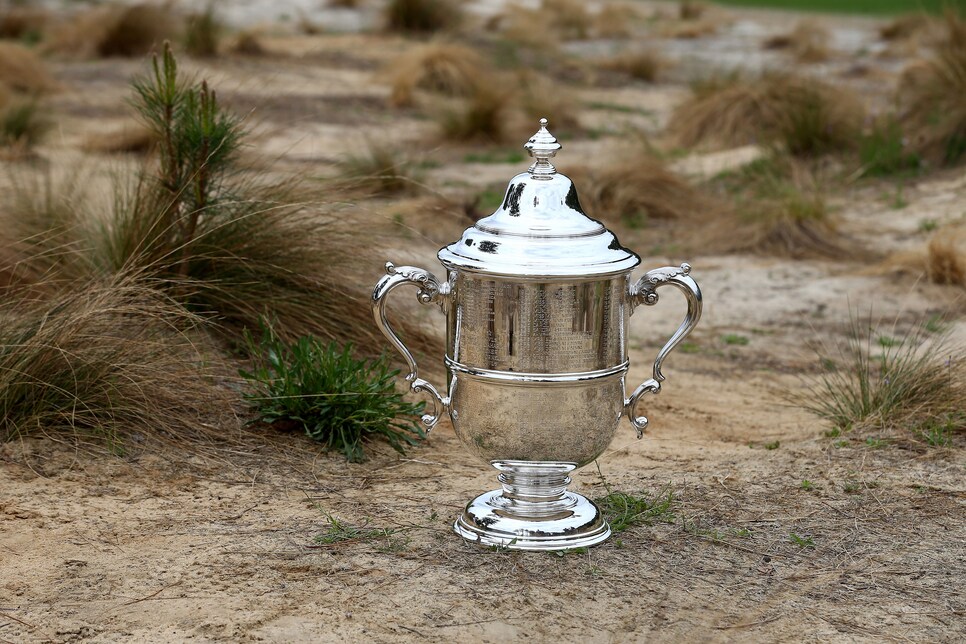 Streeter Lecka/Getty Images
The U.S. Women's Open has long been billed as the biggest tournament in women's golf. It was only appropriate, then, that it have the biggest prize money payout.
Yet when the USGA announced in January that the purse for the championship would nearly double in 2022, thanks to the addition of presenting sponsor ProMedica, from $5.5 million to $10 million, it sent shock waves through the women's game. The next highest overall purse among the women's majors was just $6.8 million.
"I think as we had those discussions … there was really kind of a shared vision for what we wanted to do with the championship and to be able to really make a statement and create that wow factor, so to speak," said Jon Podany, the USGA's chief commercial officer, during the USGA press conference on Wednesday ahead of the start of this week's event at Pine Needles. "We could have gone to eight [million dollars] and still been the highest major in the game, even seven, and just felt like that wasn't enough, that we wanted to really create the kind of stage that these women deserve and to take it beyond that."
Indeed, here's a breakdown of the prize money payouts for the other four women's majors in 2022:
AIG Women's Open: $6.8 million
Chevron Championship: $5 million
KPMG Women's PGA Championship: $4.5 million
Evian Championship: $4.5 million
Meanwhile, the USGA had already pledged that the prize money payout will grow to $12 million overall within the next five years.
With the record overall purse, 2022 champion Minjee Lee—with a runaway four-shot victory—earned a record sum as well, $1.8 million, the largest payout in women's golf history. Runner-up Mina Harigae also made more than $1 million, a first in that regard. Even if you don't make the cut at the U.S. Women's Open, you're still walking away with a nice return: $8,000, a doubling of the "stipend" given to pros leaving after 36 holes compared to a year ago.
It's important to note that the overall purse for the U.S. Women's Open didn't pass $8,000 until 1963, the 18th year of the championship. And a winner of the major didn't make $8,000 until 1975. When Annika Sorenstam won the U.S. Women's Open during its first playing at Pine Needles in 1996, the overall purse was $1 million, less than what the winner will make this week.
Here's a historic look at the prize money payouts in the championship for context about this year's historic payday:
YEAR: WINNER, OVERALL PURSE, WINNER'S SHARE
1947: Betty Jameson, $7,500, $1,200
1965: Sandra Spuzich, $20,000 $4,000
1975: Sandra Palmer, $55,000, $8,044
1978: Hollis Stacy, $100,000, $15,000
1990: Betsy King, $500,000, $85,000
1995: Annika Sorenstam, $1 million, $175,000
2000: Karrie Webb, $2.75 million, $500,000
2014: Michelle Wie, $4 million, $720,000
2017: Sung-Hyun Park, $5 million, $900,000
2019: Jeuong Lee6, $5.5 million, $1 million
2022: Minjee Lee, $10 million, $1.8 million
On Saturday, the USGA officially released the overall prize money payout breakdown for the golfers who made the cut a Pine Needles. Here are the payouts for each place. Come back after the finish of the championship on Sunday and we'll update with individual names and official totals.
Win: Minjee Lee, $1,800,000
2: Mina Harigae, $1,080,000
4: Jin Young Ko, $480,225
T-6: Anna Nordqvist, $337,198
T-6: Bronte Law, $337,198
T-8: Nelly Korda, $261,195
T-8: Megan Khang, $261,195
T-8: Leona Maguire, $261,195
T-11: Moriya Jutanugarn, $209,056
T-11: Ingrid Lindblad, Amateur
T-11: Xiyu Janet Lin, $209,056
14: Sei Young Kim, $187,166
T-15: Cheyenne Knight, $151,731
T-15: In Gee Chun, $151,731
T-15: Brooke Henderson, $151,731
T-15: Andrea Lee, $151,731
T-15: Eun-Hee Ji, $151,731
T-20: Pajaree Anannarukarn, $113,850
T-20: Sakura Koiwai, $113,850
T-20: Charley Hull, $113,850
T-20: Lexi Thompson, $113,850
T-24: Ally Ewing, $87,248
T-24: Frida Kinhult, $87,248
T-24: Atthaya Thitikul, $87,248
T-24: Allisen Corpuz, $87,248
T-28: Jeongeun Lee6, $67,899
T-28: Ryann O'Toole, $67,899
T-28: Sung Hyun Park, $67,899
T-28: Carlota Ciganda, $67,899
T-28: Nasa Hataoka, $67,899
T-28: Hannah Green, $67,899
T-34: Lizette Salas, $51,040
T-34: Celine Boutier, $51,040
T-34: Marissa Steen, $51,040
T-34: Georgia Hall, $51,040
T-40: Jennifer Kupcho, $41,409
T-40: Rose Zhang, Amateur
T-40: Alison Lee, $41,409
T-40: Amanda Doherty, $41,409
T-44: Brittany Altomare, $33,209
T-44: Matilda Castren, $33,209
T-44: Pia Babnik, $33,209
T-49: Bailey Shoemaker, Amateur
T-51: Linnea Johansson, $24,103
T-51: Marina Alex, $24,103
T-51: Lauren Hartlage, $24,103
T-51: Caroline Masson, $24,103
T-51: In-Kyung Kim, $24,103
T-58: Yealimi Noh, $21,734
T-60: Allison Emrey, $21,219
T-60: Sofia Garcia, $21,219
T-63: Tiffany Chan, $20,498
T-63: Danielle Kang, $20,498
T-63: Jessica Korda, $20,498
68: Bianca Pagdanganan, $19,777
70: Maude-Aimee LeBlanc, $19,369