Money Matters
What's it mean to play for $10 million? How about keeping your golf dreams alive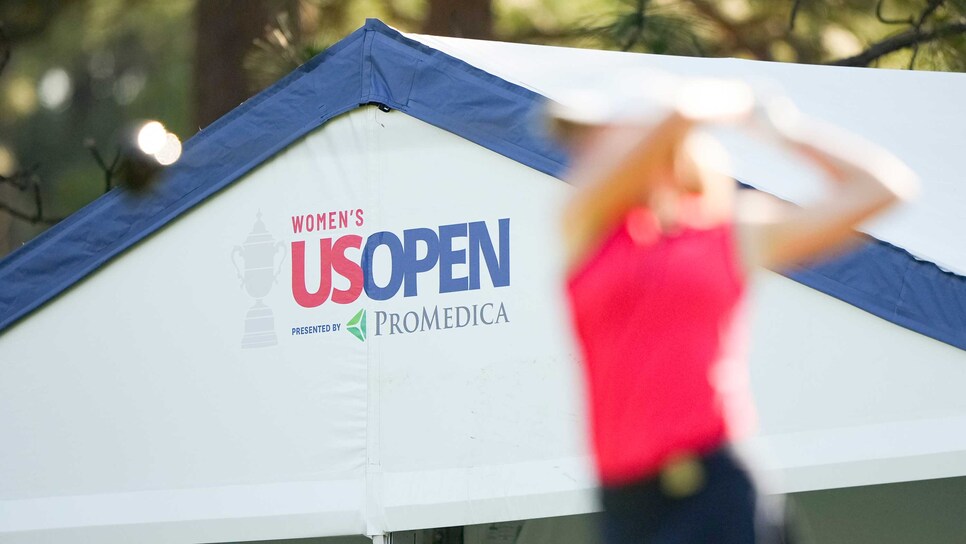 SOUTHERN PINES, N.C. — Karen Kim spent the first 12 years of her life in California, but then her family moved to South Korea, and it was there, at age 18, that she turned professional. She thrived, at least at first, quickly earning status on the LPGA of Korea, and then on the Symetra Tour (now Epson Tour), the feeder tour for the American LPGA. Kim's maiden year in America was tough, though, and along with missing eight of 10 cuts, she suffered from anxiety and depression. She returned to Korea and began feeling better when she admitted to herself that golf was something she wanted to do for her entire life—"it means so much to me that it's almost as important as family"—and that it was OK to treat it as a major priority.
When she returned to the U.S., COVID had just hit, and she spent time on developmental tours like Arizona's Cactus Tour, the Women's All Pro Tour (WAPT) and the East Coast Women's Pro Tour (ECWPT). In those cases, there were more acronyms than money; for notching four straight top-10 finishes in 2020, she earned less than $5,000.
She made it to stage two of LPGA Q-school in 2021, earning back her status on the Epson Tour, but in four events there this season, she's earned less than $3,000 and sits at 116th on the money list (only the top 10 earn LPGA status). Meanwhile, she moved out of her father's house in Texas, lives with a friend because she has no sponsors or financial support (other friends helped her at the beginning of the year, but personal entanglements put an end to that relationship). All expenses now come out of her pocket, and she has to rely on generosity when she can. Her caddie for the week, for instance, is a family friend working for free who insists on buying all her meals.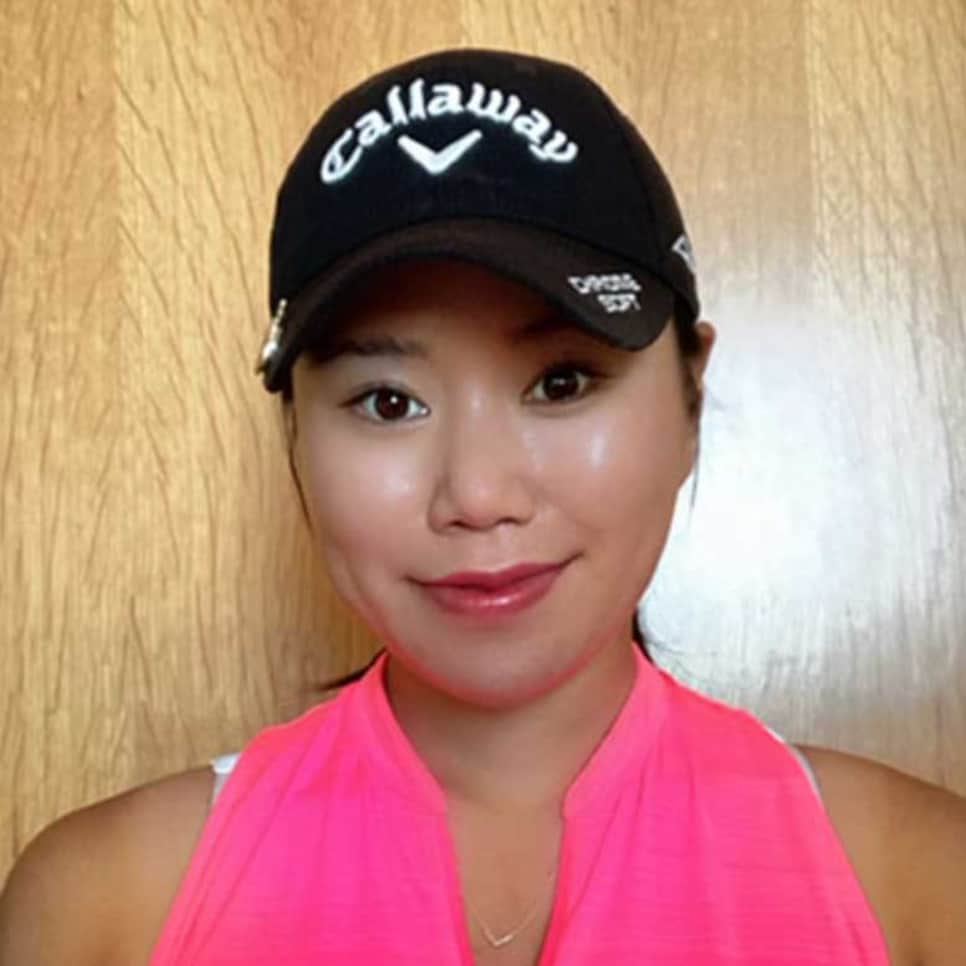 Despite all this, Kim has an irrepressible energy as she pursues a professional career. Speaking ahead of playing in her first U.S. Women's Open this week at Pine Needles, she describes herself as the most "flexible" personality in the game—she can get along with anyone. Asked about the jeweled Queen of Hearts clip she wore on her hat, she said, "I think I'm a queen of hearts. I like pretty things and being a boss … lady. We say it in appropriate terms."
Late in the conversation, what seems like an obvious question is posed: Has she given herself a timeline for how long she can do this? Is there a point at which she'll have to give up her dream? The way it was asked, however, was potentially confusing, though, and when Kim heard the word "timeline," her eyes lit up.
"Yeah, I do," she said. "If I understand what you're talking about, I would like to get my LPGA card by this year, and my goal is to be a hall-of-famer by 2035."
"Let's see," I said, "that's 13 years? Wow."
"I think I'm pretty ****ing good," she said. "I just turned 23 like, a week ago. I'm here. Why not?"
Kim qualified for the U.S. Women's Open by shooting 70-69 at the Clubs at Houston Oaks, then making it through a 4-for-3 playoff. Now that she's at Pine Needles, there's a massive opportunity awaiting—this year's event has an eye-popping purse of $10 million. That kind of money presents incredible opportunities for someone like Kim; if she were to finish in 60th place, for instance—last place among those who make the cut—she would still earn more money (about $20,000) than she's made in her entire career. If she were to finish even higher, it could bankroll her for a year or more. The possibilities are transformative
"There was really kind of a shared vision for what we wanted to do with the championship," said Jon Podany, the USGA's Chief Commercial Officer, about the huge 2022 purse. "And to be able to really make a statement and create that wow factor, so to speak. We could have gone to eight [million] and still been the highest major in the game, even seven, and just felt like that wasn't enough, that we wanted to really create the kind of stage that these women deserve."
John Bodenhamer, Chief Championships Officer, said that players like Kim on the smaller tours factored into their decision as they pursued the $10 million figure.
"They sure do," he said. "Our DNA is to be open. You earn your way in … you get your ball in the hole, you can play … there are a lot of great stories about players that have been in those developmental tours that have worked their way up, because it is life changing."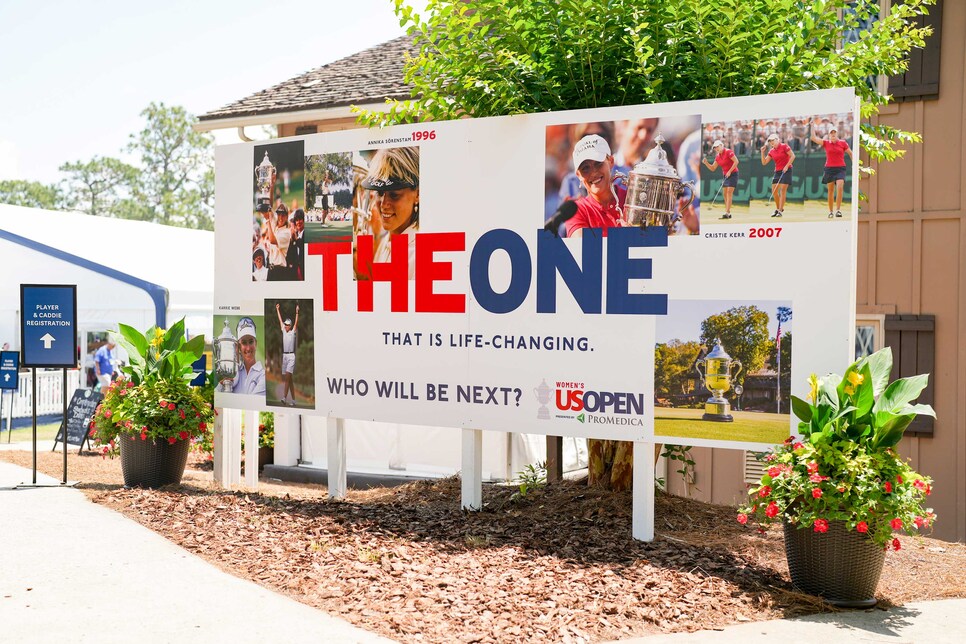 USGA officials say the increase in the purse at the U.S. Women's Open was done with the thought in mind of help young players on developmental tour bankroll their seasons.
Darren Carroll
Mariel Galdiano, who like Kim is 23, is playing in her fifth U.S. Women's Open after shooting a spectacular second-round 65 to win medalist honors at her qualifying location in Florida. It's her first as a professional following a standout amateur (two-time U.S. Curtis Cup player) and college (UCLA All-American) career, and the years since she graduated have been a hard fight through the developmental tours.
"It's a grind," she said. "All of us are out there week after week, wearing the same clothes for the fifth time."
Galdiano is from Hawaii, and for a time she was going back and forth from there to tournaments in the south and east. Finally, a year ago, she moved to Orlando, where she lives with her aunt to help save money. She's racked up several top-10 finishes on the WAPT and ECWPT in the last two years, but her total career earnings are well shy of $20,000. Her father is her caddie, which saves on some expenses, and she works various part-time jobs in the golf industry to make money in the offseason. Still, in order to succeed at the highest levels, she knows the bulk of her time has to be spent playing and practicing. And while doing that, she inevitably will lose money until she can reach higher levels through the qualifying school.
The developmental tours are a recent addition to the women's golf landscape, and founders like Mark Berman, who started the ECWPT after watching his daughter struggle to find a path in the professional game, are in the business of creating on-ramps to the Epson Tour. There's a little bit of money involved, but according to Berman, 70 percent of the players on his tour hold down second jobs, and the struggle to pay for hotels, gas money, and various other expenses can become overwhelming. Even winning one of these events may yield only $10,000—a nice payday, but not enough to last very long, considering the cost of living, and coaching, and travel.
"These girls are exceptional players," Berman wrote in an email. "Most of them have a real chance to get to the LPGA Tour. They just have to outrun time and money, which makes opportunities like the USWO so valuable for them on many levels."
At this year's U.S. Open, the stipend for all players is $8,000—even those who miss the cut. That's enormous all by itself, and may take some of the pressure off players like Galdiano. Still, she knows how big this could be; even if she makes a cut, it might result in getting starts on the Epson Tour.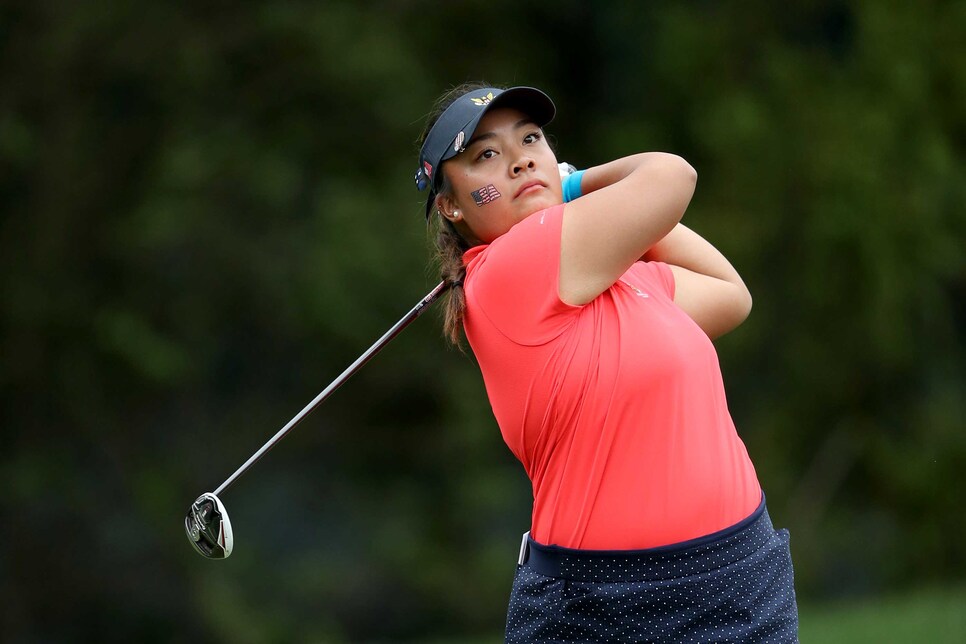 Mariel Galdiano was a two-time U.S. Curtis Cup team member and a standout collegiate player at UCLA who is still trying to have her break out performance as a professional.
David Cannon
"It's an understatement to call it just another tournament," she said. "That's not what it is. I definitely see a huge opportunity for me to really change my career."
At the same time, Galdiano told me that it's easy to get down on herself while she fights through golf's minor leagues, and that she's been in low places where she's questioned her career, and whether golf is really what she wanted to do.
"It sounds dramatic," she said, "but sometimes you feel like you're one bad shot away from ending your career."
This week, though, she and so many others from the developmental tours are a few good rounds away from the opposite: from escaping the grind and taking a giant step toward a dream that has a way of seeming far off in the distance. Money has been a headline at this year's U.S. Women's Open, but $10 million is more than just a big number—it's a way, for players like Kim and Galdiano, to turn something illusory into something concrete.