USGA
U.S. Women's Open adds presenting sponsor, nearly doubles purse to $10 million for 2022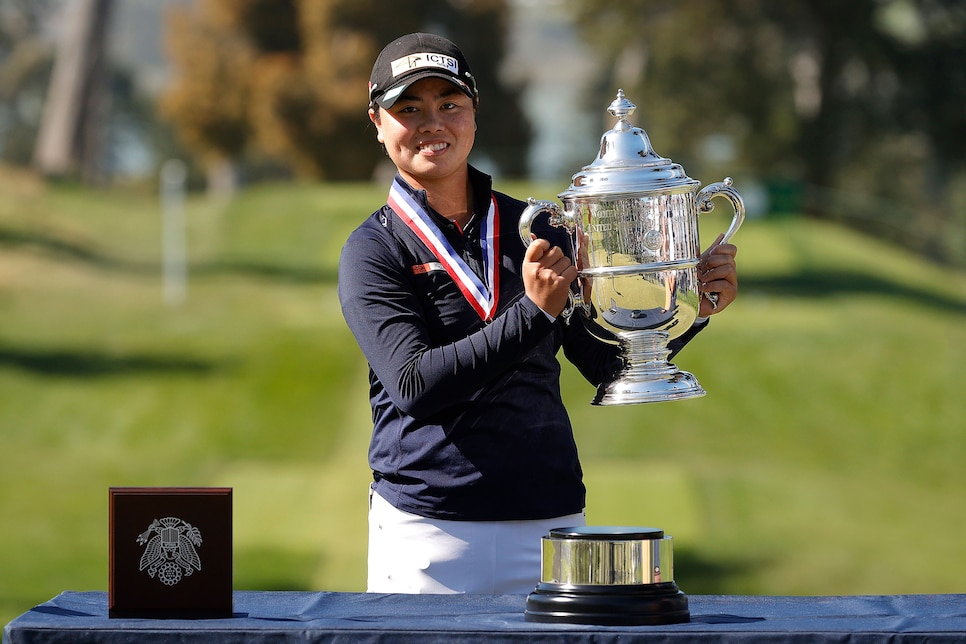 The U.S. Women's Open is adding a presenting partner that will allow the USGA to nearly double the championship's prize money payout to $10 million in 2022, the association announced on Friday.
ProMedica has been brought on as the first-ever presenting sponsor of a USGA championship. This will allow the governing body to boost the overall prize money payout in the championship by $4.5 million, bringing it a couple million shy of the $12.5 million the association hands out at the men's U.S. Open. However, Mike Whan, the USGA CEO, said the purse will be bumped to $11 million and then $12 million over the next five years.
"Let's love our history," Whan said at the press conference in New York City, where the news was announced. "But let's not be afraid to make a little history, too."
History has indeed been made. The purse is the biggest in women's golf, and the winner of the U.S. Women's Open this June at Pine Needles will earn $1.8 million, making it richest single payday in women's golf.
"Three athletes earned more than $1.8 million in 2021 [on the LPGA Tour]," Whan said. "Next year, if you're lucky enough to lift that [trophy] up on Sunday at Pine Needles, you'll make $1.8 million that week. That's the kind of change that I think will not only be lasting for the person who makes it, but lasting for the 6-year-old, 9-year-old, 13-year-old, dreaming of raising that thing and realizing that her dream is different today than it was yesterday."
Before taking the job as CEO of the USGA, Whan spent 11 years as the commissioner of the LPGA. Mollie Marcoux Samaan took over for Whan in 2021 and did not hesitate to highlight his role in this important moment in women's golf.
"The stakes are so much higher, the impact is so much bigger. I don't think it can be underscored how important something like this is," Marcoux Samaan said. "I want to thank Mike. I don't think there's anyone who's been a bigger advocate. He'll go down in history as one of the greatest advocates for women's golf and really for women's sports."
Marcoux Samaan's words are a reminder of how important a jump in prize money this is: It's not just a moment for women's golf, it's a statement about women's sports and how female athletes can be compensated. Juli Inkster, who won $315,000 in 1999 for her first U.S. Women's Open victory, joked that the prize money is so good now, she's going to keep trying to win a U.S. Women's Open for another few decades.
"This is a huge step for women's sports all over the world," Inkster said. "They rent their own cars, the do their travel, they work really hard. And sometimes you feel like you're not getting rewarded for how hard you work. ProMedica is giving these ladies the opportunity to play for a lot of money as well as the USGA championship. This will make or break their year, their life."
The announcement wasn't just about the prize money, though. In addition, the USGA announced future host sites. John Bodenhamer, Chief Championships Officer for the USGA, said a conversation with Nick Price, a member of the USGA Executive Committee, worked as a catalyst for choosing these sites. "Nick looked over at me and said something that's become a guiding star for us. He said, 'John, it's important where players win their U.S. Open. Men and women.'"
With that in mind, the U.S. Women's Open venues for the next two and a half decades are notable courses with rich men's major championship histories. The USGA will be bringing the U.S. Women's Open to Riviera Country Club in 2026, Inverness Club in 2027, Pinehurst No. 2 in 2029, Interlachen Country Club in 2030 and Oakland Hills Country Club in 2031 and 2042. At Pinehurst in 2029, the USGA will play the men's and women's championships in back-to-back weeks as it did in 2014, where Martin Kaymer won the men's U.S. Open followed immediately by Michelle Wie West winning the U.S. Women's Open the next week.
Here is the list of all announced U.S. Women's Open sites:
2022: Pine Needles Lodge & Golf Club
2023: Pebble Beach Golf Links
2024: Lancaster Country Club
2026: The Riviera Country Club
2028: Oakmont Country Club
2029: Pinehurst Resort & Country Club
2030: Interlachen Country Club
2031: Oakland Hills Country Club
2038: Oakmont Country Club
2042: Oakland Hills Country Club
Though it was a proud day for women's golf, it didn't come without the question that will continue to be asked in women's sports: When will the women earn as much as the men? The men played for a $12.5 million purse in 2021, and that number is going to increase.
"The only way to get to those kind of levels is to have monster increases, not regular increases," Whan said. "We're really proud to be part of a monster increase. Once you make a monster increase, it's like pulling off a really good flop shot: Once you do it once, you can do it again. Once you take a monster step and teach yourself what a monster step is, you can look forward to making another one."