It Takes 2
How to achieve golfing bliss with your significant other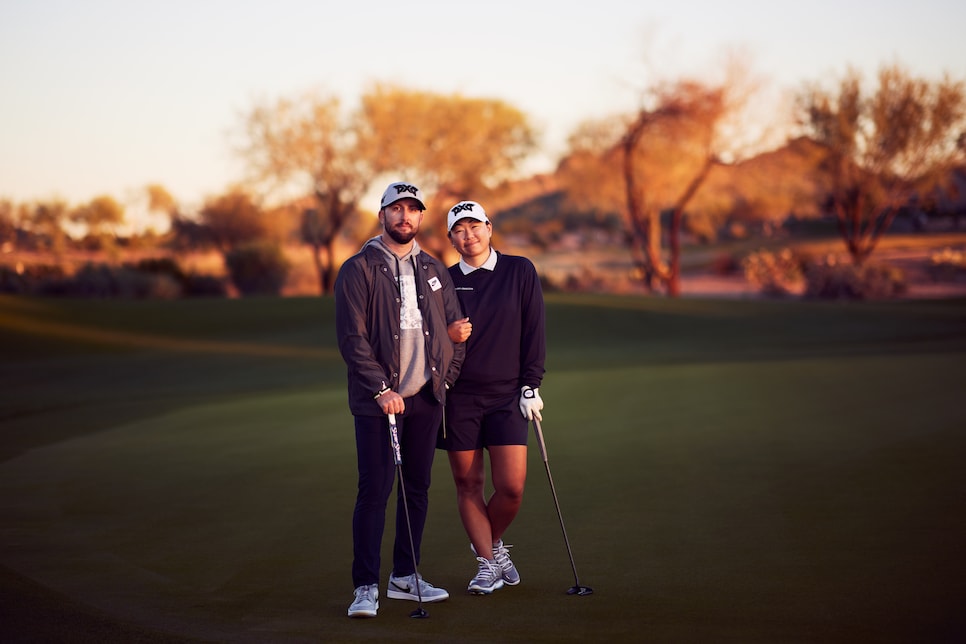 LOVE STRIKES TWICE Travis Kreiter and Mina Harigae have found happiness on and off the course. Photograph by Jesse Rieser
When LPGA Tour and Solheim Cup player Mina Harigae met her now fiance Travis Kreiter, he was an assistant professional at Superstition Mountain in Gold Canyon, Ariz., where she had just become an honorary member. The first time they played, Mina challenged Travis to a $5 birdie game. Travis went up $20 on the front and never let up. "I liked that he wasn't even sorry he was beating me so badly," Mina says. "If I didn't like him, I would have just paid and left. But he bought me coffee with the cash he won off of me."
Golf can be a beautiful way to spend time with your romantic partner regardless of your skill levels. "My favorite thing is playing late into the evenings when no one else is around, and I feel like we're the only ones in the world chasing a little white ball," Mina says.
She and Travis, who now caddies for her on tour, have had a blast with the occasional tense exchange on the golf course but have learned how to work through those instances. Here are their five keys for maintaining harmony.
DON'T TRY TO COACH EACH OTHER
Mina: Unsolicited advice is tricky. You always hear, "Keep your head down." But just because you've heard a piece of swing advice doesn't mean it applies to everyone. Don't offer advice that can further compound a swing problem or, worse, irritate a playing partner who doesn't want a lesson.
Travis: It's easier to hear constructive comments from someone who's paid to teach golf than someone who's living in your house. Working with a professional instructor is the way to go.
TALK IT OUT WHEN TENSION ARISES
Mina: We've had our share of uncomfortable moments on the golf course. I find that expressing my thoughts in the moment helps resolve any issues. If I don't tell Travis "I feel a little bit anxious today" or "My brain just isn't working right now," he won't understand my mood.
Travis: My instinct is to squash the tension with positivity, but that doesn't always work. Remember that there are worse things in life than a bogey. In tough moments, I simply remind Mina I'm here to help her through adversity.
Travis: I'll holler to Mina across the green, "If I get this chip within three feet, you're making dinner tonight." It can be the most unlikely shot imaginable, but those low-stakes competitions keep things exciting.
Mina: I always find it funny when Travis makes a long putt for birdie or eagle, and then I make it on top of him. He'll make a face at me.
Travis: Well, it's usually not only a face. I might call her a name or make a gesture. We make each other laugh on the course. That's important.
Mina: Don't play all your golf with your partner. When I play with other tour players, I'm measuring my game against theirs. When I'm with Travis, I'm so comfortable I almost go into autopilot. It's helpful to mix things up, socially and for your own improvement.
Travis: No matter your skill level, playing with friends and peers will help you gain a new appreciation for the game.
YOU DON'T HAVE TO PLAY 18
Mina: Even nine holes can be difficult to squeeze in sometimes. Travis and I like to play games on the putting green. "Shooter" is one of our favorites.
Travis: Each person stands at a hole on the practice green—about 20 feet apart—and you putt balls at your partner's hole until you make it. Make a putt and get a point, and then you switch spots. If you make your putts at the same time, they don't count. The first person to seven points wins. Mina and I play it for hours.