U.S. Open
'I gagged it up': Brooks Koepka wasn't always a major machine, and his journey has a funny beginning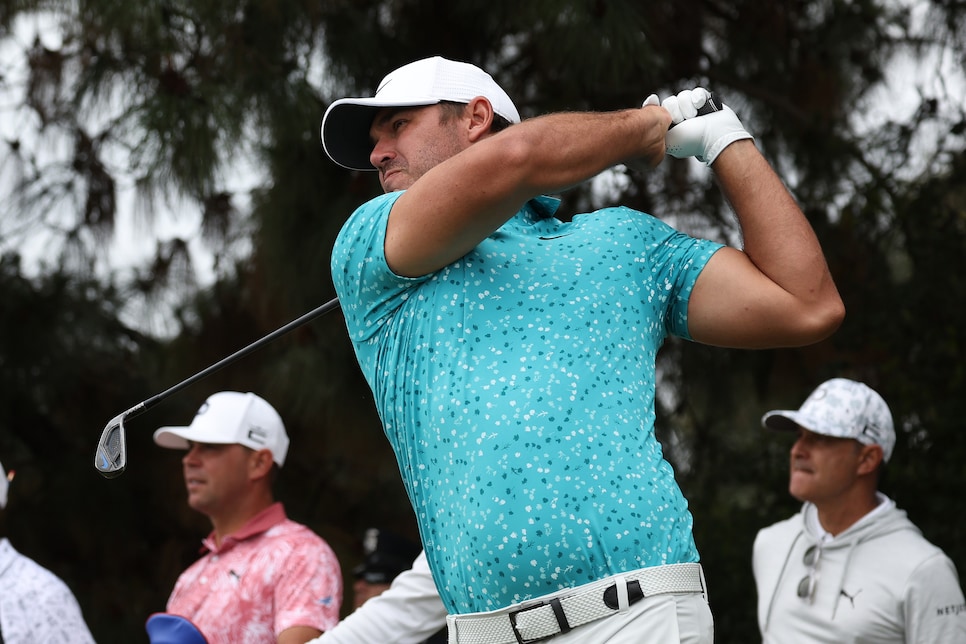 Brooks Koepka plays a shot during a practice round prior to the 123rd U.S. Open Championship.
Harry How
LOS ANGELES — For a big game hunter, Brooks Koepka's first taste of major championship golf was a catastrophe.
It was 2012, and Koepka had qualified, via a sudden-death playoff, for the U.S. Open at Olympic Club in San Francisco. With a tidy, bogey-free one-under score on his first nine that Thursday, Koepka, a 22-year-old amateur, was leading the tournament. "Then saw my name on the leaderboard and just gagged it up on the back nine," Koepka, now a five-time major champion, said on Tuesday at Los Angeles Country Club.
Koepka plummeted on his second nine by shooting 42 for a total of 77—the score he would also record on Friday in missing the cut by miles. "I understood the magnitude kind of right away of what it was," Koepka said.
"It was like Augusta all over again," he added, in a self-deprecating reference to this year's Masters, when he coughed up his 54-hole lead with a final-round 75.
Playing as a professional one year later in the 2013 PGA Championship, ironically at Oak Hill in Rochester, where Koepka claimed the PGA title last month, he was again exposed to the pressure cauldron of major golf.
On that Sunday, he played with Tiger Woods while they were out of contention. Woods shot even par while Koepka languished with a 77.
"I got introduced to a lot early," he said. "I feel like I'm really good at learning from mistakes, and I'll sit back and reflect for like two, three days, and be really honest with myself of why things happened the way they did."
Koepka learned reasonably quickly and secured his first top-five at a major in 2014 at Pinehurst, when Germany's Martin Kaymer went wire-to-wire to win by eight shots. "He blew us all away; we were all playing for second place, really," Koepka said. "But I felt like I was in contention."
The Florida native was able to pinpoint exactly what clicked for him between his 2012 disaster and the 2017 U.S. Open at Erin Hills, where he won his first major by four shots. "I enjoy the chaos," Koepka said bluntly.
Asked for an example of what he meant by that, Koepka cited the 2018 U.S. Open at Shinnecock Hills, when he successfully defended his 2017 title while a host of players were complaining about the course setup on Saturday's third round. Phil Mickelson even protested the hole locations by putting his ball while it was moving.
"Everybody was bitching, complaining," Koepka said. "They were all so focused on the golf course and forgot about what was going on, that they were there to play a major championship. But if you leave yourself with an uphill putt, it was not too bad."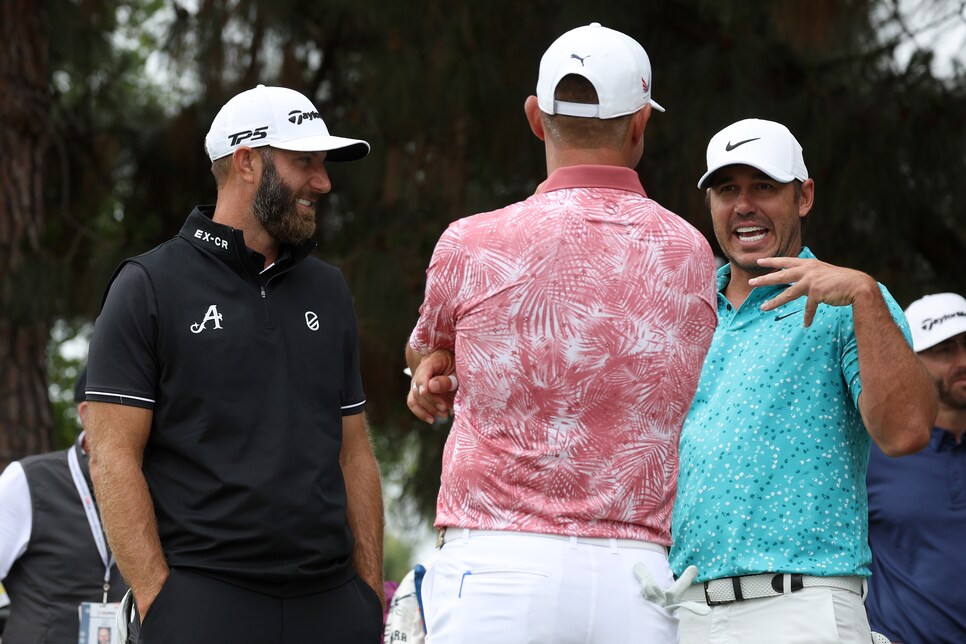 Brooks Koepka talks to Dustin Johnson and Gary Woodland during their practice round for the U.S. Open.
Harry How
Koepka also discovered he loved the masochistic test of U.S. Opens, which has had a reputation for its organizer, the USGA, of torturing the world's best players with narrow fairways, thick rough, fast greens and brutal pins.
"I just love when … somewhere closer to even par wins," Koepka said. "The majority of my wins, they're all pretty much 10 under or less, which is suited to major championship golf. I feel like I can outlast everybody when it comes to having to par [a course] to death or [the USGA] wearing guys out on the golf course."
For someone who loves chaos, there's never been a better time in professional golf than the past week. Last Tuesday, the PGA Tour announced it had entered a framework deal with Saudi Arabia's Public Investment Fund to create a new for-profit entity. The PIF finances LIV, where Koepka plays and is a two-time winner. The PGA Tour and LIV had endured a long and public feud. The revelation of the partnership didn't bother Koepka in the slightest.
"I was sitting at Grove [Michael Jordan's exclusive golf course in Jupiter, Fla.] at the bar having breakfast and I saw it on TV. I watched a little bit of the interview, and that was it," he said. "[Then I] just went out and practiced. I wasn't going to waste any time on the news There are four weeks a year I really care about. That's what you're judged on. It's major championships. This [U.S. Open] is one of them, and I want to play well."
When that judgement day comes, at the end of his career, Koepka has a number with which he'd feel comfortable: 10 major wins. With two years of injuries and surgeries behind him, Koepka feels five more is plausible.
"Double digits, that's what I'm trying to get to," he said. "I don't think it's out of the question for me. I'm only 33, so I've definitely got quite a bit of time."
MORE FROM GOLF DIGEST @ THE U.S. OPEN