The Loop
9 dead-on, stone-cold locks from ESPN's 2020 NFL FPI projections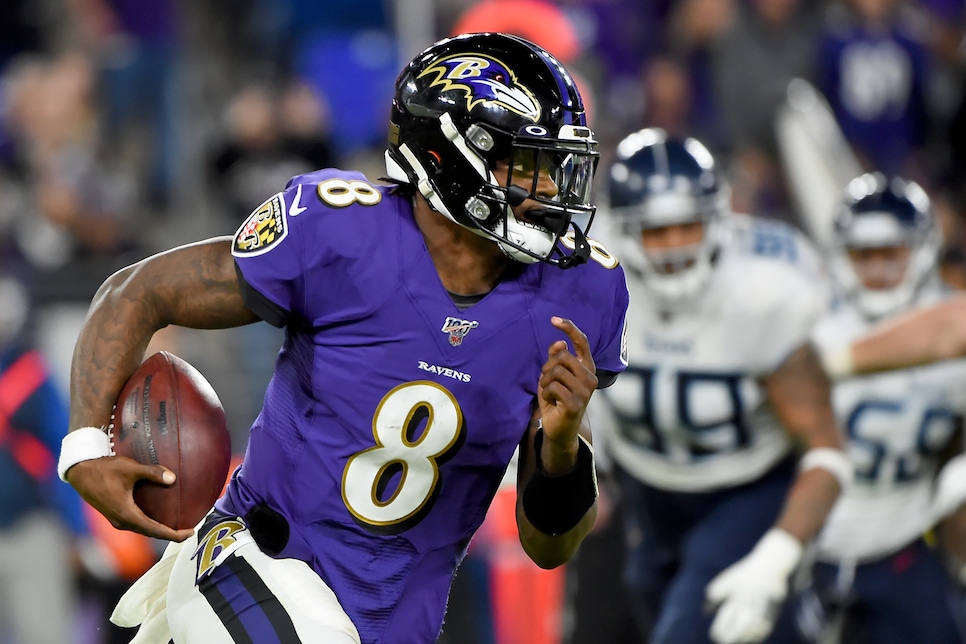 Football is still a few months away, if football happens at all, but we have big news for you, football: Football is already over and it ended on Tuesday. While you were still staring at your post-MDW self in the bathroom mirror asking why, dear God why, ESPN published their annual FPI projections for the upcoming NFL season. A series of projections, predictions and outright guesses by an AI algorithm that will soon be the dictator messiah of our entire solar system, the 2020 outlook paints a picture of pessimism and parity (read: mediocrity) that can't possibly be wrong. So in that spirit, let us save you 20 Sundays with our nine most bulletproof, waterproof, babyproof locks of the 2020 NFL season, based on ESPN's FPI. Take it away, Lamar . . .
First things first: The Ravens are not going 16-0
According to ESPN's FPI, the Ravens—the 2nd Super Bowl favorite behind the reigning Kansas City Chiefs—are favored in EVERY SINGLE REGULAR SEASON GAME this season. The '72 Dolphins can go ahead and pop that champagne early, though, because Big Ben is back and he's going to bully this team like Biff on George McFly. Watch for the Ravens to go 14-2 with two losses to the Steelers, get the no. 2 overall seed and get bounced by, guess who, the 7th seed Steelers in the new bonus playoff game. That is a thing you would really hate to see.
Trevor Lawrence will be wearing spots in 2021
Gardner Minshew is the Gerald Ford of Duval. In 2019, the Washington State rookie, with help from the little magic wizard that lives in his mustache, took over the starting job from Richard Nix—er—Nick Foles. He became a viral sensation and a solid, if unspectacular performer, but don't bet on a successful reelection bid. ESPN's FPI have the Jaguars ranked a distant dead last in wins (4.9) and playoff likelihood (4%) and a runaway winner in the Tank For Trevor sweepstakes, with a 23% chance to land the top overall pick in 2021 NFL Draft. Also yes, in this analogy Trevor Lawrence is Jimmy Carter, but let's try not to get bogged down in the details.
New York sports media is going to be must-see TV (or must-hear radio)
If you are even a semi-regular visitor to this site, you know we hold a cold, dark, damp place in our hearts for New York sports radio. Thankfully it looks like we are in for a truly vintage fall, with both the Jets and Giants rapidly approaching the point where their rebuilds need rebuilds. The Jets are in year three of the Sam Darnold era facing the second most difficult schedule in the NFL. The Giants are rapidly steaming toward "aRe tHeY wAsTInG sAqUonS pRImE?" land with no one behind the wheel but Dave the Combine Sniffer Gettleman. The pair rank 25th and 26th in ESPN's FPI power rankings, just ahead of the Miami Dolphins, who were laughed out of the league last year. Needless to say, Lincoln Tunnel gridlock may never be this entertaining again.
We have at least one more year of having to talk about the Cleveland Browns
If there was an ESPN FPI power ranking of the teams ESPN has talked about the most over the past three seasons, the Cleveland Browns would be at or near the top. Unfortunately for football-loving bipeds everywhere, however, that looks poised to continue for at least 16 more insufferable, interminable weekends. In addition to this being very much a prove-it year Baker Mayfield and Myles Garrett—returning from suspension for his role in Miami-FIU II—ESPN's FPI ranks the Browns as the team most likely to claim the AFC's shiny new seven seed in 2020. And what could be more 'Get Up' A-block worthy than the Brownies pushing for their first postseason berth since 2002 down the stretch? In the immortal words of Jacobim Mugatu, NOTHING! NOTHINGGGG!
Aaron Rodgers is going to be grumpier than Oscar the Grouch on garbage day
While Bill Belichick and his coven of hooded ghouls get most of the plaudits for their sunny dispositions and general friendliness towards reporters, Aaron Rodgers is a close second, especially when hopped up on muscle relaxers. This year, A-Rog promises to be even cheerier, with first-round pick Jordan Love waiting in the wings and the ESPN FPI leaving the Packers on the outside of the postseason picture looking in. If the FPI is right and the Packers barely limp to .500, failing to defy their 43% chance of making the playoffs in the process, there's not much that can be done either. Rodgers' $36.3 million dollar cap hit in 2021 makes him virtually immovable, ensuring that whatever gets tossed into the beef stew in 2020 will have plenty of time to simmer for next year.
The Patriots are going to make a deep playoff run, just accept it now
ESPN's FPI actually likes the Patriots, ranking them 9th overall, but the disrespect is still downright reckless. They're projected at just 8.6 wins. They're positioned one spot behind Tommy's Tampa troupe in the power rankings. They're not even favored in their own division (more on that in a second.) Needless to say, there's enough material here to fill every bulletin board aboard the Death Star from now until December. Plus, Stid can throw a football over them mountains, and from what we hear, they have a few of those up in New England.
The Buffalo Bills are going to crush your soul
Speaking of the AFC East, we have breaking news: The Buffalo Bills are going to tear your heart out of your chest, deep fry it in Molson beer batter, body slam it through a flaming folding table and send it hurtling over Niagara Falls all before January. This is what the Buffalo Bills do. The difference this year? There are actually expectations. The Bills are narrow favorites to win their first AFC East title since [checks notes, shoves eyes back in sockets] 1995. They're coming off a wild Wild Card showdown with the Texans in which they snatched defeat from the jaws of victory and at some point you would think Josh Allen will remember what color his team's jerseys are. All of which can only mean one thing: The Buffalo Bills are going to tear your heart out of your chest, deep fry it in Molson beer batter, body slam . . . wait, we already covered this didn't we?
The Dallas Cowboys are going to grind your crushed soul into dust
The FPI LOVES the Dallas Cowboys like Sir Mix-a-lot loved butts the size of Big Sky country. The same team that couldn't even win their own TERRIBLE, NO GOOD, VERY BAD division last year, handed the reins to a guy who skips meetings to get massages and manufactured a potentially irreconcilable quarterback controversy so they could pay a running back and some guy from Notre Dame is the 5th overall Super Bowl favorite heading into 2020. If you want to talk about unrealistic expectations, 9.6 wins and a 69% (are we still doing "nice"?) chance to make the playoffs is about as Looney Tunes as you can get. Throw in the third best championship odds in the NFC, and you and Frodo might as well as start the hike to Mount Doom. This is fantasy land, folks, and every Cowboys fan in existence just bought a timeshare.
Buckle up, we're going to see a .500 team in the playoffs
Looking at the full 32 team lineup, you have to ask yourself: Did a single team get better this offseason? The Dolphins? Maybe? It is an absolute wasteland of mediocrity, with two teams in the top 10, the Bills and the Patriots, projected in the eight-win range. The Chiefs, Ravens and 49ers are all expected to be good again, but can any of them be as good as they were last season? Probably not. Now take the 12-team playoff format and add two ugly, cold-weather, four-yards-and-a-cloud-of-punt dogs, and you're dragging the bottom of the talent pool for even the faintest sign of life. There have only been 12 .500 or below teams to make the playoffs in NFL history, but you may as well go ahead and make that a baker's dozen. It's happening. There's no way it isn't. Remember who told you so.