It's not often in sports that you can break a record by losing, but that's exactly the position Lee Westwood finds himself in this week. Coming into the 2021 season, the 48-year-old Englishman had played in 84 major championships without winning, just three behind Jay Haas for the most ever. He pulled within one of Haas at the PGA Championship, tied him at the U.S. Open and will hold the top spot by himself next Monday … provided he doesn't win the Open Championship at Royal St George's.
Offered the choice between setting the record or not, Westwood would obviously take the Open victory. Though he has 18 major top-10 finishes on his résumé, and has shown solid form at times this year—his back-to-back runners-up at Bay Hill and the Players prove that on the right weekend, Westy is still more than capable of competing with the world's best—the likelihood of actually winning is small. In fact, he'd be the third-oldest player ever to win a major, behind Julius Boros and … checks notes … Phil Mickelson. In reality, it's unlikely he'll ever win a major, and that's been true for a few years. Which means the dubious mark seems destined to bear his name, whether he likes it or not.
It was already the case that Westwood's professional career was defined—in part—by his failure to win a major, and if he moves ahead of Haas this week, there will be very little doubt that he's the best player ever not to win. Before Westwood, that honor arguably went to Colin Montgomerie, a player with a shockingly similar résumé. Between Europe and Asia, Westwood has won 37 times; Montgomerie won 35. Westwood has won twice on the PGA Tour; Montgomerie never managed to break through in America. Westwood has captured 23 Ryder Cup points in a solid career; Montgomerie won 23½ in a slightly better career (both are top five in European history). Westwood spent 22 weeks as the No. 1 ranked golfer in the world; Montgomerie was on the brink several times, but peaked at No. 2. They even look alike … if you squint your eyes.
(For my money, Steve Stricker is the only American with an argument in the "best to never win a major" debate—sorry Doug Sanders, Haas and Matt Kuchar)—but to back him, you'd have to believe that golf in the U.S. is several magnitudes better than Europe, because otherwise his career numbers aren't comparable.)
And like Montgomerie, Westwood came achingly close in majors time and time again. At Augusta, he had the final-round lead in 2010 before Phil chased him down, and had a chance to win in 2016 after Spieth's collapse, but instead watched his playing partner Danny Willett seize the opportunity. In 2008, he led heading into the back nine on Sunday at the U.S. Open, but dropped three shots in four holes and finished one shot behind Tiger Woods and Rocco Mediate, who went head-to-head in their famous playoff the following day. At the Open Championship, he likely had his best chance in 2013 when he held a two-stroke lead after 54 holes, but while par would have been good enough to hold a share of the lead, he limped in with a 75 to finish behind Phil Mickelson. Or maybe his true best shot came in 2009 at the Turnberry Open, when he led Tom Watson on the 14th hole, but bogeyed 15 and 16 as Stewart Cink came from behind to catch Watson and eventually win. And these examples, of course, don't include the times when he was in the running, and could have won an event or two with a spectacular final round. Those types of rounds weren't in Westwood's repertoire.
Did he have trouble playing under pressure in these specific events? It's not unfair to say that yes, he did. Did he get unlucky? Also yes. The longer you watch golf, the more you understand that winning a major requires a rare confluence of great play and great fortune, and holding your nerve is only one facet of that. Take a player like Rory McIlroy; the shared wisdom is that he's lost his edge, and to an extent that's true, but he only needed a lucky break or two to win another major in his post-2014 career. Instead, he's always been close, but never made it over the top. For Westwood, the story is the same, except he never quite found the edge, even briefly, and his drought lasted an entire career.
The question with players like Westwood is always the same: Is it "fair" to look at his career through the lens of major championships? Should the fact that he came up short in this element of the game be the first thing mentioned when we remember his career? It almost feels rude to speak it aloud, as though it should be a kind of embarrassing family secret that everyone knows but nobody talks about. Yet it's all too real, and all too prominent, to ignore. Maybe you can let it go with Jay Haas, but Westwood has been in the mix far too often not to at least nod at the elephant in the room.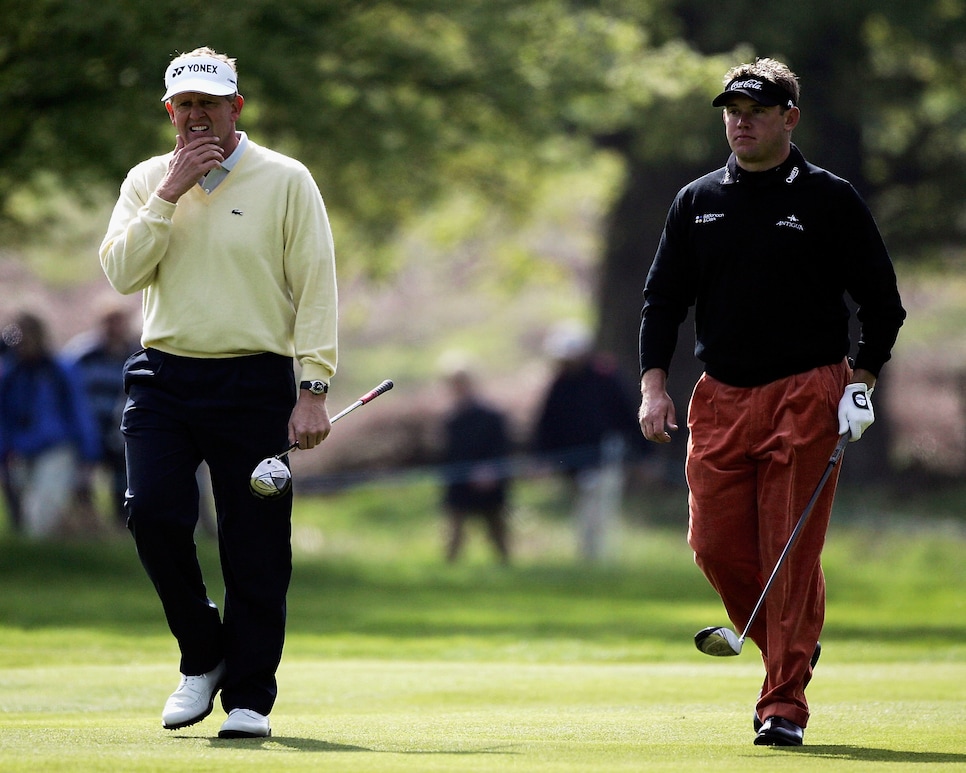 Colin Montgomerie and Westwood at the British Masters in 2005.
Warren Little
And yet, there's a flip side to the record Westwood could capture this week, which is that he could only try and fail in 88 majors because he was so good, for so long, that he just kept coming back. You can call that prolonged excellence, plus resilience, and it's a cruel aspect of the sport that these qualities only serve to highlight his shortcomings. In that way, you can look at this impending record as a source of pride. If he played in 10 majors, faded away and was never heard from again, nobody would talk about him.
But here we are, talking about him, and it raises an issue I've thought about (and written about) at length: Should majors matter less? Players have differing opinions, but I always go back to what Adam Scott said in 2014:
"History has shown that the greatest players have ended up accumulating the most of these [major] tournaments, and I think it's probably a fair assessment of who the greatest players over time have been in each decade and each era. So I'm happy with the way everyone sees that."
Coming from a player whose total of one major undersells his career, that feels pretty honest, and pretty objective. Others, like McIlroy, have disagreed in the past (in Rory's case it was when he was up for PGA Tour player of the year without a major, so take that with a grain of salt), but it's also true that these opinions feel academic. For reasons historical and unchangeable, four tournaments each year take on outsize importance in golf, and it's impossible to change that reality in the minds of fans.
Which means that Westwood exists, for today and probably for always, in a shadow space between overt greatness and very public futility. That strange legacy will be cemented at Royal St. George's, barring a shocking victory. It's a tribute to his brilliant longevity, on one hand, but on the other … well, it's something else entirely.