Courses
The 19 most exclusive, chic, "You got on WHERE?!?!" golf courses in the United States
Pebble Beach is one of the paragons of American golf courses. Same with Pinehurst, Bandon, Whistling Straits. Yet, with a simple phone call (and a nice bank account), anyone can theoretically play at these beautiful layouts. But then, there's another sect of the golf world. Courses that players would gladly sell their souls to the devil to gain entrance. Unfortunately, not even Lucifer himself can grab a tee time. These are the forbidden fruit. Here are the 19 most exclusive, chic, "You got on WHERE?!?!" golf courses in the United States.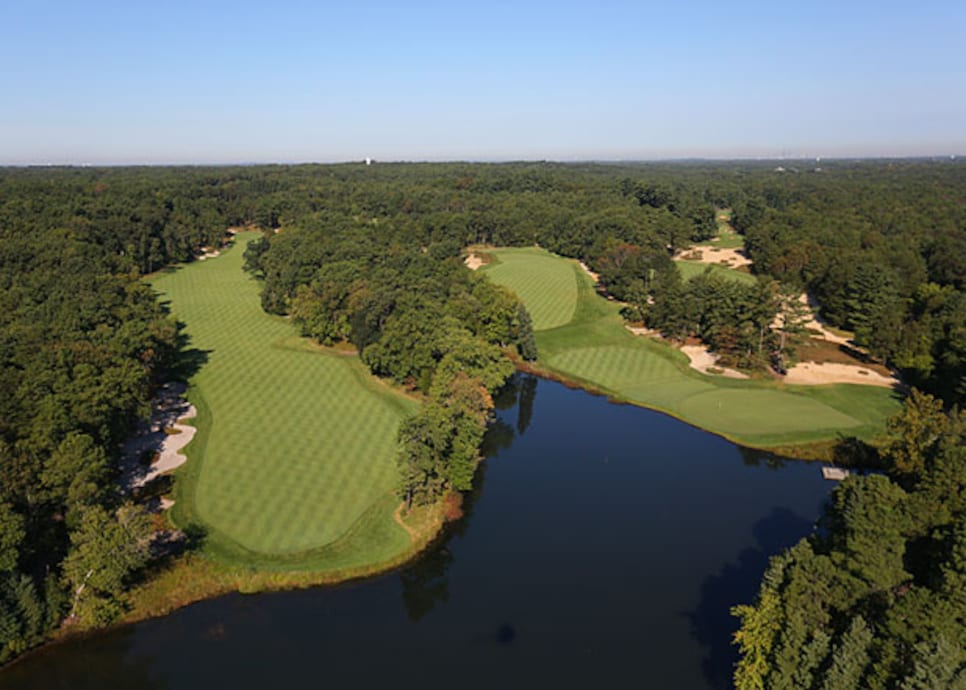 Photo By: Stephen Szurlej
Photo By: David Alexander/getty images
Photo By: Stephen Szurlej
Photo By: Stephen Szurlej
Photo By: ASSOCIATED PRESS
Photo By: Stephen Szurlej
Photo By: Stephen Szurlej
Photo By: Stephen Szurlej
Photo By: Stephen Szurlej
Photo By: Courtesy of Los Angeles CC
Photo By: Courtesy of The Honors Course
Pine Valley Golf Club, Pine Valley, N.J.
Perennially in the top three in Golf Digest's Top 100 courses, Pine Valley's lack of spectator confines have kept major events from the New Jersey estate. Pine Valley's conditioning and toughness is unparalleled, and the spartan clubhouse illustrates the premium put on the course. Membership is invitation-only from Pine Valley's board of directors.
Photo By: Stephen Szurlej
Cypress Point Club, Pebble Beach, Calif.
How select is membership to this course on California's Monterey Peninsula? An average day sees a whopping -- drum roll please -- eight groups of play.
Augusta National Golf Club, Augusta, Ga.
The Masters is the most beloved tournament in the world, and the course is a major catalyst for this affection. Alas, unless you're a PGA player, CEO of Coca-Cola or the University of South Carolina football coach, you're not gracing these immaculate greens.
Chicago Golf Club, Wheaton, Ill.
One of the five founding members of the USGA, Chicago GC is the oldest 18-hole course in the United States. It has hosted three U.S. Opens and four U.S. Amateurs in its history, albeit the last in 1912. It also held the 2005 Walker Cup
Photo By: David Alexander/getty images
National Golf Links of America, Southamption, N.Y.
In a 1960s piece for Sports Illustrated, writer Robert Boyle referred to National Golf Links as "America's snootiest golf course." Also of note: the course is a fixture in the Golf Digest Top 20, coming in at No. 8 in the current ranking.
Photo By: Stephen Szurlej
Fishers Island Club, Fishers Island, N.Y.
Designed by the great Seth Raynor, one has to arrive to Fishers Island Club via ferry, making it literally and figuratively an exclusive destination.
Photo By: Stephen Szurlej
Oakmont Country Club, Oakmont, Pa.
Famous for its Church Pews bunker, Oakmont is hosting its ninth U.S. Open in 2016.
Photo By: ASSOCIATED PRESS
Sand Hills Golf Club, Mullin, Neb.
Sand Hills is the new kid on the block, as it was opened in 1994. Despite its infancy, the Ben Crenshaw/Bill Coore design is No. 11 on the Golf Digest Top 100. But good luck getting on -- Sand Hills allegedly has a membership of fewer than 175 with Mullin having a population of 509.
Photo By: Dom Furore
Shinnecock Hills Golf Club, Southampton, N.Y.
Shinnecock has a host of "firsts" to its claim: the oldest clubhouse in the U.S.; the first club to admit women; the oldest formalized club in the country. It has hosted four U.S. Opens, with a fifth arriving in 2018.
Photo By: Stephen Szurlej
Seminole Golf Club, Juno Beach, Fla.
The Donald Ross design has long been hot spot in the Palm Beaches. If you happen to get the nod to play here, you will be treated in style: Seminole's locker room is said to be the ritziest of its kind.
Photo By: Stephen Szurlej
Merion Golf Club, Ardmore, Pa.
You know a club is exclusive/stuffy when it has a "traditions committee," which is in charge of enforcing etiquette, rules and keeping your hat off while indoors. Seriously.
Photo By: Stephen Szurlej
Crystal Downs Country Club, Frankfort, Mich.
Part of Crystal Downs' allure is its remoteness. Despite owning a top 20 spot in the Golf Digest 100 Greatest Courses list, a lack of amenities, facilities and population (Frankfort's 1,000 strong) have kept Crystal Downs from hosting a major event.
Photo By: Stephen Szurlej
San Francisco Golf Club, San Francisco
Although not as famous as fellow Bay Area course Olympic Club, many in the region swear that San Francisco G.C. is the better of the two. It certainly has the pedigree (a A.W. Tillinghast design, No. 35 on Golf Digest's Top 100) and history (site of the last legal duel in America!) to be a gem of the sport, and it's said to be the best manicured course in California.
Los Angeles Country Club, Los Angeles
The recent renovation to the North Course by Gil Hanse was impressive enough to land the course the 2023 U.S. Open. Although situated in the heart of the entertainment industry, evident by the mansions and palaces surrounding the course, L.A.C.C has been known for shunning the very A-list celebrities who would love to call the club home. Those lucky enough to step on the grounds have to keep their mobile devices in the parking lot.
Photo By: Courtesy of Los Angeles CC
The Honors Course, Ooltewah, Tenn.
A good measure of how exclusive a club is? When you have to turn on an unmarked road with no signage from the street signifying you've arrived at some place special. First-time guests literally find themselves stumbling upon this gem outside Chattanooga.
Photo By: Courtesy of The Honors Course
Whisper Rock Golf Club, Scottsdale
Given the number of PGA Tour pros who have joined this exclusive club, it's no surprise the membership is thick with scratch and single-digit handicappers.
Maidstone Club, East Hampton, N.Y.
This Long Island course started as a seven-hole layout when it first opened in 1894, then expanded to 18 holes just before the turn of the 20th century. Historically it has attracted New York's oldest and most connected families. Then President Bill Clinton allegedly was denied a tee time the summer that his episode with Monica Lewinsky became public.
Burning Tree Club, Bethesda, Md.
The all-male club famously has no women's locker room (or bathrooms) but remains a haunt for Washington, D.C. powerbrokers and government officials.
Deepdale Golf Club, Manhasset, N.Y.
Deepdale was originally built in 1920s on land converted from the summer estate of William K. Vanderbilt II, who enlisted the help of C.B. Macdonald, Seth Raynor and Charles Banks to design the course. A new course was built in the 1950s by Dick Wilson to accommodate the Long Island Expressway. It's a favorite spot of many Wall Street types. Oh, and it has a helipad.