The NHL's 19 Most Notable Golfers
With the start of hockey season, a look at some of the biggest names in the game who also love to hit the links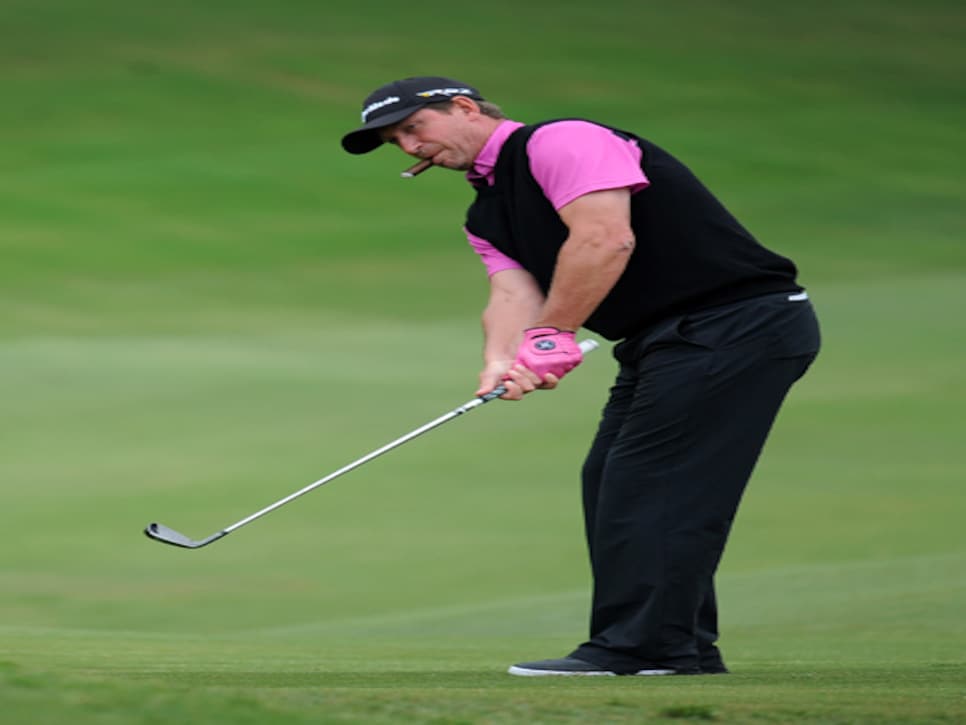 Wayne Gretzky
You might know him as Dustin Johnson's future father-in-law, but once upon a time Wayne Gretzky was the greatest hockey player who ever lived. The "Great One" is not nearly as great on the course as he is on ice, but with a handicap that hovers around 10, he ranked among the
top 150 athlete golfers
in our most recent ranking.
Read "My Game: Wayne Gretzky"
Bobby Orr
From one great to the next, Bobby Orr is a golf fanatic who sports a 8.2 handicap. But more importantly, he has used his name to help numerous causes through charitable golf events, including his own Bobby Orr Hall of Fame golf tournament.
Mario Lemieux
Like the aforementioned NHL greats, Mario Lemieux lends his name to numerous charitable golf events, but he separates himself from the pack with a stellar golf game. Super Mario carries an impressive 0.4 handicap (out of venerable Oakmont CC), placing him -- once again -- among the NHL's elite.
Sidney Crosby
Sidney Crosby still has a long way to catch Gretzky or his Penguins mentor, but he was still good enough to just slip into our list of the
top 150 athlete golfers
with a 15 handicap.
Alex Ovechkin
Though Alex Ovechkin is a relatively average golfer (that's putting it mildly), he gets the nod for the best introduction to the sport. As the story goes, Ovechkin
made a hole-in-one
his first time time playing golf. Ever. Sigh.
Brenden Morrow
The 2013 season was a journey for Brenden Morrow, who split time between the Dallas Stars and Pittsburgh Penguins before being signed by the St. Louis Blues in the off-season. In each stop he brought his formidable 3.5 handicap with him.
Mike Modano
Mike Modano might be the best American hockey player of all time, and with a 1.3 handicap, one of the NHL's best golfers, past or present. Of course, having retired in 2011, he now has time to improve upon his standing as one of the
top 150 athlete golfers
.
Brett Hull
Of course, the greatest Dallas Star -- if only for his
non-goal that was a goal
that won the Stanley Cup for the franchise -- was also the team's greatest golfer. Hull, now a vice president with the St. Louis Blues, is one of the few hockey players who is better than scratch, currently boasting a +0.4 handicap.
"Read My Game: Brett Hull"
.
Cam Neely
In yet another instance of a former NHL player lending his golf skills to charitable events, former Boston Bruin Cam Neely hosts an annual golf invitational to help fight cancer. He also carries a 4.4 handicap out of Charles River CC near Boston. Not too bad.
Dan Quinn
Of all the players mentioned, none may be more recognized on the links than former NHL center Dan Quinn. After a 13-year career with eight teams, Quinn became a professional golfer on the Canadian Tour. In 2000, he caddied for John Daly at the U.S. Open and is a part-time caddie for Ernie Els.
Grant Fuhr
Giving Dan Quinn a run for his money as the NHL's best golf prodigy, Grant Fuhr also took a shot at professional golf after his hockey career ended. In fact, of all the hockey players on this list, he's the only one with a
PGA Tour stats page
.
Jamie Langenbrunner
The former U.S. Olympic Team captain and two-time Stanley Cup champ has a handicap below 1 and regularly
blogs about golf
on his website.
Jeremy Roenick
Jeremy Roenick might be the most recognizable hockey player to golf fans who regularly watch pro-ams. A scratch golfer, the Hall of Famer turned broadcaster could be enticed to give the senior circuit a try.
Joe Sakic
While Alex Ovechkin's hole-in-one was a remarkable feat, Joe Sakic is the only former NHLer to do it at a professional event,
netting $1 million for charity
at the American Century Celebrity Golf Championship. Like Ovechkin, the ace on the par-three 17th hole was his first ever.
John-Michael Liles
Adding to the list of hockey players on our
athlete-golfer ranking
, John-Michael Liles is another near-scratch handicapper. The Toronto Maple Leafs defenseman carries a 0.8, good enough to hold his own
playing with John Elway
.
Marc Savard
In case you haven't noticed, there are a lot of great NHL golfers, among them Marc Savard. The Boston forward has a sweet 0.6 handicap and claims his best round is a 65.
Mike Eruzione
OK, we're cheating here, because Mike Eruzione never played in the NHL, but he was an integral member of the most famous hockey team in U.S. Olympic history. As captain of the 1980
"Miracle On Ice"
squad that beat the Soviets en route to a gold medal, Eruzione will be remembered in hockey lore for generations to come. A mainstay on the charity golf circuit, Eruzione plays to a 8.5 handicap.
Mike Cammalleri
Mike Cammalleri lists golf behind only family and hockey on his
Twitter
profile. The Calgary Flames forward features a respectable 3.6 handicap.
Teemu Selanne
We wrap things up with the Finnish Flash, who carries a 5.2 index out of Coto De Caza Golf & Racquet Club in Orange County, Calif. But
as this video shows
, his golf game is still not good enough to keep him off the ice at age 43.