News
United States Wins The Walker Cup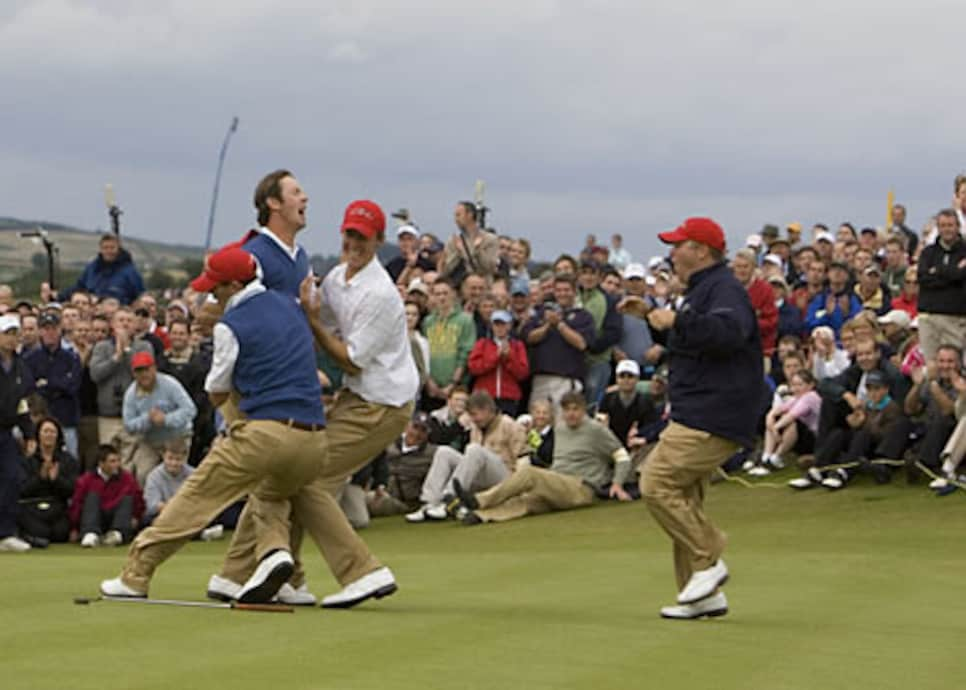 The Americans celebrate after clinching the Cup.
NEWCASTLE, Northern Ireland (AP) -- Jonathan Moore hit a 4-iron to 4 feet for eagle on the 18th hole to give the Americans the final point they needed Sunday to capture the Walker Cup, the first time in 16 years they have won away from home.
The Americans won the Walker Cup for the second straight year against Britain-Ireland and hold a 33-7-1 record in the series.
Moore also contributed in the morning when the United States swept the four alternate-shot matches to build a 10-6 lead.
That meant the Americans only needed to two points from eight singles matches in the afternoon at Royal Country Down, but Britain-Ireland did not go quietly. It won four of the first five matches, and the Walker Cup ultimately came down to Moore's match against 39-year-old Nigel Edwards.
It was all square when Moore hit a 4-iron from 252 yards in a fluffy lie, the ball hopping onto the green and settled 4 feet below the cup. Edwards came up just short of the green and settled for birdie on the par-5 closing hole.
"I just told myself that this is why you practiced this length putt over and over again since you were 12," Moore said. "Then I tried to go into my normal routine and just hoped I could pull the putter back."
The victory was the first for the United States overseas since 1991, when a team led by Phil Mickelson and David Duval won at Portmarnock outside Dublin.
While Britain-Ireland collected 5 1/2 points from the eight singles matches, the cup likely was won in the morning with the first sweep of a session since 1997 at Quaker Ridge.
Billy Horschel and Rickie Fowler rallied from a 4-down deficit by winning seven out of eight holes in a pivotal stretch that gave them a 2-and-1 victory as each won for the third time.
Horschel and Fowler couldn't stay unbeaten, however, losing in singles to Rory McIlroy and Rhys Davies, respectively.
U.S. Amateur champion Colt Knost went 2-0-2 at Royal County Down, while Moore was the only other American to go unbeaten. He won two matches and halved another.
The Walker Cup will be played in 2009 at Merion Golf Club outside Philadelphia.