A look back at the noteworthy events that have transpired during Tiger Woods' attempt to recover from his personal scandal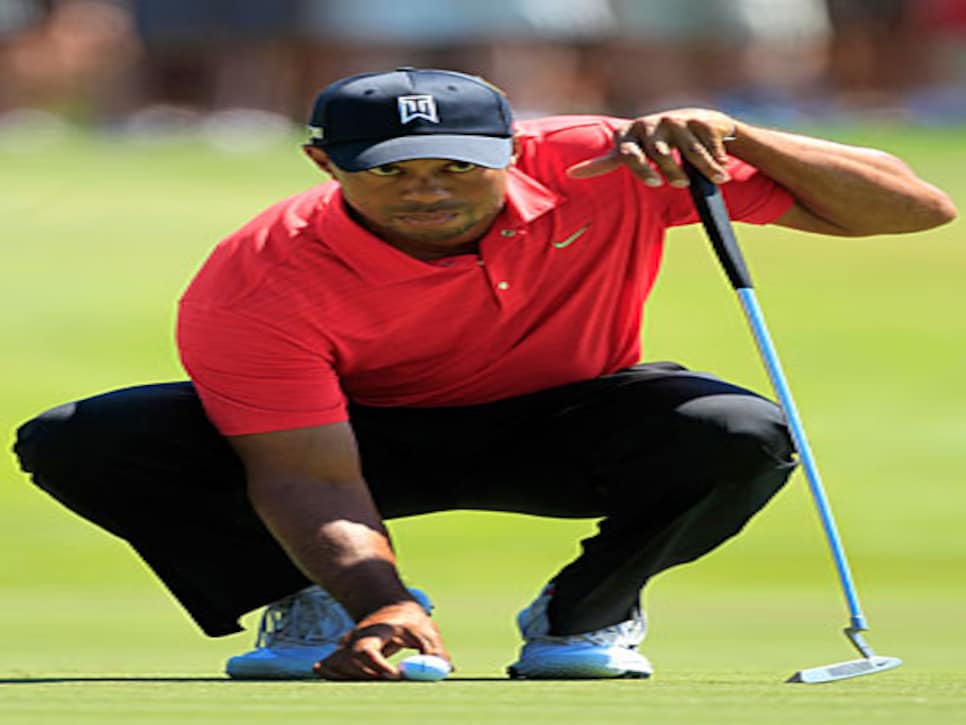 A look back at the noteworthy events that have transpired during Tiger Woods' attempt to recover from his personal scandal
November 27, 2009
Woods is involved in a one-car accident outside of his Orlando-area home after midnight on Thanksgiving, but details don't begin to trickle out until the next afternoon. First, reports have the star in critical condition, then it is made known that he was released from the hospital; and finally, that he is wanted by authorities for questioning. The entire truth of what went on that night to cause Woods to crash his black Cadillac Escalade into a fire hydrant may never come out, but what is known is that the investigation ends with Woods being charged with a minor traffic violation for careless driving and paying a $164 fine. The fallout, however, is just beginning.
Late November-Early December, 2009
Woods' accident coincides with new revelations about his infidelity. As the days go on, more and more women come forward to say they, too, had relationships with Woods and the scandal becomes a worldwide sensation. Already known for breaking records, Woods picks up a dubious one when his story graces the cover of the New York Post (left) for 20 consecutive days, eclipsing the old mark established following the 9/11 terrorist attacks.
December 11, 2009
Woods releases a statement on his website in which he apologizes for his "infidelity" and announces that he will be taking "an indefinite break from professional golf." He also vehemently denies ever taking performance-enhancing drugs, a topic that has surfaced due to his connection to Canadian doctor Anthony Galea. It will be another two months before Woods appears in public and even longer before he answers any questions. In the meantime, his quickly disintegrating personal life and reputation becomes fodder for late-night talk shows. A store display of his Nike apparel (above) is as close as the public will get to seeing the fallen star as he remains out of sight.
February 19, 2010
Woods finally emerges from hiding to give a public apology in a 13-plus minute prepared speech at PGA Tour headquarters. Approximately 40 relatives, close friends and acquaintances, including PGA Tour commissioner Tim Finchem are on hand. The golf media boycotts attending after refusing to yield to several requests from Woods' representatives. In the speech, Woods admits to having spent 45 days in rehab, though, he doesn't specify for what, and says that he is returning to therapy. He gives no definitive timetable on when he will return to golf, instead saying his focus is on saving his marriage. Before leaving without taking any questions, he ends with a plea to the people who believed in him: "I ask you to find room in your heart to one day believe in me again."
February-March, 2010
The fallout from news of the Woods scandal continues as the 14-time major champion begins to lose support in the business world. Companies like Gatorade, AT&T, Accenture and Tag Heuer all decide to cut ties with Woods, taking a big chunk from the world's richest athlete's yearly income. While Nike and EA Sports stand by him, it will be awhile until he inks a new sponsorship deal.
April 5-11, 2010
Woods makes his return to competitive golf at the Masters. He participates in his first press conference since the accident on the Monday before the tournament starts. On Thursday, he receives a warm reception from the Augusta National crowd before striping an opening tee shot down the middle of the fairway that is shown live on ESPN before the network shifts back to its regular programming. Woods goes out in 33 and posts a 68 to put himself among the leaders. His hole out for eagle on the par-4 seventh (left), keeps him in contention on Sunday, but he fades down the stretch to finish in a very respectable tie for fourth place.
May 11, 2010
Just one day after Woods' withdrawal at TPC Sawgrass, where he routinely hit uncharacteristically bad shots, including a popped up 3-wood off the tee that went all of 190 yards, Hank Haney (above, left) resigns as Tiger's swing coach. The two had worked together since 2005, a period that produced six major championships and 32 wins on the PGA Tour, despite Woods having to miss substantial time due to a knee injury. Woods says the two parted amicably and that he has no immediate plans to work with another instructor.
June 17-20, 2010
Tiger's second major, the U.S. Open at Pebble Beach, produces another fourth-place tie. In what turns out to be the highlight of his year, the golfer summons a vintage Woods performance during the back nine of the third round. Seemingly out of contention, he fires a brilliant 31 (NBC analyst Johnny Miller remarks that it may be the finest nine holes of his career), including a birdie on 18, which is set up by a cut 3-wood from behind a tree and 260 yards out (left) on the finishing hole to 20 feet. However, with his historic 15-shot win on the same course a distant memory, the inconsistency shows up again on Sunday when Woods three-putts the opening hole and is never a factor.
August 5-8, 2010
On a course and at an event he has thoroughly dominated in the past, Woods hits an all-time low in terms of playing performance at the Bridgestone Invitational. Woods shot over par in all four rounds and closed with a 77 to finish 18-over par and in second-to-last place in the elite field of 80 players. Woods had previously been 103 under in 40 career rounds and set a PGA Tour record by winning the event for a seventh time the year before.
August 12-15, 2010
At the year's final major championship, Woods makes more news for who he's working with than how he's playing. Three months after splitting up with Hank Haney, Woods is seen working with 35-year-old Canadian Sean Foley (left) for much of the week. Neither Woods nor Foley, who also works with Hunter Mahan and Justin Rose among others, confirm the new partnership, but it becomes official soon after.
August 23, 2010
What's been rumored for months finally becomes official as Tiger and his wife Elin file for divorce after being married since October of 2004. The two announce the split through a joint statement in which they say, "We wish each other the very best for the future," and their children's "happiness, has been, and will always be, of paramount importance to both of us."
October 1-3, 2010
After not qualifying for the Ryder Cup based on points for the first time in his career, Woods arrives in Wales as a captain's pick. He certainly doesn't hurt the U.S. cause, tying for a team-high three points, though it isn't enough for the Americans to retain the trophy in the biennial event with Europe. Tiger teams with Steve Stricker to go 2-1 over the first three days and then dusts Francesco Molinari 4&3 in singles (left), blistering Celtic Manor by shooting nine-under-par through 15 holes.
Bumped From The Top
For the first time since March of 2005, Woods is replaced as the No. 1 player in the Official World Golf Rankings in October 2010. Lee Westwood ends a record-long streak of 281 weeks on top of the ranking for Tiger, who had broken his previous mark of 264 weeks set from 1999-2004. Martin Kaymer and finally Luke Donald would also hold the top spot during the 2011 season, as Woods plummeted out of the top 50.
Glimmer of Hope
Woods had viewers thinking they were witnessing history as he went out in 31 in the final round of the 2011 Masters, highlighted by this eagle on No. 8. But after taking the lead on a Sunday for the first time since his comeback, Tiger stalled on the back nine with a disappointing 36 that left him T-4 at Augusta National for a second straight year. His next nine holes, about a month later at the Players, were even worse. Woods opened with a six-over 42 before withdrawing with knee and Achilles injuries.
Parting Ways
In July 2011, Woods announces on his website that he has
ended his player-caddie relationship with Steve Williams
after capturing 13 major championships in their 12-plus years together. The move comes shortly after Williams caddied for Adam Scott at three events while Woods was sidelined due to injury. Williams would get his first win on Scott's bag at the WGC-Bridgestone Invitational later that summer. In a post-round interview, he called it the "best week of my life," indicating there was still plenty of tension between the caddie and his former boss. Childhood Bryon Bell becomes Tiger's interim caddie before he settles on Joe LaCava -- Dustin Johnson's bag man, who previously worked for Fred Couples -- as a permanent replacement.
Return From Injury
After a three-month layoff due to knee and Achilles injuries that caused him to miss both the U.S. and British Opens, Woods returns at the WGC-Bridgestone Invitational in August 2011 announcing he's fully healed. At a tournament where he's won seven times, he appears to have a bounce in his step during an enjoyable opening round with friend Darren Clarke. While Woods isn't particularly sharp with his ball-striking, some great putting after switching back to his old Scotty Cameron gets him around Firestone in two-under 68. But he struggles enough on the greens the next two days to put his Nike Method in the bag for the final round. He shoots 70 on Sunday to finish T-37 in a field of 76.
Early Exit
Five holes into the 2011 PGA Championship at Atlanta Athletic Club, Tiger had people thinking that a win in one of golf's biggest events could be close. Three early birdies briefly gave him a share of the lead, but then the wheels fell off. He would play the next 13 holes in 10 over and wind up with a 77. After a 73 on Day 2, Woods went home before the weekend at a major for only the third time in his illustrious career, missing the cut by a whopping six shots.
November 4, 2011
At a caddies awards dinner,
Steve Williams refers to Woods with a racial slur
when he says he wanted to win with Adam Scott to "shove it up that black [expletive]." A few days later, Woods reports Williams apologized to him in person and that while the comment was hurtful, "life goes forward." Shortly after, Woods and Williams are paired on the course for the first time since their split on Day 1 at the Presidents Cup. They shake hands briefly before and after (
above
) the match, in which Woods and Steve Stricker were dominated by Adam Scott and K.J. Choi, 7 and 6.
November 10, 2011
Woods announces that he has signed a corporate endorsement with Fuse Science to fill the void on his golf bag. The deal includes Woods getting a stake of the Florida-based company, which specializes on getting vitamins and minerals into athletes' bodies. The announcement came five weeks after he reached a sponsorship deal with Rolex. While Woods isn't the marketing magnet he once was,
the public perception of his personal brand
is certainly improving.
Encouraging Signs
Woods returned Down Under -- the site of his last win in 2009 -- and took the 36-hole lead at the 2011 Australian Open with rounds of 68 and 67. But continuing the trend of not being able to put four rounds together, Woods stumbled to a 75 on Day 3. His closing 67 wasn't enough to end a two-year losing streak, however, it did give him a solo third-place finish -- his best result since his last victory.
November 17-20, 2011
After being heavily scrutinized as a captain's pick for the Presidents Cup, Woods comes through on the final day, clinching the winning point for the U.S. with a 4-and-3 win over Aaron Baddeley. For the week, Woods plays much better than his 2-3 record indicates, validating Fred Couples' controversial decision to select him for the squad.
Finally, A Win
After a two year drought, Woods finally returns to the winner's circle at the 2011 Chevron World Challenge in a thrilling fashion reminiscent of his glory days. Trailing Zach Johnson by one shot, Woods birdied the final two holes to claim the title and begin his climb back up the world rankings. Despite the title not counting as an official PGA Tour victory, Woods ends 2011 by moving up 31 spots to No. 21 in the world.
Late Stumble
Woods looks like he'll begin 2012 the way he ended 2011 when he grabs a share of the 54-hole lead in Abu Dhabi. But after making two bogeys total the first three days, he makes three on Sunday on his way to an even-par 72. That allows unheralded playing partner Robert Rock to top him, as Woods slips back to T-3.
Bitter Loss
In his first PGA Tour event of the 2012 season, the AT&T Pebble Beach National Pro-Am, Woods once again puts himself in position to win. But again, he struggles on a Sunday, this time shooting a 75 to fall back to T-15. What makes the day more painful for Woods is having to watch Phil Mickelson, playing alongside him, fire a flawless 64 to win his 40th PGA Tour title.
Inspired Round
Playing in the Honda Classic for the first time, Woods puts his trend of Sunday troubles behind him with a 62 that includes and eagle on the final hole (left). Unfortunately for Tiger, his problems came during the early portion of the week and despite recording the lowest final-round score of his professional career, it's not enough to catch 54-hole leader Rory McIlroy. However, it does spark excitement that perhaps is ready to challenge his heir apparent and the sport's new No. 1 player.
Injury Scare
For three days, an inconsistent putter plagues Woods at the WGC-Cadillac Championship. On Sunday, though, things get much worse for the 14-time major champ. Noticeably limping on the front nine, he changes his shoes for the back, but it doesn't make a difference. After hitting his drive on the 12th causes a grimace (
left
), he decides he's had enough and walks to the parking lot. Woods later releases a statement that
he suffered a strained left Achilles tendon
. It marks the third time since returning from his scandal that he's had to withdraw from a tournament due to an injury and it leaves his status for the Masters in question.
Familiar Sight
Just two weeks after re-injuring his Achilles' tendon and withdrawing late in the final round at Doral, Woods shows he is indeed ready to win again. Grabbing a share of the lead with a second-round 65, Woods looks like the Tiger of old, playing steady golf and extending his lead throughout the weekend. The end result is a five-shot victory for his first win on the PGA Tour in 924 days. With the win, Woods also jumped to No. 6 in the Official World Golf Ranking, putting him back in the top 10 for the first time since the previous May.
Not There Yet
Fresh off his five-shot win at Bay Hill, Woods entered the 2012 Masters as the odds-on favorite to win. Instead, he put forth his worst performance as a pro ever at Augusta National -- both in score and behavior. The low point came Friday afternoon, when on his way to a 75, Woods kicked his 9-iron on the 16th tee(left) after dumping a shot into the front bunker. With a T-40 finish, Woods' major championship drought grew to four years.
Matching Jack
Coming off the worst three-tournament stretch of his professional career -- T-40s at the Masters and the Players and a missed cut at Quail Hollow -- Woods hangs around the leader board all week before pouncing late in the 2012 Memorial. He birdies three of the last four holes, including holing an
improbable flop shot
on No. 16 (
left
) to win his fifth Memorial Tournament. Fittingly, at Jack Nicklaus' annual event, he ties the "Golden Bear" on the all-time PGA Tour wins list with his 73rd career victory and moves to No. 4 in the Official World Golf Ranking.
Unable To Close
Woods' Memorial momentum carries over for the first two rounds of the U.S. Open, as he grabs a share of the 36-hole lead at Olympic Club. But he stumbles on the weekend with rounds of 75 and 73, including playing one nine-hole stretch at eight-over par. A disappointing T-21 makes it a full four years since his last major win at the 2008 U.S. Open at Torrey Pines.
More Progress
Woods closes with a two-under 69 on a tough Congressional course to hold off Bo Van Pelt by two shots. He shows a
flair for the dramatic
in winning his PGA Tour-leading third event of 2012 -- the 74th of his career to pass Jack Nicklaus on the all-time list -- and staking his claim as the best player in the world.
Troubling Pattern
For a third straight major, Woods puts himself in contention through 36 holes only to stall on the weekend. This time, a 74-72 finish in the 2012 PGA at Kiawah drops him to a T-11, 11 shots behind Rory McIlroy, who Woods led heading into Saturday's third round. Despite three regular PGA Tour titles, Woods finishes 2012 having not broken par on the weekend at any of the four majors and extends his winless drought at golf's biggest events. Still, his improved play at the majors, especially a T-3 at the British Open, moves him back to No. 2 in the Official World Golf Ranking.
September 30, 2012
Woods didn't play as poorly as his 0-3-1 record indicated (partner Steve Stricker certainly didn't help much), but once again his production failed to match expectations. What made matters worse for the Americans is that after blowing a 10-6 lead on Sunday, it turned out they could have used any other points they could have gotten early in the week. In the aftermath, Woods
apologized to the team's rookies
and his comments about being
a future captain
caused plenty of discussion.