Tiger Woods' performance at the Australian Open indicates he's getting closer to his old form, but it still wasn't enough to end a two-year losing streak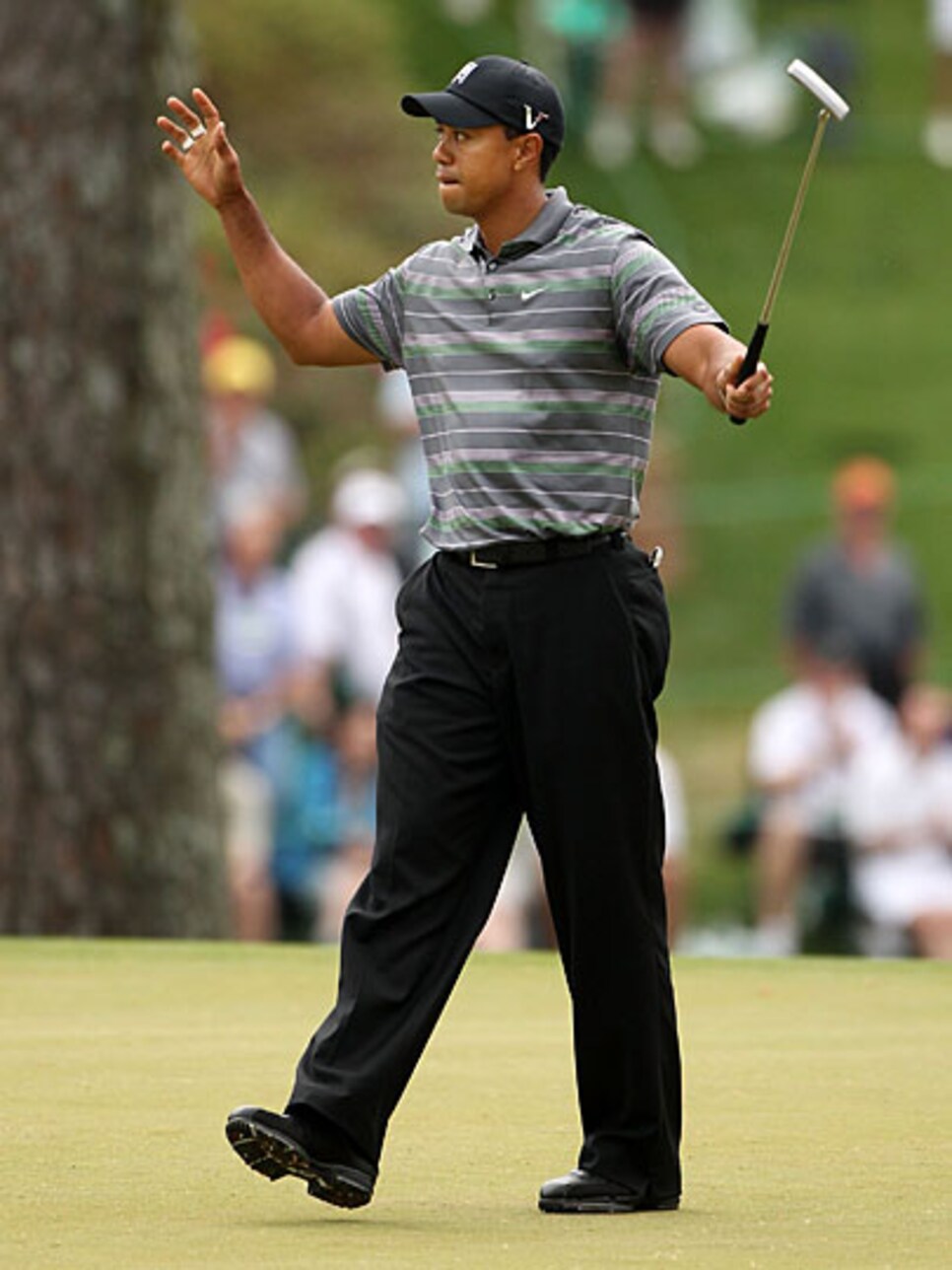 Photo By: Andrew Redington/Getty Images
Photo By: Stephen Dunn/Getty Images
Photo By: Warren Little/Getty Images
Photo By: Hunter Martin/Getty Images
Photo By: Michael Cohen/Getty Images
Photo By: Jamie Squire/Getty Images
Photo By: Robert Cianflone/Getty Images
Photo By: Stephen Dunn/Getty Images
Photo By: Stephen Dunn/Getty Images
Photo By: Andrew Redington/Getty Images
Photo By: Mike Ehrmann/Getty Images
Photo By: Sam Greenwood/Getty Images
Photo By: Andrew Redington/Getty Images
Photo By: Sam Greenwood/Getty Images
Photo By: Sam Greenwood/Getty Images
Photo By: Ryan Pierse/Getty Images
The Masters (2010), First roundAfter months of being away from the sport, Woods didn't wait long in his return at the Masters to show he still had game. A hooked 5-iron from the left rough around the trees and up the hill to 10 feet on the ninth hole set up an incredible birdie and a front-nine 33. The opening 68 put him in contention, but unlike past years, he couldn't close the deal, finishing T-4.
Photo By: Andrew Redington/Getty Images
U.S. Open, Third RoundAfter his return, Tiger's struggles at Wachovia and the Players didn't give fans much hope heading into the U.S. Open at Pebble Beach. The venue, a site where he won the tournament by an astonishing 15 shots in 2000, however, did. Woods flashed some of that magic with a back-nine 31 on Saturday, that was capped by a cut 3-wood out over the ocean and onto the 18th green (left) to set up an easy two-putt birdie. He wouldn't get anything going the following day, though, three-putting the first hole and finishing T-4 in a second-straight major.
Photo By: Stephen Dunn/Getty Images
British Open, First roundThe British Open at St. Andrews, another course where Woods has historically dominated, seemed to be the ideal spot for the 14-time major champion to rediscover his winning ways. He appeared to be back on track with an opening 67 while wielding a new Nike putter, but he couldn't muster much the rest of the way, failing to break par the final three rounds. By Sunday he had switched back to his trusty Scotty Cameron. He finished T-23, a distant 13 shots behind Louis Oosthuizen.
Photo By: Warren Little/Getty Images
The Barclays, First RoundWith his divorce to Elin Nordegren finalized earlier in the week, the first round of the FedEx Cup Playoffs seemed like a chance for Woods to start fresh. He responded with an opening 65 at the Barclays, his best score of the year. Woods began the second round with a 34 on the back nine to take a two-shot lead, but stumbled over his closing nine to finish with a 73. The next day, he hooked his first tee shot out of bounds and into the Ridgewood Country Club parking lot and was never in contention again.
Photo By: Hunter Martin/Getty Images
Deutsche Bank, Second roundWoods' bad finish at the Barclays carried over to the Deutsche Bank Championship where he started with a 72. Needing a good round to make the cut and keep his season going, however, he responded with a 65 and ended up rallying for a T-11 finish. Was he finally back? No. He could only manage a T-15 at Cog Hill and as a result, didn't qualify for the Tour Championship for the first time in his career.
Photo By: Michael Cohen/Getty Images
Ryder Cup, Final dayAfter going 2-1 with partner Steve Stricker, Woods buried Francesco Molinari 4&3 in singles. In the match, Woods had a seven-hole stretch in which he was seven-under par, highlighted by a hole-out from the fairway for eagle. Unofficially, he was nine under through 15 holes at Celtic Manor. His efforts weren't enough for the Americans to win, but his 3-1 record appeared to have him turning the corner with new swing coach Sean Foley.
Photo By: Jamie Squire/Getty Images
Australian Masters, Final roundAfter struggling for three days, Woods closed with a 65, by far his best Sunday of the year. The round featured a Ryder-Cup-like stretch of six-under par in his final six holes, including two eagles. Unfortunately, it was too little too late, as he finished fourth and continued his winless season.
Photo By: Robert Cianflone/Getty Images
Chevron World Challenge, Third roundIn his final event of the year, Woods looked in complete control. Opening with rounds of 65 and 66, the third round presented a chance for him to come back to the pack, but instead he shot 67 to widen his lead to four shots heading into Sunday. Whether it was rust from not being in final-round contention for so long or not being able to trust instructor Sean Foley's swing changes under pressure, Woods, the best closer in golf history, struggled to a 73. Playing partner Graeme McDowell shot 69 and won with a birdie on the first playoff hole.
Photo By: Stephen Dunn/Getty Images
Farmers Insurance Open, Second roundWith
2010's troubles in the past
, Woods opened the 2011 season at Torrey Pines, a course where he had won five straight times, including the 2008 U.S. Open. A bogey-free Day 1 and an early birdie binge in Round 2 put him in contention before the inconsistent play that has plagued him appeared again. He made three bogeys on the back nine and then shot 74-75 over the weekend to finish T-44, by far his worst performance in the event.
Photo By: Stephen Dunn/Getty Images
Dubai Desert Classic, Second RoundPlaying alongside the two top-ranked players in the world, Lee Westwood and Martin Kaymer, Woods flashed the form that has made him No. 1 for most of his career. He fired a bogey-free 66 on Day 2 to dust his playing partners. But once again, he stumbled on the weekend with a pair of 75s to finish T-20.
Photo By: Andrew Redington/Getty Images
WGC-Cadillac Championship, Final RoundAfter three days of bad putting and up-and-down ball-striking (the low point being what Woods described as a "smother hook" drive off No. 2 in the second round that went all of 122 yards), Tiger put it all together on Sunday. He tied for the day's best round at Doral with a 66 to climb to a T-10 finish, his best in an official tournament since a T-4 at the U.S. Open nearly nine months prior.
Photo By: Mike Ehrmann/Getty Images
Arnold Palmer Invitational, Second RoundAfter an opening 73 in tough conditions, Woods fired a 68 on Day 2 at Bay Hill to get back into contention. A bogey on his first hole Saturday, though, was the start of an up-and-down weekend. It ended Sunday with a disastrous bogey-double bogey finish that dropped him to T-24 in his final tuneup for the Masters.
Photo By: Sam Greenwood/Getty Images
Glimmer of Hope
Woods had viewers thinking they were witnessing history as he went out in 31 in the final round of the 2011 Masters, highlighted by this eagle on No. 8. But after taking the lead on a Sunday for the first time since his comeback, Tiger stalled on the back nine with a disappointing 36 that left him T-4 at Augusta National for a second straight year. His next nine holes, about a month later at the Players, were even worse. Woods opened with a six-over 42 before withdrawing with knee and Achilles injuries.
Photo By: Andrew Redington/Getty Images
Return From Injury
After a three-month layoff due to knee and Achilles injuries that caused him to miss both the U.S. and British Opens, Woods returns at the WGC-Bridgestone Invitational in August 2011 announcing he's fully healed. At a tournament where he's won seven times, he appears to have a bounce in his step during an enjoyable opening round with friend Darren Clarke. While Woods isn't particularly sharp with his ball-striking, some great putting after switching back to his old Scotty Cameron gets him around Firestone in two-under 68. But he struggles enough on the greens the next two days to put his Nike Method in the bag for the final round. He shoots 70 on Sunday to finish T-37 in a field of 76.
Photo By: Sam Greenwood/Getty Images
Early Exit
Five holes into the 2011 PGA Championship at Atlanta Athletic Club, Tiger had people thinking that a win in one of golf's biggest events could be close. Three early birdies briefly gave him a share of the lead, but then the wheels fell off. He would play the next 13 holes in 10 over and wind up with a 77. After a 73 on Day 2, Woods went home before the weekend at a major for only the third time in his illustrious career, missing the cut by a whopping six shots.
Photo By: Sam Greenwood/Getty Images
Encouraging Signs
Woods returned Down Under -- the site of his last win in 2009 -- and took the 36-hole lead at the 2011 Australian Open with rounds of 68 and 67. But continuing the trend of not being able to put four rounds together, Woods stumbled to a 75 on Day 3. His closing 67 wasn't enough to end a two-year losing streak, however, it did give him a solo third-place finish -- his best result since his last victory.
Photo By: Ryan Pierse/Getty Images