News
Tour Championship 2018: Tiger Woods' comeback win leaves friends and rivals in awe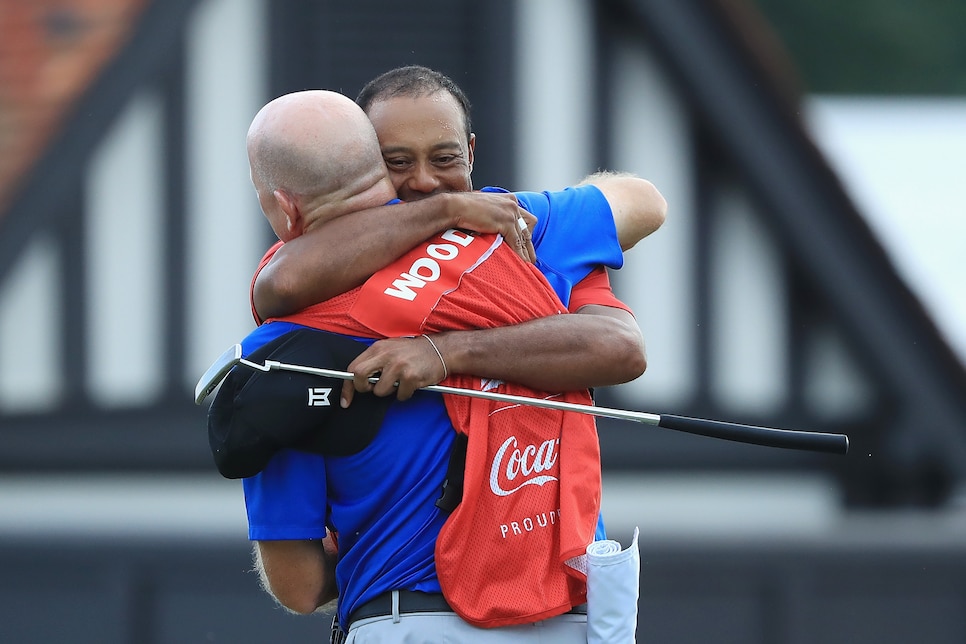 ATLANTA—They sprinted ahead from one fairway to the next, climbed trees, crawled through hedges and swarmed the 18th fairway at East Lake like bees to honey. All gasping for even a glimpse.
They lined the balcony behind the green, too—25-year-old Bryson DeChambeau, already dressed for the Ryder Cup in a 'Beat Europe' t-shirt; Paul Casey's caddie John McLaren with the bag still on his shoulder; last year's Tour Championship winner 24-year-old Xander Schauffele and his dad; 25-year-old Justin Thomas and 29-year-old Rickie Fowler among them. Players, wives, agents, marshals, caddies, cops and even a cook. Cell phones ready to capture the madness unfolding in front of them.
Finally, Tiger Woods is a YouTube golfer no more. The real thing is back, in the flesh and through the tears. Sunday at the Tour Championship, Woods won for the first time in five years, a span of more than 1,800 days and more than that many questions about if this day would ever come again.
"It means a lot," an emotional Woods said. "The people who are close to me saw the struggles and what I was going through, and some of the players that I'm pretty close to, they've really helped throughout this process and the last few years. Their support and some of those things that they said coming off that last green meant a lot to me."
The reaction was hardly limited to the confines of Bob Jones' place. It was as wide as Woods' transcendent reach. Everyone from Bo Jackson to Donald Trump tweeted various forms of congratulations.
"For what he's doing now, I wasn't sure he'd ever play again, much less have a chance to win," said his former coach Butch Harmon via telephone. Harmon was there from 1997 through 2003, a span that included Woods' historic 1997 Masters victory and record-setting 15-shot win at the 2000 U.S. Open at Pebble Beach. This one was equally as impressive, but for different reasons.
"He had a chance to win the last two majors," Harmon continued. "It's impressive that just two years ago he couldn't pitch the ball on the green. It's not exactly Ben Hogan, but it's along those lines."
He's right. They both endured enormous physical pain—Hogan nearly dying from a head-on collision with a bus, Woods a handful of major surgeries including one to fuse his spine. But the Hawk never had to deal with a fire hydrant; shooting 85 at a tournament, the Memorial, that he'd won five times; the chip yips; a DUI arrest, and the TMZ life Woods had spiraled into.
How long had it been for Woods? The Cleveland Browns won 16 games before Tiger won another. Let that one soak in.
"It's more satisfaction than [ranking] at the top of the list," Woods' caddie Joe LaCava said of PGA Tour career victory No. 80. "He played so well the first two years [I was with him] it was hard to walk away from that. Now I'm seeing signs of that again. The last two months he's played phenomenal."
Woods had chances this summer to win both the Open Championship and the PGA Championship. Major No. 15 will have to wait for now. But this victory wasn't about how great he was playing—even though he was—as much as it was about emotion and soul.
How else to explain Woods' tearful hug with LaCava afterward, yelling "We did it! We did it!" in the caddie's ear, or his reaction when asked about what this one will mean not just for Tiger but his kids.
"I think they understand a little bit of what dad does now," he said. "I hadn't won any tournaments in which they can remember, so I think this will be a little bit different for them.
"A lot of times they equated golf to pain because every time I did it, I would hurt, and it would cause me more pain. And so now they're seeing a little bit of joy and seeing how much fun it is for me to be able to do this again."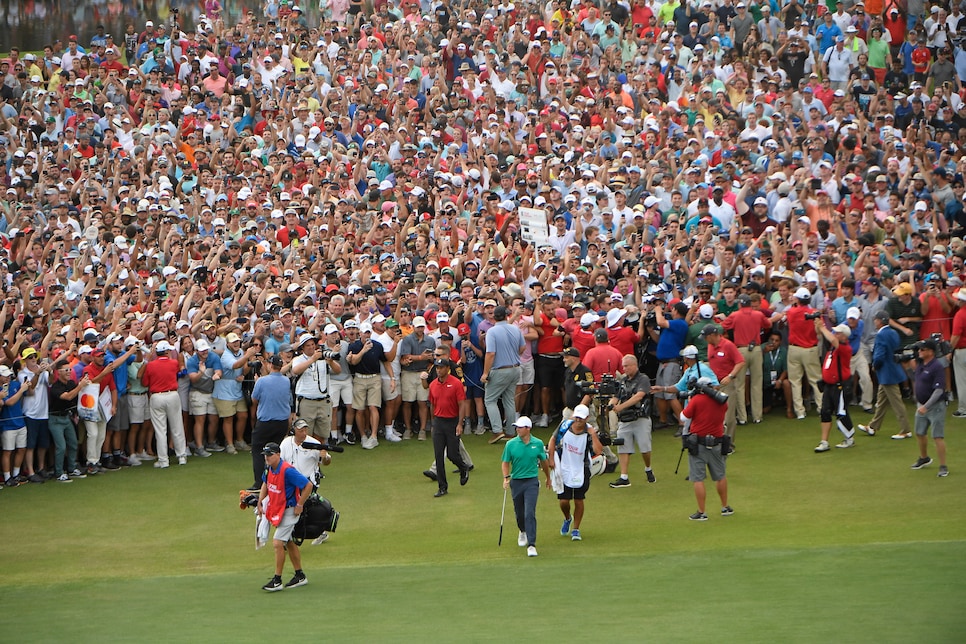 It was fun for everyone around Woods, too. That enveloping of Woods by fans as he strode down the final fairway will be seared into golf history and into the memories of those who were too young to have experienced Tigermania at its height. This was the real deal. The goosebumps made it so.
"I've played here a handful of times and never seen crowds like this," said Keegan Bradley. "I've never seen half this many people. That's a small example of what he does."
Tiger doesn't move the needle. He is the needle and Sunday it was redlined.
"To watch one of my favorite players of all-time, and a friend…on 18, I've never seen anything like that," said another of Woods' former coaches, Sean Foley. It was an especially emotional day for him with current pupil Justin Rose taking home the FedEx Cup as well. "That's the thing that's different about Tiger now. He was embracing that energy on 18 and it was embracing him. Everybody loves a comeback story."
"I guess there was a time when I wondered if he'd ever get back to this point," Bradley said. "But with Tiger, he's like Michael Jordan. You don't ever doubt them because they're capable of doing great things."
There was a time not that long ago, though, when Woods doubted that he'd even live a normal, pain-free life. Forget playing.
Spinal fusion surgery 17 months ago? It was a medical Hail Mary, and he completed it. Then he overcame the rest.
"When I played with him last fall and he was starting to get healthy there was no doubt in my mind seeing how he was swinging and the speed that if he was able to stay healthy [he would win again]," said South Florida neighbor Fowler. "We all know he can swing it a few ways and win -- he proved that working with different coaches—but for me it was seeing he was staying consistently healthy when we were playing. He wasn't having to go home and take time off or rehab. There were no setbacks.
"Obviously he knows how to win. He's got the best winning percentage of all time. It wasn't whether he could win it was whether he could stay healthy."
Now both questions have been answered.
"I said to him, 'About time,'" Rose said. "But in some ways, I'm half joking because he's looked so good this year, and I think that it's been a matter of time, and I think that we've all been waiting for him to win, and we've all been wanting him to win.
"It's great for the sport, great for the game. He truly moves the needle like no one else out here, and he wins in style. He wins with charisma. He's brilliant to watch. And I think to win on this golf course means a lot, in my opinion, because it's not a course that should suit him down to the ground. There's other venues he's taken apart over his career, and this is not one of them. So I think winning here is a big deal."
So was his winning again, period. Tony Finau called the comeback a "miracle" and Billy Horschel "the greatest in any sport."
"Well, when I came out here, there was no Internet," he cracked.
And now we won't have to go there to see his greatness again, either.