News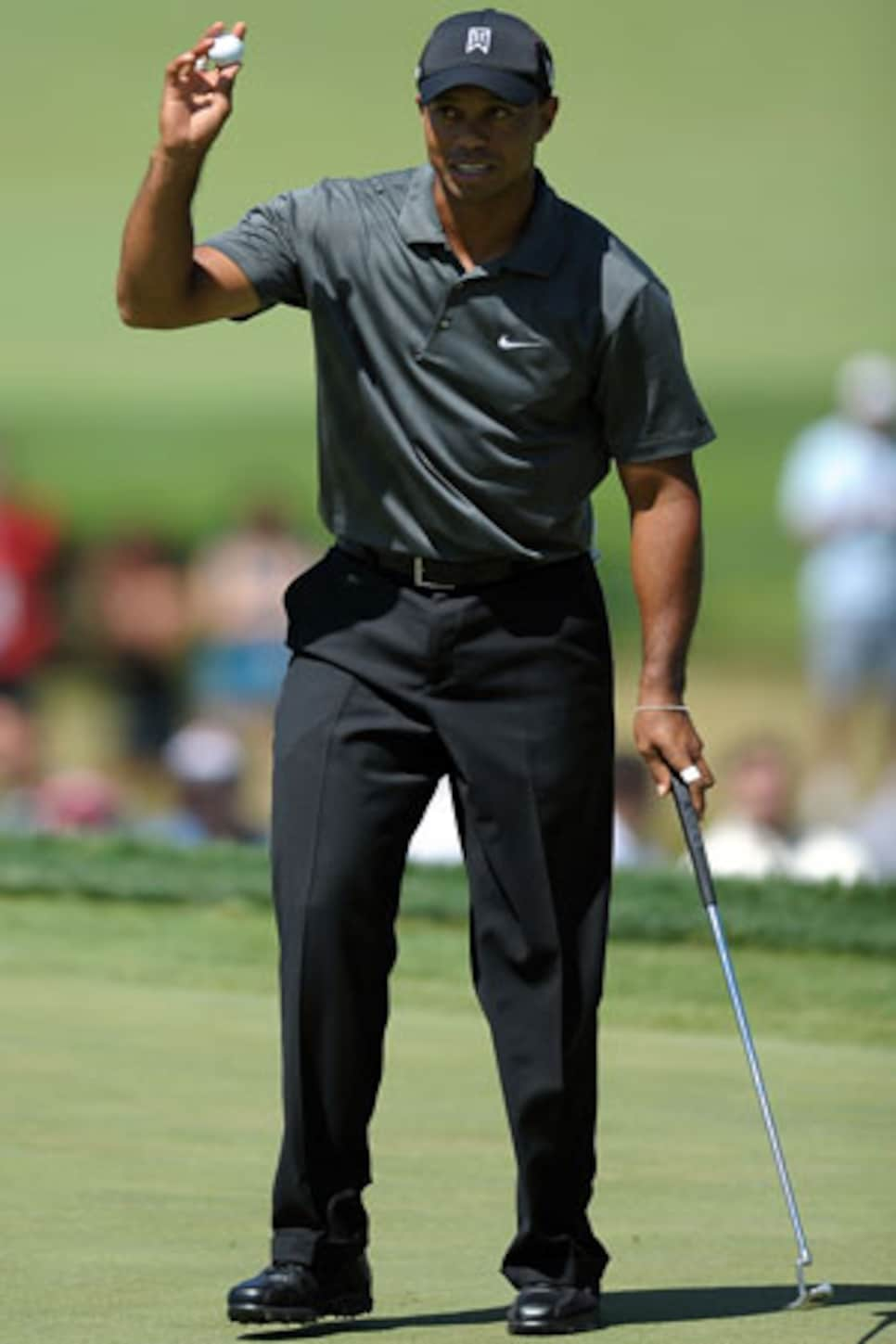 Woods shot even par in Saturday's third round.
NEWTOWN SQUARE, Pa. (AP) -- Tiger Woods has switched to a Nike golf ball that has a slightly harder cover and spins less than his previous model, which might explain why he has been hitting his tee shots farther than he has all year.
Woods says his swing has something to do with it, too.
"The more I keep playing, the better I get," Woods said Saturday after recovering from an atrocious start to shoot even-par 70, making up little ground in the AT&T National. "It has a little bit to do with the ball."
Woods still uses a One Tour, this ball marked with a star symbol between the two words. He started using it this week at Aronimink, most likely as part of his preparations for the British Open in two weeks at St. Andrews, where the wind is often a major factor.
The world's No. 1 player often has talked about how he uses one of the softest golf balls on tour, which gives him greater control around the greens. This version would be helpful in windy conditions because it spins less.
Once among the longest hitters in golf, Woods was 21st in driving distance last year. Going into the AT&T National, he was ranked 78th based on two measured drives per round. Through two rounds on a fast, firm Aronimink course, Woods was leading the tournament in driving distance at just over 328 yards.
His additional length was most evident during the second round, when he was playing with Dustin Johnson. On consecutive holes, Woods hit one drive 26 yards past Johnson, and another 10 yards past him. Both led to birdies.
It continued on Saturday.
"Wow," Scott McCarron whispered when Woods hit one driver 322 yards down the middle on the fourth hole, 37 yards beyond McCarron.
The only trouble this week is that it's not helping with his scoring. Woods remained well back in the pack at 3-over 213, which left him 10 shots behind even before the leaders teed off.
He hit one of his best tee shots on the sixth hole, which sweeps to the right around trees and a bunker. The shape was perfect, and Woods hit it so pure that he had only 60 yards to the hole. What followed was amateur hour.
Trying to play a low, running shot to get over the ridge and funnel to the hole, Woods couldn't figure out what he was doing in the middle of his swing and wound up chunking the shot. It didn't even reach the green, and he three-putted from there for a bogey, his third one in the early going.
"That was just awful," Woods said. "I was trying to hit a low ball in there, trying to scoot it up that hill, and I was not committed to where I was going to land it. Lack of commitment, ended up hitting the ball fat."
He turned another easy birdie into bogey on the opening hole by coming up short of the green. Woods has said his distance control is not quite sharp, although he put more of that on himself than the change to different golf ball characteristics.
Woods settled down after the sixth, nearly holing his tee shot on the tough par-3 eighth and making a 5-foot putt for his first birdie of the round. After missing four putts inside 10 feet in his opening six holes, it was probably good to have made that birdie.
"I was going to make that putt or that putter was going to be in the water," Woods said. "So it was one of those two."
Woods came close to getting back under par for the round with another big tee shot and wedge to 5 feet for birdie on the 11th, and a 15-foot birdie putt on the 13th. Then came another shot that went according to plan -- a high cut right at the flag about 6 feet behind the hole on the par-3 14th. He missed the putt, and the momentum was gone.
By that point, any hope of defending his title was long gone. One more round for Woods, then he's off to Ireland for a charity pro-am and then home to practice for the next major.
"The more tournaments I play this year, I'm getting better," Woods said. "The feel is getting better. I feel more comfortable with what I'm working on. It's so much more comfortable than it was at the beginning of the year."