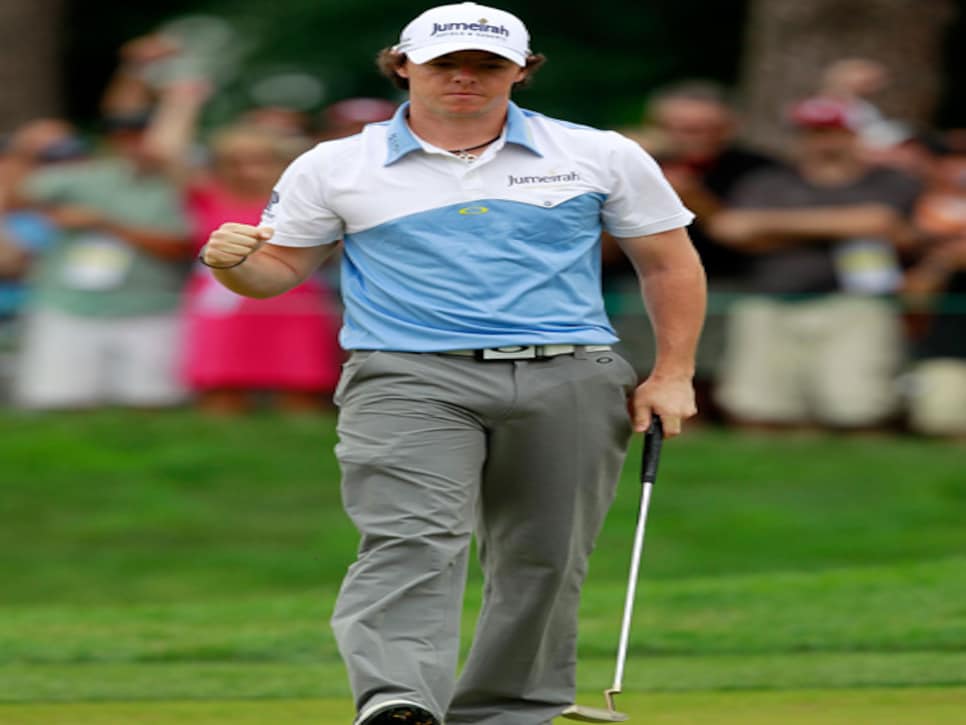 Birdie: Rory McIlroy
He wasn't crisp early, but that's what made Rory's third round so impressive. Without his best stuff and with memories of his Masters meltdown still fresh, McIlroy passed his most significant test of the week with several clutch saves and a few timely birdies. Another big test awaits on Sunday, but given what we saw in his three-under par 68, we like his chances.
Bogey: The USGA
With rain in the forecast for Saturday, the USGA still refused to budge on moving up the tee times (McIlroy and Y.E. Yang teed off at 3:50 p.m. EDT). They got lucky enough where third-round play was completed without interruption, but it proved again how beholden the Open is to the whims of network TV.
Birdie: Lee Westwood
The world's No. 2-ranked player, still in search of his first major, was a favorite heading into this week, but after a 75 on Thursday, it semed like he was headed for more disappointment. A 65 on Saturday changed that, and though Westwood is close friends with McIlroy, he suggested McIlory could still fold if pushed. "He had a big lead in a major and didn't deal with it well before," Westwood said. Ouch.
Bogey: Y.E. Yang
And here we were thinking that if anyone was going to make a run at McIlroy, it would be the guy who had the gall to steal a major from Tiger Woods. Instead, Yang could never get enough going to put any pressure on McIlroy. He finished with a respectable one-under 70, but for most of the round, he was little more than another spectator.
Birdie: Congressional
Yes, a day earlier we said we were unmoved by this year's Open venue, and that remains true. But even then, we appreciate that the course was accessible enough on Saturday that players were still able to put up some scores, while still presenting plenty of opportunities for disaster.
Bogey: Phil Mickelson
After revealing some signs of life on Friday, Mickelson reverted to his struggling form on Saturday, when his six-over 77 moved him to seven over for the week. We're not giving up on Phil in the Open just yet, but at age 41, perhaps Phil's best chance at breaking through in the national championship is to stop trying so damn hard.
Birdie: Fast play
The guy schooling the rest of the field here is also a guy that doesn't need to slow up every shot with excessive practice swings and deliberation. Take note, golfers. You can play well and still play quickly. What a concept.
Bogey: American golf
Barring a dramatic turnaround, this U.S. Open will be a record fifth-straight major that an American didn't win. And it's not as if it's just McIlroy standing in players' way. Robert Garrigus was the only American in the top five, but he's a healthy nine shots off the lead going into the final round. Start practicing, boys. And if that doesn't work, see if Rory if will consider switching his citizenship
Birdie: Barack Obama and John Boehner
The much-publicized Golf Summit appeared to go off without a hitch, and even included a post-beverage or two. The Obama-Boehner golf match, first suggested by Golf Digest, was conceived in the spirit of fostering a collegial relationship between the President and Speaker. Little did we know that they'd also make off with $2 in winnings. Hey, there's one way to plug those holes in the budget!