News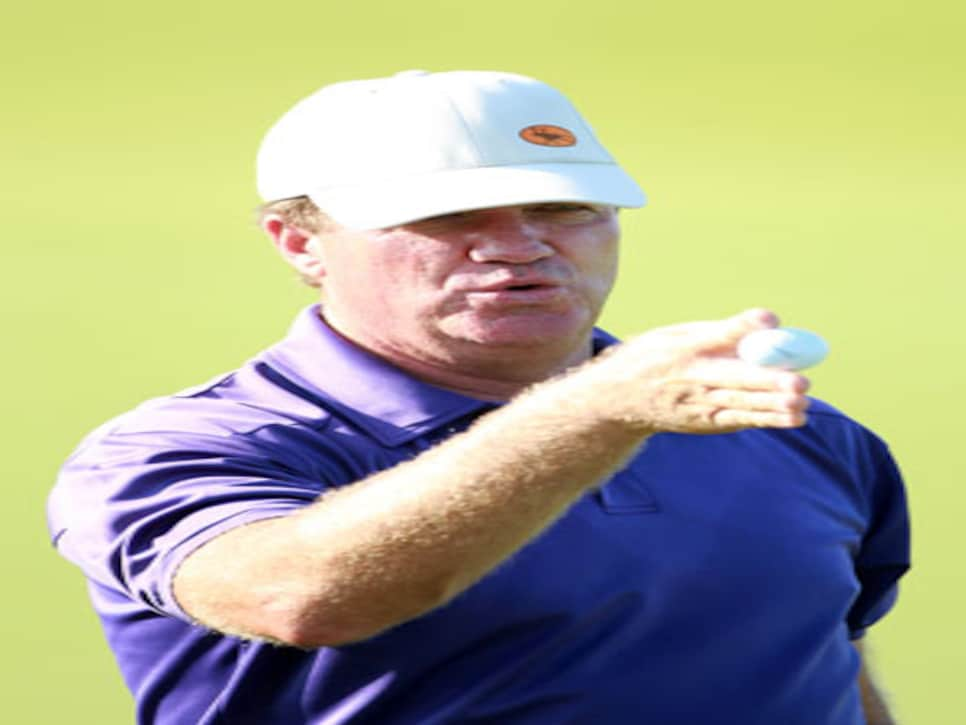 Elkington has an impressive history at the PGA.
HAVEN, Wis. -- The third round of the PGA Championship is in the books, and wouldn't you know, it took only one day to play it. Who were the winners and losers on Saturday at Whistling Straits? Let's start right in with another edition of birdies and bogeys.
BIRDIE: Nick Watney -- Playing the Dustin Johnson/Louis Oosthuizen role as the fresh-faced player with the 54-hole lead in the major, Watney looked unflappable on Saturday. The same was said of the last two guys in this position and look how that turned out. Pretty good for one (Oosthuizen). Not so good for the other (Johnson).
BOGEY: Matt Kuchar -- With the lead on the weekend for the first time in a major, Kuchar was overtaken early by his playing partner Watney. In a season that has been defined by high finishes but no wins, Kuchar said heading into the third round that his only goal was to give himself a chance on Sunday. Six shots behind Watney after a 73, Kuchar has already forfeited that.
BIRDIE: Steve Elkington -- What is the deal with Elk and the PGA? Every few years the man pops up on the leader board, clearly drawing good vibes from his 1995 win at Riviera CC. Today the nearly 48-year-old Elkington shot a third-round 67 to leap to T-7. Expect more of the same tomorrow from the man who had an out-of-nowhere T-2 in 2005 at Baltusrol, a third in 1998 at Sahalee and a T-3 in defense of his title in 1996 at Valhalla.
BIRDIE: Phil Mickelson -- Despite what has to be an increasingly frustrating inconsistent game, Lefty continues to be the fan favorite. Witness his reaction to his second shot landing on the lap of a man laying down to the side of the par-5 11th hole. "I'm definitely not going to play it off of there!" said Mickelson, much to the delight of the fans. Upon receiving his drop, Mickelson signed a glove for the man (his second such gesture in two days) and went on his way. Just as older players could learn from Palmer about dealing with fans, today's pros could take a few lessons from Phil.
BOGEY: Tiger Woods -- For the briefest moment Saturday morning, Woods and his putter appeared poised to enter the fray at Whistling Straits. Then came shades of Firestone Saturday afternoon -- wayward drives, sagging shoulders. With two birdies to close, Woods would rally to shoot 72 in the third round, but once again, he'll be a non-factor on Sunday at a major.
BIRDIE: Butch Harmon -- In Watney and Johnson, the noted swing instructor will have two of his pupils in the final pairing on Sunday, while his most famous ex-pupil still looks for the form he had when they were together.
BOGEY: Tiger on the par 5s -- Historically the world No. 1 devours par 5s like no one else, making birdie approximately half the time. But through three rounds at Whistling Straits Woods was a cumulative -- and inexplicable -- one over par. Worse, the Straits course has four par 5s, meaning Woods was squandering numerous opportunities. Tied for 31st at three under, Woods would have needed to maintain his usual rate of birdieing half the par 5s and he'd be playing in the final group at 10 under and Nick Watney is sleeping a lot less soundly Saturday.
BIRDIE: Golf ball alarmists -- Your eyes may glaze over when you hear complaints about the ball traveling too far. But when players are having their way with a 7,500-yard golf course, they suddenly don't seem so crazy.
BOGEY: Jerry Kelly -- Although he rallied admirably with five birdies (against one bogey) on his final nine, Jerry Kelly missed the cut at the PGA Championship. Not only did that mean that Kelly wouldn't be playing the weekend in his native Wisconsin, but it continued a disturbing trend for him in the year's final major. Kelly has now played in 14 PGAs and has posted 72-hole scores just four times, his best finish being a T-26 in 1999. For a player with Kelly's credentials, that's hard to fathom.
__BIRDIE:__Tom Lehman -- The 51-year-old former British Open champion aced the 223-yard 17th hole, then channeled Hale Irwin by running the rope line slapping the hands of fans on the way to the green. Hey, it beats the painfully awkward chest bump he and Bernhard Langer had going last year.
BOGEY: Sergio Garcia -- Almost 11 years to the day since Garcia scissor-kicked his way into our hearts and the top 50 in the World Ranking, he missed the cut at the PGA, almost certainly ending his run of being in the top 50 at 574 weeks. Of course, that's not surprising given that earlier in the week the Spaniard said he would likely take a two-month break from the game following the PGA. Problem with Garcia is that he's hardly a sympathetic figure (see his temper tantrum on Thursday when he slammed his club in a bunker numerous times then threw his club at his bag after a poor bunker shot). Here's hoping the break helps Sergio get back from irrelevance.
BIRDIE: Rob Labritz -- The 39-year-old director of golf at Glen Arbor GC in Bedford Hills, N.Y., was the only club pro to make the cut after shooting even par over the first two rounds. Sporting a Grizzly Adam-like beard ("It means 'attack.' I'm not at the club so I figured, what the heck," he explained), Labritz carried the club pro flag with honor, shooting 74 in the third round. Admirable for a man who has read all of the more than 1,000 text messages he says he has received this week.