News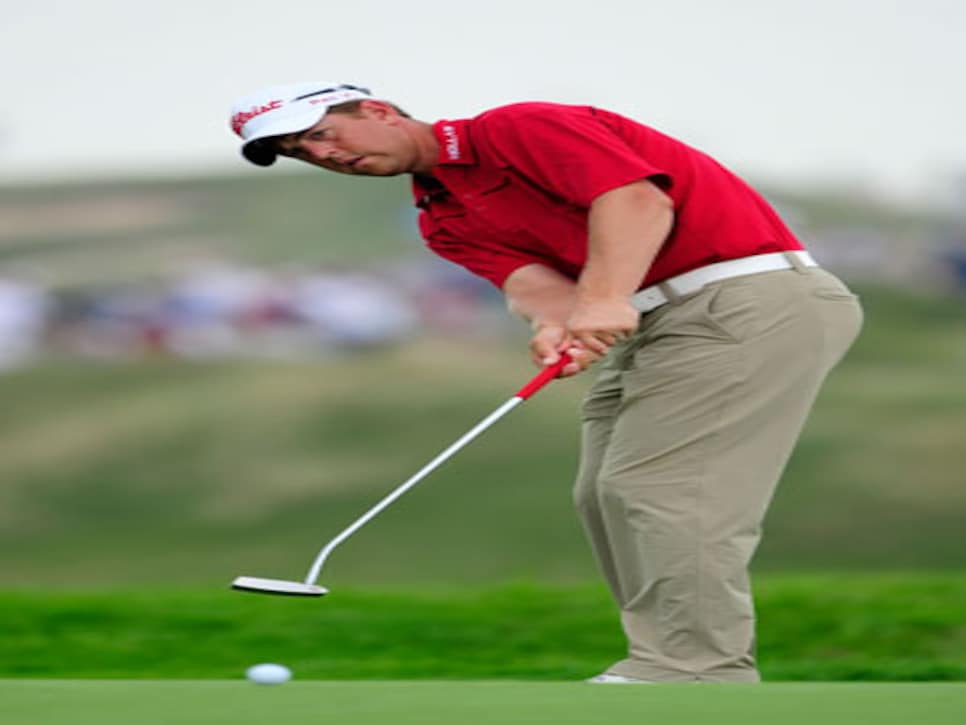 Bryce Molder has six top 10s this year.
HAVEN, Wis. -- Two days into the 92nd PGA Championship, we've already seen fog, rain, sunshine, and wind. Mixed in as well have been a number of compelling storylines. Who were the winners and losers on Friday at Whistling Straits? Let's get right back in with another edition of birdies and bogeys.
BIRDIE: Corey Pavin -- The U.S. Ryder Cup captain is on pace to miss the cut by a couple of par 5s, but the trip to Wisconsin has not been a complete lost cause. Maybe the Europeans are still the heavy favorites heading into Wales, but the Americans this week -- from Kuchar to Watney to even that guy Woods -- are showing they have some life in them after all.
BIRDIE: Bryce Molder -- OK, he made a bad bogey at the last to finish with 67 instead of 66, but who cares? Molder is a genuinely decent fellow with a history of overcoming obstacles. Molder became a four-time, first-team All-American in college at Georgia Tech despite a birth defect (Poland Syndrome) that left him with two webbed fingers that required two surgeries before age 5 to separate them (although they are now shorter). As if that wasn't enough, Molder also was born without a left pectoral muscle and, as a 14-year-old, lost his older sister, Kelli, then 16, to spinal meningitis. Even at that, Molder is no sympathy case. With six top 10s this year, he's a legitimate threat to win the PGA.
BOGEY: Brandt Snedeker -- Just as the rain began to steadily fall, Sneds tried to speed things up by banging his tee shot on No. 8. One problem, however. Jason Dufner, Troy Pare and Anders Hansen were still in the landing area. As Snedeker's ball rolled up close to them, the trio began waving back at the tee as if playing a Friday afternoon round at the local muny. Then again, perhaps Snedeker's desire to play fast was inspired by one of his playing companions, Rory Sabbatini.
BIRDIE: Rory McIlroy -- More than just an all-world talent, the 20-year-old McIlroy is developing a reputation for resilience. At St. Andrews, he followed up a record-tying 63 with a nightmarish 80, then shot 69-68 on the weekend to finish third. At Whistling Straits, McIlroy played his first four holes in three over, but bounced back again, working his way into contention for the second straight major.
BOGEY: Wisconsin weather -- Sure, fog and rain can happen anywhere, but it's all the more frustrating when you consider it's wreaking havoc with what has been an intriguing golf tournament on a spectacular setting.
BIRDIE: Colin Montgomerie and Koumei Oda -- Say what? A birdie for guys who shot 162 and 152, respectively for 36 holes? You betcha. Monty and Oda get good-guy points for realizing they had no chance to make the cut and basically made an effort to play at a steady pace and stay out of playing companion Matt Kuchar's way. That consideration paid off handsomely for Kuchar, who was able to finish his second round just as the rain began to fall.
BOGEY: Steve Stricker -- At two under playing the 17th it appeared as if Stricker was going to give the home-state fans reason to cheer. Then came an ill-fated pull on the par-3 17th that was compounded when his flop-shot try struck the wooden planks by the side of the green, leading to a triple-bogey. Oh, Stevie, what could have been.
BIRDIE: Johnson & Johnson -- No, not the company that makes the baby shampoo, but Zach and Dustin. Although not related, they played as if they were in lockstep, each backing up solid first rounds with fine play in the afternoon. Zach shot 70 to finish at five under for two rounds, while Dustin carded a fine 68. When he's in contention, Zach rarely goes away. And Dustin shows the Pebble Beach disappointment didn't last long. If they keep this up we may see Johnson & Johnson as the final twosome Sunday. Or Monday. Or whenever the heck we finish this thing.
BOGEY: Major champions -- Perhaps it was too much to ask Louis Oosthuizen and Graeme McDowell to contend again after their life-changing wins. But neither is likely to make the weekend at Whistling Straits. And then there's Masters champ Phil Mickelson, who rallied with a 69 on Friday, but who is still six shots off the lead heading into the weekend.