News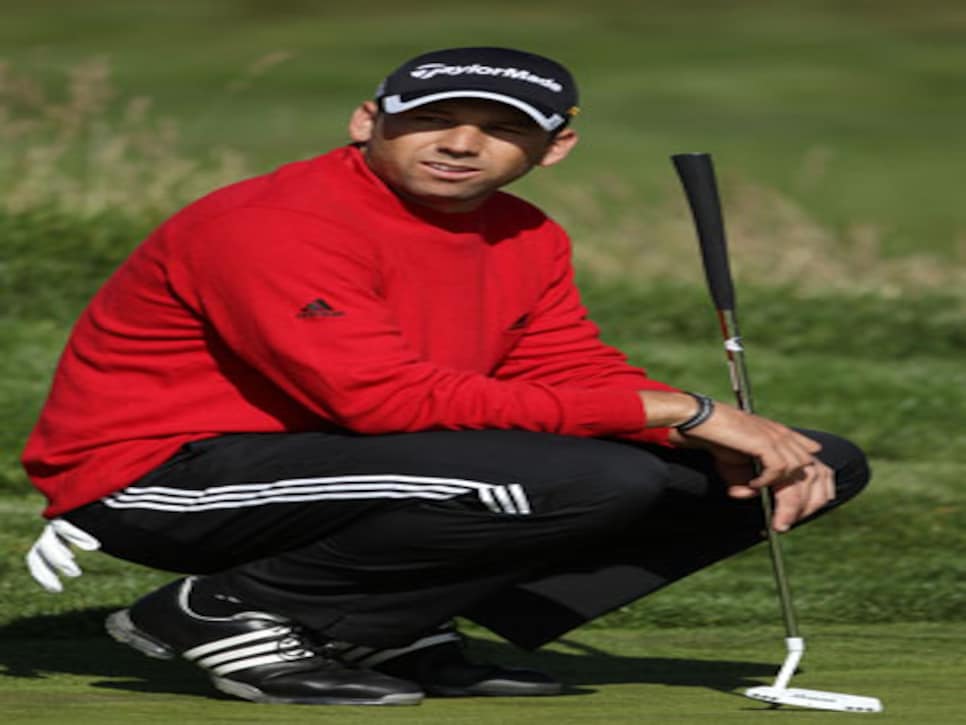 Sergio Garcia gets a bogey for his outfit.
PEBBLE BEACH -- The first round of the 110th U.S. Open is in the books, and if Day One is any indication, players are likely to be collapsing en masse by week's end.
Who were the winners and losers to start at Pebble Beach? Let's take a closer look with our opening edition of birdies and bogeys.
BIRDIE: Pebble Beach -- As if you need an explanation. On a day that featured brilliant skies, a gentle breeze, and an ocean so blue it looks like it was airbrushed, there was no better place to be on the planet. Even the guys who shot well over par probably would agree.
BOGEY: Phil Mickelson -- An opening 75 might not qualify as a disaster. But on the heels of his Masters win, with much of the pre-tournament buzz focused on his long search for a first U.S. Open title, Mickelson dug himself an early hole with loose swings on the wrong holes.
BIRDIE: Tiger Woods -- With crisp ball striking and a handful of rammed-in par putts on the front side, Woods early on Thursday resembled the surgical tactician who owned Pebble Beach a decade ago.
BOGEY: Tiger Woods -- The difference these days is Woods can't make it last. With his putter betraying him when he needed it on the back, Woods' three-over 74 was more in line with the middle-of-the-pack form we've seen in 2010.
BIRDIE: Mike Davis -- Of course, the scores were high. They always are at the Open. But on a day when greens could have been baked crisper than potato skins, it took precautionary measures by the USGA's chief set-up man to keep conditions within reason. If not for some handwatering Wednesday afternoon and Thursday morning, there's a chance they'd still be playing.
BOGEY: Lee Westwood -- Here's one way to avoid seeing another major slip from your grasp on Sunday: Keep misfiring like you did on Thursday to make sure you don't even have a chance.
BIRDIE: Shaun Micheel -- Perhaps the winner of the 2003 PGA Championship will go down as one of the flukiest winners in major history, but he still has come up big at some opportune moments, starting with that win seven years ago, continuing with a runner-up finish in the 2006 PGA, and perhaps continuing here at Pebble Beach. Throw in a compelling backstory that includes a dying mother and an arduous recovery from injury, and Micheel may be finally gaining some respect.
BOGEY: Pebble Beach homeowners -- Why should we begrudge these fortunate souls for enjoying the Open from their backyards -- complete with tables, chairs, and elaborate catered lunches? Simple. Because they didn't invite us.
BOGEY: Sergio Garcia -- Never mind the two-over par 73 Garcia put together on Thursday. More disconcerting was the return of the striped Adidas pants that makes him look like he stepped on to the course directly from gym class. In the words of Golf Digest's own style guru Marty Hackel, "What? Was the light in your hotel room broken?"