News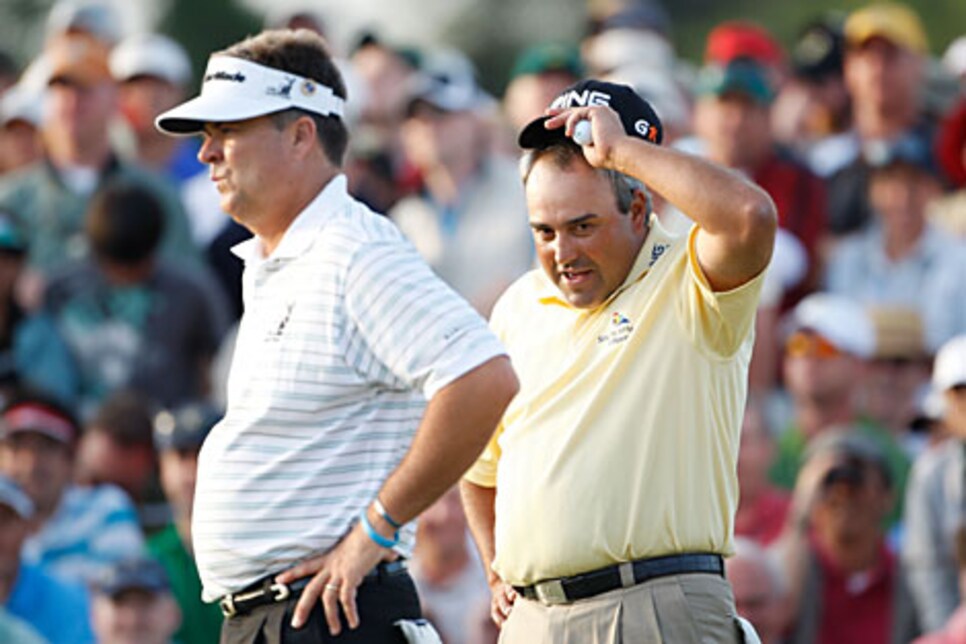 Angel Cabrera and Kenny Perry were left to measure success in different ways on Sunday.
AUGUSTA, GA. -- A green jacket has been awarded, the private jets have pulled out of town, and the lords of the Masters, furious over the 12-under par winning score, have already brought in Tom Fazio to add another 500 yards to Augusta National.
We're kidding about that last part ....we think.
Either way, there's still time to wrap up the 73rd Masters with one last edition of birdies and bogeys. So without further ado...
Birdie: Angel Cabrera -- Now a two-time major champion, the 39-year-old Argentine becomes only the second active (under 50) player to own both a U.S. Open and Masters title. And he managed to do it after taking a detour into the pines during the playoff. It only proves that fairways are overrated.
Bogey: Tidy storylines -- After Kenny Perry stiffed his tee shot on 16, everyone was ready to embrace the feel-good story of a genial 48-year-old veteran finally claiming his first major championship. An hour later, they were all trying to make sense of the mess that ensued. Did Cabrera win or Perry lose? And what to make of Chad Campbell, who missed his par putt in the sudden-death playoff and then raced off the green as if late for a flight? Ah, what the heck. At least it was entertaining.
__Birdie:__Kenny Perry -- Sure, he coughed up his best chance at a major, making a mishap at the PGA Championship 13 years earlier seem fairly insignificant by comparison. But Perry still handled the defeat with grace and a healthy dose of perspective. Approaching 50, he might not ever win a major, but Perry still woke up Monday morning with more fans than ever.
Bogey: Sergio Garcia -- In another pouty display, Garcia unloaded on Augusta National in a television interview on Sunday, calling the course "tricky," "unfair," and "a guessing game". There's nothing wrong with criticizing a golf course if you don't like it. But why do we get the feeling he'd have a different perspective if he played better?
__Birdie:__The media -- No, we're not talking about the abundance of subplots this week -- from Gary Player saying goodbye to Tiger and Phil's brief, but inspired, charge on Sunday. We're talking about the serious upgrades for the lottery winners who get to play the course on Monday. Gone are the days of a back-gate entrance, changing your shoes in the parking lot, and a carton of donuts near the first tee. Now winners get the full "member-for-a-day" treatment, from a drive down Magnolia Lane, to a full buffet spread, to use of -- and no, this is not a misprint -- the Champions locker room.
Go ahead, Arnie won't mind if you borrow a glove ...
Bogey: Monday's weather -- If the above sounds too good to be true, maybe it was. The Augusta forecast for Monday was for rain and a chance of severe thunderstorms. Gentlemen, start your umbrellas ...
Birdie: The U.S. Open -- Regardless of how Mickelson and Woods finished on Sunday, they still managed to stoke the fire for Bethpage, where seven years earlier Woods claimed his second Open and Mickelson first became an adopted son of New York. Pack your earplugs.
Bogey: The U.S. Open -- As electric as last year's Open at Torrey Pines was, it could have been an aberration. More than likely Bethpage will be a return to the please-God-let-me-just-hit-this-fairway defensive golf for which Opens are famous. And after the excitement at Augusta this week, fans will have a better reference point for what they'll be missing.
__ Birdie:__ Recession-busters -- What economic crisis? After all the talk of lean times making this a more subdued Masters, August was buzzing all week: packed grandstands, full restaurants, and lines out the door at the merchandise store.
Bogey: Reality -- The only problem with weeks like this is when they end. That AmEx bill should be arriving any day now. And back home, the sandwiches cost a tad more than a $1.50 ...