News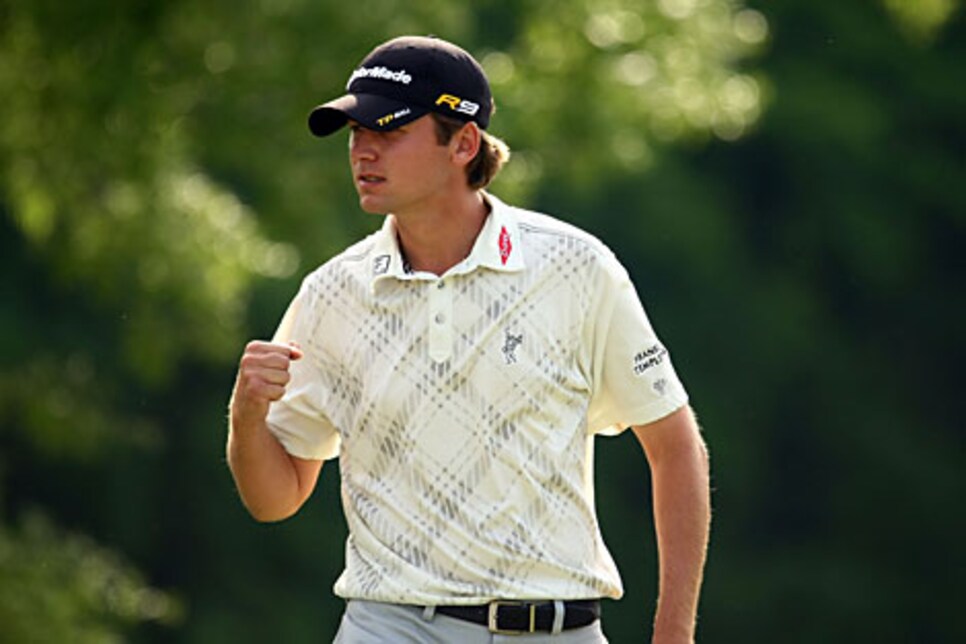 Well liked by his peers, Sean O'Hair's win at Quail Hollow was a popular one on Sunday.
He's well liked, works hard and has overcome personal challenges to become one of the best under-30 players in golf. So many toasted Sean O'Hair's third PGA Tour win Sunday at the Quail Hollow Championship. Even top-ranked Tiger Woods hung around afterward to congratulate him.
"It feels so good, especially finishing the way I did," said the 27-year-old O'Hair, who closed with a three-under-par 69 at Quail Hollow Club to edge Bubba Watson and Lucas Glover by one stroke. "I just played so good on the back."
That he did, posting birdies at 10, 12, 15 and 16. It was a good thing, too. Like many players, O'Hair stumbled on 17 and 18, part of the concluding Green Mile that begins with No. 16. O'Hair missed the green right at the par-3 17th and failed to get up-and-down, then three-putted the par-4 18th from 25 feet.
However, playing behind him, Glover also bogeyed 17. Needing a birdie at 18 to tie O'Hair, his approach carried just over the green and he did well just to get up-and-down to earn a share of second place.
How well did O'Hair hit the ball? He tied for third in greens in regulation at 75 percent, no easy accomplishment given how firm and fast the course played, and ranked seventh in driving distance (312). But the real eye-opener was he never made a putt outside of 10 feet and still finished at 11-under.
O'Hair is one of seven U.S. natives under the age of 30 to win multiple times on the PGA Tour -- joining J.B. Holmes, D.J. Trahan, Anthony Kim, Nick Watney, Charles Howell III and Dustin Johnson -- but is now the first with three victories.
"He's got all the talent," said Woods. "We know that. We've seen how well he's played. It's just he's been through a lot off the golf course, and it's just a matter of time before all that settles in. He's got a great family, and you can see now he's starting to gain confidence with what he's working on. I think he's gone back to his old coach, and things are working out pretty good for him."
Looking ahead this week to the 36th Players Championship, O'Hair will make his fourth appearance. He tied for 58th in 2006, finished 11th in 2007 after making a quadruple-bogey on the par-3 17th hole on Sunday when he hit two shots in the water, and missed the cut last year. Here's guessing he contends at the TPC Stadium Course.
Birdie: To Quail Hollow Club, for trimming the rough to two inches, letting players be more aggressive and creating more exciting recovery shots.
Bogey: To Quail Hollow Club, for shamelessly auditioning for a major championship. Hint: There were no bogey-free rounds Sunday.
Birdie: To rookie Danny Lee, who played well in his second pro start and tied for 38th despite a final-round 76.
Bogey: To Kim, the defending champion at Quail Hollow, who imploded with a six-over-par 42 on the front nine Saturday and shot 78.
Birdie: To Watson, who said, "Whoa! Gosh Dog it!" when the wind pushed his second shot just right of the green on the par-5 15th hole Sunday.
Bogey: To Padraig Harrington. He was four-under and lurking near the lead Thursday at Quail Hollow Club, then finished triple-bogey, double-bogey and missed the cut.
Birdie: To Todd Hamilton, who came into the Quail Hollow Championship on a good roll after tying for 15th at the Masters and tying for fourth at the Verizon Heritage.
"You know, I'm seeing some good things happen," Hamilton said in a pre-tournament press conference at Quail Hollow. "Last year I didn't feel like I was playing poorly but wasn't getting anything out of it. I felt like I was beating my head against the wall."
Bogey: To Hamilton, who shot 78-74 at Quail Hollow and missed the cut.
Birdie: To Kentucky native Kenny Perry. He skipped the Quail Hollow Championship so that he and his father, Ken, could serve as grand marshals of the Kentucky Derby Festival's 45th Annual Pegasus Parade in Louisville.
Bogey: To Brendon de Jonge, the 2008 Nationwide Tour Player of the Year. The Charlotte resident made a strong early showing at Quail Hollow, but closed with a 79 to slip from a tie for fifth to a tie for 44th. Still, he's made 10 of 14 cuts this year.
Birdie: To LPGA standout Brittany Lincicome, who threw out the ceremonial first pitch Wednesday at Tropicana Field when the Tampa Bay Rays played host to the Boston Red Sox. Earlier this year, Lincicome scored a come-from-behind victory the Kraft Nabisco Championship for her second LPGA win.
Bogey: To Zach Johnson, who quickly squandered a two-stroke advantage Sunday with a triple-bogey at the par-3 second hole. However, kudos to Johnson for allowing CBS to interview him before the round.
Birdie: To Nick Faldo, who after watching players struggle reading putts on the 14th green at Quail Hollow, remarked, "We should be able to hang signs out the window."
Bogey: To John Daly -- did you see the striped pants he wore at the Spanish Open? Not a good look, even for Elton John.
Birdie: To the PGA Tour, for allowing children 16 and under to attend The Players Championship for free all week.
Mark Soltau is a Golf Digest contributing editor and editor of TigerWoods.com.