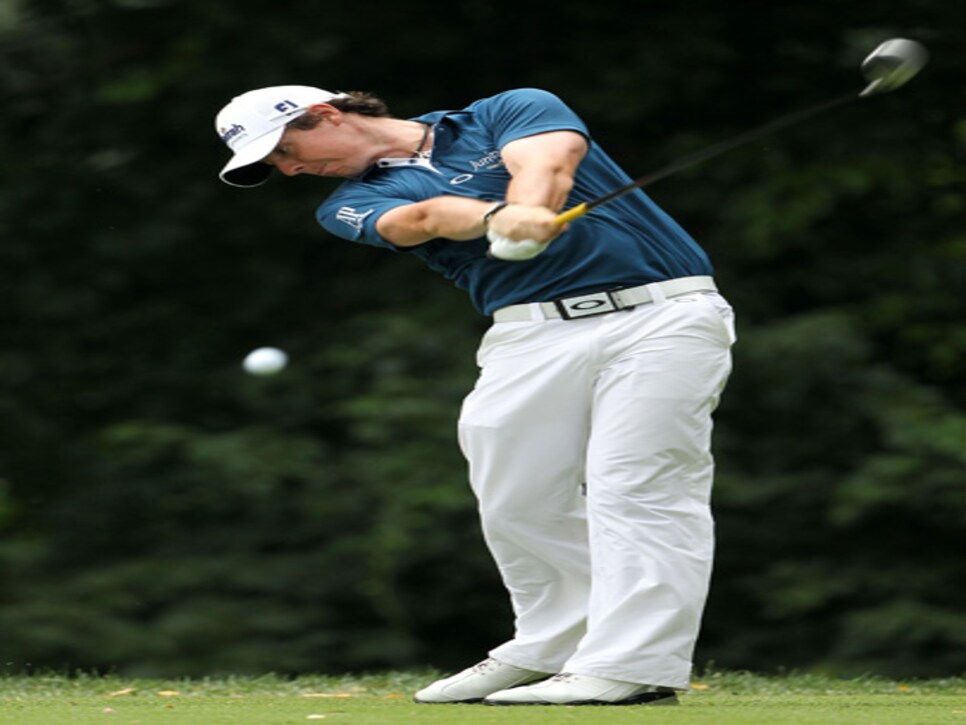 Birdie: Rory McIlroy
It apparently didn't take Rory long to shed the disappointment of the Masters. His 65, in which he made no bogeys and hit 17 of 18 greens on Thursday, matched his opening round at Augusta, making this the third time in the last four majors he's had the first-round lead. Of course, the question for McIllroy isn't how he starts but how he finishes. At least at Congressional, it looks like he'll be around to provide an answer.
Bogey: Luke Donald, Lee Westwood, and Martin Kaymer
You'd think that a grouping of the world's three top-ranked players would feed off each other. And you'd be right. All three struggled in concert on Thursday, playing a combined 10-over par. "It was a bit of a solemn group," Donald said.
Birdie: Sergio Garcia
It's been three years since Garcia last seriously contended in a major, and if you don't mind, we'll wait a little while before we say he's contending here. Still, his opening round of 69 Thursday was a rare sign of life from a player who only squeaked his way into the field.
Bogey: K.J. Choi
So much for the momentum from winning the Players. And while we're at it, so much for the positive vibes from winning the 2007 AT&T at Congressional. Choi on Thursday played like someone who had never set foot on the course before, stumbling to a 77.
Birdie: Y.E. Yang and Louis Oosthuizen
Not so long ago, they were two players you never heard of. Now you know them as the two guys you never heard of who somehow won major championships. On Thursday, both players took steps toward following up on their career-defining wins, Yang opening with a 3-under 68, and Oosthuizen sitting another stroke back.
Bogey: Phil Mickelson
We applaud Phil's efforts in leaving no stone unturned in his efforts to end his string of disappointments in the U.S. Open, but it didn't seem to be working Thursday. For one, Mickelson's driving club of choice, a 2-iron, still put him in the weeds on occasion. And then there was that experiment with the driver out from under a tree on No. 16. Given all that, Phil's 74 actually wasn't all that bad, but he's going to need to a better showing Friday if he hopes to play the weekend.
Birdie: The 10th Hole
The collection of players who opened their rounds on the back nine and summarily dunked their tee shots into the water on the 218-yard par 3 will surely disagree, but we love players facing such uncertainty right away in their rounds. And look on the bright side, those players who managed to hit the green felt like they were already ahead of the game.
Bogey: Congressional's greens
Regrassed in 2009, the putting surfaces were a question mark heading into the tournament, and they'll remain that way all week. "There are certain areas of the greens that you can see are under stress," Graeme McDowell said. "They're very stressed." So, for that matter, is Mike Davis.
Birdie: Peter Uihlein
The reigning U.S. Amateur champion and golf's Next Big Thing had his "Welcome To The U.S. Open" moment right away when he double-bogeyed the opening hole. Another bogey would follow three holes later, but Uihlein reversed the trend by eagling his next hole. He ended up finishing 1-over 72, proving that he could handle the big stage after all.
Birdie: President Obama
Closing in on his golf summit meeting with House Speaker John Boehner on Saturday, the President benefited from a visit by Mickelson, Bubba Watson, and Ryder Cup captain Davis Love III on the eve of the Open. The players invited Obama to next year's matches, and brought along clubs as gifts. It might not be enough to help Obama beat Boehner, but that's not the point of the golf date, anyway. Or at least that's what Obama can go with if he loses.