Photo Essay
Revisiting past glory -- and rekindling old rivarlies -- at the Legends of Golf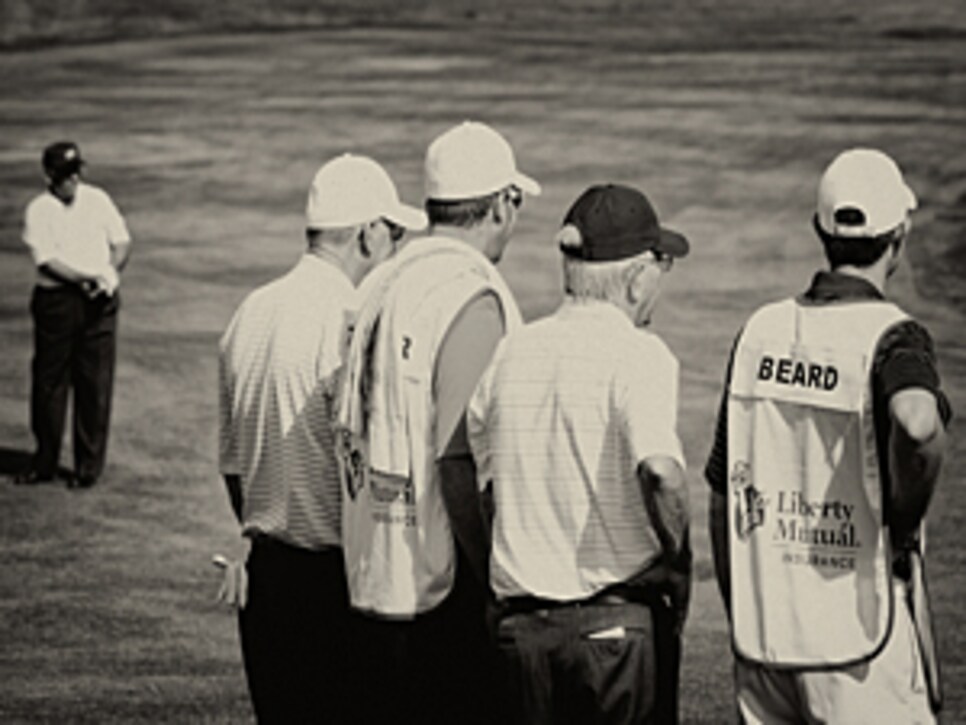 Revisiting past glory -- and rekindling old rivarlies -- at the Legends of Golf
Bob Goalby, 83, the 1968 Masters champion, signed plenty of autographs.
Doug Sanders was part of four teams scheduled to play who didn't tee off, but the 79-year-old still dressed the part.
The tournament isn't just a return to competition for the players. Larry Mowry sized up a shot with help from Alfred (Rabbit) Dyer, 75, who was the longtime caddie for Gary Player.
Gibby Gilbert was an early arrival at the practice range on a misty first morning of play.
Fifty years after he won his first PGA Tour event and 35 years since his landmark 59, Al Geiberger still displayed a swing that is easy on the eyes.
Long-hitting Jim Dent warmed up on a foggy morning.
Two-time U.S. Open champion Billy Casper, who partnered with Ken Still, hits a wedge shot.
Frank Beard's stellar golf belied his age. The 72-year-old was 11 under on his own ball during the second round.
Dow Finsterwald, 82, the 1958 PGA champion, plays a pitch shot.
Frank Beard watches Lee Trevino tee off on the par-4 ninth hole. The Demaret division played a 6,177-yard course.
Al Geiberger's caddie was Van Costa, who first looped for Mr. 59 at the 1969 Avco Classic in Massachusetts, when Costa was 15 years old.
Don January, a stalwart on the senior tour in its early years, competed at age 82 with longtime friend Gene Littler. "It's nice to reminisce and tell a few old lies," January said. "The game has been very good to us."
Partners Bobby Nichols (left) and Homero Blancas first met at the 1965 Houston Classic, won by Nichols. "You beat me there because I had 11 three-putts," Blancas said.
Don January recovers from a tough predicament behind the first green. "Regardless of how old we get, we still like to win," he said.
The shadows of Lou Graham (left) and Butch Baird on the practice green.
Lee Trevino's caddie was his 23-year-old daughter, Olivia. "It was a great experience to share this with him," she said. "He definitely still enjoys playing."
Mike Hill, 73, was as dogged as ever in a pairing with Lee Trevino. "I think you always want to win," Hill said. "If you're a competitor, you always want to win. Lee and I are fortunate we can ham-and-egg it pretty good and can still play."
The group of Lee Trevino and Mike Hill and Frank Beard and Larry Ziegler, putt on the 14th green with a backdrop of the Savannah River.
Mike Hill and Lee Trevino, friends since the 1970s, finished in third place. "We really enjoy spending the week together," Trevino said. "I'm already looking forward to next year."
Frank Beard got a congratulatory hug from his 32-year-old son, Michael, at the end of regulation play. Beard and Larry Ziegler tied Gibby Gilbert-J.C. Snead at 21-under 123.
Gibby Gilbert (left) and J.C. Snead captured their second straight Demaret title in a playoff when Snead wedged to six inches for a winning birdie on the first extra hole. The duo shot a final-nine 28 to rally and force a playoff.