Strange But True
The most irreverent moments in Masters history
Recalling bizarre, inappropriate and random episodes over the years at and around Augusta National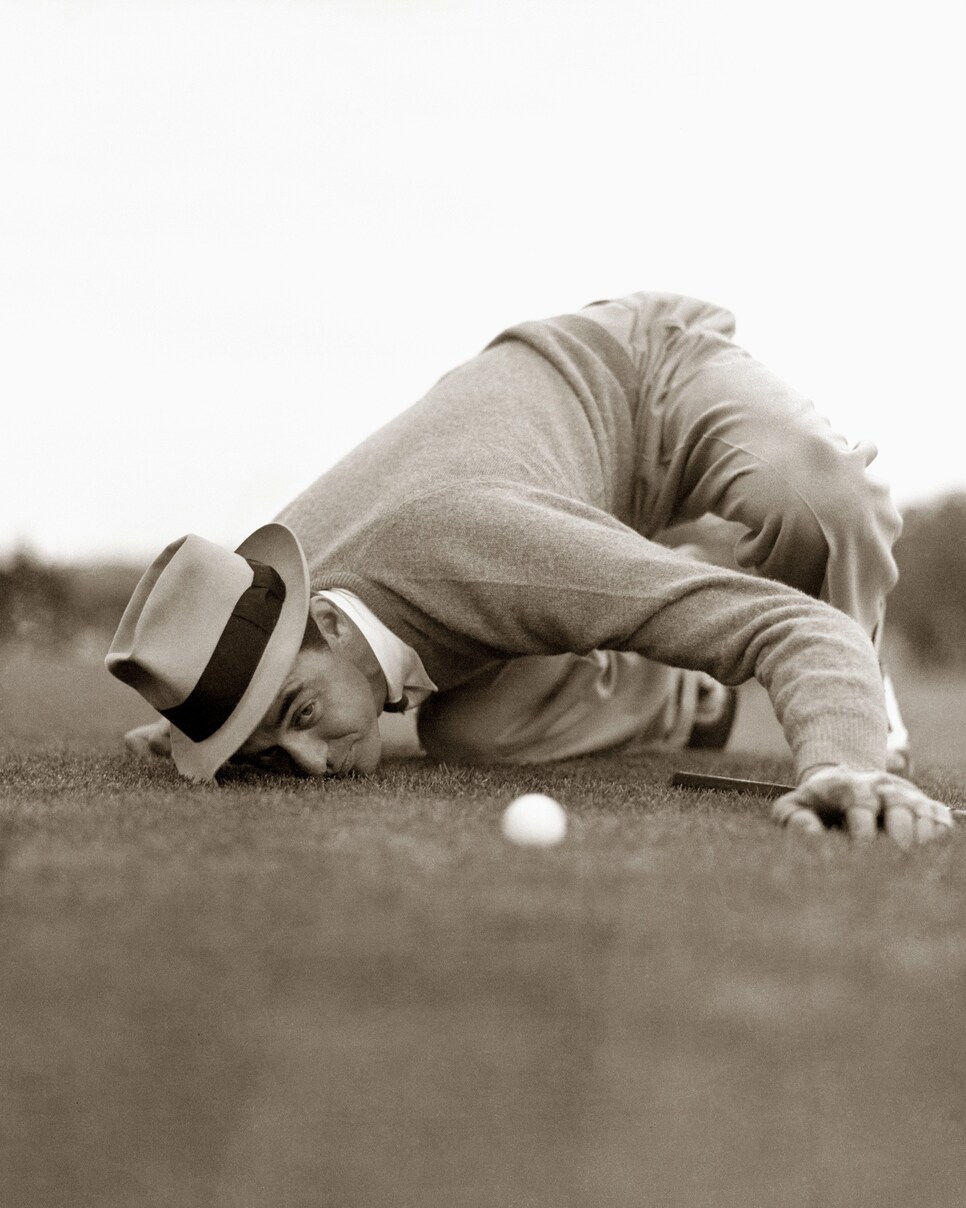 Photo By: Augusta National/Getty Images
Photo By: Augusta National/Getty Images
Photo By: Augusta National/Getty Images
Sam Snead plays practice round barefoot
Snead was known for incredible athleticism, a silky swing, and homespun wisdom. Growing up near the backwoods of Hot Springs, Va., he often went barefoot, and that's how he learned to play golf. Snead sought to replicate the experience in a 1942 practice round at Augusta National. At the suggestion of PGA Tour tournament manager Fred Corcoran, Snead shed his shoes and rolled up his pants for nine holes. "Honestly, I'm telling you the truth, I feel better when I stand up to the ball in my bare feet," Snead said that day. Those thick soled shoes keep you too far off the ground."
Photo By: Augusta National/Getty Images
Lee Trevino changes shoes in parking lot
Trevino's unease with Augusta National was well chronicled. He boycotted the Masters several times in the early 1970s, in part because his left-to-right ball flight was ill-suited for the course, but also because he objected to the club's exclusionary feel. Even upon returning to play the event -- in 1989, at age 49, he held the first round lead after shooting 67 -- he refused to use the locker room and instead changed his shoes out of the trunk of his car.
Gary McCord pushes the limit
Whether Gary McCord's commentary in the 1994 Masters was really over the top is a matter of taste, but apparently two vivid metaphors -- one a reference to "bikini wax" when describing the quickness of the greens, the other a mention of "body bags" for a trouble spot on the golf course -- sealed his fate broadcasting the tournament. CBS said that McCord wouldn't be back for the Masters the next year because Masters officials "were not comfortable with his style."
Ken Green drinks a beer mid-round
Before a devastating car accident in 2009, Ken Green was known as one of the tour's resident iconoclasts. That was best embodied in a moment in the 1997 Masters, when Green drew a pairing with Arnold Palmer, and sought to commemorate the moment in the best way he knew how. "I really didn't know Arnie, and I knew for a fact that I was probably never going to be around him again," Green told Golf Digest in 2003. "I like beer, and I know Arnie likes to dabble. It was like, I've got to have a beer with Arnie. I mean, how could I not? This is my only chance. So I had my buddy go buy me a beer." Green was reprimanded by the tour.
Photo By: Augusta National/Getty Images
Vijay Singh tells the press what he REALLY thinks
Singh had won his first major at the 1998 PGA, but it was his win at the 2000 Masters that truly elevated him into golf's elite. The veteran had long had a contentious relationship with the media, owing to a prickly demeanor, and coverage of a specific incident on the Asian Tour earlier in his career. The win at the Masters was an opportunity to portray himself in a new light, but after the traditional press conferences and ceremonies, Singh couldn't resist. As he left on Sunday evening, he called out to the media, "Kiss my ass, everybody," a gesture that did little to ingratiate himself with the fourth estate.
Photo By: Augusta National/Getty Images
John Daly hawks gear at Hooters
It has become a Masters tradition as dependable as the ceremonial tee shot. Daly has not been in the Masters field since 2006, but he still has made the trip to Augusta annually to park his RV in the Hooters parking lot and hawk Daly gear that ranges from hats to t-shirts to club-head covers. Daly also poses for pictures and signs autographs, and occasionally will judge a bikini contest, because, well, John Daly. "It's a great merchandising week for me to keep my brand out there,' Daly said in 2015. "I'd feel bad if i didn't keep coming here."
Phil Mickelson takes the green jacket to Krispy Kreme
Mickelson's third Masters title might have been his most emotional -- at the time his wife Amy was immersed in a battle with breast cancer. But in the aftermath of that dramatic Sunday at Augusta National, Lefty was just another guy whose kids wanted donuts. As for his choice in attire? "It was a little chilly, so I threw on a jacket," he said afterward. Thanks to the woman at the drive-in who snapped Mickelson's picture as he pulled up to the drive-in, the moment went viral. "When I went to college we didn't have cell phones, and since I'm out of college and out on tour, everybody is media now," Mickelson said. "The lady behind the counter at Krispy Kreme is media, and it's an interesting thing to get used to."
Ian Poulter and Graeme McDowell capture rogue video at club
As Phil Mickelson said, everybody is in the media now, and that includes the players themselves. In an episode Bobby Jones surely couldn't have envisioned, Ian Poulter and Graeme McDowell in 2011 tweeted out behind the scenes video of a practice session at Augusta National, including footage of the locker room and from the veranda overlooking the golf course. Those videos were summarily taken down, but Poulter continued to push his luck, capturing this photo during a 2014 Masters practice round.
Bubba Watson leaves Augusta National chairman Billy Payne hanging
In fairness, this was less an act of volition and more just bad timing. Still, given the choice between shaking Charl Schwartzel's hand and Billy Payne's, we always recommend going with the guy who controls your invite to the most important tournament in golf.
Bubba Watson celebrates second green jacket at Waffle House
Continuing a relatively-new tradition of commemorating Masters wins at unhealthy eating establishments, Watson took friends and family to Waffle House in the early morning hours following his second win at Augusta National (and reportedly left a $148 tip!). Watson, who was raised in Florida and went to college in Georgia, had pledged his allegiance to the southern food establishment before that, even weighing whether to serve Waffle House at the Champions Dinner following his first Masters win in 2012.
Henrik Stenson drives down Magnolia Lane to Vanilla Ice's "Ice, Ice, Baby"
The Swede's sense of humor is pretty legendary in pro golf circles, and it was on display again in 2016 when he rolled down Augusta National in his courtesy car with the classic rap song pumping from his speakers. Stenson leaned into the moment, rolling down the windows as he turned right past the clubhouse into player parking.
Car slams into John Daly's RV
While John Daly isn't afraid to bring attention to himself, in 2018 the attention wasn't of his own making. A car traveling down Washington Road in Augusta drove through a temporary fencing and struck Daly's RV in the Hooters parking lot, where Daly was once again selling merchandise. Daly managed to jump out of the car's path but injured his knee in the process.