Viktor Hovland's choice to begin Riviera's 15th hole by sending his tee shot down the 17th fairway may have seemed like an impulsive decision from a daring young player. It was precisely the opposite: the result of diligent number-crunching with a man whose students call a "genius," and a fascinating look into how the modern tour professional hunts for even the slightest possible advantage.First, some background on the hole. The 15th is considered one of the harder par 4s at Riviera, the famous host course for last week's Genesis Invitational. It's a 487-yard beast that usually plays into the ocean breeze coming from the Pacific. The hole doglegs to the right, and the right side of the fairway is guarded by a bunker that, from the back edge of the back tee, is 284 yards away and 308 yards to clear. There is room left, but sparse trees make it essentially a roll-of-the-dice as to whether you will have an open shot at the green, which is fronted by a big bunker.

Hovland cannot carry the bunker on the right with his driver, a simple fact that shaped his approach to the hole. When the 2017 U.S. Amateur was played at Riviera, Hovland was inspired by his Oklahoma State teammate Zach Bachou to aim well right of the bunkers and trees down the right and play down the 17th fairway. With the helping wind, he felt he could get his drive far enough to have a clear shot at the green with a wedge in his hand.
Prior to this year's Genesis, Hovland asked his statistics consultant to take a look at the data and see if it might be the mathematically correct strategy even when the hole isn't playing downwind. A growing number of tour players rely on a numbers guy to help shape their strategy and practice, but not all numbers guys have the pedigree of the man Hovland works with.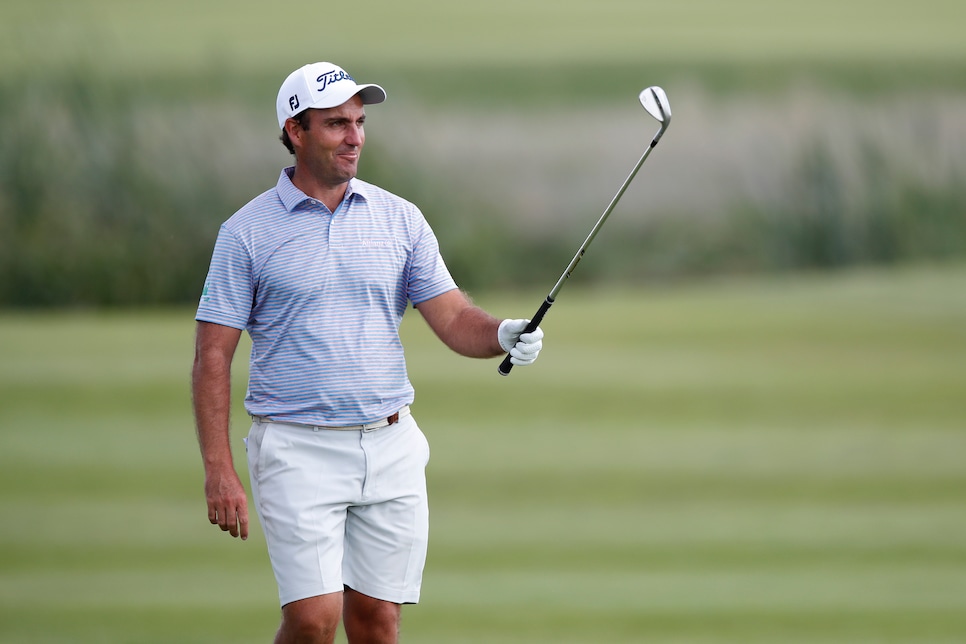 Edoardo Molinari is a U.S. Amateur champion, three-time winner on the DP World (formerly European) Tour, a Ryder Cup winner and former top 15 player in the world. (And, of course, older brother to Francesco). Edoardo has a degree in engineering from the Polytechnic University of Turin and has been keeping track of his statistics since before he won that 2005 U.S. Amateur at Merion, but it wasn't until just before the pandemic that he decided to open up his services to others. In 2019, a number of European Tour players who were unsatisfied with their current statistics and strategy processes approached Molinari to see if he might be able to help. The COVID-19 hiatus gave him the time he needed to build StatisticGolf, a platform that allows players to input as much data as they want for the program and Molinari to analyze and, ultimately, provide actionable insight that can inform practice and on-course strategy.
"I spent a few hours every morning writing and re-writing the code to build the platform," Molinari, 41, and still active on the DP World Tour, says. "We can do various things that are all automated. We send out a report automatically and I'll add a few comments that are worth noting. Everyone can do stats, everyone can send out reports, that's not difficult. But in speaking with players, the extra bit that I offer is I understand the numbers and I understand golf quite well. When they speak to me they know the reply comes from a professional golfer with experience at the highest level, not just from a guy behind a computer."

StatisticGolf can account for virtually any variance in a golf shot: club, yardage, wind direction, wind strength, types of grass, time of day, pin positions, green firmness, green speeds—you name it. The goal is to provide players with a hyper-personalized profile that tells them their tendencies beyond just, "you're a good iron player" or "you need to work on your wedges."

Much of the data collection happens via the PGA Tour's ShotLink, but Molinari asks his players to dig deeper in order to paint the full picture. ShotLink calculates strokes gained for approaches based on where the ball finishes in relation to the pin, but that can be downright misleading. Say a flag is tucked back right, and a player is aiming 30 feet left of it. If he pushes his shot by 29 feet and it ends up a foot from the pin, that will go into the PGA Tour's stats database as a terrific shot—but the player himself knows that it was in fact a sizable push and should be recorded as such. It's this type of next-level digging that has seen Molinari emerge as a truly premier statistician.

"With one of the players, we noticed that his pace on mid-range putts in his first week out on tour, after a break, his pace wasn't as good as it was in his second or third tournament in a row. We have an app that lets players input their practice, and we analyzed the data and discovered that when he's at home he doesn't do any speed drills. So he changed that. Obviously one week is not enough data, but if we see after 10 tournaments that in a guy's first tournament back he struggles with wedge distance control, he obviously needs to make a change in his preparation."

Molinari discovered through his program that he himself almost never played well before 8 in the morning, so he decided to wake up ridiculously early before a morning tee time to replicate the leisurely morning he has before an afternoon tee time. Conversely, he noticed that one of his players fared significantly worse in the last six holes of rounds. After consulting with the player's coach and caddie, he discovered that the player does not like to eat or drink on the golf course. So he suggested he do just that, and he had the numbers to back it up.

"He is a genius," says Matt Fitzpatrick, the first player to use Molinari's services and apply them on the golf course. "It's been awesome to find a guy who nerds out as much on numbers as I do. Probably more, to be honest."

StatisticGolf also provides players with guides on how to play certain holes based on their specific tendencies. One size does not fit all when it comes to strategy. It may make sense for one player to hit driver on a certain hole, but if another player's data says he's much straighter with the 3-wood and better than average with his mid irons, he might be counseled to hit 3-wood. It was through this type of personalized guidance that Molinari confirmed Hovland's hunch to play down the 17th as a "no brainer."

"Looking at the data, for Viktor, because the 17th fairway is six yards wider, and because he could miss the fairway and still have a shot at the green—unlike playing down 15, where hitting it in the bunker is a lay-up and missing left is roughly a 40-percent chance of hitting the green—he would gain about .2 shots on the field each round by playing down 17. That is a massive advantage. Do that four times, and it's almost a full shot. For a guy who's missing the cut, it's not going to make a difference. For an unbelievable player like Viktor, it could be the difference.

"I am just support to these guys," Molinari continued. "I don't call the shots. If I can save them fractions of shots every week, that's the goal."

Hovland missed the 17th fairway two out of the four days but still had a clear shot at the green. He also three-putted one of the days and still played the difficult hole in one over for the week— an average of 4.25, while the field average on the hole was 4.27. So Hovland avoided losing shots to the field on that hole despite hitting a few poor shots.

"The sample size is tiny, so it's not fair to say that the strategy 'worked' or 'didn't work,'" Molinari says. "With statistics, we just have to trust that making the right choice over and over will pay off in the end."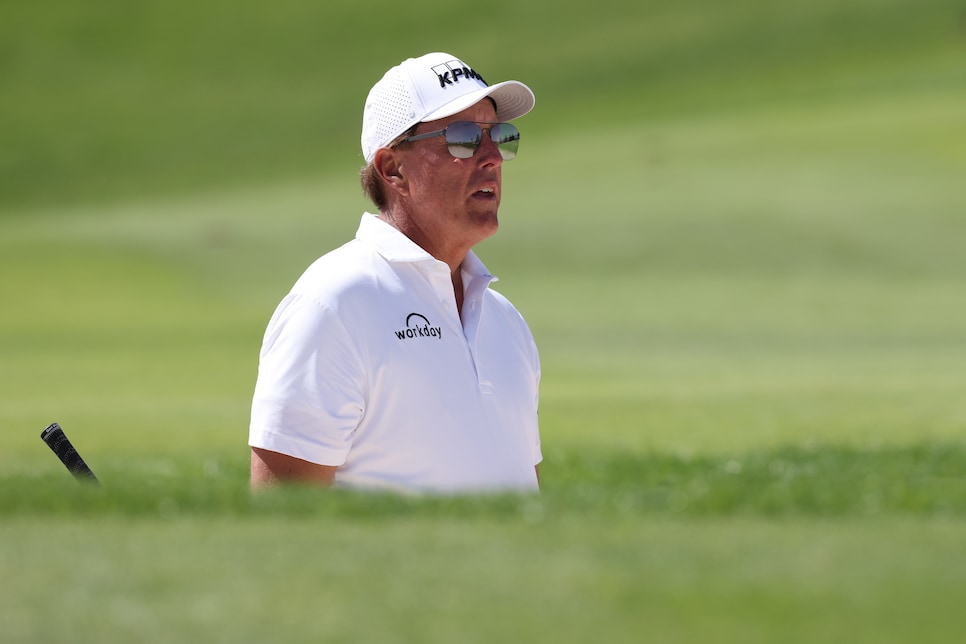 — Talk of the rumored Saudi golf league dominated conversations at Riviera. It began on Tuesday, when tour player Kramer Hickock claimed 17 players had already committed to the league. In hindsight, this might've been the peak of the league's chances to challenge the PGA Tour, for things did not play out well for Greg Norman's venture as the week progressed. On Thursday, the Fire Pit Collective's Alan Shipnuck reported on an interview he had done with Phil Mickelson last November for an upcoming biography on Lefty. In the interview, Mickelson made a number of truly jaw-dropping comments: that the PGA Tour is a "dictatorship" that has gotten by on "manipulative, coercive, and strong-arm tactics"; that while commissioner Jay Monahan comes off as a nice guy, "unless you have leverage, he won't do what's right"; that the Saudi Arabian officials funding the league are "scary motherf—ers to get involved with"; and that he recruited other players and lawyers to draft up the league as a leverage play to enact a change in PGA Tour policies.

Shortly thereafter, Dustin Johnson and Bryson DeChambeau joined Tiger Woods, Rory McIlroy, Brooks Koepka, Jon Rahm, Justin Thomas, Jordan Spieth and Collin Morikawa in committing to play on the PGA Tour. The Saudi-backed league could well continue, as multiple (mostly 40-and-older) players remain open to the idea, but it appears the league would be short on top-end talent. At least initially.

Rory McIlroy called Mickelson's comments "naive, selfish, egotistical, ignorant," and Billy Horschel said Mickelson had done damage to his legacy and future Ryder Cup captain candidacy. On Tuesday, Mickelson issued a statement apologizing for his "reckless" comments, noting "I am deeply sorry for my choice of words." He also indicated that he was stepping away from the game for the time being. "I know I have not been my best and desperately need some time away to prioritize the ones I love most and work on being the man I want to be."

— Joaquin Niemann became the first man since Charlie Sifford to win wire-to-wire at Riviera. The 23-year-old Chilean opened with back-to-back 63s to seize control of the tournament, and while Cameron Young and Collin Morikawa did their best to keep pace, Niemann's sizzling start allowed him to play only so-so golf over the weekend and still win by two. The former world No. 1 amateur has now cracked the top 20 in the World Ranking and seems ready to deliver on his all-world potential.
— Byeong Hun (Ben) An won the LECOM Suncoast Classic on the Korn Ferry Tour to put himself in excellent position to get his PGA Tour card back. He's a case-study in just how competitive the professional game is—the South Korea native, former U.S. Amateur champion and Cal-Berkley alum has three runner-up finishes on the PGA Tour and played in the 2019 Presidents Cup, but one bad year had him back to the Korn Ferry. He looks primed to return to the big tour.
— The PGA Tour's West Coast Swing is over, and it's time to start the Florida swing. It begins with this week's Honda Classic at PGA National, a short drive from the Jupiter-West Palm Beach area that so many tour pros call home. But because it falls just after two big events in the WM Phoenix Open and the Genesis, and before two other big ones in the Arnold Palmer Invitational and the Players, the field isn't as strong as you might expect for what could be a home game for so many.